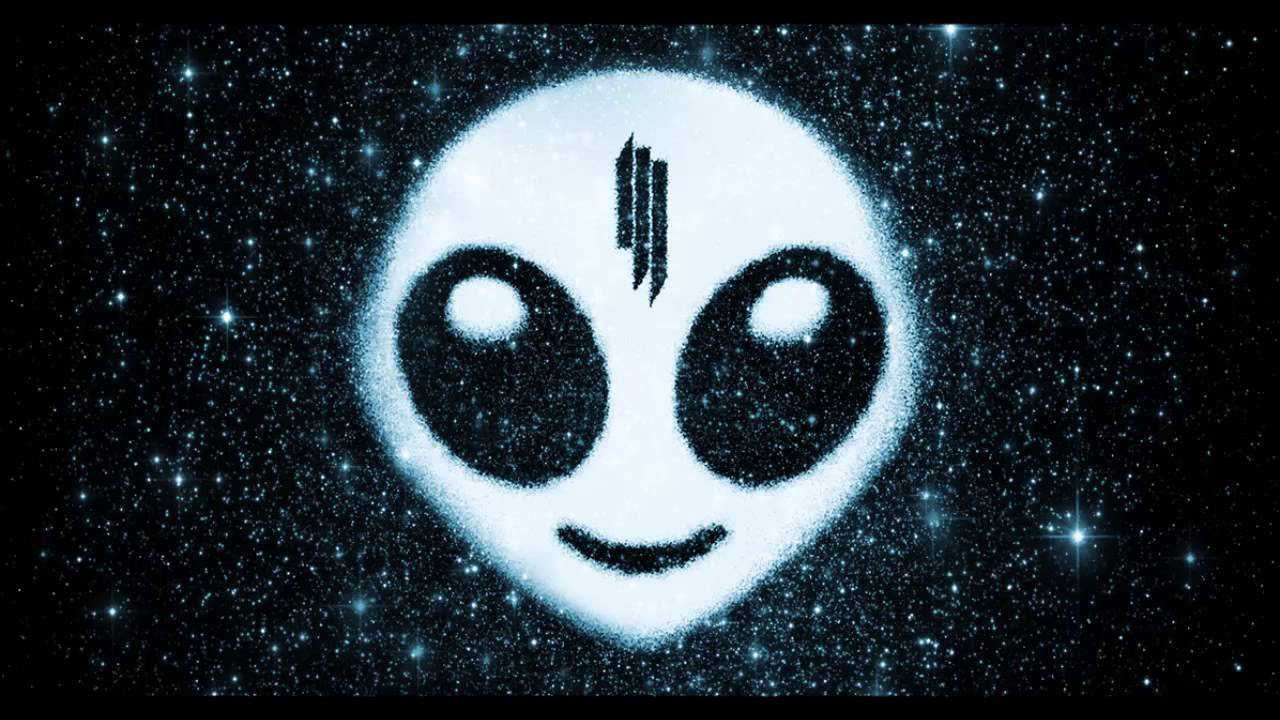 Some people say that good things come to those who wait. For those who have been waiting for Skrillex's LP since he announced it in early 2013 have now finally been rewarded by one of the hottest L.A. commodities in the music industry. Not only that, twenty-six year-old Sonny Moore has been busy on all sorts of fronts from collaborations projects like Dog Blood and Jack U to his recent remix duties on tracks from Monsta, Chase & Status, and many more. Add that to his hectic touring schedule and we sit back and wonder how he has time to make music just for himself (not to mention all the tracks he's made in collaboration with artists like Feed Me and What So Not).
Yet one of the most anticipated albums of the last year and a half has finally surfaced in the most unusual way. An application called Alien Ride that Skrillex made free for download was secretly a miniature, musical time-bomb containing all the new material Mr. Moore had been concocting all this time. It premiered all these collaborations and originals that came from a number of different directions until finally delivering a debut album called Recess. However, to truly experience it, it's time to dissect this album track by track.
1. "All Is Fair In Love And Brostep (feat. The Ragga Twins)"
There's no finer song that better fits the description of Skrillex's whole entity in the music scene than "All Is Fair In Love And Brostep". Being premiered during Skrillex's BBC Radio 1's Essential Mix, the song was originally dubbed with the title "This Much Power" from the use of the phrase throughout the song. This is the song that reminds every single Skrillex fan in the world of that 2011 sound he blew up with and a sure fire way to get the album started. Grinding synths and blasting bass consume the voices of the featured vocals of The Ragga Twins, who deliver adrenaline-pumping flavor to a heart-stopping song. And just to be clear, when the song dips with the words "IT'S F@#$ING A-HA," this does not mean shots were fired at British producer/DJ Zomboy. You can read all about that story here.

2. "Recess (feat. Kill The Noise, Fatman Scoop, & Michael Angelakos)"
The song that shares the same name as the album should be synonymous with the general feel of the entire composition. Enlisting the help of Kill The Noise for production assistance and the raw voice of Fatman Scoop takes this track to the level of defining how Skrillex can make music as beat-rocking without having to stick with genre names. This song is a sure fire head banger with a faster pace to keep up with. Accompanied by high-pitch voice of Passion Pit's Michael Angelakos singing, this song stands out with trumpets played like an anthem for the rebellious youth.
3. "Stranger (feat. KillaGraham & Sam Dew)"
If your a fan of the new film Divergent or a music-lover loving the soundtrack for the movie, Skrillex left his mark with a track that will have you bouncing around like a fool all day long. A collaboration with KillaGraham from Milo & Otis and singer Sam Dew, "Stranger" throws another curveball to fans in what to expect beating at 128 bpm. Yet that electro house vibe only lasts for the first drop. As the song progresses, it slows down with a trap-infused kick-and-snare pattern to kick the album up another notch of awesome.
4. "Try It Out (feat. Alvin Risk) (Neon Mix)"
This is the song everybody has been jamming out to since Call Of Duty: Black Ops II came out a year and a half ago. Even after receiving a master rendition three times by both Skrillex and OWSLA brother Alvin Risk, it only gained a new surge of popularity from being officially released to the world. What is outstanding about this song is that it still sounds as fresh as the first time we heard it chasing Nazi Zombies around in circles in post-apocalyptic virtual-reality.
5. "Coast Is Clear (feat. Chance The Rapper & The Social Experiment)"
I remember the buzz that came from a photo taken on Instagram with Sonny and Chance The Rapper. Then I heard the song they apparently made together for the first time when Skrillex played it in one of his live sets off a video clip. At first glimpse, this song did not impress me in quality (due to the garbage audio most cameras pick up and are left with when they reach Youtube). This song has now been given a studio master rendition for fans to jump into the groove to. It also happens to be the song I have on non-stop when cruising through town, singing along to Chance The Rapper's catchy and upbeat lyrics. This track is no different from a funky roller coaster ride with the way the bass glides from the radio to my ears. Without a doubt, this song is possibly the crown jewel of the entire album.
6. "Dirty Vibe (feat. Diplo, G-Dragon, & CL)"
From one of the smoothest and most polished song of the album, Recess turns to the grimiest and most dirtied song in its roster. Joined by Mad Decent leader Diplo, "Dirty Vibe" trades the focus from the beat and bass for the raps given by G-Dragon and CL (from Big Bang and 2NE1 respectively). But in no way is the sound sacrificed as it spits rhymes and rhythm quicker than any other song in the album.
7. "Ragga Bomb (feat. Ragga Twins)"
After the filth-fest that the last song left us with, Sonny hammers more bass with "Ragga Bomb" next in line. The seventh song on the album brings a jungle vibe to the table from the very beginning, making way for tribal drumming style and dancehall influences that serve as the backbone of the track. This song also features the Ragga Twins reappearing in the album and sporting their dubstep-enhancing voices in the builds and their "MURRRRDA" shouts in the breaks. But when the English duo are not rapping or yelling, Skrillex drops it as hard as humanly possible through the beating kicks and grinding synths.
8. "Doompy Poomp"
Remember that weird song Skrillex put on some cryptic and seemingly broken website that sounded like it was going to collapse on itself? Well, that song made its way to debut album and fits in with the rest of these genre-defining or genre-breaking songs. Originally, this song was part of a campaign promoting the partnership between Mishka and the most infamous haircut and glasses combination in music. This song can grow on you if you give it a chance with its awkward ruptures and apparent static malfunction. However, this is the song I most closely associate with the album artwork alien as it is cute and joyful versus the rest of the contents in this album.
9. "Fuck That"
If you need a song that has only two words necessary to sing along to and a beat for nonstop grooving, "Fuck That" can fill your desires promptly. This is the most house-like track amongst the album's various genres and maintains a second half with a slower tempo and more wobbles. Even without being the hardest hitter, this track keeps a sinister vibe with its repetitiveness and bass-line.
10. "Ease My Mind (feat. Niki & The Dove)"
This song is much like what we expect from the man who remixed Benny Benassi's "Cinema" and made it the song everyone harmonized to whenever it played in any set. Taking vocals and transporting them into a middle-eastern dubstep monster is unexpected and amazing. This is the song that might get remixed to fit every kind of set this summer simply for the vocal hook from Niki & The Dove. I remember hearing this song from video rips off Skrillex's Hard's Day Of The Dead Festival Set and thinking, "This is going to be a kick-ass song for Skrillex to come back with." Surely enough, he did.
11. "Fire Away (feat. Kid Harpoon)"
When the Bangarang – EP was released, the track "Summit" featuring Ellie Goulding's chopped and melodic vocals set an example of how an anthology of Skrillex tracks should end. With Recess, "Fire Away" is no different in its retreat from epic volume levels and turn to Sonny's own voice to conclude one hell of an album. With writing assistance from Kid Harpoon, this song defines Skrillex as a name that cannot be typecast to one genre. It landmarks the emotion he wants to deliver that does not necessarily have to be energetic or party driven. It embarks on what Skrillex has always wanted to do even after almost losing his voice from his From First To Last days; making music to share with the world.
All of the remixes, extended plays, collaborations, and the creation of OWSLA have all led to this moment. With lots of practice and experience in making tunes for every type of emotion, Sonny Moore has succeeded in making a satisfying and captivating debut album. He also reigns in going above and beyond the expectations fans had from the very first time he hinted this project. The album remains as a bundle of various sounds and beats to dance-off, head-bang, or mellow-out to without losing the Skrillex essence from which they come from.
As a side note, part of my admiration and love for electronic dance music come from listening to the original "Scary Monsters and Nice Sprites" during my high school days. The funny thing was that at the time I could not stand the song. Time passed and I started to listen to other songs like "Fucking Die" and "Rock N' Roll (Will Take You To The Mountain)" that made me warm up to the nature of the Skrillex's harder material and the overall genre of dubstep. So to finally see this twenty-six year-old master of the electronic music art have album out shows the long journey and the incredible effort Sonny Moore has gone through to deliver this. When this album comes out, the EDM scene will celebrate while Skrill drops it hard. Let's just hope he avoids setting fire to his hair the next time he celebrates.
Get Skrillex's Recess Here