France has long occupied a special place in the hearts of house music fans around the world. The French house scene has a long and storied history, as it has been the birthplace of such legendary acts as Cassius, Daft Punk, and Justice. Now, with young up-and-comers like Madeon and Michael Calfan, French house has seen quite a resurgence these past couple years. Chief among these rising stars is Jidax. The duo, made up of lifelong friends Jide and Axel, has already had a monumental 2012, releasing tracks on labels such as PinkStar Records, Black Hole Recordings, and Dim Mak Records. The talented Parisians have also had a relentless touring schedule, playing such legendary venues as Electric Daisy Carnival and Tomorrowland. With a slew of new tracks on the horizon and seemingly limitless potential (both members are still in their early 20s), Jidax is poised to become one of the next great acts of the global house community. Their official bio says that they "work to be part of history"–if this is true, they're certainly off to a good start. I got a chance to talk with Jidax about the origins of their group, their production techniques, the current state of the French house scene, and their views on the massive influx of young EDM producers. Read on for the full interview.
_____
Your EDM: For those who don't know you, please tell us a little about yourselves.
Jidax: We are Jidax–the combination of our names Jide and Axel, two childhood friends who have always been in love with electronic music, and enjoy every single moment of our lives!
Your EDM: Tell us about the origins of Jidax. How did you guys meet, and when did you start producing together?
Jidax: Both our grandparents were friends. Our parents are best friends and we consider ourselves brothers. We have always been big fans of electronic music, spending our holidays in Ibiza since the age of 13. Our first time in the Pacha crowd was at the age of 14, listening to Roger Sanchez. We always had the same taste in music, DJs, and productions. So after two years of spinning, we decided to start producing as it was important to our growth. We remember our first track was called "Faithful," of course it has never been released because of its dramatic quality. But we still have it somewhere, hidden in our hard drive. Maybe it will be re-edited one day, who knows? That was four years ago.
Your EDM: Your productions seem to combine a great deal of melody with high levels of energy. "Resistencia" was an incredibly massive track, while "Rainfall" and "Thunder" are two more recent examples of your progressive sound. How would you describe your production style? What elements do you try to include in your work?
Jidax: What you mention is exactly what we are trying to do. Using our knowledge of music to create melodies and catchy hooks, with as much power as possible to have this big room sound. We are simply doing what we like, which is progressive house.
The principle of progressive (for us) is about rising, and this example is displayed in "Thunder"–it starts with a kick, a bassline, and a simple lead. Then the track builds on itself, to finally explode after the principal break. It's like a story. Would you like a book if you knew the end at the first page? That's why we recommend to always listen to a track from the beginning to the end, especially if you are listening one of ours.
Your EDM: Are there any specific pieces of equipment or VSTs that you you particularly enjoy using when making your tracks. You don't have to tell us all of your secrets!
Jidax: We are happy to tell you everything actually, music is about sharing, and we're very happy when someone asks us for advice. It means that our works are good! There's just one thing we'll never share, because it's really personal, and we've worked too long to find the proper one: our Masterchain. We use very few pieces of equipment. We only use a computer, a couple of monitors and a MIDI keyboard. About the VST's, we bless the guy who invented everyday NEXUS–it's very simple to use actually and provides multiple type of sounds. We also have been using Sylenth more and more to be honest. The good thing with this one is that the presets already sound good so you don't need to mix it for hours. We also use some lesser known ones like Novation BassStation, or KORG LegacyCell.
Jidax – Thunder (Original Mix)
Your EDM: You guys started off your live touring career with a bang, as you debuted at the legendary Queens Club in Paris. You've been on a roll touring recently. If you could, please tell us about some memorable gigs that you've played lately.
Jidax: One of the most memorable ones of the year was of course Electric Daisy Carnival in New York. We played on the mainstage, the crowd was more than amazing, and the vibe there was great. Touring with Steve Aoki this summer was also incredible: we played Tomorrowland, Beatpatrol and Eastender with him. All three of those gigs were massive, and we are so grateful for his support. He's been a true mentor to us. Thanks to Joachim Garraud, we had the luck to play for the third edition of Inox Festival close to Paris, which was also amazing. But let's stop talking about the festivals, because they are all crazy.
There's one particular club in a small German city, called "Parktheater"–we were there last week for the third time actually. We don't what's happening over there, but it gets better everytime. The club is simply perfect. We had a lot of fun this summer too in Vegas at Surrender, Beach Club in Montreal, and at Playhouse and XIV in Los Angeles. The entire summer was incredible!
Your EDM: France has an incredibly deep and storied history when it comes to house music. Since you hail from the country that has given us legendary acts like Cassius and the Ed Banger crew, I wanted to get your opinion on the current French house scene. In addition to mainstays like Daft Punk and Justice, now France has a newer school of stars with guys like Madeon and Jeremie Assera. What do you think of this "new" age of French house, and how do you see it developing in the future?
Jidax: It makes us realize that there is no age for talent, and that with time and work, you can achieve anything. What Madeon has done this past year is a revolution. Having this inspiration, those skills, and his style of music at his age is really impressive. We have never had the chance to meet him, but we are huge fans of his work. Jeremie Assera is the first artist we signed on our label, he's 15 and has an incredible potential. His last release "Independance Day" works really great in clubs and we're very proud of him.
We have no idea what the future holds. When you meet a 15 year-old boy who can make music as good as your own, you see the level raised higher and higher. Then more and more kids will make their own sound–it's very inspiring.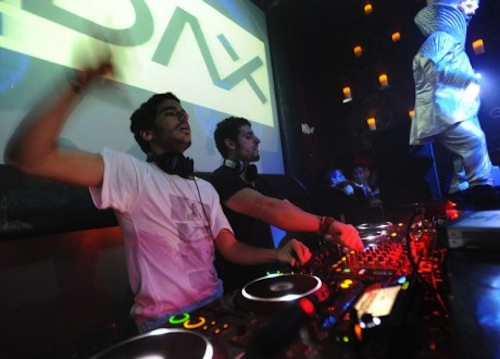 Your EDM: Being from France, you also make your home in Paris, which has been known to have a legendary music scene. What is the house scene like in Paris nowadays? What are some of your fondest memories playing (and partying) in the city?
Jidax: Paris has become a really good place for the deep house movement. There are only a few clubs doing well with the progressive or electro sound. Our fondest memories are no doubt at Queen, which was the first club to give us a shot at DJing. We have the best memories at Queen. We're looking forward to the Swedish House Mafia night in December at Bercy, which is a 17,000-person venue. We both think this night will be as unforgettable as everybody expects it to be.
Your EDM: This question seems to pop up everywhere, but what is your view of the recent EDM boom that has spanned the globe. Europe has historically had a rich EDM community, but now Asia and especially North America seemed to have jumped on the wagon. What is your opinion on this recent growth, and how do you see the worldwide EDM scene moving forward?
Jidax: This growth brings electronic dance music to another level. In terms of opportunity, business, and of course in terms of talent. These last few years have witnessed the rise of a lot of artist, thanks to North America. Clubs in America are bigger and more modern, while crowds are more receptive. As we mentioned before, there is like a new "hype" in Europe around underground music. In the future, we can expect all those new markets to be touched by this spirit.
Jidax – Rainfall (Original Mix)
Your EDM: You've already accomplished a lot in your careers, and yet both of you are still in your early 20s. And now there are even more artists getting noticed nowadays who are still teenagers. Obviously EDM will always have a place for long-time veterans like John Dahlback and Eric Prydz, but there has been an undeniable amount of younger producers these past few years. Why do you think so many young people are producing EDM these days?
Jidax: Nowadays, producing EDM is very accessible. It is ten times easier to make a track than it used to be. You don't need a whole studio. A laptop can make the job easy, which is more affordable–even more than buying turntables to start mixing. Young people like us want to get on that train and make a name in this industry. Avicii is an example for a lot of teenagers–in less than two years he's become one of the top producers of the world, all at the age of 23.
Your EDM: What are some tracks you've been working on recently? Anything big planned for the rest of the year and early 2013?
Jidax: There are so many! We have at least ten new tracks completed. We have a remix for Rebecca and Fiona coming on Ultra later this month, and a new track on Dim Mak Records called "Phenomena" which should be released early 2013. We have another one on Dim Mak which should come during the Winter Music Conference–we are still working on a name for that one. We will keep our Facebook and Twitter updated with the news!
Your EDM: Lastly, are there any plugs or announcements you would like to make to our readers?
Jidax: We'd like to thank everybody who has followed us since the beginning!
We can't wait to meet you somewhere in the world. We hope you join us as we do our best to rock every single place in the world! We love you all!
_____
Thanks again to Jidax for what was truly an enlightening interview. Make sure to keep up with Jidax through their Facebook, Soundcloud, and Twitter (@Jidax). The duo also launched their own website recently, so make sure to check it out to stay even more up to date with these two rising stars. And as always, for all the latest on new releases, events, previews, and commentary, keep it locked on Your EDM
_____
Purchase Jidax's tracks on Beatport
Check out Jidax's releases on iTunes