About a month ago, DJ and producer Kaskade was one of the first few people to experience the wrath of Soundcloud's recent wave of copyright strikes. In a matter of a couple of days, Kaskade was bombarded with copyright claims from Soundcloud via email, resulting in the removal of over 70% of the music from his page.
A few days ago, Soundcloud quietly updated their Cookie and Privacy policy — an update that was completely overshadowed by their latest application update. Here's a summary of the update effective July 17th: if you're connected to the platform by way of Facebook or Google+, your information will be automatically collected and monitored by Soundcloud for appropriate music suggestions and for "analytical purposes." Here's the kicker: if you choose to disagree with their updated policy, you can let them know by sending them a snail mail letter to their office in Germany. However, if you choose to do that, you'll probably have your account terminated because, well, that's how a policy works; you can only use their service if you agree with their conditions. What does this have to do with copyright strikes? Well, Soundcloud's alterations didn't stop there, unfortunately.
In an email conversation between Soundcloud and DJ Brainz, a podcaster, Sub.FM DJ, and owner of the UK garage forum Slick N Fresh, the reason behind the recent wave of copyright claims and account strikes became evident. According to the Soundcloud employee appearing in the emails below, Soundcloud has handed over a lot of power to Universal Music Group. UMG, which is the largest music corporation in the world, now has the ability remove songs, flag accounts, and even completely terminate them on behalf of Soundcloud.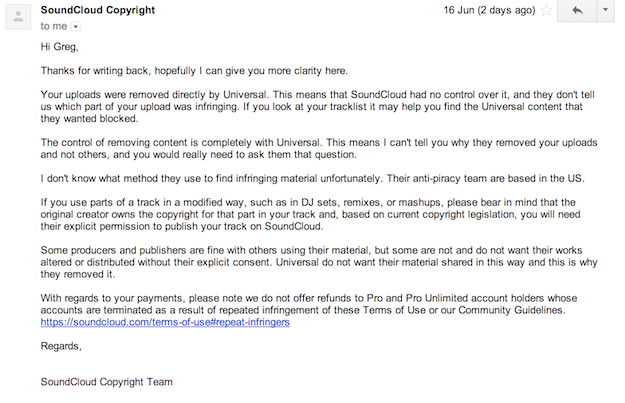 Is Soundcloud turning into YouTube? Because it certainly looks like it. Huge corporations like Universal will continue to thrive on the platform, unaffected by their policy changes, whilst smaller, more independent artists will have their accounts deemed useless. So will all artists be forced to migrate to their own music platforms like Deadmau5 and Kaskade? Maybe. The problem, however, is that no small artist could ever possibly have the resources to be that independent.
Source: DAD