This past Saturday, I made my way to the Hollywood Palladium to catch the final date of Dirty South's City of Dreams tour. It was only fitting that he wound up the City of Dreams tour in the City of Angels, and the night couldn't have gone any more smoothly. Insomniac pulled out all the stops when it came to sound, lighting, and stage production, and created an atmosphere for the event unlike any other show I had previously seen at the Palladium.
Check out the full set of photos here.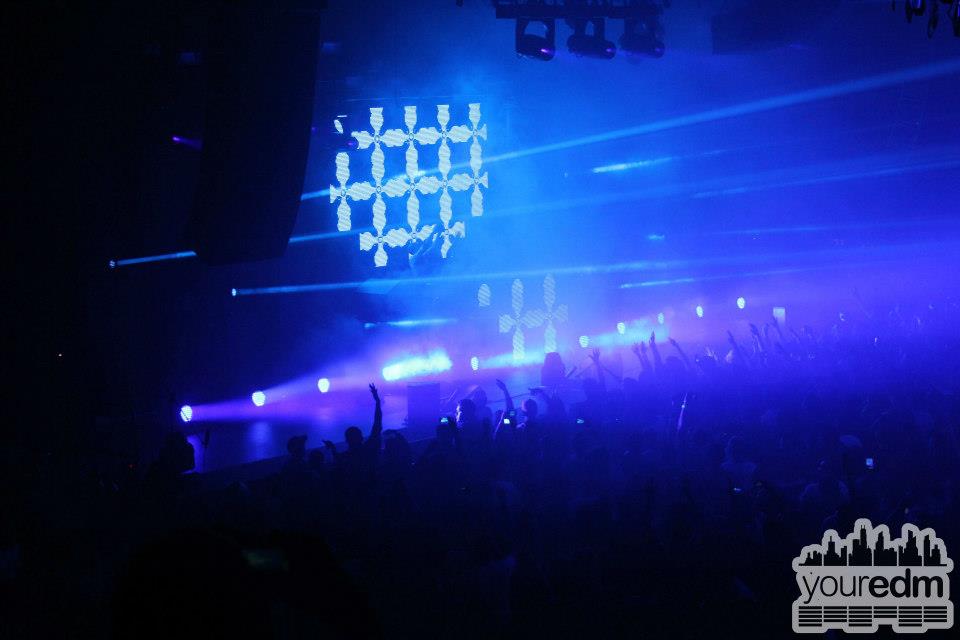 As I arrived, Deniz Koyu was getting the crowd nice and warmed up as the Palladium began to fill. He played some of his signature tracks such as Tung and his Spectrum Remix, and kept everyone dancing without blowing the roof off the place with bangers. It was a great warmup for the night, and the reactions he got from the crowed showed that he is well on his way to becoming a big star in the US. One thing I did notice about Deniz was he was smiling the whole time he was up there. You could tell he was having a great time behind the decks and I think that impacted the crowd's response to his tracks.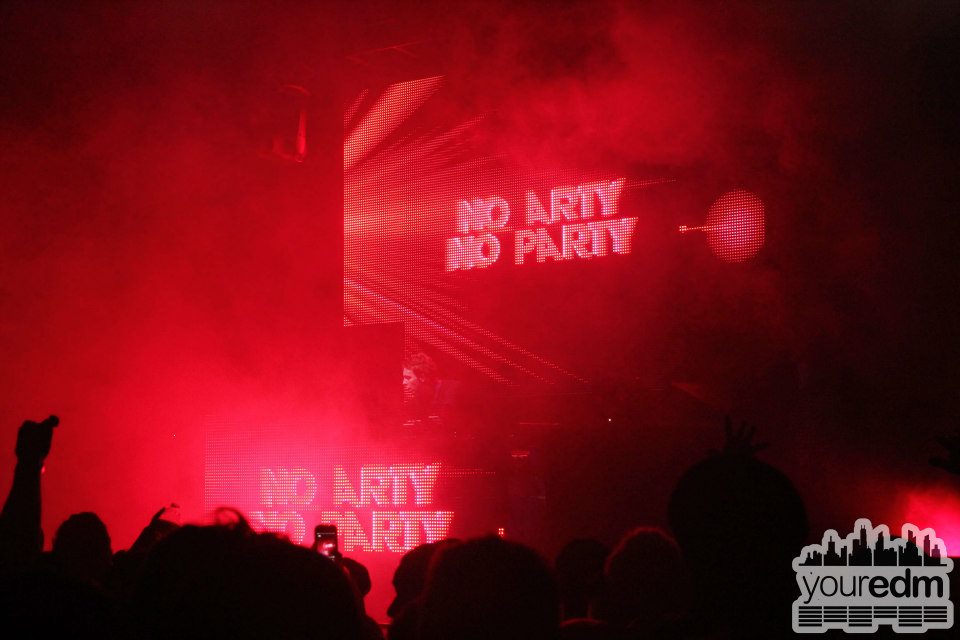 After Koyu, a personal favorite of mine, Arty, took the stage to the cheers and hands in the air of the thousands inside the venue. Even though Dirty South was the headliner, I saw as much Arty gear among fans as I did for Dirty South. One of the things I like most about listening to Arty, whether it's his Together We Are podcast or a live set, is that he changes things up and isn't afraid to try something different. He came to prominence as a trance and progressive house producer, but that doesn't stop him from rinsing out big room electro or dubstep tracks occasionally.
In typical Arty fashion, he proceeded to play a little bit of everything for his hour long set. Towards the beginning of his set, he assured the crowd he meant business and dropped the new Showtek and Justin Prime collaboration, Cannonball. If you've ever seen this one dropped live you'll know how crowds go absolutely crazy for it. Along with the heavy, he played more melodic tunes as well and, of course, some of his own tracks. Everyone in the crowd began to sing as he played the chorus of Gareth Emery's Concrete Angel, before quickly switching things up and dropping into Alesso's Raise Your Head. Porter Robinson's Language and Arty's collaboration with Mat Zo, Mozart, also garnished cheers and waving hands. His set was fantastic, and set the stage for the upcoming one-of-a-lifetime performance.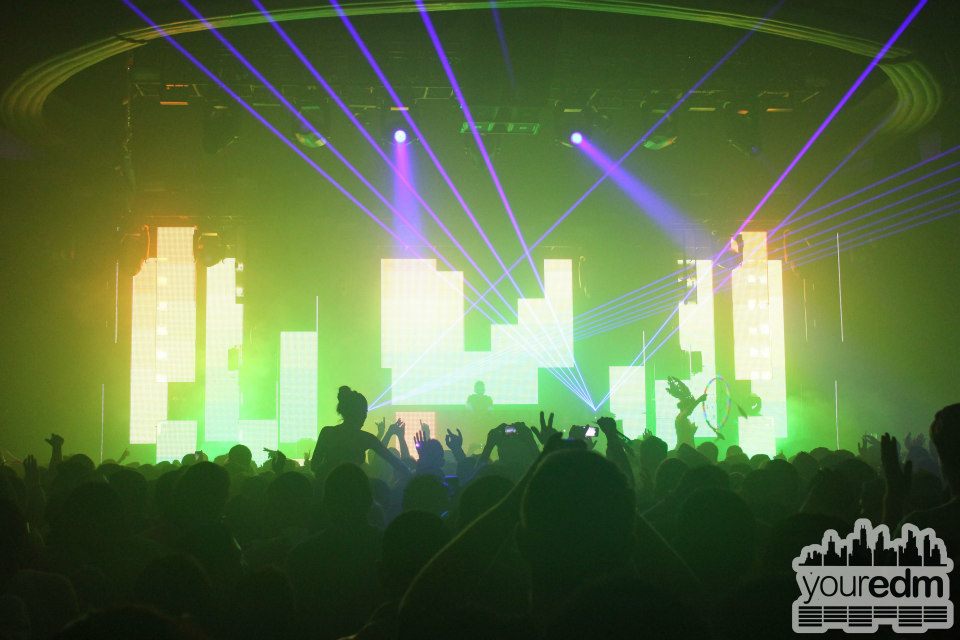 After a 5-minute interlude, Dirty South took the stage and the crowd's energy was palpable. The opening notes of City of Dreams began to come through the speakers and the crowd erupted into a sea of screams, cheers, shouts and hands waving. Insomniac had graciously given the headliner a 3-hour timeslot; I truly believe anytime you see a 2+ hour set you are in for a treat and three hours is pretty incredible. It gives the DJ time to create a mood, feel out the audience, and work them like puppet master and puppet for the duration. That is exactly what Dirty South did.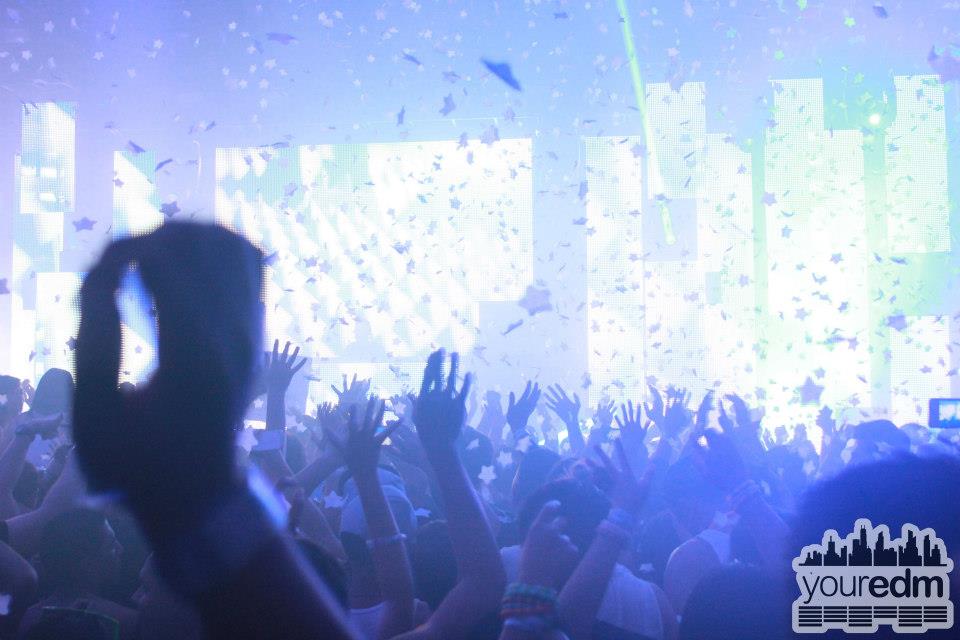 I have long been a fan of Dirty South's productions but never had the opportunity to see him behind the decks. The man is a master.  There are DJs who can DJ well and have great song selection, and then there are DJs who can do all that and at the same time create an emotional experience in the crowd with those songs. For this performance, that is what Dirty South did. He took us on a wild ride through deep progressive house, tech house, big room bangers, old stuff, new stuff, and anything else he felt like. He got the party stared quickly with Matt Caseli & Danny Freakazoid's Raise Your Hands, a surefire way to get the crowd going. Before I knew it I was encountered by the Swivel Hips Remix of Felix Da Housecat's Silver Screen Shower Scene, an unexpected but 100% welcomed underground favorite of mine. Having never heard a DJ drop this before (possibly because of it being an older tune, but I digress) I knew the rest of the set would be something special.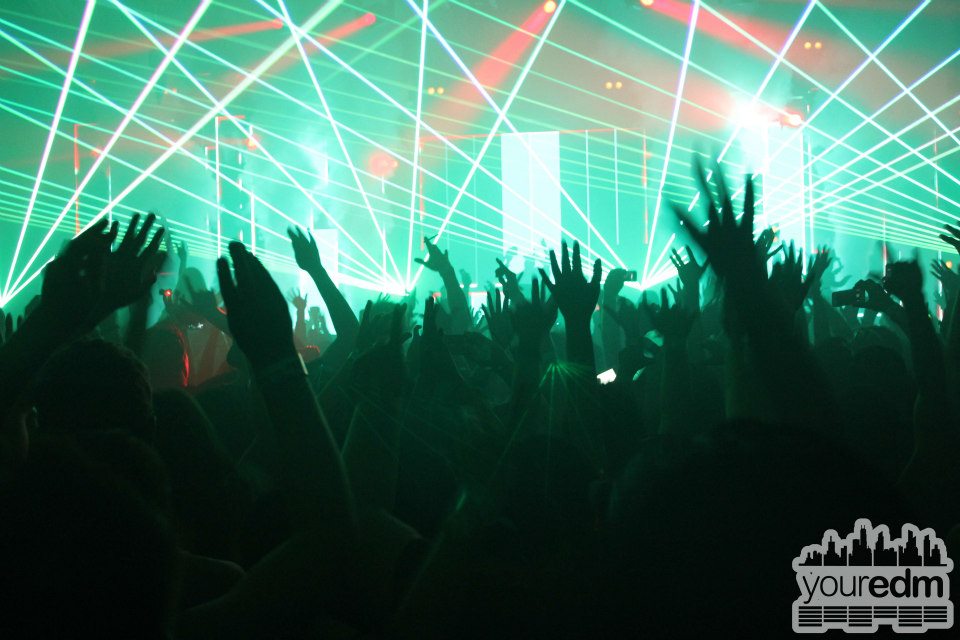 All night, he was playing songs that I did not expect; Firebeatz & Chocolate Puma's One More Time and Michael Woods' Bullet come to mind, and songs everyone went nuts for: his remix of Miike Snow's Devil's Work dropped into Swedish House Mafia's Greyhound, Rift – his new collaboration with Michael Brun, and the acapella of Temper Trap's Sweet Disposition laid over his Coming Home remix.
With roughly an hour left in the show, he went on the crowd and asked, "are you still with me?" The response assured him the crowd was more so now than ever before, and he soon brought Deniz Koyu back on stage to debut their new track together. Think big room, big build, big anthem for that one.
This was truly a memorable performance, and I left the venue pretty sure I would not see a DJ set that impressive again in a long time. After now having seen him live, I have a whole new found respect for Dirty South.
Insomniac Events – Website | Facebook
Dirty South – Facebook
Arty – Facebook
Deniz Koyu – Facebook