We are now nearing the middle of March 2014 which means none other than, that Miami Music Week is just around the corner. With tons of pool parties, full out events and club shows, this week is one not to miss. Even artists that are not slated to preform at Ultra Music Festival will be around for the week long party. Due to the amount of events, artists, and random people you may know it is a very high likely hood that you might contract the highly sensitive disease, FOMO(Fear of Missing Out). That is why I (JAlpie) decided to give you my Top 10 events of Miami Music Week. Keep in mind this is a personal list, so odds are you might not agree with me on my list. If you don't like it, too bad 🙂 There are plenty of other parties out there, you are bound to find ones you will enjoy.
Lets get this started why don't we.
10. March 30th – Club Space Miami – Adventure Club & Friends
We're starting out our list with the end of Miami Music Week with none other than Adventure Club. The dynamic duo of Leighton and Christian have taken flight over the past year topping charts with their EP and headlining their own tour. Adventure Club headlining their own showcase at Club Space Miami is not one to miss. You can purchase tickets HERE!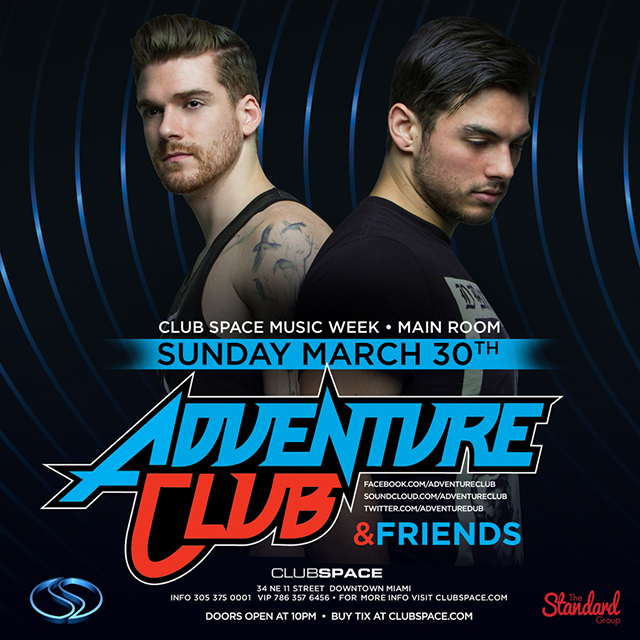 9. Friday March 28th – Mansion Miami – Skrillex & Friends
Yo Skrill, drop the bass. Yeah after yesterday all I've seen around social media in the past 24 hours is Skrillex, Skrillex, Skrillix. But I certainly am not mad at this. His album definitely lived up to the hype. And what better way to kick it off than with a showcase not only including himself but power hitters such as GTA and What So Not. This is definitely not a party to miss after Ultra! Grab your tickets HERE!
8. March 27th – Mekka Nightclub – Smog Vs. Firepower
Here we go. Thursday is quite possibly the biggest day of MMW. First up is Smog Vs. Firepower and HOLY BASS. This lineup is just star studded with bass superstars including 12th Planet,Dastik,Doctor P,Protohype and SO many more. If you are a fan of all things that wobble make your way over to this party! Grab your tickets HERE!
7. March 25th – Mansion Miami – Above & Beyond
What better way to kick off MMW than with the beautiful sounds of Above & Beyond? With everyone arriving around Tuesday this event is perfect to start your week of non stop partying. Grab your tickets HERE!
6. March 29th – Ice Palace Studios – Deep Dish
No I'm not talking about pizza. I'm talking about the legendary duo of Sharam & Dubfire who recently got back together. After their surprise debut in Chicago last month, their show in Miami had it's hype raised ten fold. They will be playing along with Carl Craig, Hot Since 82 and Andhim. If you appreciate old school house, this is not a party to miss. Grab your tickets HERE!
5. March 27th – LIV Ocean Club – Nicky Romero Presents Protocol Miami
Well we're halfway through my list. Now we get down to my personal can't miss events. First off on that list is Nicky Romero's Protocol pool party. The event is titled Miami Reboot, so lets see what they have in store for us. This lineup along with all the others on this list are some major heavy hitters, including the man himself Nicky Romero, the NERVO twins, Don Diablo, R3hab, and the list goes on. Tickets to this event are sold out, but it does say on the website that tickets will be available at the door. So get there early and don't miss this event!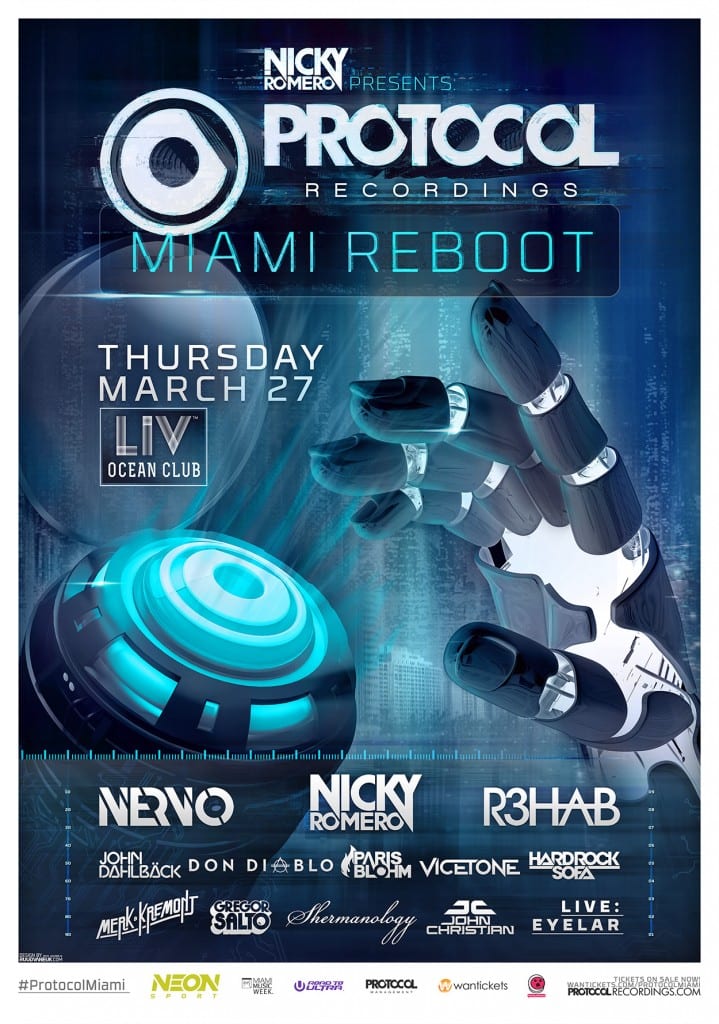 4. March 26th – Nikki Beach – Spinnin' Sessions
Headlined by Sander van Doorn and the young Martin Garrix along with the rest of the Spinnin' crew. This event is most certainly set to be quite a party. The tickets for this party are completely sold out.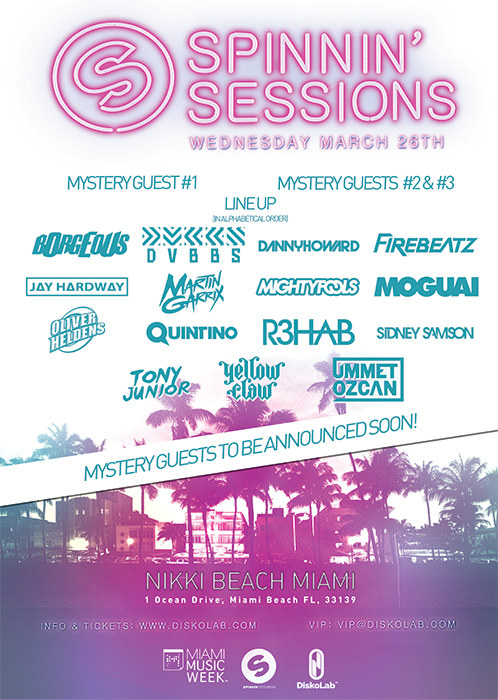 3. March 27th – Nikki Beach – Juicy Beach
Yet another Thursday event, this one brought to you by none other than Robbie Rivera.This lineup is about as diverse as they come touting veterans such as Funkagenda, Bad Boy Bill, Robbie Rivera himself and many more, as well as up and comers like Henry Fong, Tom Swoon, and Stafford Brothers. This lineup has it all around. Tickets are available HERE!
2. March 28th & 29th – Nikki Beach – No Sugar Added
Wow. It's not often that you find an event the same time as a major festival that has a lineup as well put together. Well this is the case with No Sugar Added. The two day event boast two days of major talent spanned across 3 stages each day. Some highlight acts at this event are Bingo Players, Tommy Trash, Bixel Boys, Tritonal, Danny Avila, Deorro and so many more. This is honestly the biggest event you CANNOT miss. Get your tickets HERE!
1. March 27th – POP-UP ARENA AT ICE PALACE STUDIOS – Mau5trap Vs PRYDA
Well here it is. The cream of the crop, the pièce de résistance, Deadmau5 and Pryda. Two of EDM's biggest stars joined forces to bring you, what I believe will be the most epic party during Miami Music Week. How often are you able to see Deadmau5 and Eric Prydz play BACK TO BACK. Do not miss this event. Get your tickets HERE!