When the announcement came that Tomorrowland would be making a stateside venture we were not at all surprised that SFX chose Atlanta to hold the festival. The Peach State hosts the most trafficked international airport in the world,  it is known for it's blistering hot summers but mild autumn, and has some of the most beautiful country side in the deep South. We encourage you to take some time after the festival or come early so that you can enjoy all that Atlanta has to offer. To help you navigate the streets, Your EDM has put together this handy little tour guide to help you occupy your time while outside the festival.
PURCHASE TICKETS TO TOMORROW WORLD HERE
Editor's Note: I am not a native Georgian, although I have lived here for 10 years and in Atlanta for 5. If you are a die-hard Atlien, I'm sure you have your favorite spots and this list is not an attempt to rank the best places to hang out in Atlanta but merely to provide suggestions for visitors. If your favorite spot is not included, please be constructive and add it to the comments instead of asserting negligence. 
Traffic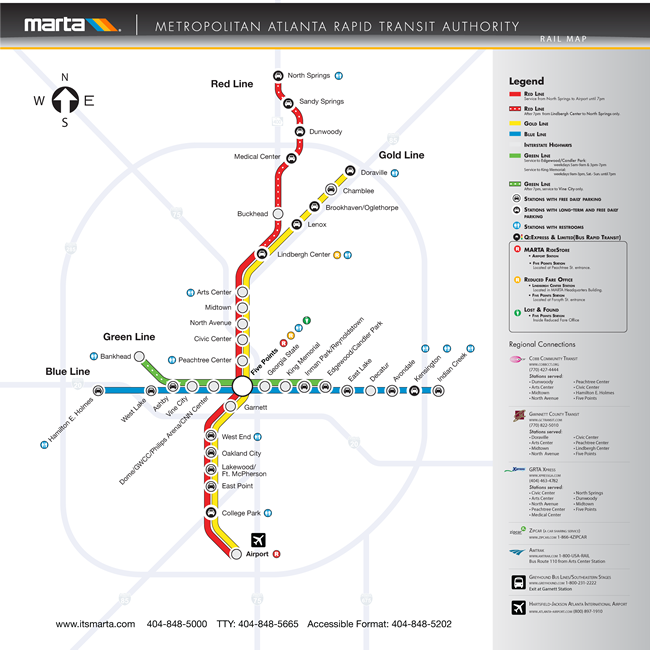 The first thing you need to know about Atlanta is there will be traffic. Morning, afternoon and night there are traffic jams on I-85 (N/S), I-75 (N/S), I-20 (E/W), and 285 (the belt-way) as well as on local streets. It is not uncommon for weekend traffic or even midnight traffic. Any hour, any day, any occasion…there will be traffic. Unfortunately, Atlanta has a horrible public transportation system that is not in the same ball park as most major East Coast cities such as New York, Boston, or Washington DC. The MARTA trains only travel in cardinal directions, and travelers are expected to take busses to their final destination. It is a moronic system in that the whole point of rail based public transit is to avoid the roads, but that's just one of the odd tasting spices that gives Atlanta it's robust flavor.
It is worth noting that Bouckaert's Farm, which is the actual location of the festival, is about 45 minutes south of downtown Atlanta. There is no public transportation to the festival although shuttles from the city are available here.
Dance Music
Once you've crossed over 285, for all intensive purposes, you've pretty much entered the trap. Hip-hop based dance music was conceived here by Lex Luger and, amongst others, the 808 Mafia. It was then popularized by the Atlanta natives  T.I., Young Jeezy and the King of Crunk, Mr. Lil Jon. This needs to be stated because when you come to Atlanta, expect trap music. Edgewood Avenue has the bounce of the 808 ingrained in it's sidewalks, so expect to hear it in your travels.
That being said, Atlanta has a bustling night life scene that caters to all genres and here are a few spots that are worth the venture:
The Quad
714 Spring Street Northwest,
Atlanta, GA 30308
The Quad
The Quad
has been host to genres from across the spectrum over the years but as of late has become a staple for heavy bass music. Expect to get ratchet and turn up till the sun comes up.   
the Sound Table
483 Edgewood Ave SE,
The Sound Table
is one of Atlanta's most authentic nightlife spots to which on one night you might get lost in the thumping beats of techno and on another you might be kicking it back with local trap lords 
Mayhem
and
Heroes X Villains
. Make sure to check out their menu as well for some amazing late night bites.  
MJQ Concourse
736 Ponce de Leon Ave NE,
 Atlanta, GA 30306
Much like
the Sound Table,
this is a locals joint that caters to the thriving underground scene. Anything from elbow throwing crunk jams to downtempo and, on certain nights, good old metal and hardcore.
Check the schedule here
to ensure that you are landing on an electronic night if that is your aim.
IRIS
2715 Buford Hwy NE,
Atlanta, GA 30324
As of late, IRIS Promotions have been a pinnacle circuit stop for any electronic artist coming through the South East. Their recent Imagine Festival in the heart of downtown Atlanta was an impressively intimate gathering of the same quality as your EDCs, TomorrowWorlds or Ultras. Their weekly events at a local club in North Atlanta garner support from a variety of ages looking to cut loose in the sub frequency range. This is a usual hangout for local EDM celebrities such as MK Ultra, Mantis, Debroka, Ployd and Midnight Panda.
The Graveyard Tavern
1245 Glenwood Ave SE,
The Graveyard Tavern is a staple in the Atlanta music community. Bass music adonises Bro Safari and Kill The Noise spent many hours grinding away on The Graveyard's stage when they performed as a duo in Ludachrist during the mid 2000's. This hangout brings in an eclectic crowd that speaks the artistic nature that seeps from Atlanta's leathery skin.
Food
And if you like fish and grits and all that pimp shit / Everybody let me hear you say, "O-Yea-Yer" – Outkast
The Busy Bee Cafe circa 1947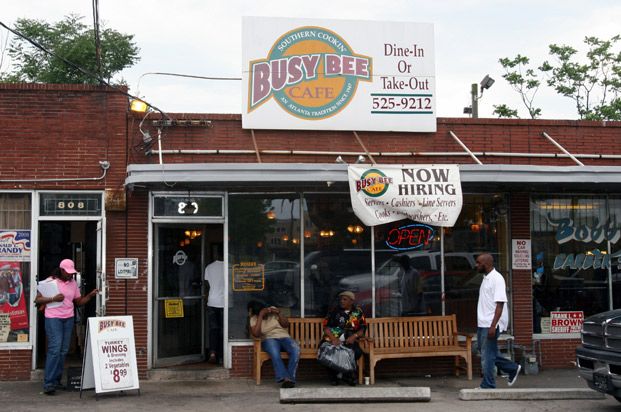 810 Martin Luther King, Jr. Drive
Atlanta, GA 30314
The Busy Bee is everything you want and expect in your southern dining experience. This is the place to get your collards, fried chicken, chitlins, and BBQ ribs. Don't sleep on the brunch because nothing can cure the weekend morning blues like some stick to your ribs goodness.
Sweet Auburn Barbecue
209 Edgewood Ave SE, 128,
Atlanta, GA 30303
An Atlanta landmark,
Sweet Auburn Barbecue
, is a go to for locals looking to inflame their pallets with hometown flavor. This is some of the most sensuous and adventurous barbecue that you will find in the South East. Don't come expecting the mundane, but look to challenge and refine your pallet. 
The picture is of their food truck. Make sure to check their website for their multiple locations. 
Antico Pizza
1093 Hemphill Avenue Northwest,
Atlanta, GA 30318-5450
What may look like a humdrum matchbox with proper Italian scripting happens to be one of Atlanta's secret gems. That's right. You can find some of the best pizza in the country right here in Atlanta. Expect to drop about $20 on one of the best pies you've ever had and don't forget that Antico is BYOB.
Sublime Donuts
535 Tenth St. North West
Atlanta, GA 30318
Regardless of when you decide to visit Sublime Donuts their sugar powered confections will curate a concerto of pallet lifting euphoria. We have our favorites, but we would be doing an injustice to your boisterous taste buds to dissuade you from exploring the expansive menu on your own intuition.
Drink
Atlanta has gone from creeping below the line of prosaic to pole-vaulting above the national standard in the past 10 years when it comes to craft beer. Sweetwater and Red Hare will always be staples but as of late, future favorites seem to be popping up left and right. As the competition continues to grow, lets take a gander at what the south land has to offer:
Twain's
211 E Trinity Pl,
Decatur, GA 30030
Resting in Atlanta's eclectic sister city of Decatur, Twain's is a brewpub that has made a huge impact on the rising craft beer culture. Their imaginative and affordable menu provides the perfect compliment to pair with any of their anomalous ales. When visiting Twain's, make sure to clear your schedule because while you are moving down their in-house brew list, be prepared to take advantage of their billiards room and catch a game on their many HD screens.
Wrecking Bar

292 Moreland Ave NE,
Atlanta, GA 30307
Wrecking Bar
is one of Atlanta's most prized possessions. It is known by locals as one of the best places to grab a drink because of it's beautiful turn of the century building that gives the impression that you are taking a trip through time. Much like
Twain's
,
Wrecking Bar
is known for their in-house brewing and offbeat menu. Their brew menu is in constant rotation so be ready to try something new every time you come into town.   
The Porter
1156 Euclid Ave NE,
Atlanta, GA 30307
The Porter
is a highlight of Little 5 Points, one of Atlanta's most interesting neighborhoods. The bar is known for their insane amount of draft lines and constantly rotating beer list. The inspired menu is not your average bar food and each item has a suggested beer pairing. Little 5 Points is worth taking an afternoon to take a stroll through, and make sure you hit up
The Porter
while visiting the neighborhood.   
Sweet Water Brewery
199 Ottley Dr NE,
Atlanta, GA 30324
SweetWater Brewing Co. is a staple for southern craft beer. They were one of the first to avoid "floating the mainstream" back before craft beer became the current trend. Their brew tours have become more than an educational trip through the brew process and are known to become quite a social affair. They are also known for throwing SweetWater 420 Festival every April, which has recently been welcoming a large number of electronic dance acts.
Landmarks
Atlanta has a rich history from it's role in the civil rights movement to being the birthplace of Coca-Cola. If you are in need of a break from drinking (our favorite pastime) and indulgence, there is plenty around the city to keep you entertained.
The Beltline Trail
Multiple points of entry
Atlanta was built as a hub for railroads coming from all directions during the Civil War. Now there are miles and miles of abandoned tracks weaving throughout the city. The Beltline Trail is an ever evolving response to repurposing the tracks by making a walking trail that meanders through many of Atlanta's neighborhoods. The trail is lined with public art and there is always something new popping up.
High Museum of Art
1280 Peachtree St. NE
Atlanta, GA 30309
Sometimes the southern heat can be a little overbearing and it is nice to take an air-conditioned break.
The High
is one of the greatest places to take an afternoon and stroll through contemporary and period based art. Anything from paintings to sculpture and even new media will make it through the doors of
The High
.   
Piedmont Park and The Atlanta Botanical Garden
1345 Piedmont Ave NE,
Atlanta, GA 30309
Atlanta's Botanical Garden, which is located on the perimeter of Piedmont Park is a breathtaking escape from the mundane world around us. Get lost in the recreated jungle green houses, walk through the forest canopy of the skybridge or take a cooking lesson in the edible garden. When you are finished at the Botanical Garden, walk right outside and take a loop around Piedmont Park, which is a focal point of the city. The park is host to open air concerts and art festivals throughout the summer and is one of the most popular places for people to jog, walk their dogs, and play their favorite sport on it's many fields.
Georgia Aquarium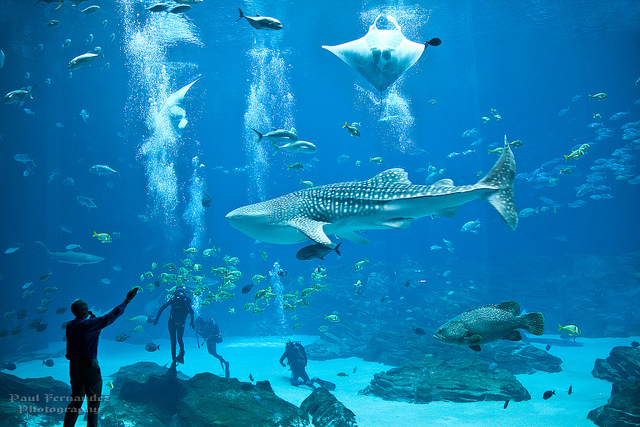 225 Baker St. NW,
Atlanta, GA 30313
Many major American cities have aquariums, but few can touch Georgia's. The main attraction are the massive whale sharks which will make you feel like an ant when they come right up to the glass. The building as a whole is an unparalleled spectacle that entertains with every returning visit. Pro Tip: Look at going during the night session. The tickets are much cheaper and you don't have to deal with all of the field trips; it tends to look like a daycare center when school is in session.   
Street Art and the Krog Tunnel
1 Krog St.
Atlanta, GA 30307
Multiple Locations
When people think of the south, they often think of a bunch of toothless yokels, but little do they know Atlanta is home to one of the most vibrant art scenes in the world.
The Krog Tunnel
is an organic museum of uncommissioned street art. The tunnel has been so overly saturated with graffiti that the police have given up on arresting the artists. The art changes daily and just when you've found your favorite piece, it will be painted over by someone new.  Atlanta also has a strong community of rebellious street artists who inject a unique counter culture into the infrastructure. In recent years, the
Living Walls
conference has become a beacon for promoting public art in the city. Although it is not technically considered street art in the general sense because the murals are commissioned,
LW
brings in world renowned artists to paint the many blank walls found throughout the city. Year by year Atlanta is looking more and more like the streets of Rio de Janerio and it is a welcomed spectacle that reverberates through the city.   
The Atlanta EDM Family Picnic – Sept 21st
Peachtree Battle Trail, Atlanta, GA 30309
Atlanta, Georgia 30318
 Atlanta's EDM culture is a tightly knit group that is more than supportive. They have even organized a pre-
Tomorrow World
picnic that will cater to all genre's of electronic dance music and is a great way to make some new friends. There will be free
TomorrowWorld
goodies, enough kandi to send
Diplo
to a mental hospital, and of course, the finest of tunes. 
…
We hope this list inspires you to make your TomorrowWorld travels a week long adventure and if you do stop in on any of our suggestions, please tell us about your experience on social media.