Once again, the minds behind III Points Music, Art & Technology Festival took advantage of Miami's Art Basel festivities. With Art Basel's expansions from Miami Beach to Downtown, Brickell, and Wynwood, it's a no-brainer that III Points would do more to expand their brand as well as their roster of legendary musical talents. With last year's takeover consisting of musical performances from Young Thug, Shlohmo, Chet Faker, Todd Terj and more, how did III Points do this year?
For starters, they traded contemporary stars for established legends in the music industry. On Tuesday, December 5th, Icelandic multi-genre spectacle Björk headlined with a DJ set supported by Brooklyn producer Oneohtrix Point Never. Meanwhile, Saturday pulled together hip-hop's most enigmatic forces the Wu-Tang Clan with support from Sean Bang, YNOT, and Will Buck.
On the Tuesday, Mana Wynwood's gargantuan warehouse space transformed into a jungle with bannisters holding fake foliage in the blue, purple, and green hues sprayed over the dark space crowding with people. Around 10 o'clock in the evening, Björk appeared on stage arrayed like a neon-pink butterfly. Adorned with a mask and accentuating wing-like features, her bright and unorthodox choice in fashion was just as much a part of the show and keeping with the theme of nature as she appeared as this extraterrestrial insect about to deliver a DJ set as unpredictable as the outfit worn.
She opened with a loop of what can be best described as an triumphant chanting acappella akin to an incantation surrounded by birds chirping. Fans of her latest album Utopia could notice that these are similar sounds of her new project. From here, Björk pivoted the direction of her set by diving into trap-like hip-hop from the likes of tracks like "Bling Bling" by Junglepussy, "Cartoons" by Cupcakke, and "O Let's Do It" by Waka Flocka Flame. The evening continued to take a turn for the weird and ambiguous while she selected tracks like the ominous nature of "Doom" by Coucou Chloe and to the upbeat synth-pop of "To the Moon and Back" by Fever Ray. Although she spent about an hour on-stage she let collaborator and co-producer on her latest album Rabit takeover and play some Miami bass tracks before closing with "Dying" by 90's alternative rock outfit Hole. To put it shortly, it was the best kind of weird you could come to expect from a DJ set delivered by an avant garde artist like Björk.
Four days later, Saturday arrived with Wu-Tang Clan playing a sold-out show in the same venue as Björk and Oneohtrix Point Never. This time, however, the venue was decked-out to look like a gritty combination of New York alleyways and traditional Chinese architecture. From set-pieces designed to fuse Ming Dynasty-styled glazed roof tiles with crackling brick buildings, the stage props set the tone for what fans would and could expect from nine-man team.
RZA was the first to show his face and one-by-one the entire Wu-Tang Clan appeared when their time-to-shine lyrical moments cued them in. From Ghostface Killa, GZA, Method Man, Raekwon, Masta Killa, Cappadonna, Inspectah Deck, and U-God, the band was back and they transported everyone in the crowd to the "Shaolin Apartments" setting they crafted for the evening.
They played their biggest hits from their legendary album Enter the Wu-Tang: 36 Chambers including "Bring Da Ruckus" and "Da Mystery of Cheeseboxin'" while also playing solo material from some of the individual members such as "Ice Cream" by Raekwon and paying tribute the late Ol' Dirty Bastard with lyrics from his track "Shimmy Shimmy Ya." They ended their performance with free-styling acappella and continuing way past their scheduled one-hour mark. As the audience crowded more densely with each energetic performance after the other, it became obvious that these hip-hop legends of the underground are still kicking with flavor and tenacity. As best said by Ghostface Killa before leading into another hype song, "No matter where you came from, we want you to remember one thing: Wu-Tang Clan ain't nuthing ta fuck wit!"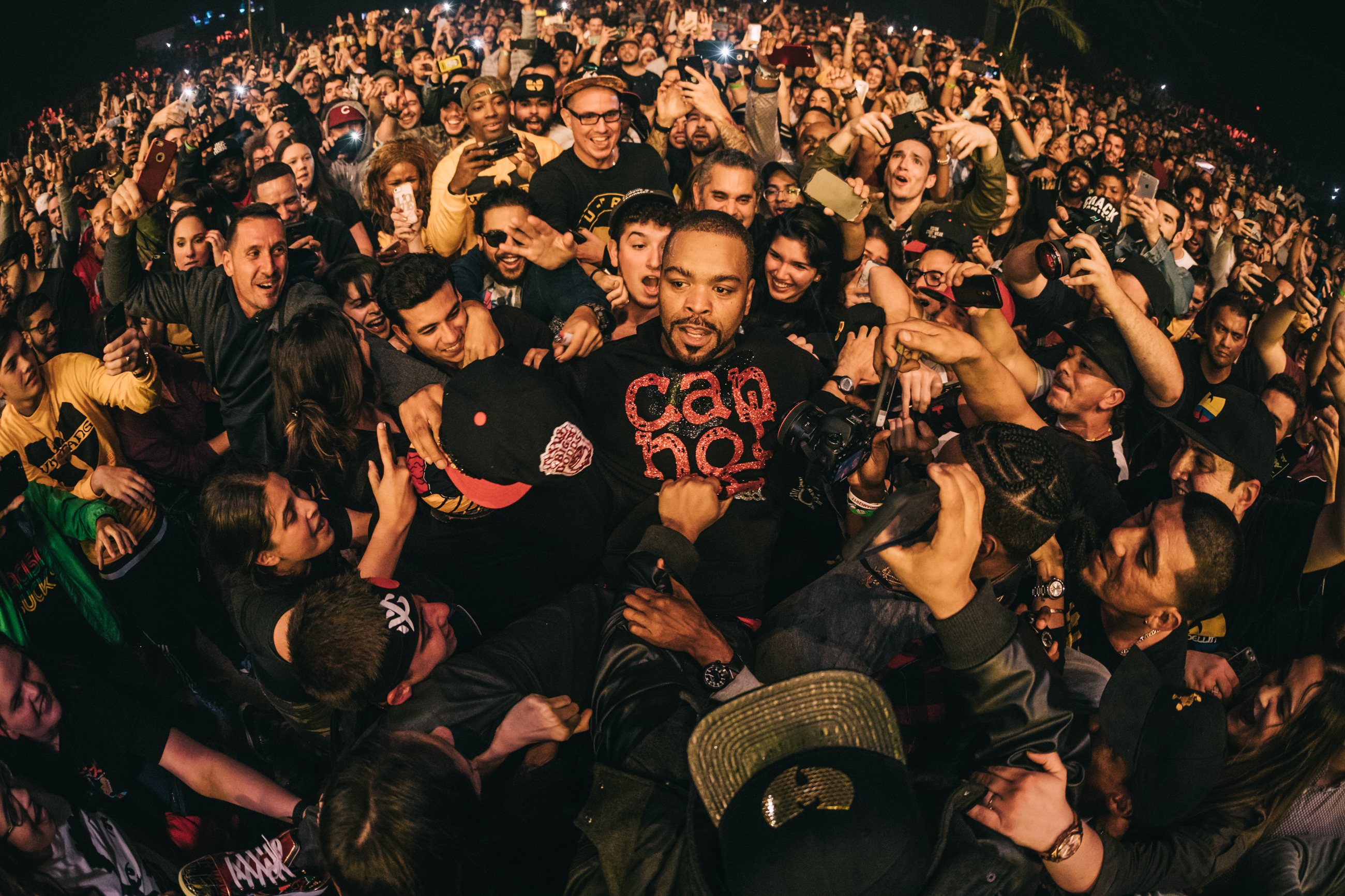 Hopefully, we can see names of these categories and of these size again at next year's Art Basel and with 2018's III Points.
Photos of Björk by Santiago Felipe/Photos of Wu-Tang Clan by Adi Adinayev