Wednesday
Awakenings X Charlotte de Witte
Where: Gashouder
When: 22:00 – 08:00 (10pm to 8am)
Who: Amotik, Monoloc (live), Matrixxman, SHDW & Obscure Shape, Charlotte de Witte, Chris Liebing, and Dax J
Why: Just last month Charlotte de Witte and Chris Liebing released their collaboration EP entitled, Liquid Slow, on de Witte's on label. The idea for the joint project was born at last year's Awakenings Festival. "We have shared a lot of laughs, a couple of beers and a million different mixdown versions of both tracks," she says. "I consider Chris to be my friend, and I'm very proud and honored to have worked with him on this EP." This event will be the perfect place to get to experience their work together along with other genre heavyweights.
Richie Hawtin Close & Modeselektor Live
Where: NDSM Scheepsbouwloods
When: 19:30 – 00:00 (7:30pm to 12am)
Who: Richie Hawtin CLOSE, Modeselektor (live), SOPHIE
AUS Music Floorplan Pres. 'Supernatural'
Where: Shelter
When: 23:00 – 07:00 (11pm to 7am)
Who: Floorplan, Detroit Swindle, Cinthie, Will Saul, Tracey
Key+Needle: Resonance Boat Party
Where: De Ruijterkade 14
When: 15:00 – 23:45 (3pm to 11:45pm)
Who: Juan Atkins, Truncate, Avision b2b Marco Effe, Spencer Zabiela b2b Nico Kass, Anfisa Letyago, Coppola, + more TBA
Thursday
Thuishaven ADE Thursday with Electric Deluxe
Where: Thuishaven
When: 16:00 – 06:00 (4pm to 6am)
Who:(Day:) Clouds, Daniel Avery, Konduku, Lucy, Multiples (Speedy J & Surgeon), Nadia Struiwigh, Palmbomen II (dj set), Sophia Saze, Versalife –– (Night:) Speedy J 3HRS
Why: Speedy J and his label, Electric Deluxe, are both highly revered for their contributions to techno; therefore, it only makes sense that their all day party would stack so much talent into one event.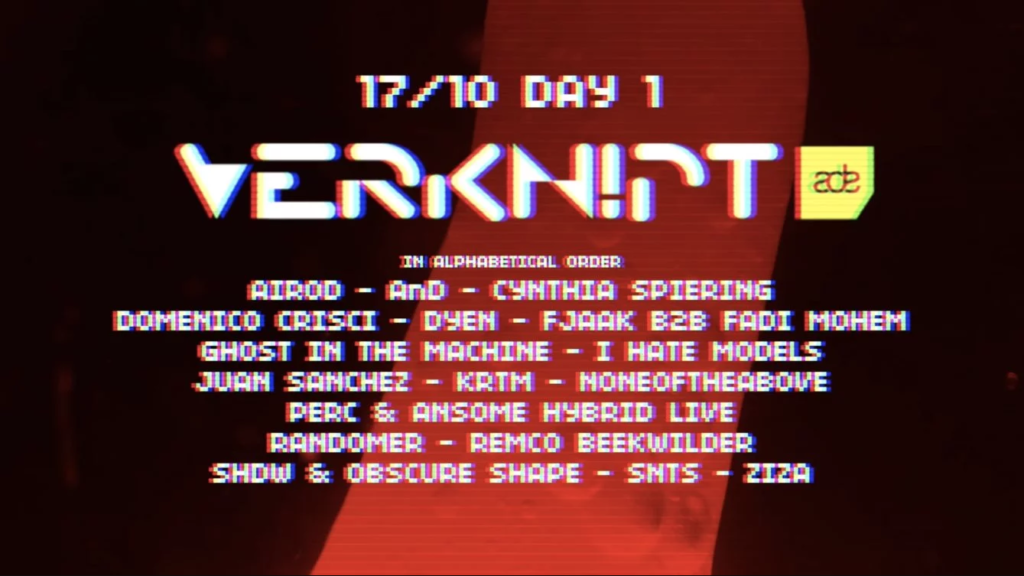 Verknipt ADE Special – Day 1
Where: Amsterdam Studio's
When: 22:00 – 07:00 (10pm to 7am)
Who: Airod, AnD, Cynthia Spiering, Domenico Crisci, DYEN, FJAAK b2b Fadi Mohem, Ghost in the Machine, I Hate Models, Juan Sanchez, KRTM, Noneoftheabove, Perc & Ansome (Hybrid Live), Randomer, Remco Beekwilder, SHDW & Obscure Shape, SNTS, ZIZA
Why:
DGTL
Where: NDSM Scheepsbouwloods
When: 22:00 – 07:00 (10pm to 7am)
Who: Identified Patient, Helena Hauff, Jeff Mills, Ben Klock b2b Marcel Dettmann, Deniro, Jane Fitz, DJ Nobu
Friday
Verknipt ADE Special – Day 2
Where: Amsterdam Studio's
When: 22:00 – 07:00 (10pm to 7am)
Who: B.Traits, Victor Ruiz, Matador, Deborah De Luca, EgbertLIVE, Fatima Hajji, ROD, Tom Hades, Ø [Phase], Marco Bailey, The Advent, Gary Beck, Cleric, Amber, Joyhauser, Thomas Schumacher, KlangKuenstler
Dave Clarke Presents
Where: Melkweg
When: 21:00 – 07:00 (9pm to 7am)
Who: Anetha, Black Asteroid, Daniel Miller, Dave Clarke, DVS1, Luke Slater, Marcel Fengler, Mirella Kroes, Mr Jones, Paula Temple, Terence Fixmer (live)
Why: This event has been a staple at Melweg for a number of years now and you can always count on it to bring together a culmination of talent that is almost unmatched for any techno fan.
Intercell x Perc Trax
Where: H7 Warehouse
When: 23:00 07:45 (11pm to 7:45am)
Who: Perc, Ansome (live), stranger (NL), Manni Dee, Scalameriya, Ben Buitendijk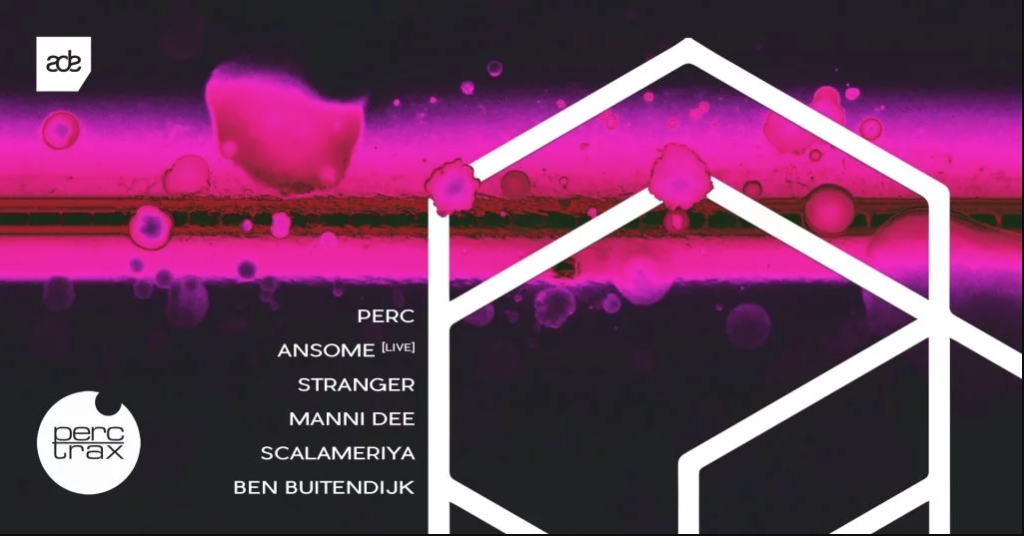 DJ Bone's Homeless Homies ADE (Fundraiser)
Where: Shelter
When: 10:00 – 20:00 (10am to 8pm)
Who: DJ Bone, Ben Sims, Deetron, Dubfire, Funster, Jordan GCZ, KiNK (DJ set), Peggy Gou, Sandrien, Spencer Parker
Why: Peggy Gou, KiNK, Ben Sims and more friends team up with Amsterdam-based DJ Bone and his wife, Ahnne Araza, to raise money for the the homeless. This event showcases top tier talent while also doing its part within the community.
Marcel Dettmann presents Bad Manners
Where: Shelter
When: 23:00 – 20:00 (11am Friday to 8pm Saturday)
Who: DJ Stingray, Exterminador, JP Enfant, Miss Kittin, Lennart Wiehe, Marcel Dettmann, Planetary Assault Systems (live), Somewhen, Umfang, Vril (live)
Audio Obscura
Where: Muziekgebouw aan t' IJ
When: 23:00 – 06:00 (11am to 6am)
Who: Len Faki (all night long), Blawan, Colin Benders, Ellen Allien, ROD, Dr. Rubinstein, Deniro, Henning Baer, Nadia Struiwigh
Tresor Berlin x The Crave x Second Wave
Where: Raidon
When: 23:00 – 07:00 (11pm to 7am)
Who: Function, Broken English Club, Ron Morelli, Umwelt, Zadig, Gesloten Cirkel, Sync 24, Alienata, Spekki Webu, Jeans (NL), Lenson, Mad Miran, Cosmox, LEWIE, Marlon Benjamins, Mercal, 543FF, Gamma Intel, henna.essa, Perill, Urban Space Electronics, Vox supreme
Saturday
Intercell x Paula Temple Pres. Noise Manifesto
Where: H7 Warehouse
When: 23:00 – 07:45 (11pm to 7:45am)
Who: Paula Temple b2b SNTS, Ghost in the Machine, Hemka, Shlømo, SØS Gunver Ryberg (live)
Why: For the first ever Noise Manifesto night attendee's will get to be witness to a unique b2b sent with the label head herself, Paula Temple, and the masked man in techno, SNTS.
Klockworks presents Photon
Where: De Overkant
When: 23:00 – 07:00 (11pm to 7am)
Who: Ben Klock, Rødhåd, Blawan B2B Freddy K, FJAAK (live), Adiel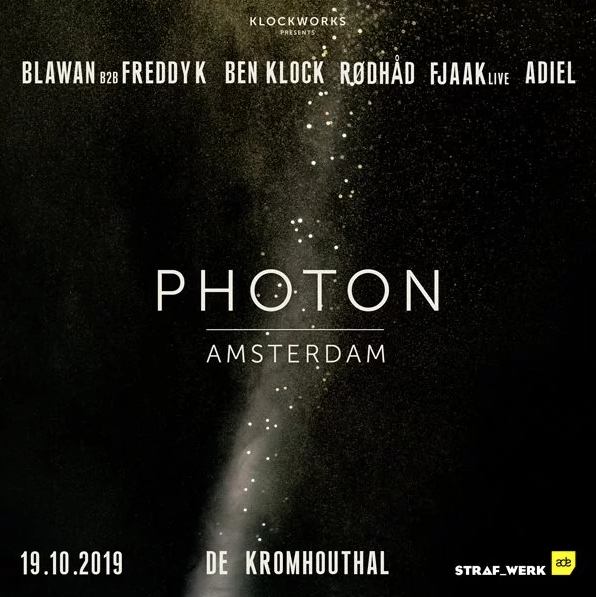 Dockyard Festival
Where: Havenpark
When: 11:00 – 23:00 (11am to 11pm)
Who: Alienata, Avision, Ben Sims b2b DJ Bone, Benny Rodrigues, Cailín, Charlotte de Witte, Cuartero b2b Luuk van Dijk, Dax J, Dense & Pika, Dubfire, DVS1, Eats Everything, Fer BR, Jeroen Search, Joran van Pol b2b Roberto Capuano, Kirilik (live) (a.k.a. KiNK), Kirk Degiorgio, Latmun b2b Joey Daniel, Len Faki, Matador, Matrixxman b2b Ellen Allien, Mind Against, Mitch de Klein, Monika Kruse, Nastia, Nic Fanciulli, Olivier Weiter, Oscar Mulero, Paco Osuna, Patrice Baumel, Pig&Dan, Prunk, Radio Slave, Recondite b2b Marcus Worgull, Relativ, Roman Poncet, SAMA, Sandrien, Secret Cinema b2b Egbert (live), Solardo, SQL, Surgeon & Lady Starlight (live), The Reason Y, VERY Special Guest, VNTM (live)
Why: A festival within a festival; Dockyard brings an experience to the table that you won't find at many other events during those five days.
Awakenings x Exhale with Amelie Lens (24 hour)
Where: Gashouder
When: 23:00 – 23:00 (11pm Saturday to 11pm Sunday)
Who: Keith Carnal, Volvox, Amelie Lens, 999999999, SNTS, Nastia, FJAAK, Rebekah, Kobosil, Amelie Lens, Under Black Helmet, Abstract Division, Farrago, Nur Jaber, Airod, Milo Spykers, Setaoc Mass, Regal, Deep Dimension
Sunday
Vault Sessions x 47
Where: Raidon
When: 22:00 – 07:00 (10pm to 7am)
Who: Tommy Four Seven, Ancient Methods, Stephanie Sykes, VSK (live), Swarm Intelligence, Cleric (live), Endlec, Inhalt der Nacht b2b Hadone, VSC
Intercell x I Hate Models Invites
Where: H7 Warehouse
When: 22:00 – 07:00 (10pm to 7am)
Who: I Hate Models, Body Sushi [Randomer & VTSS], Sunil Sharpe b2b Héctor Oaks, Pär Grindvik, KI/KI