While browsing the website PeoplePerHour, I came across a listing that absolutely turned my stomach. A fellow by the name of Henry J. is apparently offering a thousand dollars to a freelancer to purchase 300-400 copies of a song on Beatport.  
If you aren't disgusted with this, I'll tell you why you should be.
Believe it or not, it takes substantially fewer sales than one would expect to chart on Beatport. Depending on which genre the track is submitted under, a few hundred sales has the potential to drive a release into high spots on the chart. Often times these charts are taken as a measure of success and popularity of an artist and charting releases make great portfolio pieces. However, if sales don't come from organic sources then ultimately they have no legitimacy. This means that artists, their management, and label can quite literally pay their way to the top of the charts.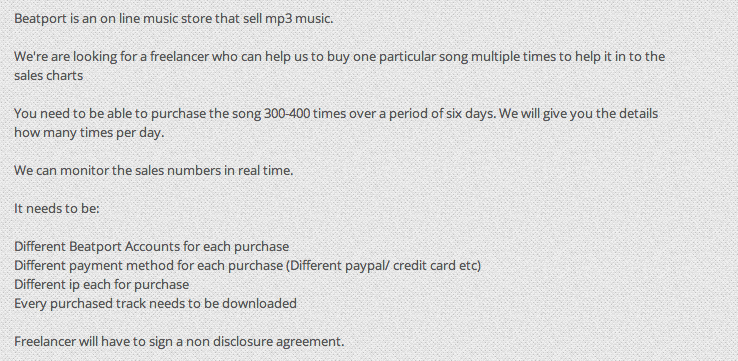 I'll be honest, this sort of thing is new to me. I've had more than my fair share of experience with ghost production and some of the other less than reputable techniques the industry employs to make things happen. Hell, we've even seen a no-name finagle his way to a electronic grammy nomination… But this, this is new.
Before today, I've never once heard of an artist employing freelancers to boost a release on the Beatport charts. Think about it, if this Henry J worked for a record label and had the tacit agreement of the artist he would be able to recoup the money used to buy the tracks in the first place, sans Beatport fees. This in essence would allow a record label to claim a legitimacy and bragging rights it had never earned.
Due to the nature of PeoplePerHour it's nearly impossible to determine the identity of the artist, label, or whoever it is that's behind this. We'll do what we can to get to the bottom of this, but for the moment all we can hope is that this is an isolated occurrence. We've reached out to Beatport for a statement, but haven't yet heard back. You can see the PPH posting in question, here.
It's sickening.