On the New Years holiday, we made the trek out to South Lake Tahoe for Snowglobe, a three day music festival of truly epic proportions (for our third year in a row I might add). In only two years this gathering had become one of the most talked about New Years festivals this side of the rockies, and for good reason. Last year Snowglobe hosted and absurd amount of popular artists spanning across all genres. From Wiz Kahlifa & Deadmau5, to Flosstradamus, Laidback Luke & Ill Gates, they literally had something for everyone, and this year was no different. Tiësto, Cashmere Cat, Luminox, Kastle, Justin Martin, Dillion Francis, Snoop Dogg, Zeds Dead, & Polish Ambassador were just a few of the names on the ticket this year. This incredible lineup was drawing a massive amount EDM fans from near and far to come and celebrate the New Year in Tahoe, so it was no surprise to us when the show sold out yet again. Needless to say, we were excited, but looking back, I don't think we were fully prepared for the madness that swept us along in its joyously chaotic wake for the next three days.
After we got our credentials sorted (which went very smoothly I might add), we piled on the bus and headed for the festival. As soon as we stepped on the shuttle it was immediately apparent how excited everybody was to start the party. Laughter, smiles, and random chants were abundant on the bus ride to the festival grounds. A very a good sign that this next three days were going to be some for the history books.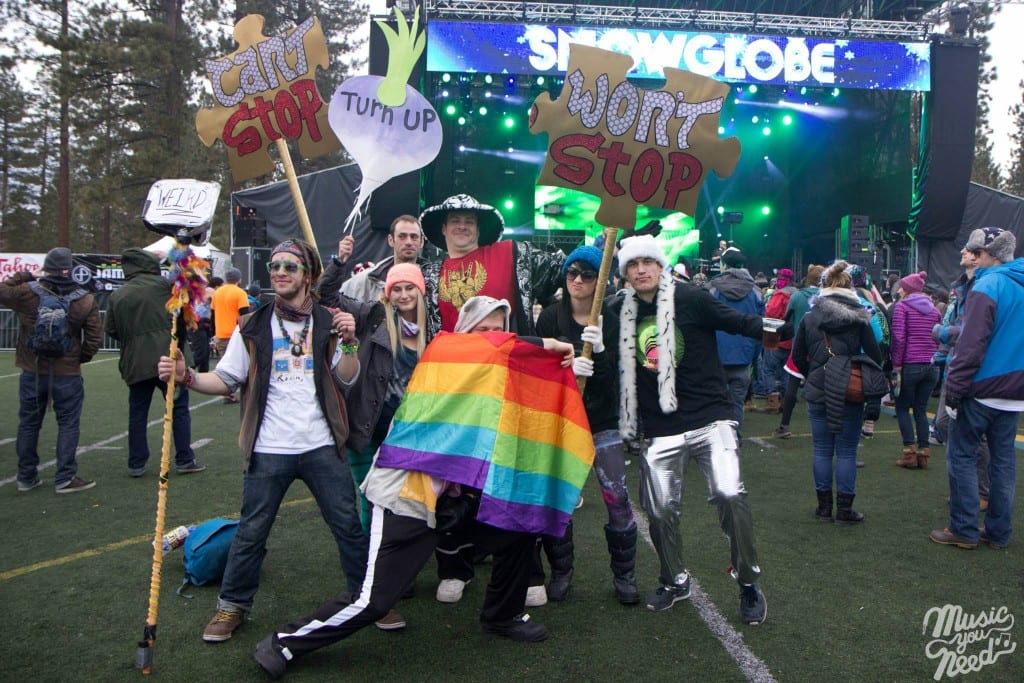 As we piled off the bus, the cold smacked us right in the face, but not for long. Our outstanding hosts went above and beyond the call to make sure we had the means to stay warm as the night wore on. They had random heaters scattered throughout the grounds, and deliciously hot drinks for surprisingly fair prices. The only completely uncovered stage was the main stage, but directly at the back of that area, facing the stage they had a heated tent with a fully stocked bar and a bit of a lounge area to relax in if things got too chilly out there. Our friends over at DJZ were even in there laying down some solid groves on their Crossfader app, keeping the vibe deep and grooving. The Sierra stage was covered by a sort of half shell tent that extended from over the stage well into the crowd, and the igloo stage was inside a giant heated tent. So, even if the sheer amount of people at each stage didn't keep you warm, the cold was still easily dealt with. Each stage was also adorned with all the bells and whistles of a top notch festival. A plethora of stunning lights, and crisp lasers danced and spun through the thick fog of the smoke machines as artist after artist was accompanied by a unique set of visuals that breathed even more life into an already incredible experience.
Now then, onto the music. Over the next three days we saw so many amazing artists, it would take way too long to talk about them, all so we narrowed it down to a few of our favorites from these three days of EDM heaven. On the first night, Tiësto, & Kastle did an outstanding job of setting off the festival right and putting everyone in the mood for more.
So for those of you don't know about Kastle, I've got three words for you, baby making music. This LA native is known for his smooth and sexy sound that's somewhere between classic house and soulful R&B. Kastle's pumping basslines, funky grooves, and beautifully creative vocal samples are sure to keep you dancing like a gentlemen and grinning like an idiot. His remixes are so top of the line he can turn a pop song you would never listen to in a million years into something you wish would never end. Throughout his whole set, Kastle had Snowglobe wrapped around his little finger and we were loving every second of it. If Kastle ever comes to your city, grab a date and get ready for an incredible evening. Also, we would like to give a special shoutout to Starslinger for spinning music of the same persuasion with a passionate and beautiful swagger that made us all forget about the cold.
This next artist I was really looking forward too, even if it was only to put my unjustified convictions to rest. I had never seen Tiësto before, and I wasn't expecting much. But let me just say this guy is famous for a reason. His high energy electro trance combo's absolutely blew the crowd out of the water. Within minutes of his set he had everyone in the crowd singing along and clapping to the beat like they were born for it. His set hit all the right notes, it was wild, it was fun, and it was dirty. Tiësto made me eat my words on trance and I was happy to do it. He left everyone at the festival buzzing with a massive excitement and energy that stayed with us through the evening. I would also like to acknowledge Justin Martin for taking that energy and running with it to close out the night. His funky, bouncy house music was exactly what we needed after Tiësto, and it was received very, very well. He dropped a remix of Space Jam, that I have still let to find, as his closer which was absolutely bonkers! If you don't know about about Justin and you love house, you definitely need to look him up as well as his Dirty Bird brothers.
At this point I would like to point out that even though the festival ended at 11pm on the two nights before New Years, back at our hotel/casino (that's right), the music, and general debauchery was widespread and very much alive well into the sunrise. With a Snowglobe sponsored after-party every night and no last call, we found it very hard to sleep indeed.
Anyway, day two. Our favorites of the night were easily Kaskade and Zeds Dead.
I've been a fan of Zeds Dead for years so I was really looking forward to an awesome set, and these two did not disappoint me. Zeds Dead's been crushing the EDM scene for about 3-4 years. In that time they've put out a very impressive array of unique dubstep, drum and bass, and a few experimental tracks that are all infused with a signature sound that is has yet to be replicated. This duo is truly one of a kind, and it showed as the proceeded to lay down one of the dirtiest sets of the entire festival. Dubstep, Trap, Drum & Bass, it was all there. Tracks old and new, were mixed so impeccably well by these two masterminds of bass, they had the whole crowd going absolutely bonkers within moments of taking the stage. Zeds Dead has stayed true to their original sound through all these years, which is no easy feat in this incredibly fickle music industry. They've never completely changed their sound. It's just been steadily refined, improved, and mastered it with an incredibly admirable, and determined originality that makes for an amazing live performance and some very loyal fans. And I am very proud to call myself one of them. You definitely don't want to miss out on this dynamic duo if given the opportunity.
Now, Kaskade was another on another level for me; and I can honestly say I have never seen a performance like this before. This grammy nominated house/trance veteran has been making ravers fall in love with his beautifully, meticulously, refined music for years. Some people might remember him for starting a riot in LA when he tweeted about his surprise set for the premiere of the EDC Documentary.
Kaskade's set was something I still struggle to define. To say it was House or Trance isn't enough. It's kind of like when you look up at the stars on a beautifully clear night. That feeling that you get inside, combine that with the feeling you get at the peak moment of an absolutely insane party. That's what his set was like. It was uplifting, it was beautiful, it was nuts, and yet, it was oddly peaceful all at the same time.
His emotional roller coaster of a set filled me with such a solid mix of feelings, it caught me so completely off guard I almost didn't know what to do with myself, and I wasn't the only one. I saw tears, I saw smiles, I saw pure unadulterated joy and excitement as his masterfully crafted sounds and excellent DJ skills pumped through the crowd and had us all jumping, screaming and singing along to all of his classic anthems like we were trained for it. It was amazing. Forgive me while I struggle to find words to describe this set but it's incredibly hard. All I can say is that I saw Kaskade change some lives that night. Musical therapy is a beautiful thing. Don't miss out on a chance to catch this master at work, I promise you won't regret it.
Day two as incredible, but day three took the cake. With performances by Cashmere Cat, Luminox, Snoop Dogg/Lion, Love & Light, Dillon Francis, & Beats Antique, to name a few, we were hard pressed to catch everyone. But we did, and here were our favorites.
EDM style trap music has been around for a few years now, and one of the artists who's been at the forefront of this explosive new genre is Luminox. His heavy, dirty hip hop inspired beats have taken the EDM world by storm and helped push trap music to where it is today. Year old songs like Hate Me and Tantrum, as well as his remixes of Original Don and Epic have become Trap music anthems that still get played out by some of the most popular artists in the scene today. Seeing Luminox live was insane. He knew what this massive crowd had come for, and he gave it too us. Filthy, heavy, intense bass music annihilated crowd and had us all going completely bonkers. He dropped some of the most ridiculous bass fueled Trap-step music I've ever heard, including his new song Ganxta that absolutely brought the house down. Luminox kicked New Years Eve into overdrive and set the tone for the rest of the night. If you love trap music the you already know Luminox, and if you don't, it's still worth seeing him because he might just change your mind about the genre.
Next up it was time for what was arguably the best performance of the night, Snoop Dogg (aka Snoop Lion). This was old school Snoop, none of that Snoop Lion nonsense. For those of you who would declare Hip-Hop dead, I would say, you have obviously haven't seen Snoop Dogg perform recently. Never before I have seen or heard a crowd get more live than at the beginning of The Next Episode. It was absolute insanity. Snoop was in perfect form, with infectious energy and excellent song selection that had the whole festival singing along to all his golden classics that so many of us had grown up with. Seeing Snoop perform is something I had wanted to do for years and it was everything I thought it could be. This performance was exactly what the crowd needed in the midst of all these electronic music superstars. It was an honor and a privilege to see the Legend at work. Special love also goes out to Cashmere Cat who was incredible as always, and of course the Moombahton master himself, Dillion Francis. Only you Dillion, can mess up a headlining set three times and totally save the day by dropping Scrubs by TLC in the middle of it all and have everyone lose their f***ing minds. We'd also like to take the time to tell you about how saddened we were to hear how you declined our offering of a free zesty Taco Bell Doritos Locos Taco 12-Pack. Sad to hear you're "vegan now", according to PR officials on-site. We know it's rubbish and some people were probably misinformed, but we love you none-the-less Dillon, stay weird.
After we "rang in" the New Year with Cut Copy, and I say that in complete sarcasm as there was no typical NYE Countdown or any big hoop-la as we had all intended. Cut Copy had not only unknowingly played through the countdown, but once they realized their mistake they continued to play like no big deal… Seriously? Yeah, thanks for the delayed fireworks and everything but you could instantly tell the vibe was offbeat. People looked around in confusion as they heard other people around them drunkenly counting down on their own off their phones. Cut Copy probably missed their soundcheck and rooked it for everyone. Thank goodness for the after-parties! So we left in a hurry to pile back onto the bus one last time, exhausted and more alive than ever, it was clear not one person at this festival wanted the experience to end. Lake Tahoe had welcomed us with open arms and sent us back with smiles in our souls that would take very long time to dissipate. Despite a few hiccups with the countdown this year, everything about this festival had been wonderful, we can't recommend it enough. From the music, and the beautiful people, to the sweet caring staff who's attentiveness and compassion helped us all stay a little safer; Snowglobe showed us exactly how we should celebrate the new year. With love, kindness, and the music that brings us all together. We can't wait to see how they outdo themselves next year for year four! If you missed Snowglobe this year, check out this years recap video below!
Contribution by Theo Newhall
Photos by Lyja Stadlen-Brown of musicyouneed, used with permission