On a casual Sunday evening, YourEDM received the opportunity to chat with DJ NYMZ and Killagraham, the men behind the exploding trap phenomenon known as Milo & Otis. In a private chat tucked away in the darkest crevasse of the undisclosed internet, the duo revealed that they will be joining Skrillex on his upcoming Mothership Tour along with Dillon Francis, WhatSoNot and DJ Snake(Select Dates). The tour will begin in late May and cover New England, the Mid Atlantic, and the Mid West. We were also able to uncover their plans to release a collaboration with veteran DJ and producer A-Trak, as well as the details on hopping on the AM Only roster.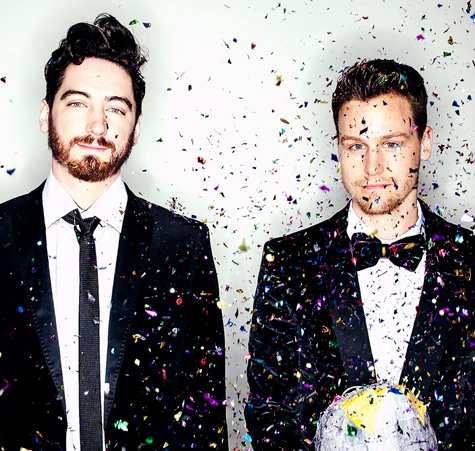 Festival season is right around the corner, what does Milo & Otis have planned for live events?
Milo: Well we have a few things coming up, four parties at SXSW and a bunch during Miami Ultra week.

Otis: SXSW we have a party at The Main, The illmore and Republic. We've got the AM Only showcase with What So Not, Dog Blood, Amtrac and the republic party is the All Trap party, which we are doing a b2b with gLAdiator,
Is this going to be your first b2b with Gladiator?
Milo: Yea, first time playing with gLAdiator ever. We've known them for much longer though.

Otis: In Miami, we also have a b2b with 12th planet and a b2b with Craze. They will both be crazy weeks and in between, we are playing Avalon hollywood with Loudpvck, gLAdiator and Branchez on the 21st. For MMW we've got like 5 parties we are playing with a bunch of our buddies…

We are playing the Animal House room at the smog/firepower party at Mekka and we are playing b2b with craze along with Bro Safari, Torro Torro, Brillz, CRNKN, Valentino Khan, ETC!ETC!, HxV, UFO, Luminox, Kid Cedek, Flexican, Thugli. Its a pretty awesome line up.

Another party we are playing in Miami is the Slow Roast Records showcase at LMNT with Ape Drums, Sluggers, Craze, and Jack Beats. We have 3 other parties for Miami but we are still waiting on all of the info on them.
Alight so, the winter freeze is starting to thaw, spring is right around the corner. Ya'll are gearing up for SXSW, and ULTRA, What can we expect from M&O this summer?
Milo: Free priuses for everyone.

jk

Some new chilled out tunes, and some ragers, and lots of bow ties and neck ties.

Otis: Aside from the free prius contest and ties, we've got a bunch of tunes we are hoping to release and a ton of shows that we are really excited about this summer…mainly being apart of the Skrillex Mothership Tour.
So who is going to be on this tour? When does it start?
Otis: Besides us and Sonny, the tour also consists of What So Not and Dillon Francis and dj hanzel maybe….vassup.The tour starts towards the end of May and goes until the end of July with a few breaks in between.
How did that come to be? What is your relationship with OWSLA and Skrillex?
Otis: Well first off, OWSLA is filled with a lot of people that are from Florida, where I am from and were Milo & Otis originally started. We started working with OWSLA when we did the remix for Henry Fong's "Stand Up." [He's] also from Florida and went to UCF.

Milo: Yea, so we did the remix. Then we put out a few tunes after that. One of the guys from OWSLA intro'd us and Sonny and then Sonny called us and we just got along really well together.

Might be worth mentioning I made a song with Skrillex for that Divergent movie.
What is it like working with Skrillex in the studio?
Milo: Just basically, he is an alien. Just know that.

lol
What kind of releases can we expect from Milo & Otis in the near future?
Otis: We have quite a few tracks, originals and remixes that we have been working heavily on these past couple of months, such as a collab with Atrak.

Our next release is gonna be our remix of Bro Safari and UFO!'s "The Dealer," which is out on March 17th.
Working with A-Trak must have been quite an experience. What did you learn from being in the studio with him?
Milo: Dont take music too seriously! He was fun to work with. We have a burp noise in the song we made. So it was pretty fun working with him.

Otis: Working with A-Trak was an awesome time and inspiring for sure. He's just a hilarious dude.
Where would you like to see Milo & Otis' sound go?
Otis: We've just been making music that we like, we have a bunch of tunes that aren't out yet that sound pretty different than what everyone has heard from us. We've been wanting to use more vocals on our tracks recently.

Milo: From our perspective every sort of genre seems to be accepted evenly. We feel that styles will become more apparent, the same sorts of sounds will be popular, but people will be known by how they use them. The age of inventing sounds is over. Now we have to use them.

Vocals I think will play a huge part. How does any rock band stand apart? A distorted guitar from one band may sound the same as another but the vocalist gives identity. So for M&O vocals are the future. Lately we have been doing all of our own and just pitching them, and experimenting.

Otis: We definitely try to experiment more with every new song that we make and try to always take the next song to a different level. Some of our new stuff is a little slower and chill and some is super crazy, and we def want to incorporate more vocals in the future.

Yeah [Killagraham] is doing the vocals on our newest tune "#FESTMUNCH."

Milo: Later down the road we want to add live elements to what we are doing. as for now we want to find a style and evolve from that
Awesome. So I wanna talk a minute about signing to AM Only. What challenges were you facing before signing with AM Only that they will help you overcome?
Milo: Getting promoters to take us seriously.

Otis: We had all this music that we made and everyone was playing it out and we wanted to go play it out, but we didnt have any proper booking until AM Only. So signing with them was a big deal for us, and it is awesome working with them.

Milo: Yea we just played out "#FESTMUNCH" for the first time last month and "Pigeons," "Ice Cream," "Anthem," "Bing Bong," etc.
What did that feel like? After sitting on your tunes for so long and hearing other people playing them, then finally getting to pull the trigger yourself?
Otis: It was amazing! We make all these tunes so we can go play them for our fans live, and now that we have the chance to do that so often is just an awesome feeling. You work so long and hard in the studio to finish your music and the reward is being able to go play it for your fans who love it and want to hear it.

Milo: It's like losing your virginity basically. You work so hard, and then u finally make it.
We want to give special thanks to Milo & Otis for taking the time to talk to us as well as give a shout out to their management for arranging the meeting. As stated in the interview, look out for their remix of Brosafari and UFO!'s "The Dealer," which will be out March 17th. Until then grab a free download of  #FESTMUNCH and check out Milo & Otis at SXSW, Miami Music Week and the Mothership Tour, whose dates are listed below.