Of all of the negative aspects associated with EDM festivals, one of the most often overlooked is the impact on the environment. After a festival, depending on whether it accommodates camping or not, trash levels can reach disastrous levels. It is only by the grace of those staying after and cleaning up that most of these venues allow those of us who go to go again.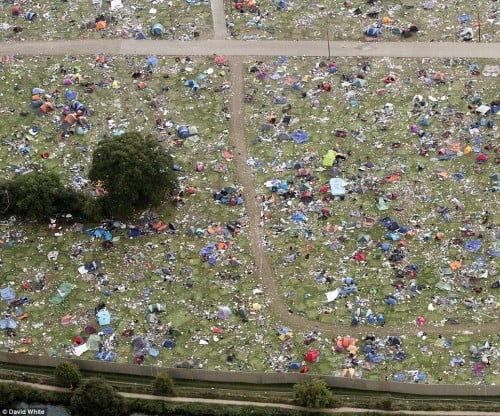 Fortunately, Insomniac Events, the celebrated tour promoter who puts on Electric Daisy Carnival, likes to give back to the community. As part of its charitable giving campaign, Insomniac collects $1 per ticket and $10 per guest list invitee and uses those funds to contribute to non-profits that do amazing work in the communities where we operate. And in celebration of Earth Day on Tuesday, April 22nd, Insomniac is donating $10,000 to TreePeople. Based in Los Angeles, like Insomniac, TreePeople works to grow a sustainable future. Their goal is to create an abundant tree canopy and ample local water supply in even the most over-paved parts of the city.
"We bring communities together to restore the natural watershed, and in doing so help naturally heal our city."
According to Insomniac, beginning yesterday, April 17th, fans can go online and sign a voluntary pledge to embrace simple habits that benefit the environment while attending Insomniac's events. Out of those that sign the pledge between April 17 and Earth Day, April 22, 500 random fans will receive an electronic certificate verifying that a portion of Insomniac's $10,000 donation will be made in their name. Additionally, one lucky fan will win two complimentary tickets to one of Insomniac's upcoming Memorial Day Weekend festivals, Electric Daisy Carnival, New York in East Rutherford, New Jersey or Audio On The Bay in Richmond, California. You can sign up for the pledge here: www.insomniac.com/earthday2014.
With these efforts, Insomniac is striving to promote environmental consciousness at their events and at all others. Things you can do to help include using reusable water canteens to decrease plastic bottle waste, practicing proper waste disposal at events to reduce trash and promote recycling, as well as encourage carpooling to Insomniac festivals and events.
"Through Insomniac's work with the great team at TreePeople, I've learned what an important role trees play in everything from keeping our air clean to conserving water," said Pasquale Rotella, Founder and CEO of Insomniac. "I hope that our fans will show their love and support alongside us by pledging to make a positive impact on Mother Earth because we can all use a cooler, cleaner and greener place to live."
"With Los Angeles experiencing a historic drought, we need to make every effort to both conserve water – and help our city's trees to survive," says TreePeople Founder and President Andy Lipkis. "We are so happy to have Insomniac's loyal fan base be a part of positive change."