Canadian producer OVERWERK has just announced plans for his newest single "Exist" and dates for his upcoming debut North American tour, which includes Boston, Chicago, California, Texas, New York and more. See the full list of dates, tour trailer and full press release below. Get your tickets now here.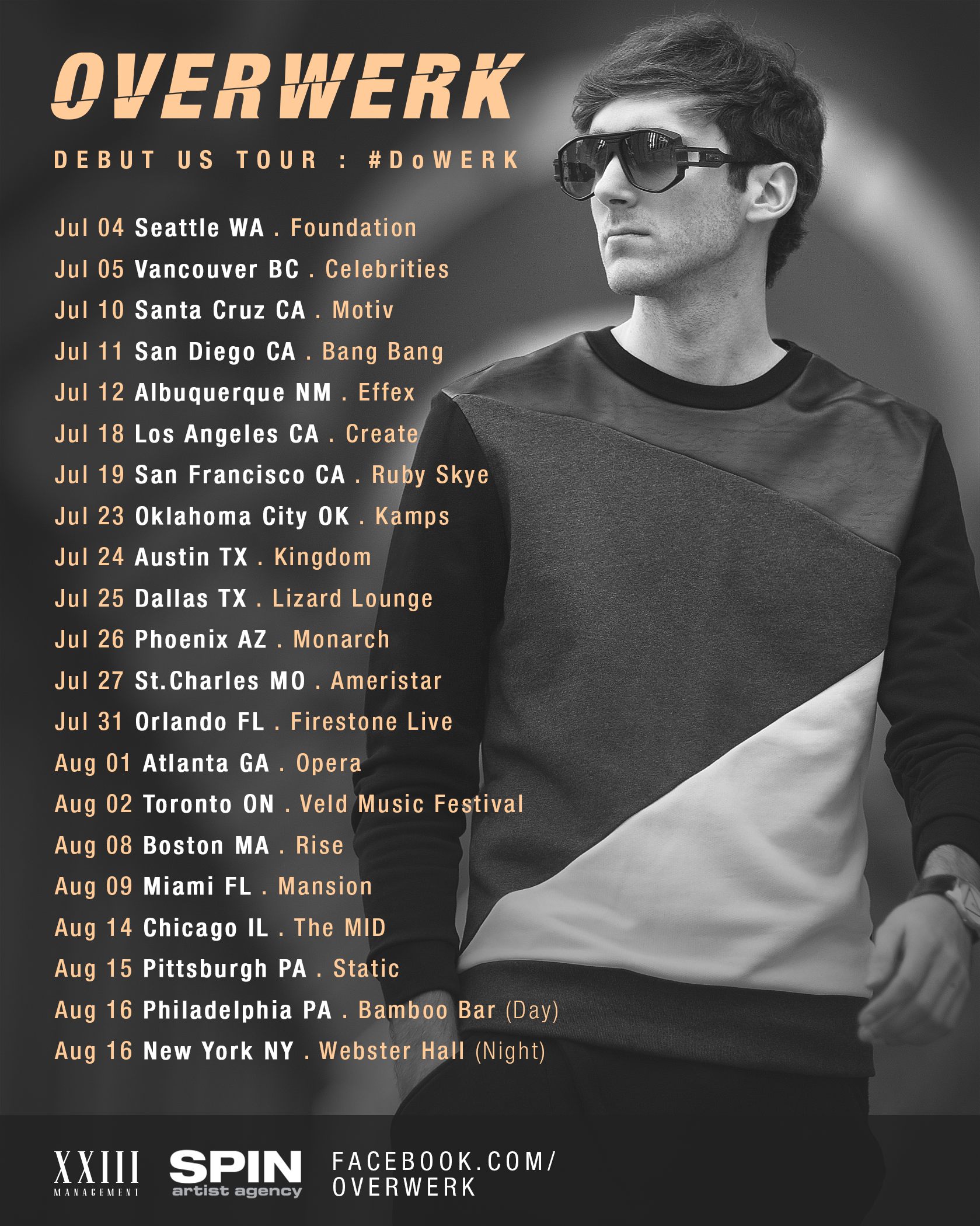 OVERWERK Makes US Tour Debut and Plans for New Single "Exist"
Announces Reddit AMA For June 6th @ 12pm PST/3pm EST
Hitting Los Angeles, New York, Boston, Chicago and more
Watch Tour Trailer
https://www.youtube.com/watch?v=HUQdEjh8pvk
Today, Canadian producer and songwriter OVERWERK announces his debut North American Tour and announces plans for new single "Exist." Hot off his attention grabbing remix of Clean Bandit's UK Chart topping single featuring Jess Glynne,"Rather Be," released by Atlantic Records, Edmond Huszar is ready to show the world what he is all about and challenge fans' musically boundaries as he travels across America hitting Los Angeles, New York, Boston and everywhere in between, through July and August.
OVERWERK has organically grown as an independent artist, while fastly becoming  an international star.  Producing unparalleled high energy sets, seamlessly blending french electro and epic cinematic scores into one, OVERWERK leaves each and every attendee wanting more at the end of his show. Though he pours his sweat and tears in each production, he has provided all of his music for free. Even without his other-worldly productions bearing a price point, he has consistently been one of top grossing independent artists, and a true fan favorite.
"Exist" will be Huszar's most epic production to date. Pushing boundaries with gut-wrenching electro twists and mind-bending melodies meshed with beautiful string arrangements, "Exist" is a classic touch of Huszar's iconic #DoWerk glitch madness.
Splashing onto dance music scene with his debut ep, The Nth Degree, the rising producer has continued to give eargasms worldwide. OVERWERK has since gone on to feature his tracks in out-of-this-world videos for GoPro, in addition to being featured in other dynamic visual appealing projects for Red Bull, Gucci, Prada, Vogue, Lamborghini, EA, FOX and Fortune to name a few.
In addition to going on tour and announcing "Exist," OVERWERK will be opening up to all of his fans for a special Reddit AMA tomorrow, June 6th. Fans will be able to ask the Canadian producer anything they desire in real time, starting at 12pm PST / 3pm EST.
Watch the OVERWERK Tour Trailer:
https://www.youtube.com/watch?v=vtbgl8s-NiU
Purchase Tickets:
http://overwerk.wantickets.com/
Music:
"Rather Be (OVERWERK Remix)"
https://soundcloud.com/cleanbandit/clean-bandit-rather-be-ft-jess-glynn-overwerk-remix
Conquer EP
https://soundcloud.com/overwerk/sets/conquer
More OVERWERK Music
https://soundcloud.com/overwerk
Tour Dates
7.4 – Seattle, WA – Foundation
7.5 – Vancouver, Canada – Celebrities
7.10 – Santa Cruz, CA – Motiv
7.11 – San Diego, CA – Bang Bang
7.12 – Albuquerque, NM – Effex
7.18 – Los Angeles, CA – Create
7.19 – San Francisco, CA – Ruby Skye
7.23 – Oklahoma City, OK – Kamps
7.24 – Austin, TX – Kingdom
7.25 – Dallas, TX – Lizard Lounge
7.26 – Phoenix, AZ – Monarch
7.27 – St. Charles, MO – Ameristar
7.31 – Orlando, FL – Firestone Live
8.1 – Atlanta, GA – Opera
8.2 – Toronto, Canada – Veld Music Festival
8.8 – Boston, MA – Rise
8.9 – Miami, FL – Mansion