When I saw Swedish House Mafia 3 years ago, I'll never forget the first thing Steve Angello said:
"New York…we turned Madison Square Garden into a nightclub."
Since then, some of the biggest names in dance music have made their way into iconic music venues all over the country, the most recent being Above and Beyond's Group Therapy 100th episode celebrations this past weekend at MSG. Fans from all over the world gathered in New York City for a week of events, culminating in a 6-hour toast to 100 episodes of the popular web radio show Saturday Night. The lineup was stacked with some of the biggest Anjunabeats stars: Ilan Bluestone, Andrew Bayer, Mat Zo, and of course, Above and Beyond.
On Tuesday, fans were delighted to hear that the London-based trio would be releasing their newest album We Are All We Need in January. That following Thursday, Times Square was jammed with fans as they watched the premiere of the "We Are All We Need" Music Video featuring the legendary Zoe Johnston. Based on the responses, it was clear that #ABGT100 would be their biggest event yet.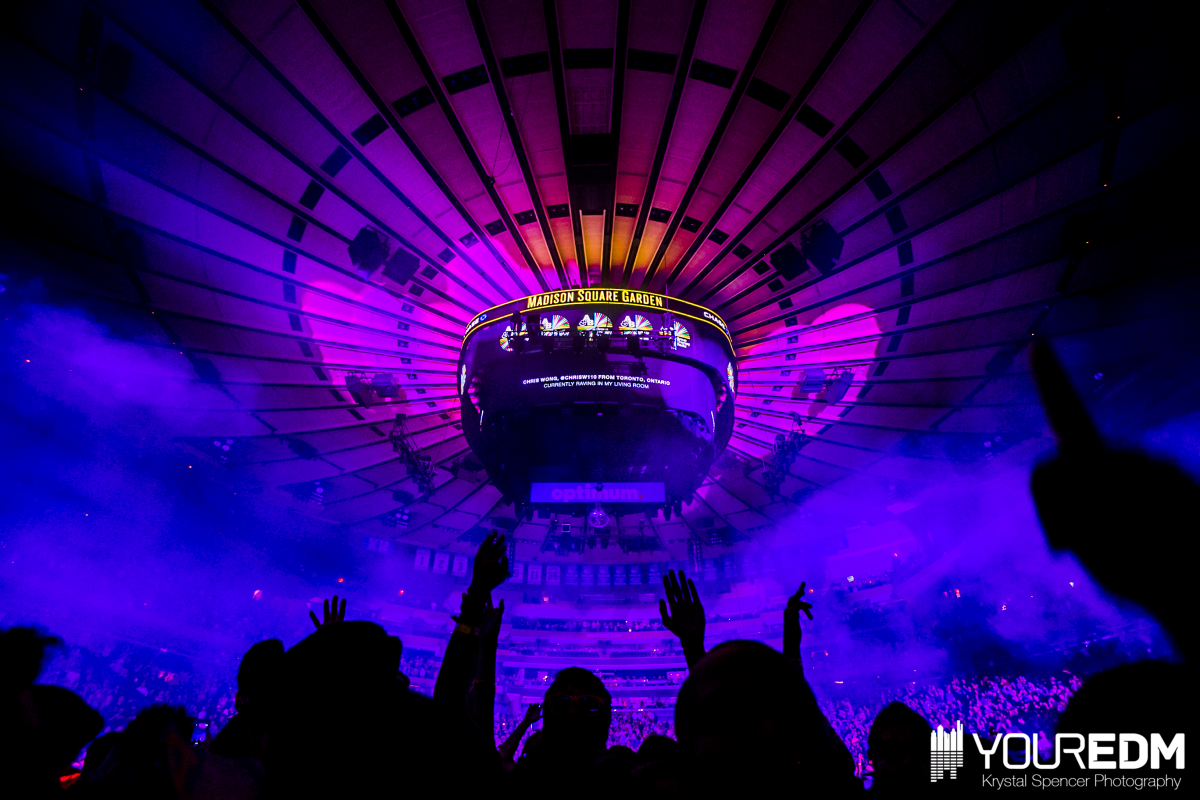 Doors opened at 7pm to the sounds of a special deep house set mixed by hosts Above and Beyond. Ilan Bluestone's New York debut and the official ABGT100 live stream followed at 8. His new Snapdragon EP as well as newer tracks like "Tension", a collaboration with Jerome Isma-ae warmed the crowd up immediately. However, it was his mash-ups like "Big Ben/Black Room Boy" that really sent fans in a frenzy. Not only did Ilan Bluestone exceed expectations, he also set the bar high for the rest of the performers that night.
When news broke that Andrew Bayer was added to the ABGT100 lineup, the prayers of millions had been answered. For most at Madison Square Garden, it was their first time seeing the Washington, DC native perform. From the moment Paavo introduced him to the stage, deafening chants for Bayer began. He opened with the radio premiere of a unnamed track, and for the next hour took listeners on a journey of their favorite Anjunabeats anthems. The big pay off came when Andrew Bayer played his massive Club Mix of "Need Your Love", and the sold out arena came alive with excitement.
Mat Zo's greatest strength is his versatility. One never knows if he'll dig deep into his collection of trance, his modern style rich with funky bass lines, or surprise us with something completely different. His set at ABGT100 seemed to be a combination of the three. Mat Zo pushed the limits of Madison Square Garden's sound system, amping the crowd up with Duck Sauce's "Barbara Streisand" before a string of darker tracks including Cirez D's "Ruby." With anticipation at an all time high, the stage was set for the headliners.
Whether you've seen Above & Beyond once or one hundred times, one thing never changes: the emotional response from the fans. Every performance creates a new bond to the songs we love, to the people we attend the show with. It's the reason why we tune in every Friday for ABGT, or spend hours making signs and shirts. Madison Square Garden burst into tears when Jono, Tony, and Paavo finally took the stage to perform. Those who had been planning this moment for months were overwhelmed by the thousands of people singing every song in unison like Arty's remix of Porter Robinson's "Lionhearted" and "Sticky Fingers." For two hours, Above & Beyond curated the experience with stunning visuals during "Blue Sky Action," and reminding us that life is made up of small moments like these.
Each year, Group Therapy celebrations outdo the years before it. It's hard to imagine how ABGT150 next year could ever top New York. To relive the magic, check out our full photo gallery below as well as listen to the performances via Soundcloud. Above & Beyond's newest album We Are All We Need can be pre-ordered on iTunes.
Photo Credit: Krystal Spencer Photography
[envira-gallery id="99590″]