Latane Hughes is an agent at The Windish Agency and is based in Los Angeles. He is 29 years old and hails from Houston, Texas, where he cut his teeth in the music business booking, managing, and playing in punk rock bands throughout high school. He graduated from the Thornton School of Music at The University of Southern California in 2008 and began his first job out of school as an assistant at Paradigm Agency in Monterey, CA. He later moved back to Los Angeles where he worked as an assistant at Creative Artist Agency while also promoting and deejaying club nights in LA, as well as serving as a talent buyer for SnowBall festival in Colorado for the first three years of the festival including the founding year. During his time as an assistant at CAA, he also booked and maintained a roster of deejays on the side including aussies Cassian, Light Year, Anna Lunoe, Gigamesh, Bang Gang DJs, and more. In 2011, he left CAA to join The Windish Agency as a full-time agent. Latane now maintains an extensive roster including some of the biggest headlining acts in the business, some of which include: Flume, Cashmere Cat, John Talabot, Aeroplane, Lido, Snakehips, Bixel Boys, Trippy Turtle, Tiger & Woods, Kap Slap, Party Favor, Wave Racer, and Poolside.
What made you want to get involved in the music industry? What mainly attracted you to the business behind the music?
I sort of fell into the music industry from the artist side. I played bass in various punk/rock bands in my hometown of Houston, TX throughout high school. No one really wanted to play bass, so I think I played for 4 or 5 bands… and that sort of connected me to all the various bands in the scene. So one of the bands I was playing in would get a show, and I'd ask if another band I was playing in could join the show… and one thing sort of led to another… and sooner or later I was kind of the go-to guy for putting together these shows in Houston… calling the venues, booking and promoting the nights, ect… I think it was less of an "attraction" to the business side and more like I was one of the only guys in our little scene that could communicate well with both the musicians and the venues/promoters, so I sort of assumed the role naturally. When high school was over, I applied to colleges and was lucky enough to get into USC in LA for their Music Industry program. I eventually started floating more towards dance music…. doing some college events at USC, and eventually working at Paradigm and CAA while moonlighting as booker, promoter, and deejay for club nights in LA. I would book international deejays I liked to play our parties, but in order to cover their international travel, I would have to hook them up with a couple other shows in the USA. I ended up doing little tours from my Gmail account for Cassian, Bang Gang Deejays, Light Year, GLOVES, Gigamesh, Anna Lunoe and more. Then Tom Windish emailed me asking if I wanted to book deejays for his company.
How long have you been with Windish for? What do you enjoy most about working at Windish? What does it take to be an agent there?
I've been an agent at Windish for a little over three years now. The people at Windish rule and it's definitely the most enjoyable part of working here. This may be an unusual statement, but I also really enjoy the sort of unspoken adherence to the idea of just not being lame. Booking music you don't like is lame. Booking really obvious or cheesy stuff is lame. I don't know, the live world is so powerful these days in the music industry… agents and promoters have the privilege to have a major influence on what people are listening to and the overall direction of music, which is pretty awesome. I feel like Windish is extremely respectful of that privilege and that's why I love working there. It's certainly not easy though. You need to have musical taste and business foresight and the ability to connect those two tools and then execute. Unwavering work ethic, zen-like patience, strong communication skills, and a tough skin are just a couple of the basic requirements to keep your head above water as an agent at any agency. It's an extremely stressful job at times and very far from being a 9-5 occupation. I'm pretty much never "off the grid", which is why being so passionate about music is also an obvious requirement. I also think having a strict system and a routine is a good way to keep your head on straight throughout the madness. For example, every afternoon that I'm at the office, around 3 or 4pm, I press pause on the hundreds of emails and phone calls, walk down to the lake near our office, get a coffee, and feed the ducks for about five minutes.   Those ducks sort of hit the reset button for me, and after hanging with them for five minutes, it's much easier for me to get back in the mix and realize the most important things I need to get done before the end of the work day.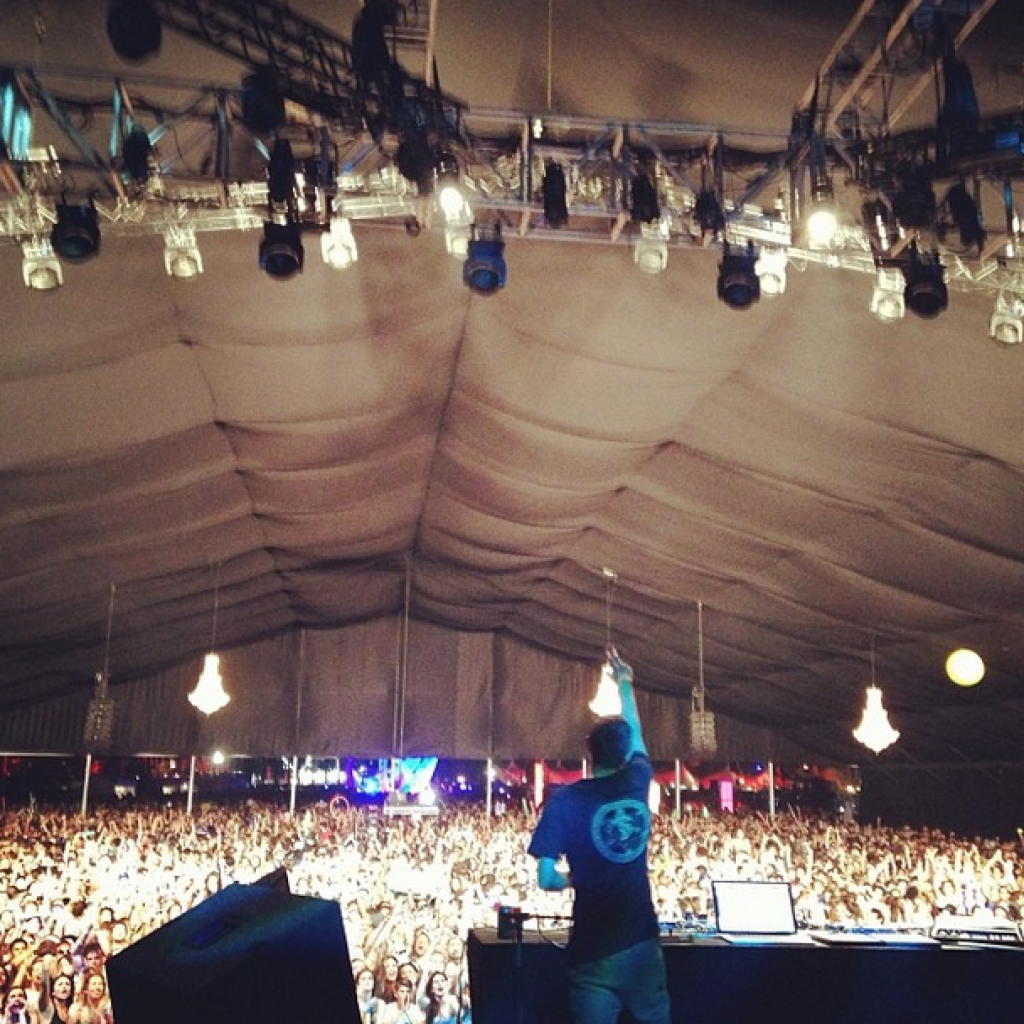 [Flume @ Coachella] Photo by: Latane Hughes
Where do you see Windish in the next year or so? Based on your experience, where do you see the music business going in the next few years?
Windish is steadily growing into one of the most powerful forces in the music business, and I think it's mostly because we don't adhere to the "traditional" model of a booking agency. Our business is very email and internet based, we take risks signing acts at very early stages of their careers, and we are not really cornering ourselves into booking one genre. We book everything from Diplo to Jose Gonzalez to M83. I think in general we are just always looking for artists that are pushing the envelope. DJs and electronic artists are pushing forward and breaking down boundaries right now, arguably more than any other genre out there right now, which is why our agency books a lot of electronic acts, and hence why you and I are having this chat. I think in the coming years the saturation and overall competition within the electronic music landscape is going to sort of lead to the end of the "honeymoon" phase of dance music… and it's going to be harder to enter the game, make a name for yourself, and stand out from the rest… and the artists who were only marginally talented or dedicated are going to be weeded out. On the bright side, the increased competition and saturation is going to result in artists delivering stronger records and more impressive performances to cut through the white noise. I also think everyone can see that underground dance music is stronger than ever, and that this side of electronic music is looking to flesh out more in the USA over the next five years and will (hopefully) eventually match the quality of what exists in Europe.
What is your favorite kind of music? Favorite artists?
This is a tough question. I DJ myself and play mostly house, techno, and disco… basically more of the underground leaning 4/4 type stuff.  Right now I'm really into playing out the sort of psychedelic, airy, warm textured stuff that is a lot more of the groove based and less "hands in the air" type vibe. For the sake of diplomacy, favorite guys at the moment that are not on my roster right now would probably be Axel Boman, Catz n' Dogz, Super Flu, Tornado Wallace, Roman Fluegel, etc. That being said, I am also very much loving the beat music stuff that has been more prevalent in the last couple of years, and I am regularly blown away by the musical creativity and production quality of the guys on my roster making this kind of stuff. You will see me doing trap elbows at the office pretty much every day! House music has been around forever, but the new generation of electronic music fans seem to be ushering in a whole new side of this genre with the more hip hop, R&B and trap music sounds, and I think everything about it is extremely interesting and awesome, both musically and culturally. Lastly, when I need to escape the sounds of a drum machine, I love listening to Tame Impala, Lord Huron, Fleetwood Mac, and Paul Simon. Nothing says 'EDM' like a guy feeding the ducks while whistling "Me and Julio Down by the Schoolyard", right?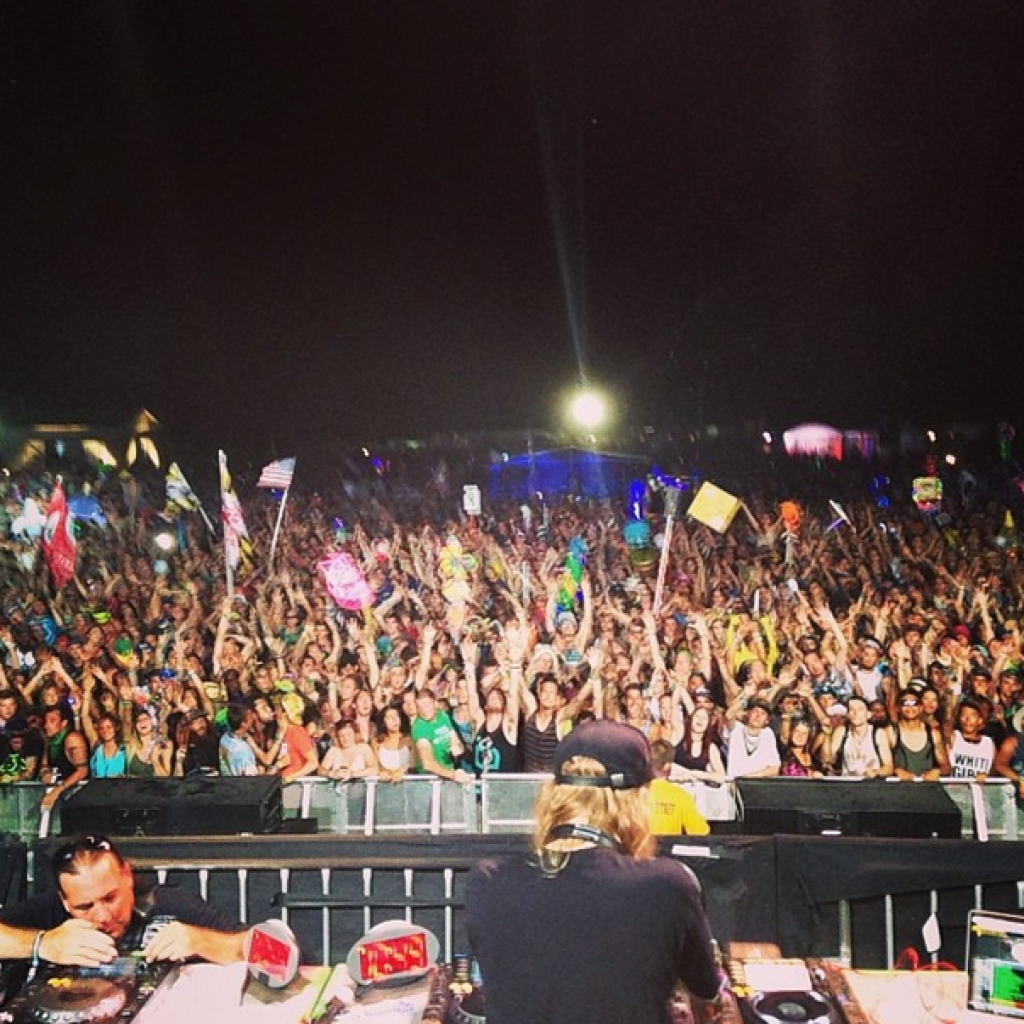 [Cashmere Cat @ Electric Forest] Photo by: Latane Hughes
Who are some artists you think the world should know about?
Everyone on my roster; past, present, and future! Joking! but also very serious. Hmmm… refer to my answer above, and then add Todd Terje to that list. In all seriousness though, my suggestion would be to listen to the mixtapes that your favorite artists put out. Live by the tracklisting or troll the comments for clues if they don't give one. I do all my best A&R working by talking to my deejays and seeing what they are playing — they are the professionals at bringing the best music into the spotlight and you should trust them to lead you to the promised land.
What is one thing you believe all aspiring artists should know about? What's the biggest turn off for an agent looking at potential artists?
I can't narrow it down to one thing so here here's a little tri-tip steak of wisdom that hopefully answers both questions. Firstly, it's extremely important to be nice to everyone and make friends with everyone you can, whether it's the headlining deejay at your gig, the promoter's buddy picking you up from the airport, or the one weirdo always commenting on your soundcloud page ——  you have no idea how much it helps and how much more pleasurable it will make your career as you continue to grow. Secondly, I believe work ethic is of utmost important with artists in the electronic space, moreso even than being in a rock band, etc. Yes there will be some fun parties and rock star lifestyle moments along the way, but ultimately being a successful electronic artist means you work harder than literally ANYONE you know, even the people on your team. Lastly, at the risk of sounding cliche, it all comes down to the music. The spike an artist career gets when they release an awesome track is truly untouchable. You can have a powerful manager, a kickass booking agent, a sizzling social media presence, and a razor sharp image… but at the end of the day, it's the "music business" and music is the most important part of it and the true element that defines your success. Hope this helps! Now I need to get back to booking some shows! 🙂
[Flume @ Club Nokia] Photo by: Latane Hughes