The Bangin Beats recently went through the effort of compiling every single one of the past Ultra Music Festival lineups and it's a breathtaking step back into dance music history.
From 1999 till 2016 a lot has changed through mainstream EDM and it's certainly reflected in the various lineups year by year.
First up we have the first ever Ultra lineup from 1999.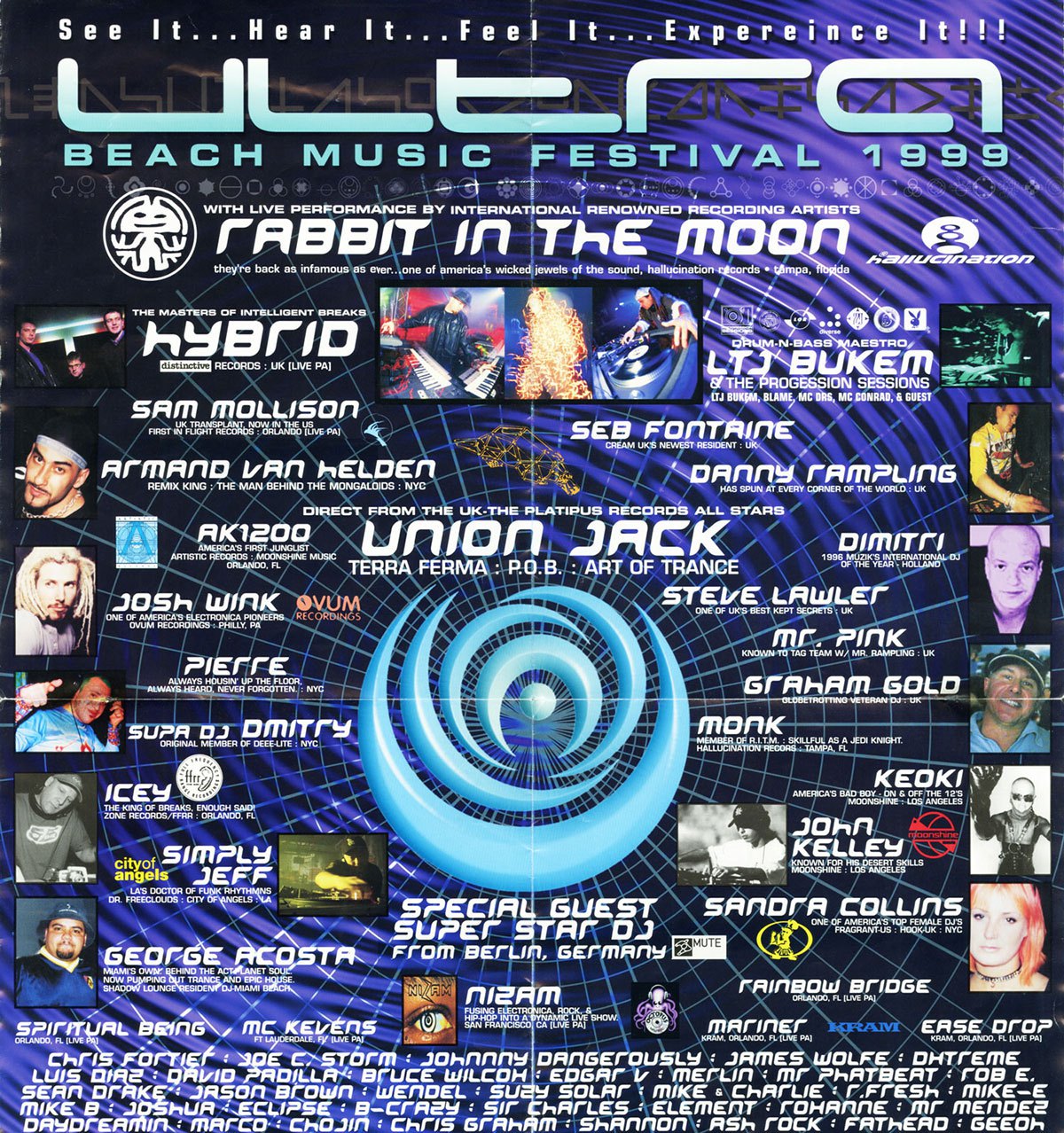 I was five years old when this festival took place so it's probably fair for me to admit that I recognize no more than a handful of the names listed. Also, cool to note just how much the poster design has changed through the years as graphic designers start to up their game.
Ultra 2002 was special as the first year the recognizable "U" symbol was used on their flyer. Drum'n'Bass was still seen as a particularly strong genre worldwide and the lineup at Miami's biggest dance music festival is reflective of that.
Now I fast forwarded an arbitrary number of years and settled on the 2005 Ultra lineup which features several mainstays that are still headlining festivals today: Carl Cox, Tiësto Armin van Buuren, Danny Tenaglia and more. That definitely speaks to the longevity that some of these superstar DJs have had up till now – they've literally been headlining festivals for over a decade now. Amazing. Also, the signature Ultra stages have been implemented at this point in time, a tradition that dates back to 2001.
Between 2005 and 2013, Ultra experimented with a lot of more mainstream headliners, including The Cure, The Killers, New Order, Duran Duran, and Passion Pit. Following years would put more focus on the live stage, eschewing the, perhaps, alternative sound of mainstream radio.
2013 will definitely go down as one of the most memorable Ultra Music Festivals to date. Swedish House Mafia says goodbye and Calvin Harris makes his headlining debut while Tiësto and Carl Cox are still plugging away headlining one of the most prominent festivals in dance music. Not to mention Snoop Dogg performed, and The Weeknd before he really blew up.

Finally, we have this year's lineup, a brilliant example of the blend talented individuals and main stage mainstays that the festival is known for. Returning acts from Rabbit In The Moon and Pendulum are peppered throughout debut performances galore, and monumental moments like Martin Garrix's closing set on Friday.
Head on over to The Bangin Beats to check out the full lineups and walk through 17 years of dance music history.
H/T: The Bangin Beats