Cameron Almasi and Issy Kelly come from as innocuous a background as you might expect. However, through their shared love of dance music and passion for throwing events, they've created their own company Torque Events and their first event is this weekend, Metropolis.
Ahead of the debut event, we caught up with the two trailblazers for an in-depth Q&A about their origins in the dance music world and where they see Torque going from here.
How did you first discover dance music?
Cameron: I vividly remember the day I fell in love with dance music. At the time I was throwing metal shows and felt depressed. The scene was just dying out hard and my friends moved away from the music. One day, my friend Susan took me on a drive through skyline highway in the Bay Area. We parked on this view point where we could see the entire Bay Area. She told me about how her best friend's older brother was a metal guy just like me and he ended up learning how to produce and got signed to Skrillex's label. That guy was Getter. She then showed me his music video for "Head Splitter." Something about that spoke to me and I fell in love with the song, after that it just trickled down.
Issy: The first electronic song I loved was "Escape Velocity" by the Chemical Brothers. I remember hearing it and feeling like this is a 12 minute journey, where do I find more of this?
What was your first job in dance music?
Cameron: My first paid job in dance music was as the Marketing Director at Vital Events. It was such a leap for me at the time because my past event experience was marketing metal shows that were usually at 300 cap rooms and the biggest being 1,000 cap. Next thing I know I was marketing shows at 4,000 cap consistently while still trying to understand the genre itself.
Issy: For about a semester in college I interned at a talent agency. When I was there I would always migrate towards the music floor and bug the assistants on those desks. It turned out that the Insomniac headquarters was across the street from the office so one day on a lunch break I went over and knocked on the door. I didn't  have any reason to be there but the receptionist was really nice and pointed me towards the internship  opportunities. I then interned in the records department and started working artist relations at the shows. My time at Insomniac was my first work music experience that was specific to dance. I learned a lot about large scale event production from being involved wherever possible.
What made you want to create your own company, Torque Events? What's your goal?
Cameron: To be honest, at the time, I was in a pretty deep hole. I had just gotten fired from Vital and felt burnt out mentally. I was pretty much ready to quit music. Ironically around this time me and Issy started becoming friends and she really pulled me out of a ditch. With her help, I was applying for other jobs, colleges, and just trying to make the best of things. I guess after a while I was bummed out that I wasn't really making any leads, and even then, I would be working to execute someone else's vision. That's what lead to Torque. The next day me and Issy went to a tattoo shop and got D.I.Y. tattooed on our fingers to motivate us to be our own bosses. My goal ultimately is to promote heavy music. I don't care if it's bass music, hip-hop, metal, or whatever. I just want to appeal to this crowd that wants to mosh and headbang the night away and go to school the next day feeling fresh. I want people to feel the same way I felt going to metal shows in high school.
Issy: My motivation for creating Torque came from seeing and going to a lot of events and loving those experiences. I had planned shows in the past for other companies and my college. A few weeks before starting Torque I had produced an underground event that had been really successful. I wanted to keep that momentum going and do something else for myself. The most satisfaction I've ever felt through a work experience has come from Torque. The losses are far more personal and scary but the rewards also feel greater at every step when you are accountable.
You both live in Los Angeles – what made you want to throw your first event in Sacramento?
Cameron: A few years ago my friend Nima played a show in Sacramento with Loudpvck. I remember going seeing this level of appreciation for events that LA and the Bay Area don't have. There was no "I'm on the guest list" culture. Sacramento kids don't give a damn, they just wanna have fun and live the night up. That's how music should be.
Issy: We saw the amount and the quality of events taking place in LA and thought about what was happening in the rest of California. We did a summer's worth of market research before landing on Sac. We're hoping to bring all the elements we appreciate in shows to the area.
What's a challenge of throwing an event that someone might not realize? What kind of hoops do you have to jump through to make an event successful? What is your definition of a successful event?
Cameron: I think the perfect description for throwing an event is that you're building a house out of sand. At any moment it can collapse, you just have to be attentive in keeping it stable at all times.
You have to be on everyone's good side. Whether it is the, agent, manager, venue, city, fire marshall, etc. Events, especially EDM events, have a stigma around them. People will find every reason in the book to not allow you to throw an event. As a promoter you have to represent your company with the highest of intellectual and professional mannerisms.
Issy: One of my roles is to handle the logistics for our events. Before planning shows I never fully appreciated how many moving parts there are in getting a show together from considering ADA porta-potties to the artists' riders the devil really is in the details.
I think an event is successful when people feel taken care of and are able to value the experience- from the staff to the guests to the artists.
What kind of risks do you face in doing this all on your own?
Cameron: I mean aside from the obvious financial hurdles any start-up faces, I guess the biggest issue is finding our place in the live event world as a whole. We're a new company coming into an industry dominated by massive companies like Live Nation and AEG. I guess that's the biggest risk, trying to accurately find a place in a community that isn't already dominated by others.
Issy: Financial of course, it's difficult to keep control of your budget, especially as you get closer and closer to show day and new needs become clear. Cameron and I both have high expectations of ourselves and of the events we host. Working to deliver the quality we value and maintaining those expectations add greater financial risk.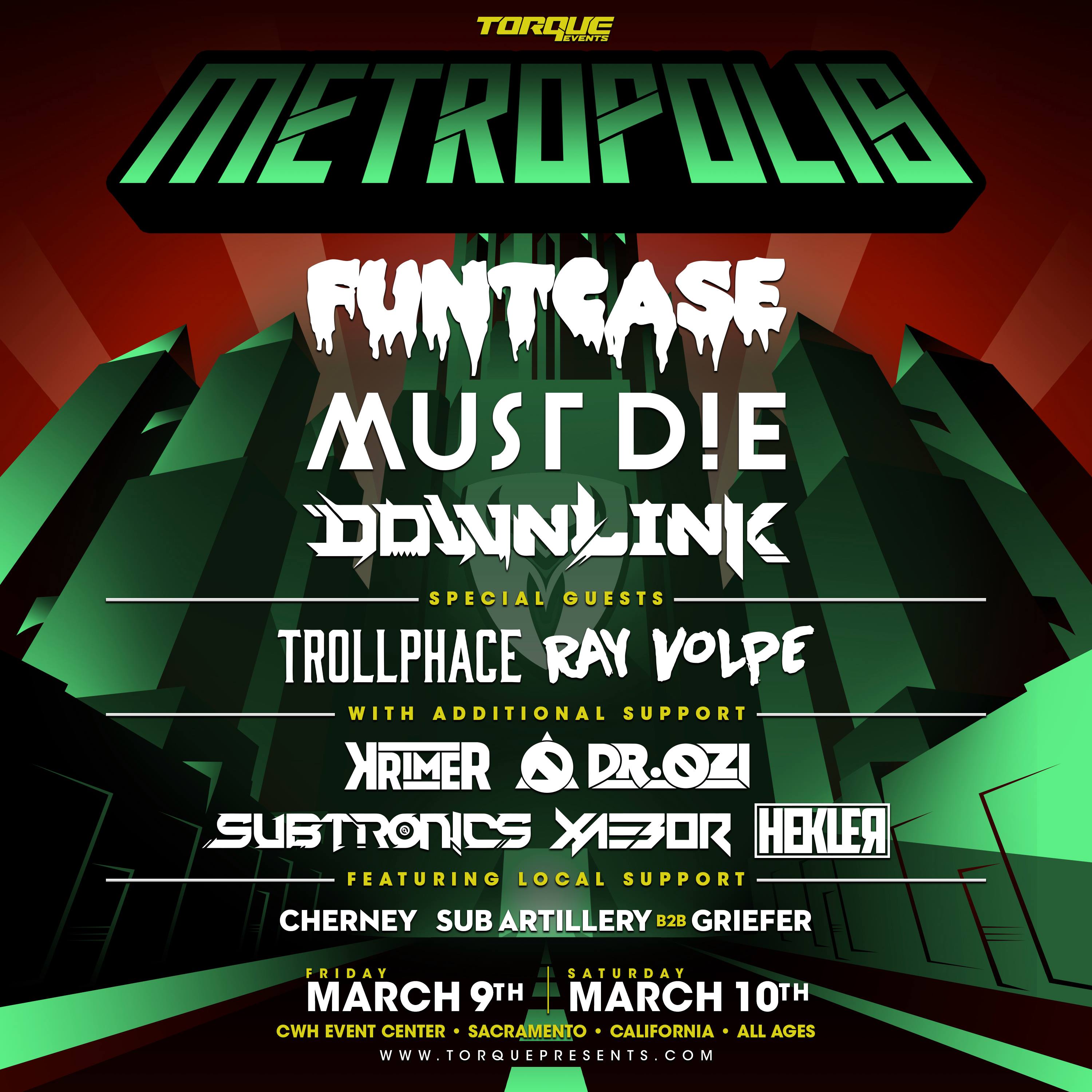 What was the process like in finding artists to play your event? Were they hesitant as it was your first?
Cameron: I think we lucked out working for more established companies in the past. We already had relationships to work from. A lot of the artists on the lineup we consider personal friends of ours. I think that's something that makes this event special to us, it's not a show where every artist is viewed as a ticket count, it's a gathering of friends and family. I'm sure some agents were hesitant at first, but you are how you present yourself. We try our best to represent ourselves in a professional manner with confidence, persistence, and compassion.
Issy: Looking back at the booking process is actually a bit funny. There were a lot of different ways the lineup could have gone and we spent months throwing ideas around. One of our team members has had a lot of experience booking and was instrumental in helping us lock down our lineup. I think the combination of all of our team members' experiences within music was the ultimate asset in getting the lineup we wanted.
What's next after Metropolis?
Cameron: I don't really want to give away too much, but I think it's easy to say this is going to be a busy year for us. We're tapping new markets, demographics, and regions. As well as different services within the event space.
Issy: We have a few shows coming down the pipeline. Metropolis has been a huge learning experience that will act to inform future shows we create. I think it has also made us look at the event industry more widely and consider not just how a successful event is defined but a successful overall business venture, especially music. We're going to take the lessons we learned from Metropolis and work towards continuing to improve our events and our business strategies.
Any advice for someone considering starting their own event company?
Cameron: Honestly, the best advice I can give is be patient, persistent, and never compromise. You're going to get ignored by a lot of people at first, they just don't know who you are. Booking your first act is going take a while and require a lot of patience. Just keep your eyes on the prize and remember what you're doing this all for. Also, never settle for less than your vision. As long as you keep your standards high, your final product is gonna be good. Finally, just be ready for a change of plans. Things will end up falling through, certain acts might not play, emergencies come up, and at the end of the day all you can do is figure out a strong solution. It forces us to think creatively and figure out a suitable or even better replacement.
Issy: I would say taking the risk to create something for yourself is one of the scariest decisions I have made but it's also one I would never change. Whether Torque Events finds the success we want it to I am proud that we have taken this risk and are working towards something that has the potential to be bigger than either one of our individual efforts. It's felt incredibly rewarding to see a vision we came up with over hours of planning, meals, and whiteboard sessions come to life.