It's hard to believe that EDC Las Vegas is tomorrow. Then again, this is the first year that the festival is being held in May, so perhaps it's not that hard to believe. Regardless, tens of thousands of people have already begun to descend upon Las Vegas and the strip in preparation of the festival and the city that never sleeps is going to be incredibly wild the next 96 hours or so.
This year at EDC is unique in that the music actually starts on Thursday, thanks to the new camping arrangements on the speedway. Beyond that, the cosmicMEADOW will host opening ceremonies each day, and kineticFIELD will bring about the closing of the festival each night. There are over 200 artists playing the main stages, and at least another 75 on all the art cars combined, making for an exceptionally difficult time choosing who to see and where. We've narrowed the lineup down to our top 10 must-see performances of the weekend, but by no means will this list apply to everyone.
Camp EDC Thursday Night
If you're camping at EDC, you have to be at the kickoff party tonight. Excision, G Jones and Habstrakt will be throwing down from 10pm-3am, and there's bound to be loads of bass. But more important than that, you'll be camping with thousands of other people all weekend and you want something to jumpstart the community experience before the festival begins. This is the perfect opportunity to get to know your neighbors, let off some extra energy before the festival, and get all the jitters out. Just don't go too hard, there's plenty of music still to come.
In addition, NGHTMRE & Slander just announced a Gud Vibrations set with Wavedash prior to the kickoff party from 8pm-10pm on the Parliament Art Car within the camp!
Joyryde @ kineticFIELD – Day 1 @ 9:25pm
This will be Joyryde's main stage debut at EDC Las Vegas, and he's playing right before the opening ceremonies on the first day. If you're looking to be inspired and get your engine going hot right from the very beginning, this is your best bet.
It's been a while since Joyryde has dropped any new music, and we've been waiting what seems like ages for that Skrillex collaboration to see the light of day, so it's safe to say you should expect some new IDs from Jonny this time around.
Virtual Self @ circuitGROUNDS – Day 1, 12:00am
Do we really need to say anything about this? Virtual Self makes his EDC debut at the circuitGROUNDS, where you'll be enveloped on all sides by his intense visual presentation and eerily dark and mysterious soundscape. Bridging modern production with nostalgic arrangements, Virtual Self will be the perfect midnight soirée for all manners of Headliners.
Green Velvet b2b Gorgon City b2b Detlef @ neonGARDEN – Day 2, 4:30am
Simply put: you will never see this b2b again. Ever. What were the talent buyers at Insomniac even thinking putting this masterpiece together? All legends in their own right, these three artists (technically four people) will bring the noise to close out day 2 of the festival at neonGARDEN with an electrifying display of classic and deep house grooves and vibes.
This b2b2b directly follows a 2-hour set from Green Velvet, which itself follows a 90-minute set from Gorgon City. And Detlef plays for 70 minutes earlier in the day. If that isn't too much house overload for you, then bring it on.
Rezz > Eric Prydz > Martin Garrix @ circuitGROUNDS – Day 3, 10:45pm-3am
We're definitely cheating on this one, but come on… that's a stellar lineup for any single show in its own right, and you've got very little reason to leave. Rezz comes back for her second year in a row at the circuitGROUNDS, though this time she's got a new arsenal of music to unleash. Having already teased collaborations with 1788-L and 13, we can't see what else she'll bring to the table.
Eric Prydz is just simply a legend, and, like Virtual Self, you'll want to be engulfed in his visuals and sound from the moment his set starts to the second it ends.
Coming on right after Prydz is the current #1 DJ in the world, Martin Garrix. He releases new music consistently, but fairly spread apart. His newest release with Loopers, "Game Over," is sure to a favorite during his set.
Modestep b2b Fox Stevenson b2b Eliminate b2b Myro @ Kalliope Art Car – Day 2, 1:15am
Like the Green Velvet b2b Gorgon City b2b Detlef set, this is another b2b2b2b that you will never see again (except maybe on a strange night at Space Yacht). Each of these artists have produced music for Monstercat and are family, so this back to back is sure to be one giant bass clusterfuck – in a good way.
Myro doubles as one of the founders of Disciple Records, on which Modestep, Fox Stevenson, and Eliminate have also all released music. All in all, this is really just one big family get together, and we're all for it.
Kaskade "Strobelite Seduction" Set @ Parliament Art Car – Day 1, 4:30am
Kaskade's Strobelite Seduction came out 10 years ago this weekend, and he's celebrating with a once-in-a-lifetime set aboard one of the festival's many art cars. The album contained Kaskade's first work with deadmau5, including the hits "Move For Me" and "I Remember." Watching him play out the full album with some other hits peppered in as the sun rises will be a memorable moment for anyone at the end of the first day.
Dash Berlin (Classics Set) @ quantumVALLEY – Day 1, 1am
This was one of the sets that fans were hoping for most this year at Ultra Music Festival on the final day at the A State Of Trance stage, where Above & Beyond closed things out. Fortunately, Dash Berlin is dropping the classics on the first day at quantumVALLEY so all the trance heads can get their fill early on.
DJ Stephanie b2b Lady Faith @ wasteLAND – Day 1, 1:30am
You might notice by now that there are a LOT of can't-miss sets on the first day. If that's something Insomniac did just to drive us mad, then bravo, it's working. These two are legends in the hard dance world and they're going back to back for a special late night set at the wasteLAND.
I know it's looked down upon to point out that these two are indeed women, but let's not make light of the fact that they're among a very select group of women playing this festival. They've earned the set time and their status as legends in their field, and if you're a true hard dance fan, you don't want to miss this.
The Binches (Dotcom, Kayzo, Ookay, Yultron) @ cosmicMEADOW – Day 3, 4:15am
The Binches are a group of friends who individually have conquered dance music. Kayzo is doing his thing bridging dubstep and hard dance like no one else ever has; Ookay is playing another live set during the festival; Dotcom has a wildly successful project as a puffed sugary treat; and Yultron is bringing the rave back to the masses.
These four together form The Binches, a group of silly individuals with lots of friends who you should expect to make special appearances during their set. The final set of the weekend at cosmicMEADOW, The Binches are going to be very wild, very entertaining, and a perfect end to the festivities.
---
If you don't agree with all of our choices, not a problem! We don't expect you to. You can check out the set times on the app if you haven't already, which includes the art car set times, or check out the main stage set times below.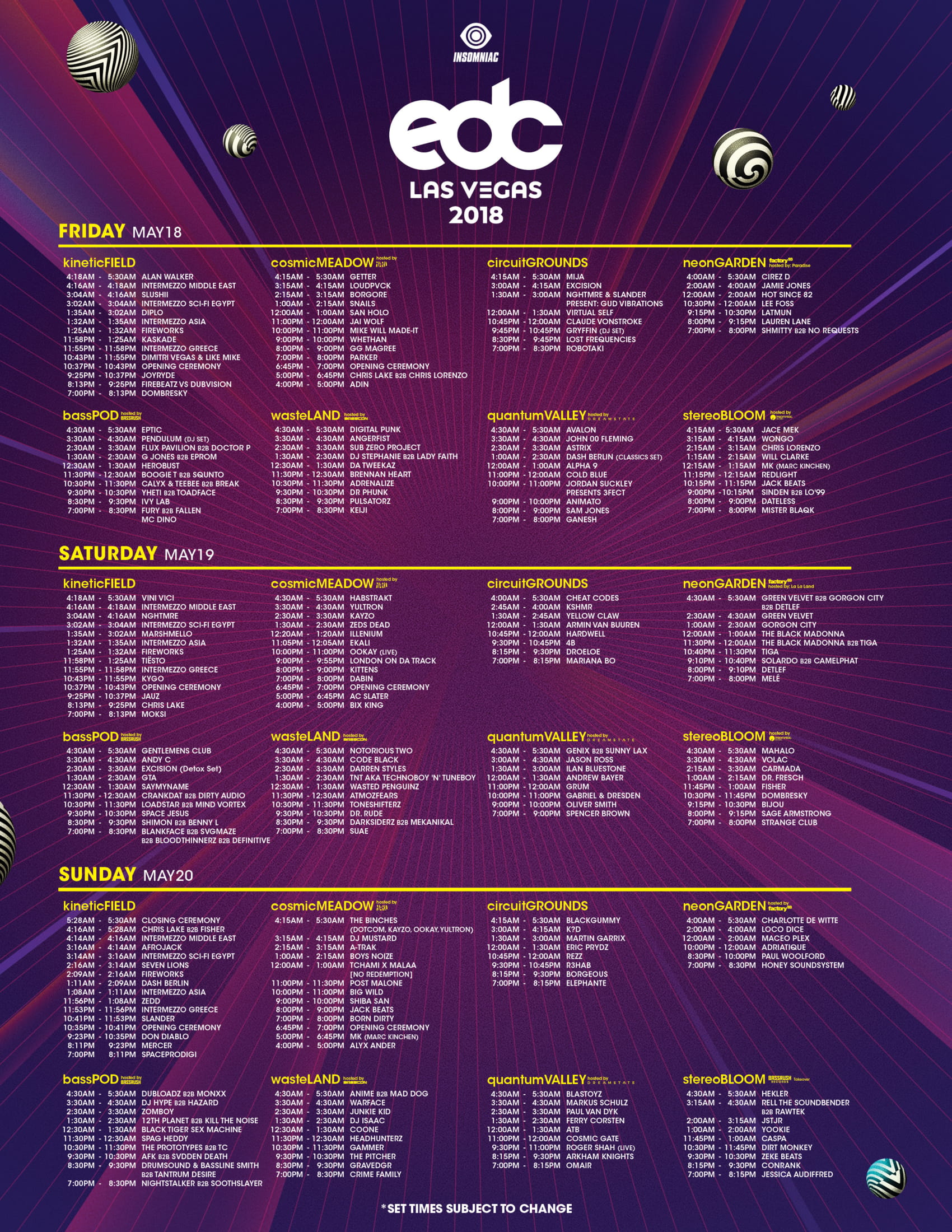 Photo via aLIVE Coverage for Insomniac