One of the most consistent producers in the game, Damian William has made his mark on the house scene with his multifaceted approach to music-making. The French veteran has been spinning records since his teenage years and producing tracks since 2004. With an incredibly authentic production style and a lengthy discography to his name, Damian William is now emerging at the forefront of the global house community. Though not yet mentioned alongside progressive house moguls like Steve Angello, Hardwell, Arty, or Eric Prydz, this maestro is poised to make the next leap in his career after a year of breathtaking releases and noteworthy remixes. Indeed, there's quite a lot coming up for the artist, whose music has already been featured on such labels as Maquina Music, Revealed Recordings, and Armada Music. A relentless producer and label owner of Lychee Records, Damian William has recently been hard at work in the studio crafting his next works. I got the chance to talk with Damian about his DJing and producing background, the evolution of the global EDM scene, his views on house music production, and his latest tracks–one of which just so happened to be recently signed to a notable record label. Read on for the full interview.
_____
Your EDM: For those who don't know you, please tell us a bit about yourself.
Damian William: Hi, I'm Damian. I'm 29 years old and from the town of Valence, France. I'm a DJ/Producer even though for the time being, I've spent more time in the studio than behind the turntable. I'm also the proud Dad of three boys.
Your EDM: Tell us a bit about your musical background, both with DJing and with digital music production. I've read that you've been spinning records since age 16—what led you to start DJing at such an early age, and what influence do you think it had on you as a musician?
Damian William: At the age of 16, I got my start playing at wedding receptions and birthday parties with a couple of friends. We were big fans of the club DJs from our towns, who were actually able to get an entire crowd on their feet jumping with Dance / House and even sometimes with Hard House. We would spend the entire day setting up the sound system, for peanuts.
The amazing thing was that we just had to imitate the top DJs whenever we did weddings and birthdays and we'd fight over the turntables to play our favorite house records. We were so wrapped up in our world that the wedding would eventually turn into a DJ performance. With my two friends, we'd sometimes put together small shows with a laser and smoke, and of course an audience. That's to give you an idea of just how excited we were by the DJ scene.
The spark that got me into production happened on my 16th birthday when I went up to Paris for "Techno Parade" (one of the largest French EDM festivals). There I saw Carl Cox transcend the stage with his mix, he became one with the console, in front of 100,000 screaming fans all as delirious as he was. It was the perfect symbiosis between DJ artist and audience and convinced me once and for all of what I wanted to do with my life: experience music and share my passion with the public.
Your EDM: What led you to start producing house music? What was it like in the early stages of your production process, and when did you create your first track?
Damian William: House / Dance immediately inspired me to get into the production side; at the time I was listening a lot to the radio, there was a show called "NRJ Extravadance" with DJ Flex (the same guy who discovered the leading Swedish artists like Eric Prydz, Axwell, Steve Angello and Sebastian Ingrosso) and Antoine Clamaran. When I started to produce, I didn't know anyone who was doing that in my little town and I was working away on the first version of my current software, FL Studio. You see, to me it felt like getting in a plane and exploring the world without knowing how to fly. I had to learn on my own how to work the software since at the time there were no tutorials on YouTube to get a handle on it. For my first track, I released it on Antoine Clamaran's label (Academy Records) under the stage name "French Foundation" and another on the French dance label "Hypetraxx Records" using the name "Demonia." So that dates back some ten years when I released my first record.
I was first stunned to see my record on sale at the local record store in the same bin as some huge hits like "Call On Me" by Eric Prydz. I even climbed to number 11 on the "DMC Buzz Chart" with my title "Gust On The Dance Floor." It was a real honor for me to find myself showcased like that.
Your EDM: Your production style is one that's hard to define, since one can hear many different influences in your work. How would you describe your music-making techniques, in your own words?
Damian William: I don't really have what you'd call a production style; I don't affiliate myself with any musical tag. I called one of my songs "The Chameleon" since to some extent that's the way my composition style could be defined. I adapt pretty easily to any production style whose sound and rhythms I particularly like, and in some cases that creates mutant styles between techno, electro, and progressive house. For the most part, I'm concentrating on what interests the audience, on the positive energy generated during a concert attended by a hundred thousand fans. I try to replicate this magic between the DJ and his public.
Damian William – Le Sixième Sens (Original Mix)
Your EDM: Your tracks are very diverse, but one thing they pretty much all have in common is some type of strong melodic arrangement. One would definitely call your songs "big-room," but tracks like "Nebula," "Tutti Frutti," and "Le Sixième Sens" heavily feature chord progressions, piano arrangements, and sometimes even trance influences! Describe how you view your approach to the "progressive" sound. Is there a reason your tracks feature so much melody within them?
Damian William: It's pretty simple: I feel that the perfect combination between a lively rhythm, a nice hook, and a sublime melody is capable of creating a special emotion amongst the public that allows them to feel a kind of internal euphoria. For the DJ, it's a bit like a sixth sense to find a way to communicate a universal message and emotion to thousands of people without having to say a word, just by playing the track. For me, I find such an experience truly original and beautiful. It's for this reason that I called one of my titles "Le Sixième Sens," or "sixth sense."
Your EDM: Speaking of which, your track "Le Sixième Sens" recently saw a re-release on "Maquina Music." What have you been working on recently? Anything big in store for us the rest of the year?
Damian William: That's right, when I released the remixes of Nathan C (a Ministry of Sound resident DJ) and Stuart Browne, the label decided to re-release the original versions. Maquina Music is managed by Dirty Harris, someone I admire immensely and who has a sense of communication that I really appreciate. As for the future, I'm hoping to have good things happen with Black Hole Recordings (the Dutch label founded by Tiesto), Dim Mak (Steve Aoki's label which just signed one of my remixes for an upcoming release), and at Musical Freedom. There are other labels with whom I'd be super pleased to work. Time will tell and I hope the wait's not too long. My next track is called "Sulfur" and will be out on October 22nd on my own label, Lychee Records.
Your EDM: You've been a DJ since your teenage years, and have been producing music for almost a decade. So you've been fortunate enough to see the global EDM scene grow from an early age. What are your impressions about how the EDM scene has expanded globally, and how do you feel about its current place in society?
Damian William: You're exactly right. When I got started, "Love Parade" (a notable German music festival that lasted from 1989 to 2010) already existed with Sven Vath. However, "David Guetta mania" had not yet taken root like it has over the past five or six years. What's happening today is quite simply amazing and magical, because I feel that with the use of new communication technologies, we've now reached a kind of Woodstock but to the 50th power. EDM is beginning to sweep the Asian continent: last year I saw that Tiesto and David Guetta were embarking on their first Asian tours, among other artists. I'm so excited to see this musical explosion in Korea and it's thanks to superstars like David Guetta and Tiesto or even Skrillex that EDM has conquered new territories, which until now had not experienced such massive popular support. Now the mega superstar DJs are even more popular than pop and rock singers. It's nothing short of magic to witness this, to see grandpas and young kids inspired by these artists, listening to electro house in a backwater village bar. It's at this point that the real influence of EDM starts to sink in.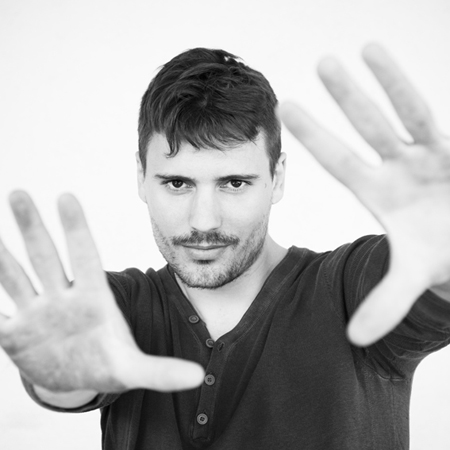 Your EDM: France has one of the deepest and most diverse EDM communities in the world. With you being from France, I'd like to ask: what are some things about the French EDM scene that has produced such skilled artists? How do you view the French EDM scene currently?
Damian William: France is obviously home for me, and I'm proud of its EDM community. I'm seeing French EDM slowly but surely gain a foothold in France's cultural heritage. French DJs are hot export items nowadays like my country's great wines, cognac, or champagne. The DJ network is also very tight and close-knit in France. Contrary to what you'd think, 90% of my network and friends are English, German, Dutch, and American–but unfortunately only very few are French.
Your EDM: What can we expect from Damian William for the rest of the year, and early 2013?
Damian William: For the time being, I'm concentrating on promoting my next title "Sulfur" and hoping that by the end of the year, I'll be able to announce to you even more explosive titles. I'll never be able to do away with my laptop–I never travel without it, I'm always looking for the next explosive sound.
Your EDM: Lastly, are there any plugs/announcements you would like to make to our readers?
Damian William: Definitely! Continue broadcasting EDM and converting those around you, even your parents and grandparents. Invite them to a huge festival or a concert, and share podcasts on your smartphones so they too can experience the magic and the special moments. Speaking of which, you can download my podcast "Overclub Radio" on iTunes (link), where I'm playing tracks fresh from the studio.
_____
Thanks to Damian William for talking with us, and special thanks to Elliot Sachs for translating the interview. Be sure to stay up to date with Damian William through his Facebook, Soundcloud, and Twitter (@djdamianwilliam). Catch his latest track, Sulfur, on October 22nd on iTunes and Beatport. Stay tuned for more updates on Damian's upcoming remix for Dim Mak Records. And as always, for the latest in EDM news, releases, and commentary, keep it locked on Your EDM
_____
Purchase Damian William's tracks on Beatport
Check out Damian William's releases on iTunes