With a residency at Las Vegas' Hakkasan nightclub and a "Trashed" podcast, it's no secret that Tommy Trash has mastered partying down to an art form. However, despite the rageaholic image, the rising star takes a serious approach to the crafting of his music. We recently had the opportunity to talk to the Australian DJ about Twitter, drugs, and the future of dance music. Take a look at what insight Tommy had to say:
YEDM: About a year ago you came out with a song with Sebastian Ingrosso, Reload, how does it feel to have a song you collabed on, played at SHM's Last show ever?
Tommy: It was really surreal, when I first made the song with Seb that was the last thing I thought was going to happen. It made me feel like I was getting somewhere. It was a mini milestone.
YEDM: How does that feel from where you started out to where you are now?
Tommy: the whole thing feels a bit bizarre. I guess it's something I wanted pretty badly. And to finally see signs that it's moving in the right direction, it's weird but good
YEDM:  Speaking of the beginning, what was the first DAW you used?
Tommy: The first one, you've probably never heard of It. It was called Music Works, it was kind of a notation program, so I started making classical music and scoring out stuff and making drumbeat. It was horrible, horrible stuff.
YEDM: Do you have any of that stuff still?
Tommy:I have a bunch of mini discs at my parents with some shit on it; me singing and all horrible sorts of shit.
YEDM: Maybe theres some gold on there?
Tommy: No, no gold, maybe some rusty fucking kettles, but no gold.
YEDM: Did you ever use serato?
Tommy:Yeah back when I was using CDs, but I always spilled vodka on my laptops
YEDM: That's part of the game.
Tommy: Yeah an unnecessary part of the game. Once Pioneer sorted their shit out with all their stuff and those SD cards came out I was on that shit. They are so easy, small and they don't fuck up.
YEDM: Who could you see yourself collabing with or wanting to collab with in the future?
Tommy: To be honest I don't know man, I have a collab going on with Congorock right now, but we have been working on it for a year, who knows If that will ever get finished. But I think its come time in my career where I'm going to focus on more solo stuff.
YEDM: So where do you think dance music is gonna be 10 years from now?
 Tommy: Oh man, I don't even know. I think its gonna be all, quite frankly, computer shit. Who knows if there will even be people on stage at that point. I think there could be some shit happening that we haven't even thought of yet. I hope that the whole live performance thing gets a bit more refined and viable. With live dance music performance, it's still really hard right now to do it properly you know. I don't think there's still the right equipment yet to truly do dance music live. And I mean a lot of the guys who are doing it live aren't really doing it live, they're just like pressing play and faking it, and the ones that are really doing shit live are like so fucking bogged down, like missing triggers and shit and then they're just fucking boring to watch. So its like you know, which is the better way to do it? But I think its not like when you watch a rock band or something. They're up there and they're fucking making it, the energy is there, it's a one time only kinda thing in that moment.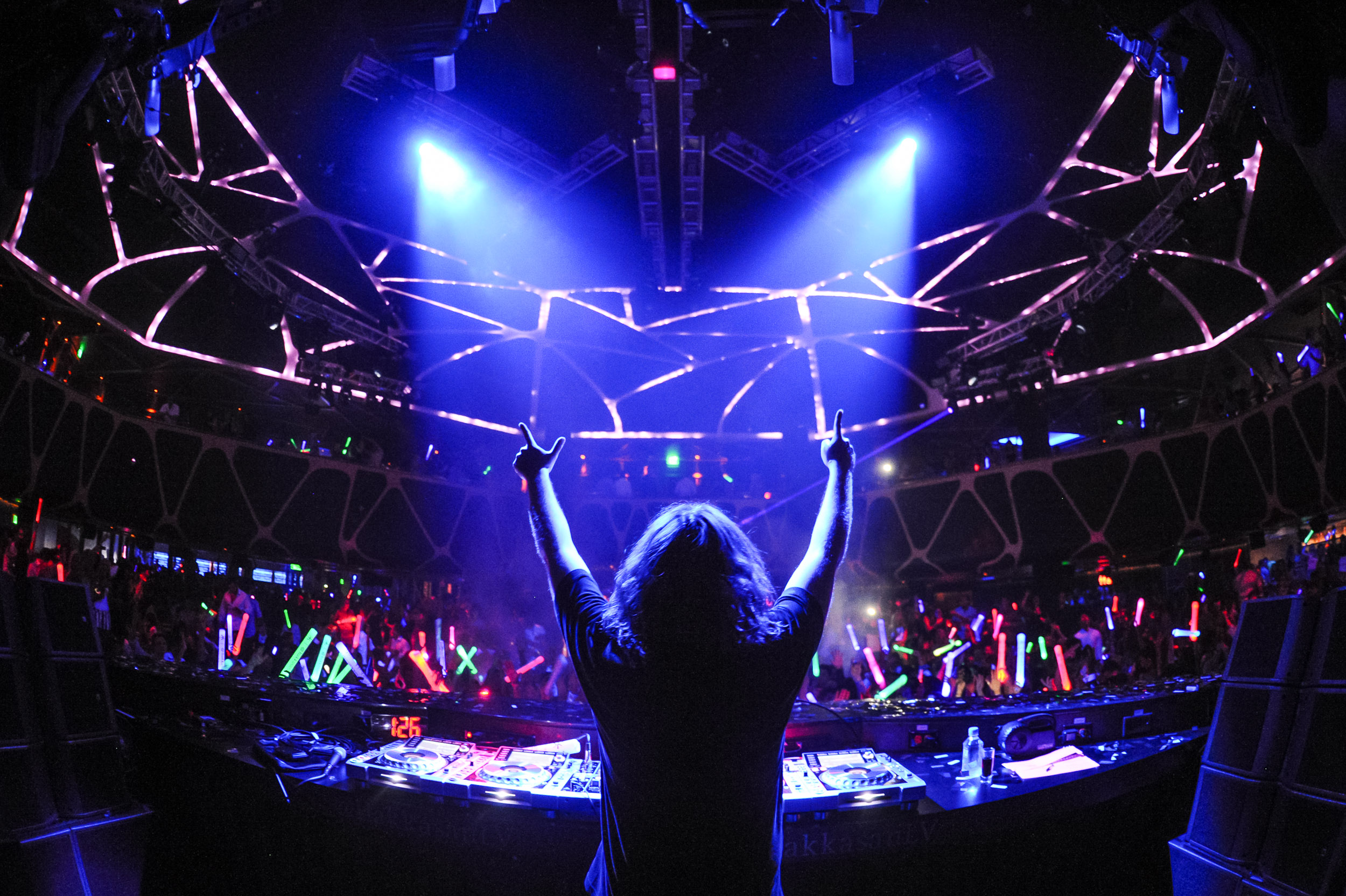 YEDM: Well ATB and pretty lights are on tour with their full bands. Do you mean like that?
Tommy: Yeah… yes and no. I mean, I don't know enough about what Pretty Lights does in his live show but I'm talking about a purely electronic live situation where its like, you know, shits just live, everything's live, not pre-done samples not pre-done loops. Just like a band, how its just fucking just raw. I'd like to think that that kind of shit will get bigger, but it's so hard to do and there's so much overhead. I'd like to do live stuff but I just haven't found a way to do it where it would be better than just DJing, you know what I mean, like where it actually increases the experience, where it would wow people. It's a really hard thing to pull off.
YEDM: So with all the overdoses that's been going on at festivals this past summer, like, it's becoming a real issue and we're under a microscope. What do you think needs to be done to either make kids more aware or just help the scene in general?
Tommy: Kids are always gonna be taking drugs. It's part of dance music. I try to ignore what DJs are saying about it all on twitter because at the end of the day if it wasn't for fucking drugs they wouldn't be flying around the world in their private jets. And that's the fucking truth. We should be responsible about it; it's about drug education. I'm not coming out and saying that drugs are good, but you can't really change what's going on. It is what it is so then you have to ask, how do you make it safer? You can have pill testing kits, etc. I think that's just the most sensible way, you know, to take care of people. It's similar to something like teen pregnancy and STDs. You tell kids to not have sex they're not gonna fucking listen to you, they're still gonna fuck, everyone's fucking, but then they're like "oh have a fucking condom" alright? So some people wear condoms and then it hopefully has some sort of impact because people are getting real about this shit. I've never used that analogy before but I think I'm gonna use it again.
YEDM: Maybe we'll see it on twitter.
[Laughter]
Tommy: Oh man I'm not a big twitter user for preaching from my high horse man, there's enough people doing that shit. The whole OD thing is just really sad man; I reckon if these kids had had the right tools in place they might not have ended up that way.
We want to thank Tommy Trash for participating in this interview. His humility and brutal honestly are incredibly refreshing in a scene where Twitter rants and people-pleasing speak are often the name of the game. If you're anywhere near Las Vegas on Nov. 15th, check him out at Hakkasan before he jets off to Australia for Stereosonic 2013. Check out his latest Trashed Radio below!