Sources close to TMZ report Avicii was released from a Miami hospital tonight around 9pm EST for reasons unknown. He was staying at the SLS hotel and was expected to play a show at the well-known venue tonight, however, within the last few hours the show was cancelled and audiences were left wondering what happened. Sources also report he is no longer staying at the hotel.
SLS was so excited for the performance by the world renowned DJ, they even renamed the Miami landmark "Avicii Hotel" for the week. Thankfully, Avicii's good friend Alesso stepped in to help out a friend so the show could go on.
"At the hospital. Extremely bummed about missing my show at the Avicii Hotel. My brother @Alesso is stepping up and covering for me. <3 — Tim Bergling (@Avicii)"
This isn't the first time Avicii's health has held him back and resulted in cancelled shows. The producer/DJ knows he has the propensity to burn the candle at both ends and it eventually all catches up with him:
"I was drinking a whole lot more and I was going to after-parties and just generally not being very professional… but my body just couldn't take it and I ended up in the hospital at the beginning of last year, like a year ago, really because of drinking."
In a party environment where everyone wants more, more, more and they want it now, now, now–are we pressuring these artists to drink and party and push their bodies past their limits on an almost nightly basis? Being a poster child for partying has serious consequences, could Avicii be feeling them even at his young age?
Truth be told we don't know exactly why his night started with a trip to the hospital, but what we do know is that Avicii would never take disappointing his fans by cancelling a show lightly. Until we know more, let's keep him in our thoughts and send positive vibes of quick recovery his way.
For all the fans who showed up to Avicii Hotel for his highly anticipated show, you will have to let us know how Alesso's stand-in set measured up in your eyes. Were you happy with the replacement choice?
UPDATE!
Avicii took onto Twitter on Friday to explain his situation and why he won't be performing at Ultra Music Festival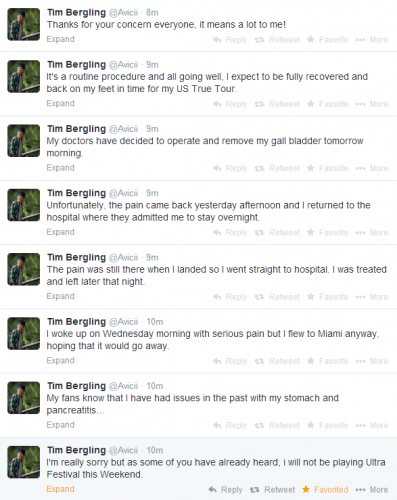 We wish Avicii a speedy recovery from his operation