Party Favor, the titan of LA's twerk scene, has seen promoters clambering to book his energetic and bottom heavy bass sets from coast to coast over the last year. After winning the ThisSongIsSick.com X Bro Safari X UFO! remix contest last summer, the producer/DJ double threat has been riding a roller coaster upward through the clouds with no sign of plummeting anytime soon. As his career pushes forward at a break neck speed across the rails of the EDM arena, his original productions and remixes have caught the ears of bass music's mega-stars Skrillex and Diplo, as well as being called up to be featured in ESPN's official commercial for the NBA draft. All of this has culminated in reaching 100k Facebook fans just hours before his debut Electric Daisy Carnival performance in Las Vegas and being invited to play at Tommorrow World's sophomore event later this fall. Your EDM was able to catch Party Favor mid-stride as he earned his right to be "Diplo-Approved" and trekked through the grand adventure that is the EDM festival circuit.
Although Party Favor's relationship with Diplo has only recently sprouted, their affinity for twerk music has interwoven their musical paths on numerous accounts with the prospect of several future projects in the works. "[Diplo] put out his Top Tracks of 2013 mix and included my 'Booyah' remix, which was one of the bigger moments that kinda helped to slingshot me forward. A lot of people didn't know that that was an official remix but due to some weird situation, it never got released here in the US with a label. After I leveraged that, I started sending him tracks and he started playing out my 'Bumaye' remix.
"At EDC, Diplo even played three of my tracks [total]. He played my DJ KOOL – 'Let Me Clear My Throat' remix. That one has some legs; I've always been surprised by that. Skrillex plays it almost every show too. Also, [Diplo] played my 'Bumaye' remix and my 'Booyah' VIP edit, which was for myself and other bigger DJ's. It's this conundrum where all of these DJ's have [the VIP edit], which is great because it builds a lot of hype but the people can't get it. I like that people get to go see a DJ set and they get to hear something that's excessive to the live performance."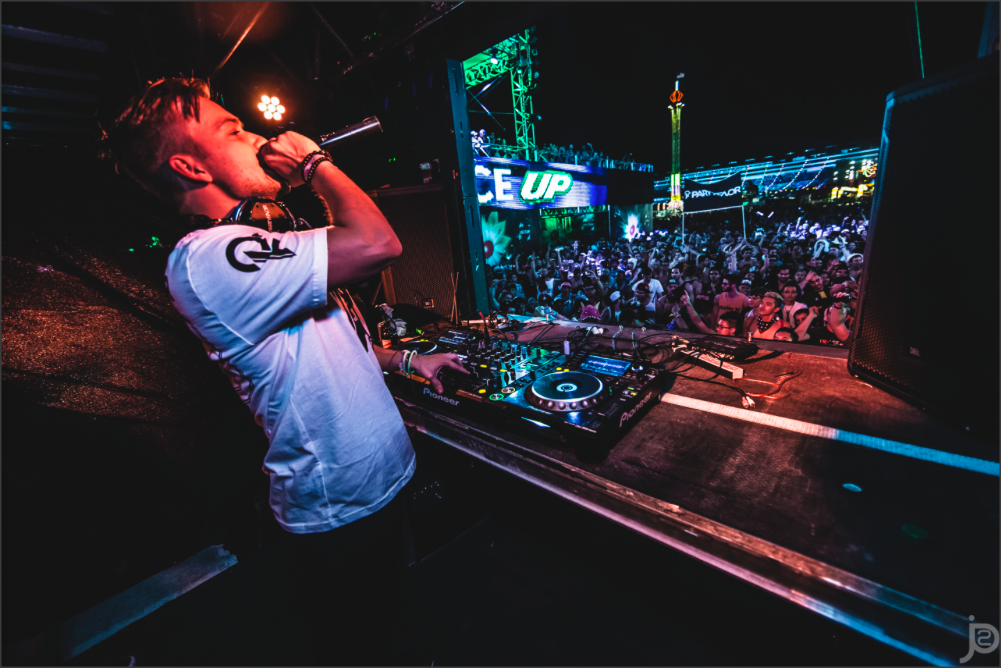 As Party Favor's signal on Mad Decent's radar grows stronger, the guys decided to connect on Diplo's next compilation album, Random White Dude Be Everywhere. "If you know anything about my music, then you know it is borderline hectic, it's very constant. There's not a lot of lulls, dropouts, or big anthem builds. I like to give you energy and time to rage. [For my 'Express Yourself' remix,] I kind of did that and sent it to Diplo. For a while, I didn't think he had heard it or liked it but then all of a sudden he put out a One Million Facebook Bootleg Pack and he featured my "[Express Yourself]" remix on it. I still hadn't heard anything from him and all of a sudden it showed up in this compilation. The funny thing is, he had only heard the shortened version. It all came together when I followed up with them and when they heard my extended version he was like, 'Hey let's get you going on this, we gotta put this out on something more legit."
At this year's Electric Daisy Carnival in Las Vegas, Party Favor was able to come into his own and finally get some face time with Diplo,  "I had never gotten a chance to meet him until recently at EDC. That was great because it was the first time we got to sit down in person and talk. For me, the Mad Decent brand is something that I really associate myself with and want to be a part of as far as the music that they put out, the brand image, the lifestyle. Sometimes [what they do] is weird, sometimes it's different, but it's always evolving, which I find really neat. Especially in this day and age, when songs last only two weeks, you have to find some way to stand out and I think they do a great job of that."
Although he couldn't divulge too deep into his future relationship with the label, he did affirm that he would be releasing an original track with Mad Decent that "will be out soon. As it's playing out right now, I'll be publicly doing either some official remixes or just some work on Major Lazer songs because it's all kind of interconnected and once you are in the studio and start bouncing ideas around a lot of stuff can come out."
Party Favor is accustomed to seeing one thing lead to another, as his submission for Bro Safari and UFO!'s "Drama" remix competition directed him towards the national spotlight. "A year ago I entered the competition, and I won. It was the first competition I had entered my music in and I won. Originally, it was like 'you won the competition, here's a remix spot,' but then as it went on, they added on all of these people and it became this really really amazing remix album and I was honored to be a part of that. My remix ended up selling the most once the album came out, which made a really great statement. Now, Nick (Bro Safari), and I are planning on doing a track together and we hadn't met face to face till EDC either."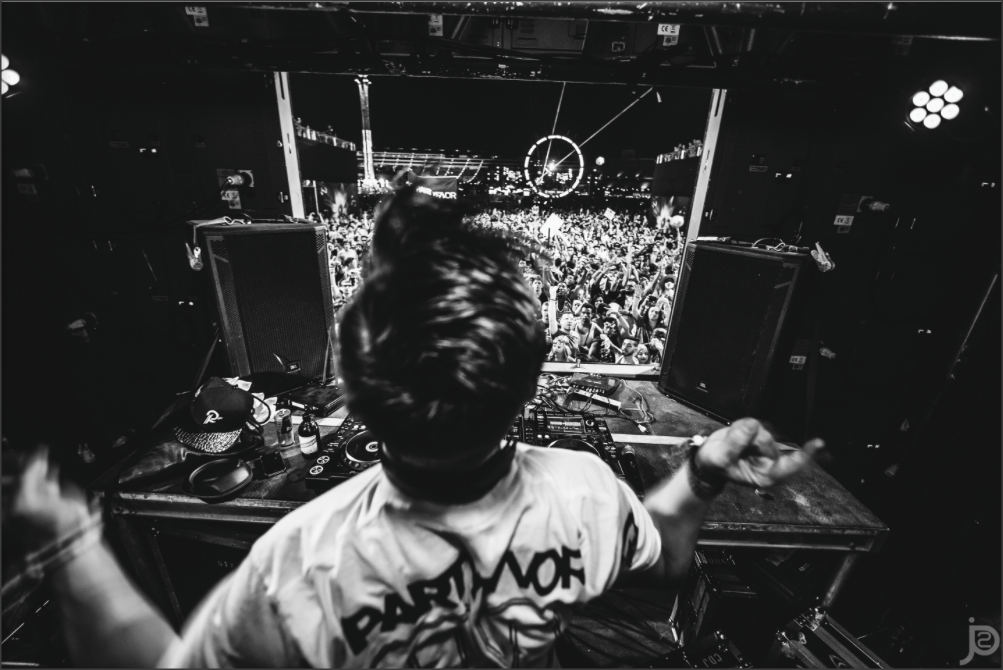 "With how labels work, they will send out options for licensing to a commercial or at a huge event or maybe a movie. That's the whole other revenue side of music, licensing. 'Turn Down For What" made more money from licensing to movies and commercials than it did from sales. So I guess the people at the NBA or whoever does their commercials liked [the Drama remix] and it got picked up. It came out of no where but it has been really neat to see my music on a national commercial."
Moving forward, Party Favor will be releasing another collaboration with Meaux Green; a follow up to their official "Mosh Pit" remix for the Lords of the Trap known as Flosstradamus. "We have another official remix for Floss for 'Drop Top'. We've already sent it in. Floss played it in their EDC live set and shouted us out. I'm assuming [it will come out] in late July if not the beginning of August."
Make sure to catch Party Favor this summer as he builds a booty bouncing barricade around your city and forces you to grab your ankles and wiggle what you're working with.