Recently, all-star DJ/tycoon, Diplo, was featured in none other than Billboard Magazine for a well-deserved cover story. The article makes for a very interesting read and covers a lot of new information about Diplo's various projects. Jonathen Ringen, the article's author, does a great job of exploring the depths of this unique producer's talent while also comfortably presenting him to a much more mainstream audience.
As usual, Diplo is keeping himself busy with everything from musical collaborations to new extensions of his existing imprints. According to Ringen:
"He's working on new music with everyone from Ty Dolla Sign to Lorde and has 30 tracks in progress for the third Major Lazer album, which will launch in 2015 with a Major Lazer cartoon on Fox about a Rasta superhero. Its soundtrack will include new collaborations with Cat Power and Riff Raff."
On top of all that, he's also continuing work on the Jack U project with Skrillex and his iconic Mad Decent Block Party is tearing up arenas all over the country. Perhaps most exciting of all is his upcoming collaboration with pop-titan, Madonna; he and Ariel Rechtshaid have been in the studio three times to work with the legendary singer on multiple songs for her new album. In the man's own  words:
"I think three are just like, amazing smashes. One is super weird…I think it's going to be a breakthrough if she can get everything together and get it out properly."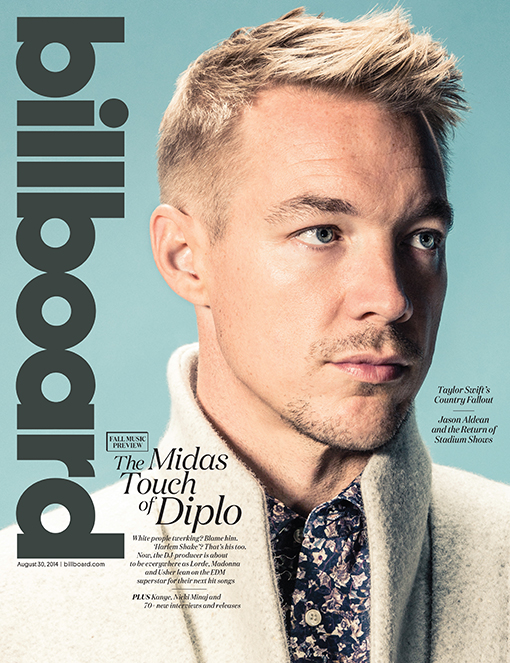 Diplo has always been one to think outside the box, so a 'super weird' track from him and Madonna has definitely got us excited. Unfortunately, Diplo has gotten some criticism from the dance music community over the collaboration; coupling this with the outcry over the recent kandi ban at all Mad Decent Block Party stops makes it evident that he's under quite a bit of fire currently. His response to the hate? A much needed critique of the dance music community itself:
"They don't even care about the music anymore. It's about the experience and hearing things that are really familiar and comfortable over and over again."
While many fans of electronic music do seem to enjoy listening to basically the same thing over and over again, the problem is a two-fold one. Many of the most well-known artists literally lack the creativity to truly move the scene forward. Diplo recounted an example of this that took place at one of his shows:
"All the DJs were at my Vegas set one night — I'm not going to name names, but all the big EDM guys — and I played a Juicy J record. They're like, 'Where do you get these records?' I'm like, 'They're on the radio! You can buy them off iTunes!" They literally have no idea. They live in these bubbles. I'm like, 'Damn, dudes, use your imagination a little bit.'"
It's a bit ridiculous to think that superstar DJs are unfamiliar with Juicy J, a comparably well-known artist of a different genre. They could all take a page from Diplo's book, as his multiple collaborations and projects are sure to turn out some extremely creative music.
The full length feature also discusses Diplo and money. Many fans are always interested to hear how much an artist charges for one night of DJing or to produce tracks for a super star like Madonna. So to quench all your thirsts here are some of the numbers listed throughout the article:
Diplo's Premium Rate to create a single beat: $40,000 – $50,000 according to industry sources
Diplo's Performance One Night Cost: $100,000 – $250,000 according to Billboard
Diplo's 2014 earnings: $12 Million according to Billboard
Billboard's piece continues by discussing Diplo's affinity "to score free stuff"
During a photo shoot earlier in the day he had admired a luxe topcoat. By the time he was in the SUV, the no-nonsense woman who handles his day-to-day management had already contacted the designer. To seal the deal, Diplo tweeted a picture from the shoot with the designer's handle. Or take the Escalade itself, which Diplo is riding in for free. He gets a monthly $400 Uber credit for mentioning the company in his tweets.
Check out the full story on Billboard.com to find out more abou this random white dude.
[Source: Billboard]