You can read the full and in depth report by DJ Techtools by clicking here
The amount of professional audio equipment in the world is absolutely amazing. Now although the industry standard is the classic CDJ setup, these DJ's think outside the box in terms of performing live. They use customized controller mapping and a wide arrangement of equipment that gets the job done in an unconventional way. It's all about preference.
Most popular setup? The so-called "CDJ Mafia" which includes DJ Mag Top 100 Dj's:
– Pioneer DJM-900 Nexus mixer
– CDJ-2000 Nexus Decks
– Media: USB flash drive
This is the industry standard in terms of mixers, controllers and means to transport audio. The reason it is the industry standard is simple. If you are headlining shows worldwide, knowing this setup makes almost every festival or venue a "walk up and play" scenario. It takes very little time to re-adjust to the next DJ on the set list. Now lets look at what your favorite DJ's are using in regards to headphones.
– Sennheiser HD 25-1 IIs (Aly & Fila, Calvin Harris, Afrojack, Hardwell, Above & Beyond, Ben Klock, Seth Troxler, Maceo Plex, Ricardo Villalobos, Loco Dice, Ben UFO, Eats Everything)
– V-Moda Crossfade M-100s (Avicii, Dash Berlin, W&W)
– Urbanears Zinken (Sebastian Ingrosso, Axwell, Alesso)
– Phillips A5-Pro (Armin Van Buuren)
– AKG 267s (Tiësto)
– Beats By Dre Mixr including custom colors (David Guetta, Dimitri Vegas & Like Mike, Nicky Romero, Skrillex)
Now, first on the unique list of DJ rig systems: Armin van Buuren's Augmented CDJ Setup.
– Phillips A5-Pro Headphones
– Pioneer DJM-900 Mixer
– 4 Pioneer CDJ-2000 Nexus Decks- Other: interestingly enough he uses two of his CDJ's to send SMPTE signal that triggers video in the VJ software at the front of house. He also uses a chat program on his laptop onstage to chat with his VJ and tell them what track he's about to play.
More information in the video below:
Trvp with a side of Hardstyle producers of Hydenation Flosstradamus:
– Beats by Dre Headphones
– Pioneer DJM-900 Nexus Mixer
– Novation Launchpad, APC-40, CDJ-2000s Nexus and Midi Fighter 3D for their controller/ decks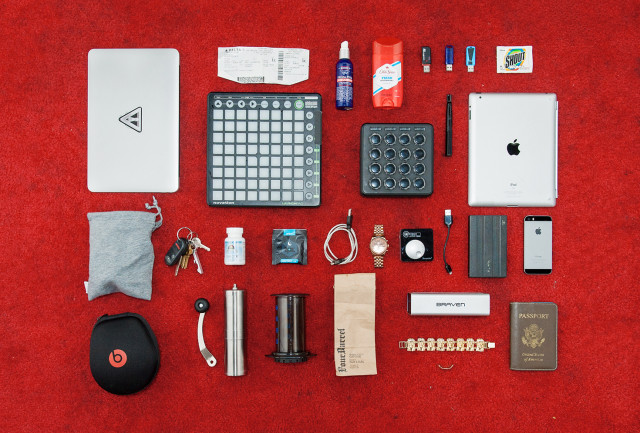 – Flosstradamus' tour essentials
The almighty troll and visionary of dance music Joel Zimmerman (deadmau5):
Unafraid of the unknown, Joel has always been on the cutting edge of the performance gear and even back in 2011 he was doubling the industry standard of production value. Now let's flash back to 2014 and take a look at his newest piece, the Microsoft Perspective Pixel. Watch the clip and if you're intrigued, read more here.
A view from a cube at pukkelpop!
How's that for in your face?
Richie Hawtin's Abelton Push and Traktor: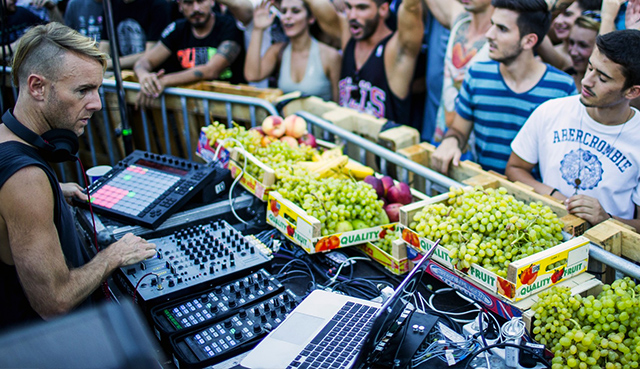 Now we have one of these Abelton Push's at the studio I work at and I often seem to believe it is a part of some secret ancient voodoo conspiracy. Essentially, you need nothing but this after you set parameters within Abelton, from there you can control everything imaginable inside of the DAW with just this (featured far left).
Master of Clarity Zedd:
One of the few performers to use an all in one controller. His most recent setup features Traktor Kontrol S4 MK2 and Beats by Dre Mixr headphones.
Porter Robinson's "Worlds" tour setup:
– Livid Ohm as a 4 channel Mixer, Roland SPD-SX for drum samples and synth stabs, and Akai midi keyboard
– Roland System 1 for synths
Bassnectar's Custom Midi controlling brings everything to the table and resembles an arcade in terms of buttons.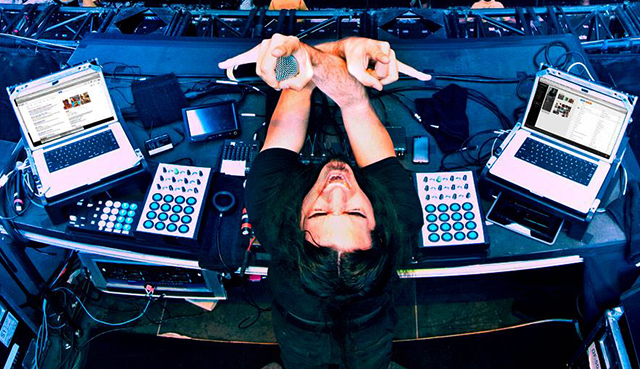 – Pioneer DJM-900 Mixer
– Custom 60 Works/Livid controllers (based on DJTT design), Midi Fighter Pro Cue Master as controllers
This is just a glimpse of what these DJs are using to control their live performances. For the full in depth report by DJ Techtools, click here