And what year was that?
Dimitri: When he first told me about Tomorrowland, it would have been about 2007, maybe 2006. The years before that, when we were still in Ibiza, he ended up MCing at a party where I was playing and we got such a great response, we were like, "Okay, this could actually be something." Then we sort of forgot about it for a couple of years until I came back to Belgium and he started MCing on one of my sets again and then we —
Mike: He moved into my house, with my girlfriend, basically had a little room with a bed and studio under there.
Dimitri: It was a bunk bed with the bottom carved out, and the bottom was a studio. So I basically slept in my studio for two years.
Mike: But those were pretty annoying times, because I had my girlfriend's parents saying, "Who's this guy sitting at home all the time? And what the hell is he doing?" Every three months I would have to find a job for at least two weeks and then, agghhh, I really wanted to go back to making music. I was really in and out, in and out of the music thing. And then you get this one thing – BOOM – Roger Sanchez played our —
Dimitri: "Love Can't Turn Around."
Mike: Right, yeah, "Love Can't Turn Around," one of our first songs.
Mike: So that was something to hold up, "Look mom! Roger Sanchez played our song!"
Dimitri: I was doing pretty well when I was still in Ibiza, doing a combination of working hotels and being a DJ, and I had advanced quite a lot. Toward the end of my career there, I was responsible for a whole five hotels and like a hundred-person staff under me. But we just said, "No, we really want to focus on the music career." So I spent basically all the money I earned on a studio – not that big of a studio, I didn't have that much money. But then to explain to my parents, "Look, I'm going to come back home, I'm going to live with my brother–"
Mike: Even now when I tell my dad, "You never supported me," and he goes, "Yeah, yeah I did." But I still remember I had to explain to him, "Dad, there are so many cities around the world. If every city has one party every weekend, and we can go around and get 100 euros everywhere!" [laughs]
Dimitri: It was a totally different time.
Mike: There was no "future" in dance music, there was no predicting how it would become. For us, we wanted to do this just because we really wanted to go out and party.
Dimitri: Our biggest goal at that time, the biggest goal you could have, was to say, "I want to be a resident DJ at Pacha Ibiza." At that point, that was as far as the horizon reached. Tiesto would be doing a weekly residency, but apart from that…
There were no world tours…
Dimitri: Yeah, that really didn't exist back then.
Mike: Maybe Erick Morillo?
Dimitri: Yeah, maybe Morillo, and Roger Sanchez who did a lot of Miami & Ibiza. The only DJs who toured heavily were the trance guys, like Armin and Tiesto, Paul van Dyk… it was only the years after that as everything started snowballing… the Swedes, their first shows, were also in Ibiza. And then 2007/2008, that's when it really started happening.
Mike: Where were we, music wise, around that time? The Roger Sanchez thing…
Dimitri: That was 2008. 2009 we did "Leave The World Behind."
Mike: Right, cuz that's what allowed us to grow so the next thing was suddenly Axwell… I remember [Dimitri] knocking on my door in the middle of the night, "Mike, Mike! You're never going to believe this! I got an email from Axwell."
Dimitri: He wanted us to remix the Abel Ramos track on his label, because we did the remix for "Work That Body" that they started to pick up.
Mike: It was a different style, that was something new and harder.
Dimitri: We were a lot more techy/minimal back in the day.
Mike: We did Circoloco [Ibiza] back then and stuff like that.
Dimitri: So at that point, we were still at this crossroads…
Mike: Back then, we were less commercial than the Swedes were.
The Swedes back then were…?
Mike: Ingrosso, Eric Prydz, Laidback Luke, that group.
Dimitri: Back then we were more techy. Also big room wasn't "big room" the way it is now.
Mike: If it had a vocal, it was big room, technically.
Dimitri: Yeah, so we kept good relationships with the Swedes, and we owe a lot to them. Axwell gave us our first big break, also he was the one who asked us to work with them on the "Leave The World Behind" remix; Sebastian Ingrosso also signed some stuff for us in the very early stages.
Mike: And every time something like that happened for us, it was something to hold on to. Even if it took another year before something else would have happened, there were moments that we thought [our career] wasn't going to happen.
Dimitri: It was around the time that we did the "Leave The World Behind" remix that we —
Mike: For us, the goal was just to travel and get that constant traveling to shows. We saw it was happening, and thought, "Okay how can we do that?" Brazil was really hot back then, we want to go there. We didn't think about making money, we just wanted to party and go see the world.
Dimitri: At that point was when we had our first big residency in a big Belgian club. And we got into contact from [unintelligible] from Tomorrowland, who were sort of looking for talent to work together with.
Mike: Our name doesn't actually sound very Belgian; up until three years ago, everyone would talk to us in English. They thought we were foreigners. The guys from Tomorrowland didn't know we were from Belgian because we were already playing everywhere else before we came back to Belgium, and that's why they were interested, because finally they had someone from Belgium, that was making music, that was sort of linked to Swedish House Mafia already and did some remixes. No one in Belgium had anything like that. We had some techno guys like Marco Bailey, but nothing in the mainstream.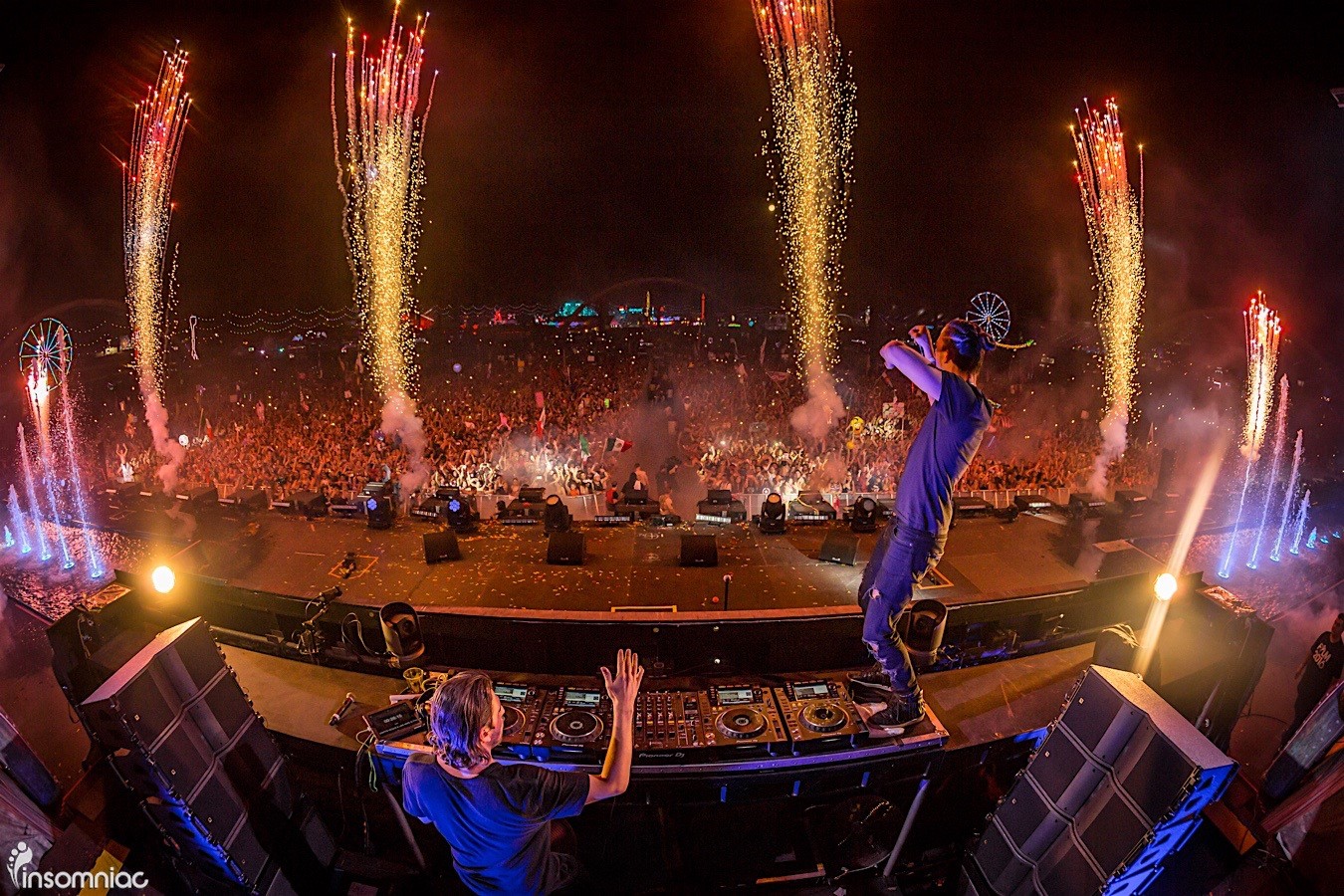 Dimitri: We had a very good connection with them from the beginning. The guys from Tomorrowland are like family to us. So at that point we had a long talk, and a lot of long talks, and we said, "Okay, let's try to work together." It wasn't super involved at first… We got a set on the smallest stage of a Tomorrowland [in 2009], that was set up through my label, because I was working as an assistant A&R Manager.
Mike: David Guetta had just finished, I think, and everyone was going home but we were still playing for an hour. So it was this small thing in the middle of the water, and everyone was standing around and weren't going home. The guys from Tomorrowland saw that and were like, "Oh, what's going on here?"
Dimitri: That, in combination with the tracks, I guess, was the spark to saying, "Hey let's see if we can work with these guys."
Mike: And we weren't even supposed to play the main stage the next year, but Swedish House Mafia cancelled, or had to leave early…
Dimitri: We got bumped up and that made a huge impact for us… with every career, you know, like with Afrojack at Ultra being introduced by David Guetta – it's those small things that add up.
Like Kygo replacing Avicii at Tomorrowland.
Mike: I remember being so jealous [of Afrojack]. [laughs]
I got into dance music in 2010, when I saw deadmau5 for the first time at Coachella. And since then, I've been involved in EDM in one capacity or another. But for you guys, having been doing this for 20 years, that rise must have seemed a lot slower.
Dimitri: Sometimes people say, "Oh you came up fast." Uh… no. [laughs]
Mike: I hate it when they say that.
Dimitri: The last few years have been like a roller coaster.
Mike: The agonizing first years… this more than makes up for it.
I want to get to some heavier material now. When did the accusations of you guys using ghost producers start?
Dimitri: We worked together with Maarten Vorwerk, we were in contact with him.
Mike: I remember Quintino did the [unintelligible] track and there was a time in Belgium when we used to go out to some the club and hear these hard, hard kicks, and we were like, "Yeah, this is what's going to really enhance the sound and give it a lot more energy." And we didn't have the experience yet to make those kicks – I didn't know how to make a hardstyle sounding —
Dimitri: Maarten was a big producer in the '90s, you know.
Mike: Half the vinyls we played, he was in them.
Dimitri: So we were talking, and we worked together on a couple of songs. So that's basically as far as that story goes, and all of a sudden there was this thing about ghost producing. But the thing is, Maarten is credited on every track we worked on together, it's just Maarten is not an "artist." He's not a performing artist. He's credited in the label copy. And then at a certain point, there's this whole misconception of what a ghost producer is. A "ghost producer" is somebody who makes a song for somebody but is not credited. So I always found it a very stupid accusation — sometimes, you have someone in the studio helping you with a certain sound
Mike: For instance, with Axwell, we helped him with some drums here and there…
Dimitri: But we were all credited, then it was Axwell versus Dimitri Vegas & Like Mike.
Mike: Even if we just did the drums, bassline sounds and some fx!
Dimitri: But some people are not performing artists so they don't want to be featured in the track, so they're featured in the credits.
Mike: But it was in the same time as the Tomorrowland aftermovies. We thought, what if we involved all the artists that played at Tomorrowland, have them do collabs, have their name on the song… good for us, good for them. We came to them saying, "Hey, this aftermovie will be a big thing, and we have these tracks. Are you up for it or not?" But because of that, all those collaborations, we didn't have many originals and people starting having questions. And then this Maarten thing…
Could it also be because, like, he doesn't want his name on the track, but his name is in the credits, and most people don't actually take the time to look any deeper than the surface?
Dimitri: It's not hard to see at a certain point, people were going through the label copies of other songs, not necessarily ours, and going, "Oh, there's seven names in the label copy, there must be seven people making the track." Maybe half of those people are writing lyrics, or… you know, it's easy for people to find something and hate.
Mike: But for some people, theories like that justify why someone else is "there" and they are not (yet). It's easy to think someone had advantages you don't … "Oh they have a lot of money", "Oh it's because of Tomorrowland…"
Dimitri: It was definitely demotivating at a certain point, people saying we're rich — man, we came from nothing! Or Tomorrowland guys were our uncles. You can go crazy about it, or you can have discussions with trolls that you're never going to win…
Mike: We even thought, "Fuck, we shouldn't have done this" or "We shouldn't have put that guy's name on our track," you know. And now we just don't give a fuck.
Dimitri: At the end of the day, if it was that, people would have found some [other kind of evidence.]
Mike: You look at other people in music… Look at Kanye! Everyone wants his shoes, but see how much they hate on him.
Dimitri: The thing that I was finding funny was that people somehow, when they talk about ghost producing, somehow we must have had a magic vending machine that we could just knock out one big track after another. As if there are so many so-called "ghost producers" out there and there are so many people using ghost producers but apparently we had the magic box to turn out a lot of hits. So in that sense… yeah, I don't know. If people listen, you can hear a Dimitri Vegas & Like Mike melody. And you can hear the similarities and sounds in collaborations. In collabs, one artist might do more than another, then the other does more, it all varies. But I think, in general, and this goes for most artists I know, if they work on a track together, they split it. Honestly, for any artist, I would really be surprised if he made like 10 songs and nobody was credited.
It's also an issue legally, too, right?
Dimitri: Exactly, especially in Belgium, I'm not sure how American law is, but in Belgium, you cannot buy somebody's copyright. I think in America there's maybe a work-for-hire thing, but I think even then you're credited. But somebody's intellectual property, you can't buy off.