In a climate where music festivals are sporadically popping up across America, one cannot deny that the U.S. festival scene is one with high competition. In just three short years starting in 2014, Moonrise Festival in Baltimore, Maryland has demonstrated its superiority in booking world class headliners and diverse supporting acts; but with every effort that is pushed forward, there always a consequential drawback that is not suitably accounted for.
Moonrise Festival, interestingly enough, was my first or second time seeing many of the artists that I have been listening to and following their careers for multiple years. I started my first day off by walking around the entire race course checking out the four stages (Stellar, Lunar, Solar, Celestial), vendors, art exhibits and of course taking in the simple yet beautiful sight of people all around having a good time to their favorite DJs. It was nice to see that there were no sound bleed problems except when walking to and from each stage, which is generally unavoidable.
After walking around in awe, as anyone does for their first couple minutes after entering a festival, I made my way to everyone's favorite stuffed animal DJ, Bear Grillz. He was the first full-on heavy dubstep DJ to command the decks the first day and it was quite apparent that there was a thirst in the crowd for the filthier sub bass frequencies.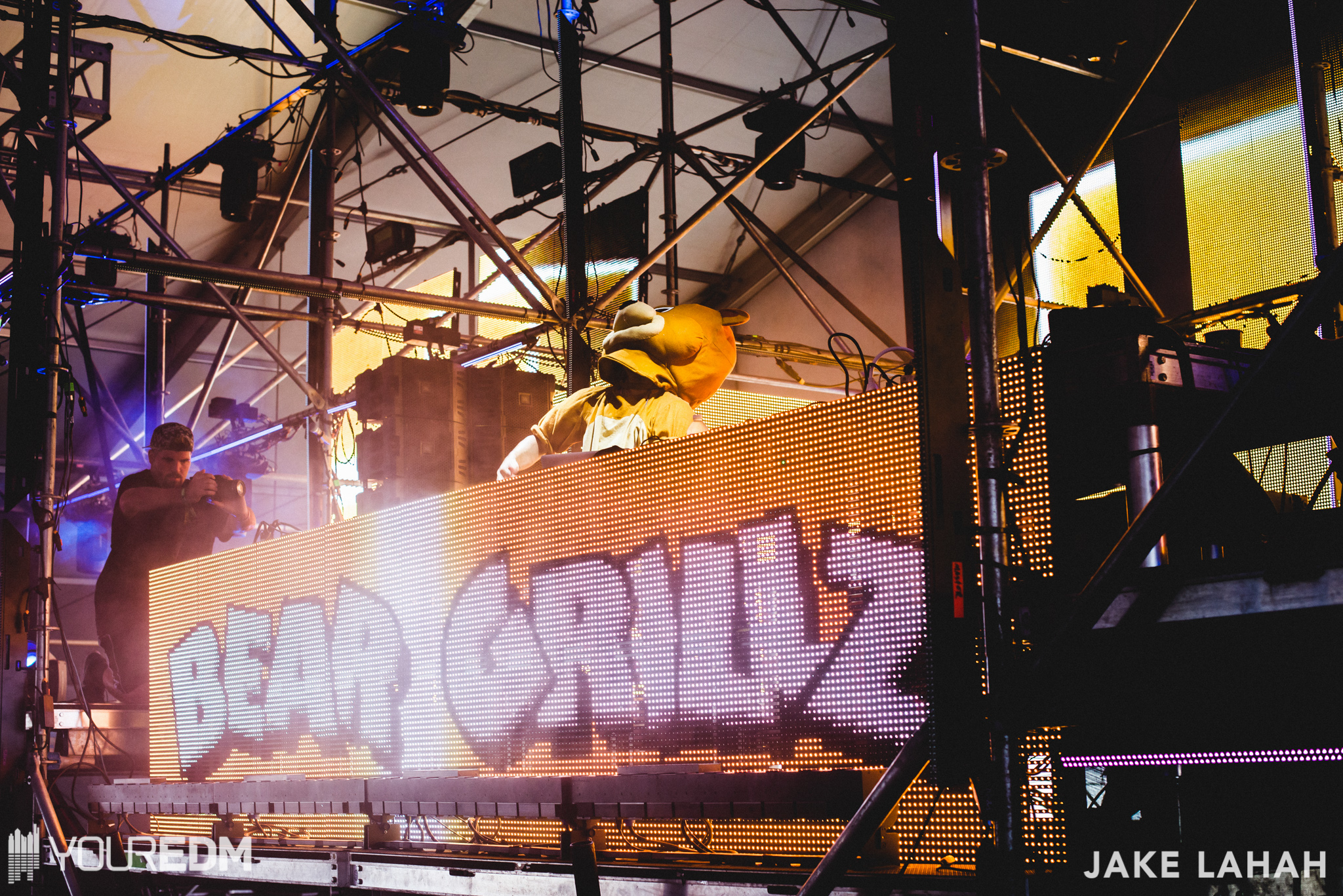 Nearing the end of Bear Grillz' destructive set, the next act promptly took the stage and consumed the spotlight immediately riling up the crowd. I wasn't familiar with him, but Famous Dex let his name be known to all those who had laid eyes upon him. I didn't stay long as I am honestly not the biggest fan of rap, but his hyperactive movements and dances were nonetheless entertaining. To say Famous Dex was just another artist or rapper would be an understatement. Fans came for a performance and performer he was.
While leaving the Solar Stage when Famous Dex was performing, I thought I would go back to my roots and check out how the main stage, The Stellar Stage, was looking. One of the things that everyone truly took for granted at Moonrise was the simple fact that the entire venue was filled with grass. Sounds silly, right? But on a 90 degree day, with a little grass and some shade, there was nothing else I could ask for — except maybe for some water, but we will get into that later. I was actually able to sit down in the grass and enjoy the moment as compared to recharging my batteries on heat swelling concrete like at most festivals.
Shortly after basking in the sun and resting on the grass, I began to get pretty dehydrated as I'm sure most festival attendees experienced as well under the scorching sun. It took about a couple minutes in the water line to get my water, which I was totally fine with, but for others it was quite apparent they were mad about the lack of water refilling stations. Out of all the things any top of the line festival should supply for its guests is an ABUNDANCE OF WATER. I'm of the belief that there should be virtually no wait for water, and such festivals as EDC NY and Camp Bisco have demonstrated that such a thing is possible. The water line was simply too long and its just unacceptable on a 90 degree day with thousands and thousands of people dancing to have just the minimum amount of water stations to get by. A simple solution would be to get more water refilling stations in the future. As seen in the photo below, the tiny blue top everyone is huddled around was the water station.
After waiting in line for water, I rushed over to the other side of the race track to check out everyone's favorite saxophone player, GRiZ. As a matter of fact, it was my first time ever seeing the future funk maestro. It was nice to see a change from the typical DJ set to a more engaging musical experience since GRiZ actually played a real instrument and got physically close to the crowd, which most definitely created immense enthusiasm from both sides of the stage. GRiZ's yearning to connect with the crowd actually resulted in him having to depart from performing after jumping off the main part of the stage where artists could walk around. He was unable to make it back up on the stage in terms of conventional methods so he promptly ran around the entire stage entering through the back leaving the crowd wondering where he went for a good minute, only for GRiZ to come back onto the stage heavily breathing letting the crowd know he had done all his cardio for the year.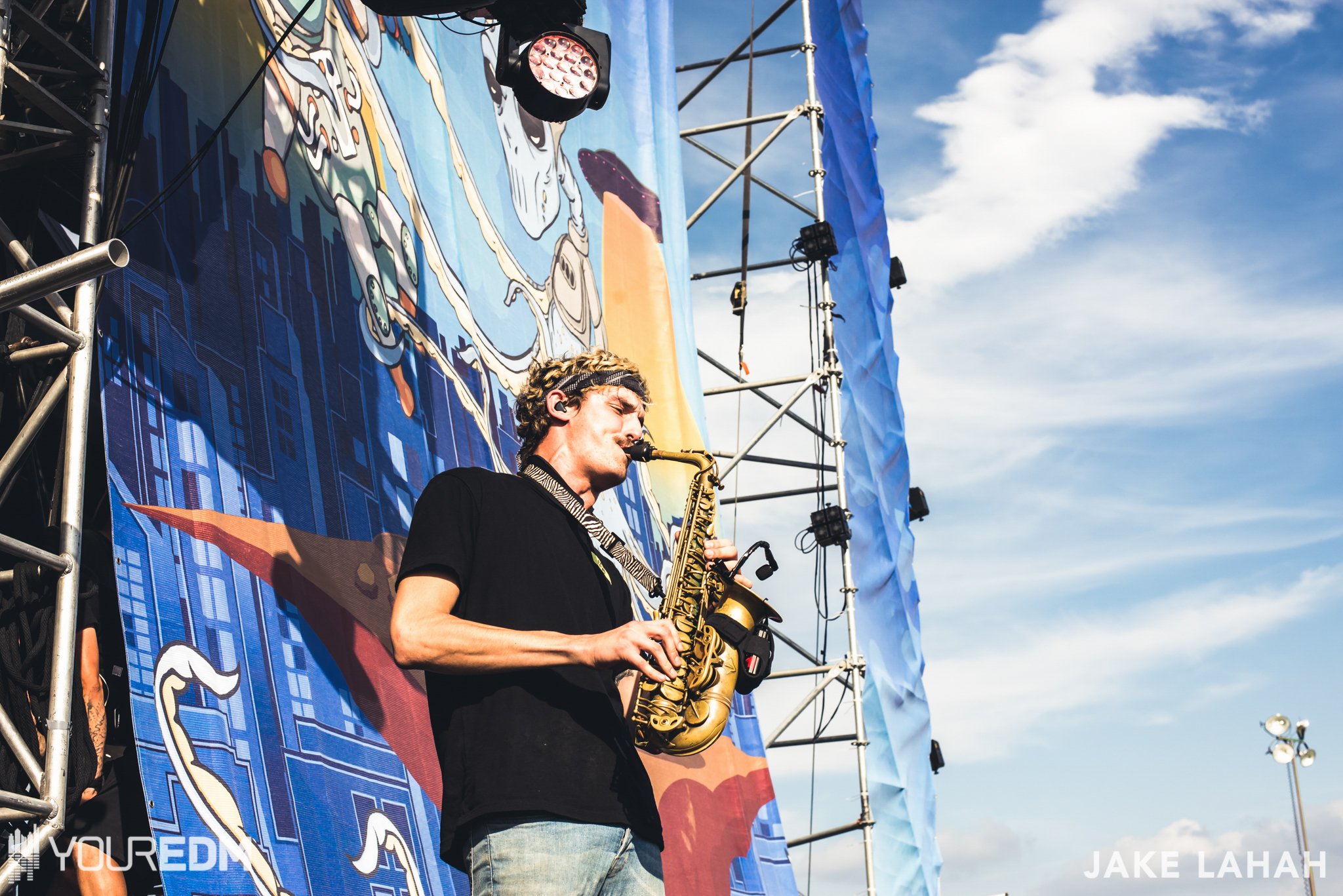 After checking out GRiZ it was time to get food. I scoped out all the available food vendors with the shortest line and luckily to my surprise the dumpling vendor was quite short. I stood there for a minute or two and got some dumplings, which were honestly quite decent for festival food as well as decently priced. While eating I thought I would go check out R3HAB as a sort of paying homage to my roots of listening to almost only bigroom Spinnin' records artists way back when.
After finishing up eating, R3HAB was wrapping up his set and it was almost time for Flux Pavilion to take the mainstage. Once Flux got on it was interesting to note how significantly smaller the crowd had gotten. I actually explicitly remember while eating the whole mainstage crowd jumping to R3HAB's "This Is How We Party" only 10 minutes later to see the whole crowd headbanding to Flux Pavilion's "I Can't Stop."
After Flux Pavilion's set I thought I would make my way over to give Flosstradamus a second chance. I'm personally not a fan of the forced "turn up" style mc'ing, but to each their own. After a mixed set of bass and trap music from Flosstradamus, it was time for the night's headliner: Bassnectar. I've been a fan of Bassnectar's music for sometime now, and Moonrise day one was my first chance to see Bassnectar live, so there was absolutely no missing that opportunity. It seemed like the fans that had already seen him multiple times more than me had garnered the same amount of enthusiasm I had awaiting his arrival. During Bassnectar's set he dropped a lot of the tracks people know him for such as "Thursty," "Loco Ono" and then more of his recent material from his latest album such as "TKO," "Music Is The Drug" and "Mind Tricks." Overall a Bassnectar set is what they say it is. Will it change your life? Probably not, but is it nothing short of incredible production, visuals and mixing, absolutely!
After day one of the festival had ended, one of the major problems many of the festival attendees had encountered was getting a ride back to their place of stay or hotel. Everyone had essentially just been waiting right outside the perimeter of the race trackl. This mass influx of people all in one area and severe traffic had actually caused my Lyft app to stop working for sometime, not to mention the 450 percent surcharge drivers were charging. Eventually all the traffic had dispersed and it was time to get ready for day two.
Day two's weather started exactly like day one's, with temperatures peaking at 90 degrees, but luckily it remained at 85 degrees most of the time and then of course lowered into the night. Once I arrived at the venue, the first DJ I got to see was one of Never Say Die Records biggest up and comers, LAXX. Truth be told a LAXX set was exactly what I thought a LAXX set would be like. Straddling himself perfectly on both sides of the genre differential scale between trap and dubstep, Lax played a set that was a pure festival style combination of both genres.
Right after LAXX, heRobust arrived so I could luckily enjoy the shade of the tent and not have to venture into the searing heat. It was my third time seeing heRobust, and so far so good. Known for playing a grimy heavy dubstep set mixed with his signature "busted" sound,  heRobust is the perfect artist if you're looking to throw down.
Kayzo took the stage following heRobust's set with his special brand of hardstyle, trap, hard house, psytrance and dubstep. Not to say that playing multiple different genres is bad, but there's always an irrational stigma in the scene that being genre-defiant is a way of trying to appeal to the masses. I personally look at each set as each DJ's personal journey through which the DJ is the driver taking the crowd for a ride. I appreciated the variation of Kayzo's set and uniqueness of his sound.
Right after Kayzo, I rushed over to see Young Thug right next to the stage from which I was coming from. The crowd waited around for about 15 minutes until Kayzo himself told us that Young Thug unfortunately could not make it so him and some buddies took over the hour slot which resulted in Kayzo B2B Laxx B2B Yultron B2B Cesqeaux. B2Bs, yet another practice in the scene with this stingy unconventional negative stigma. Clearly you don't need four guys to use 2 CDJ's and a mixer, as with four guys on stage its typically just two guys mixing, one guy mc'ing and one guy just mindlessly dancing by himself. They each took their own turn at doing all three of those jobs. One thing I must say is that the energy evoked from both sides of stage including all the DJs and the crowd was unreal.
Gramatik was the next stop on the lineup for the day. A name that I've always respected, but just never took the time out of my day to truly delve completely into his music until this day. Gramatik brings forth a very unique blend of funky, electro house, dubstep and hip hop to the table. A true refresher from the big room bangers and heavy dubstep that littered Pimlico Race Course. His set kept an endless flow of funk, never starting and ending a track like a typical DJ set, and had a continuous beat or rhythm kept the crowd moving throughout his entire set.
The night's moon was quickly looming by the time NGHTMRE had played, one of the sets I was most looking forward to since the beginning of the day. NGHTMRE's set was just two days after he released what I regard as one of his biggest tracks ever with Flux Pavilion, "Feel Your Love." I was solely ecstatic on the fact that I knew exactly what was coming and when he would mix in the track. I personally see NGHTMRE as one of the best trap producers in recent years and would say that the superiority of his music simply outweighs the hype of his festival set. Don't get me wrong, he played a killer set but he's just too good of an artist for a middle of the day trap DJ slot.
The moon was in full view by the time Caspa vs. Rusko took the decks. Legends that I've seen play before, yet this time they played a lot more original Rusko style dubstep instead the DnB centric set I saw last time at EDC NY. Their set made me feel like locked in the early 2000s within the four walls. Rusko mainly played out most of his tracks released before the year 2010, the sounds that made him stand out from the rest of the pack. The night's auditory experiences were filled with many grimy, slow, early U.K. dubstep style drops. It was a set that truly stood out in terms of overall crowd vibe as compared to many other sets that went for the "everybody jump" type vibe.
After Caspa VS. Rusko's set the night was just about to wrap up, so I had to get down to find myself a spot to witness what would be one of Excision's best sets. It's always a new blend of headbanging from an Excision set. It was my fourth time seeing Excision, with the last time being at EDC New York and before that was when he was on his Paradox tour in New York City. His Moonrise set was definitely in his top two sets out of the four times that I've seen him. Excision's brother brought him out and it made for a truly heartfelt moment to see brothers united together through music at the same event. The final night reached peak production capabilities with pyro and CO2 cannons firing off every other second. There was no better way to end Moonrise with the industrial heavy dubstep and bass sounds that Excision is known for. While mixing in his last track, he mentioned his distaste for the main stage's sound and mentioned how here at the bass stage "we fucking go in" just to rile up the crowd before closing out his set.
My overall takeaway in terms of Moonrise's booking was nothing short of spectacular. It had an absolutely a great and diverse lineup for the first time festival goer. Definitely lacking a big trance or techno presence, yet maintaining a stronghold of trap, electro house and dubstep performers. Long water lines, average stage production and absolutely stellar music were the three biggest takeaways. Only three years in the making, Moonrise can only move up if it recognizes its problems and does everything in its power to make sure they are preventable come next year.
---
Even though many negative things have been said about the security following the conclusion of the festival, not every security guard is to blame for the unfortunate actions of others. Many of the security guards had been either giving out multiple free water bottles to combat the heat that completely swept over the entire festival. Between giving out free water bottles, ear pieces to protect the ears of those that couldn't handle the noise or spraying the crowd with water guns, it was pleasing to see the security in taking a proactive approach towards making every festival goer's experience worthwhile.
Photo Credits: Jake Lahah Photography