This year's Electric Zoo Festival at Randall's Island, New York City was the best year it's ever had without a doubt. The 8th annual 3-day zoo extravaganza saw a total of 83,000 attendees marking its overall highest attendance since 2013. Tragedy and weather shortened the last few Electric Zoo events but this year was their complete comeback.
I unfortunately arrived a tad bit late on day 1 due to the hardships of trying to find parking around New York City. The Electric Zoo team had mentioned there would be no guaranteed parking on Randall's Island where the event would be taking place, so the primary ways to make your way over to Randall's Island would either be by walking over the Robert F. Kennedy Bridge or by purchasing tickets for the ferry. Once I made it beyond the festival gates coming from the backstage the first thing I noticed was the newly designed cobra mainstage the emanated over the crowd with a sense of animalistic influence upon all the zoo attendees.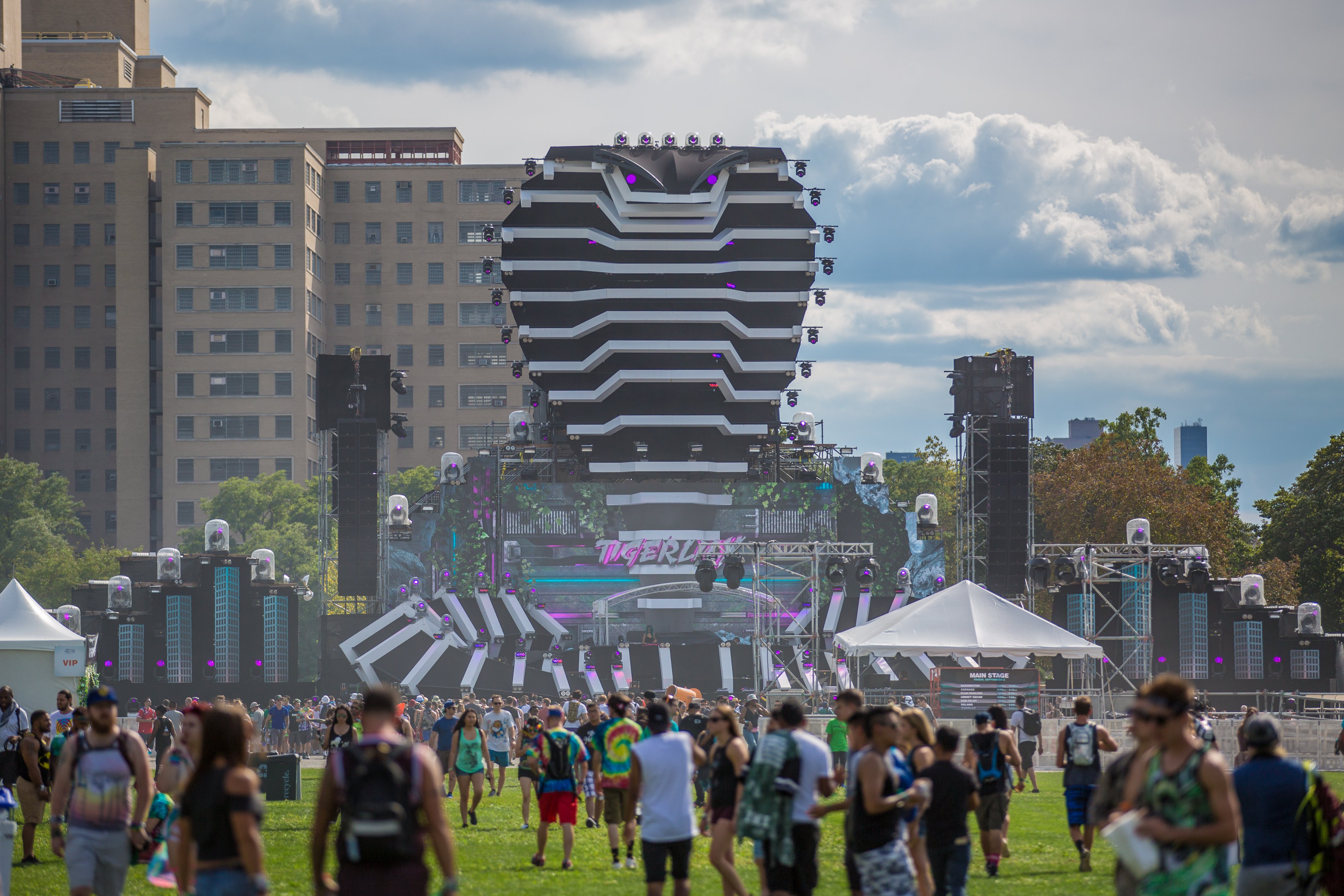 While walking around the festival grounds to get a feeling of where everything was spaced out, I noticed that one animal seemed very clearly over-proportionally represented than others. Through costumes and signs, festival goers all throughout the Electric Zoo had been showing their love for the Cincinnati Zoo gorilla, Harambe.
Electric Zoo even had its own art installment of a very colorful & peaceful sitting gorilla (I would like to think this is how Harambe looks in gorilla heaven) that multiple fans lined up around to take pictures with.
The first full set of E-Zoo that I was able to witness was Spor's. Also known as Feed Me, Spor threw down a fast paced, intense drum and bass set. Unfortunately, to be honest, the crowd seemed like it wasn't really feeling it. I personally thought the musicality and the mixing were on point, but the set took place around 3pm and people had still been passing through the festival gates in droves. Spor had even mentioned on the mic near the end of his set, "It's kind of early for this type of music but whatever." It was quite sad to see such a legendary UK drum and bass producer barely able to fill up the bass tent, but again, this is America, not the UK where drum and bass is a staple genre in their electronic music scene.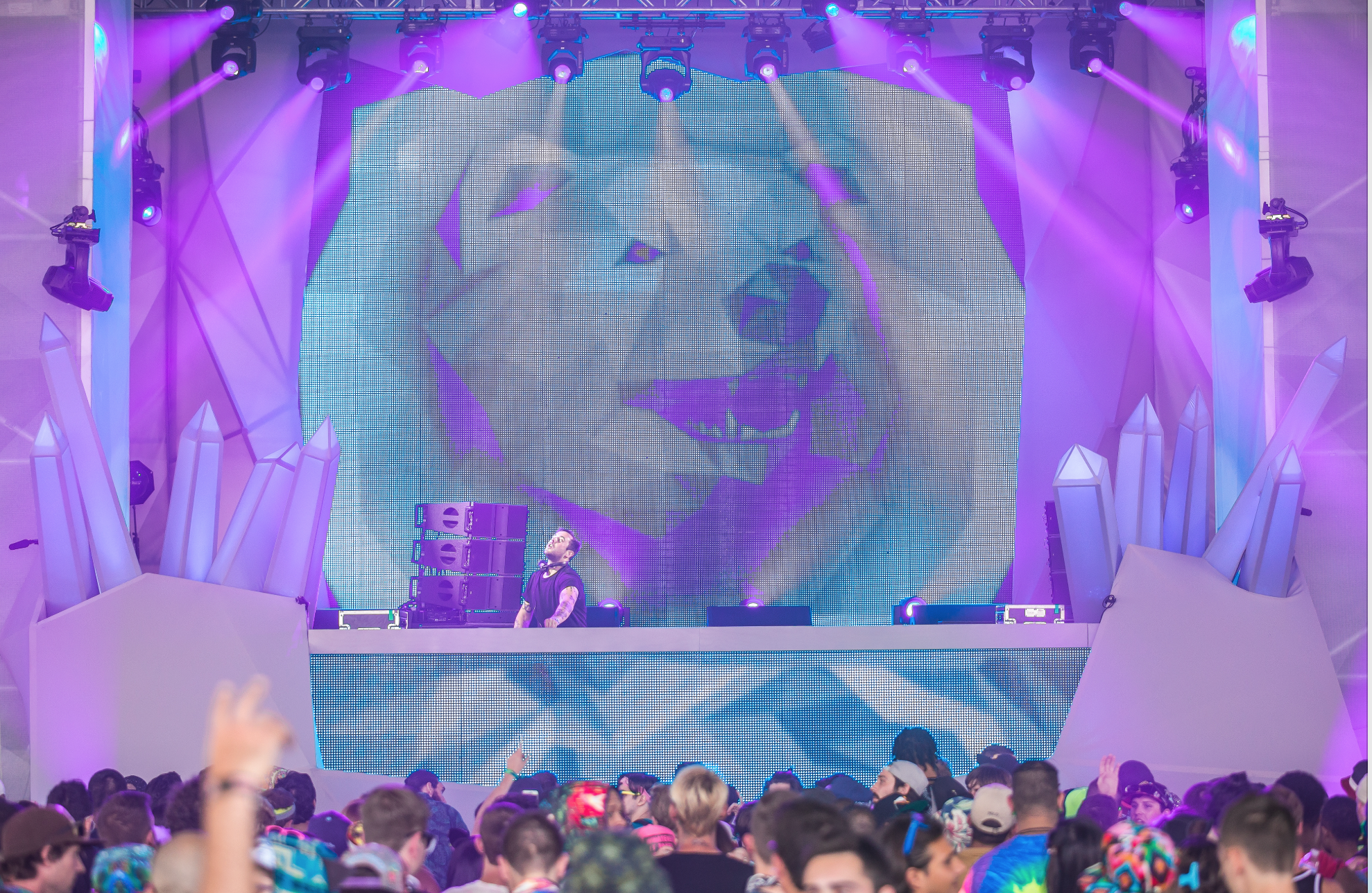 Up next at the same stage was another hard hitting UK based musical duo, Funtcase B2B Cookie Monsta. The duo was able to to perfectly craft a set specially designed for the time of the day. Funtcase was mainly in command behind the decks whereas Cookie Monsta would do more of the MC'ing to a crowd that just warmed themselves up from some drum and bass. It seemed as if the entirety of the crowd was waiting for the prolific heavy dubstep duo as the energy and movement throughout the crowd was very representative of their yearning to get down to the dirtier sounds.
If any of the bassheads werent yet feeling it after Funtcase & Cookie Monsta's back to back set, I could assure almost all of them were about to unleash their inner animal while waiting for Zomboy. I've been a huge fan of Zomboy's work for the past couple years now and this was finally my first time that I would get to see him, so I was more enthusiastic about his upcoming performance. The man of the hour threw down many of his popular dubstep bangers, including tracks like "Like A Bitch" (to which he opened his set with), "Don't Let me (Zomboy Remix)," and his most recent track on the Never Say Die Records: Black Label, "Invaders."
Not only was the song selection absolutely phenomenal by Zomboy, the overall enthusiasm from Zomboy with the crowd was definitely a nice little added feature to his set. It's nice to see the man behind the decks as into the music as the crowd he's playing it for.
After Zomboy's set, everything had been setting into midnight. All the elusive raver acts had been coming alive, whether it be the glovers or hoopers. I had stayed at Datsik's set for about 20 minutes only, but boy were those 20 minutes dirty. The Canadian dubstep legend played out to the sound of all things industrial, raw and gritty. Unfortunately, I left Datsik's set early in hopes of getting a good spot for one of the most anticipated sets of the night, Bassnectar.
We got to the mainstage around 5 minutes before Carnage was finishing up his set and doing all the wrap up conversations with the crowd. Notably near the end of his set, when all the bassheads starting flooding in and around the mainstage, Carnage gave a quick little shoutout to Bassnectar saying he's a "fucking legend" and then said "you were just in a state of Carnage," getting minimal applause. Nonetheless, he did pay homage to unanimous king of the lower frequencies.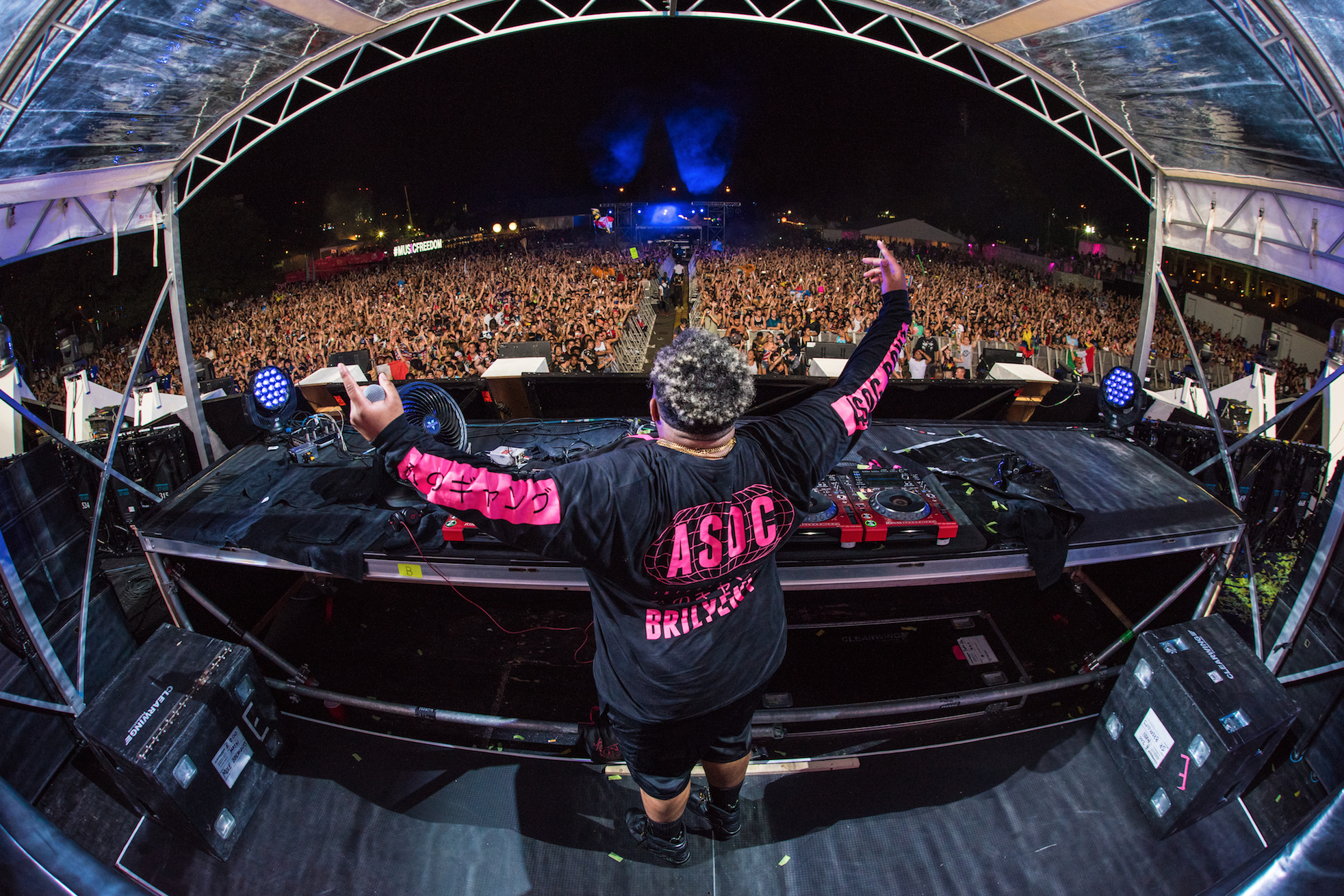 This was my second time seeing Bassnectar. Although I am a pretty big fan of Bassnectar's musical productions and appreciate his festival live sets, I was pretty let down by this one. Don't get me wrong, the production was on point. But the song selection and crowd were nothing in comparison to the first time I saw him back in Baltimore. Bassnectar touched into his more trappy selection and even slipped in a Marshmello track, as compared to playing out his bass-laden bangers that everyone knows and loves him for. It was a good set, but not a good Bassnectar set to which I simply expect more from when you're at that level; nonetheless he was closing the E-Zoo mainstage so I completely understand why he played more mainstream appropriate tracks.
I woke up on day two with probably the same amount of excitement as I had the previous day. I got to see Zomboy and Funtcase B2B Cookie Monsta which was a great day for heavy dubstep, and day 2 was filled with more jammy & emotional vibes coming from the with great sounds from the likes of Big Gigantic, Porter Robinson and many more!
By the time I got to Randall's Island, the first act I was able to check out was Headhunterz. All though I love his music, I wasn't paying full attention to his set as I was more preoccupied with situating myself with checking out all the day 2 festivities. Regardless of whatever was going on in my head at the time, tons of fans were having a blast jumping to the post hardstyle DJ's crunchy electronic bangers.
After Headhunterz set, I thought I would walk around the festival for a little bit until there was an act performing that I was actually looking forward to, so off to the Dim Mak stage I went. Playing on the Dim Mak curated stage mid day was the ex-Krewella member, Rain Man. The sounds I were expecting to come from the Dim Mak stage were exactly that: ratchet, trappy-dubstep, hybrid style music Dim Mak is best known for. After stopping in at the Dim Mak stage for a little while, it was time to go back and check out what was happening over at the mainstage.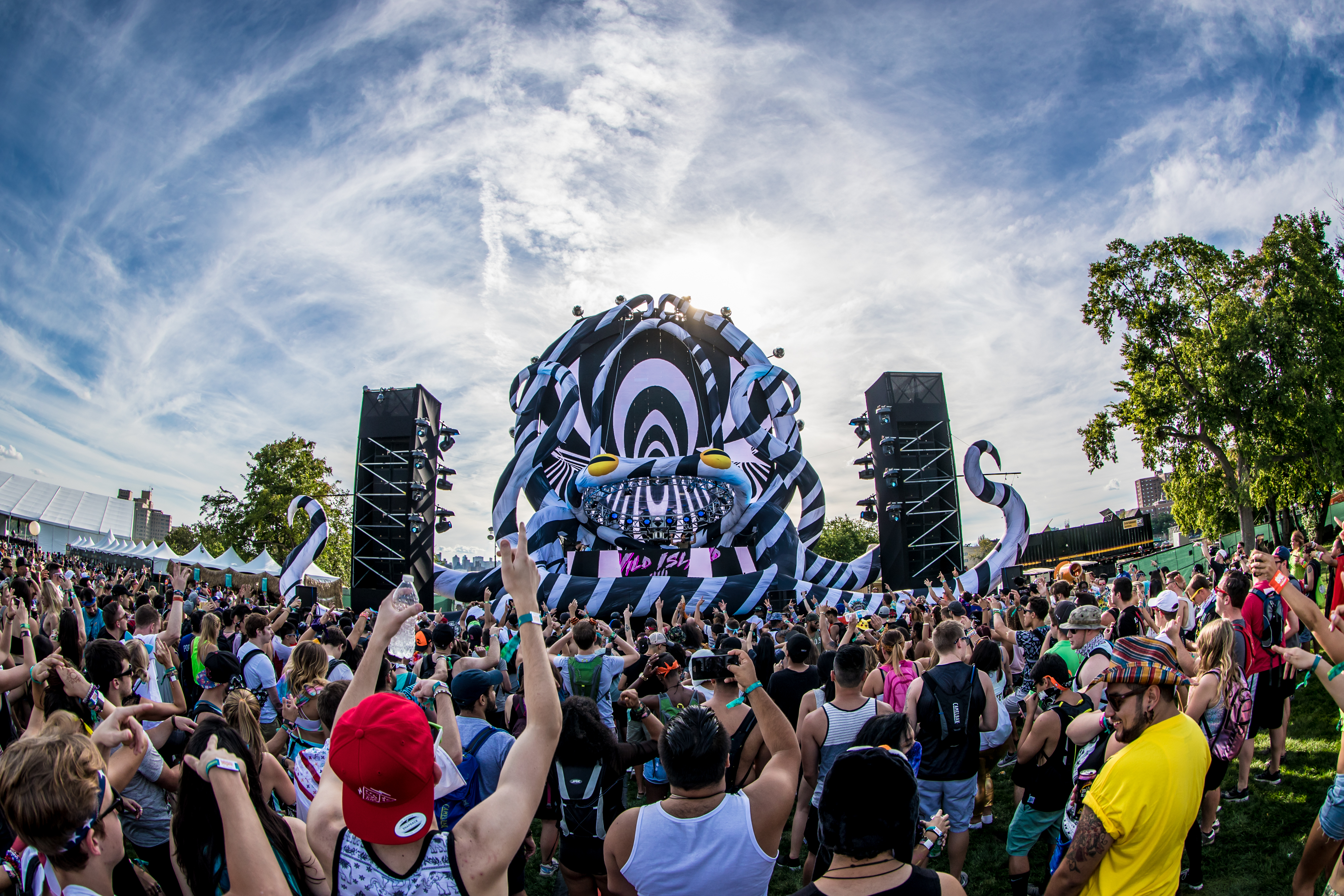 After Headhunterz concluded his set, one of his recent collaborators took his place: KSHMR. The two had previously worked on the eastern inspired electro banger "Dharma" which was heard in both KSHMR's & Headhunterz sets.
KSHMR's set was filled with a ton of big room crowd pleasers and electro bangers which resulted in a ton of good vibes and swept people's feet off the ground as nearly everyone reciprocated KSHMR's jumping in unison.
Up next was the infamous "I share pictures of your sister" DJ, Borgore. Even though I saw his set from afar, I was still able to enjoy some of the tracks he put forth. Borgore perfectly straddled himself between an almost half trap-rap, half dubstep set that definitely reached out to the average festival goer looking for a good time. His set included a lot mc'ing and rapping out his tracks such as "Daddy" and "100s."
Once Borgore's set had concluded, I rushed over to see one of my favorite sets of the day by none other than Big Gigantic. It was my first time seeing the the Colorado funk/dubstep electronic duo, and even though I only saw them for a mere 20 minutes, they completely blew me away. The live stage presence combined with their stellar song selection and an overall really pumped up crowd things were bound to get funky – and especially with the release of their latest album, the tracklist was fresh.
The reason I had only stayed there for about 20 minutes was due to the fact that my favorite act of the the festival was about to create for the most epic performance of the night, and his name is Porter Robinson.
This was my second time seeing Porter, an artist I would include definitely in my top 10 favorite producers at the moment, just to give you an idea of how ecstatic I was for this set. Porter played a bunch of his classics including "Flicker," "Language," "Sad Machine," and many more. He also dropped a bunch of the newer live edits he's been working on, like the one below.
The crowd, at one point, did get really packed and uncomfortable, clearly based on the fact that everyone wanted to get "closer to Porter." Nonetheless, it was a great, emotional and uplifting set. After Porter had finished his set, festival mainstage champion Tiësto had begun to prepare for closing out the second night in NYC. I've seen Tiësto before back at EDC New York in 2015, and it was definitely one of my favorite sets back then, but truthfully this time around I just didn't care so much to see him. I had the mentality of "I just want to see Tiësto once and move on" and open myself to new experiences, thus I went to go check out London-based techno duo, Bicep.
So, up the hill I ventured to the techno tent. I knew relatively nothing about Bicep before hearing them and I came out a believer. I've always been open to listening to new and unfamiliar sounds, thus I found myself in the middle of techno set. It's honestly one of my favorite things to do in terms of quality musical experiences, absolutely no regrets. I'm sure Tiësto was killing it, closing out the mainstage, but the new musical experience I got to listen to during my basking in the techno tent was an unrepeatable experience.
Day 3 saw the likes of Pierce Fulton, Lil Dicky, Juicy J and many more. The few rappers on the day 3 lineup most certainly attracted a different crowd compared to the day 1 crowd filled with a bunch of bassheads for both Bassnectar and the dubstep acts of the day. Pierce Fulton threw down a good amount of his uplifting progressive house and electro bangers which is why we love him. A Pierce Fulton set is exactly how one would imagine, all good vibes with a side of immense energy portrayed through his signature music.
The next act of the day was Lil Dicky, who attracted a largely diverse crowd of fans. He was one of the only two rappers to find himself on this year's E-Z00 lineup, the other being Memphis, Tennessee rapper, Juicy J. Lil Dicky was a tad bit late to his performance but his dance moves and overall comedic enthusiasm with the crowd most definitely made up for that. He even led the crowd for the national anthem because no one else at the festival had, and clearly that's what you're supposed to do when you're at a festival, right?
Juicy J was the next act, and although I'm personally not a huge fan of rap or even listen to his music, it was a new experience, so why not give it a chance. The man of the hour asked the crowd if they wanted a Three 6 Mafia reunion, as if it was even a legitimate question, to which was met with unrelenting "yes!" The set was filled with a bunch of tunes from his Three 6 Mafia days and his classics like "Bandz A Make Her Dance" & "Slob On My Knob."
The night was setting in and it was time to check out what seemed to be one of the festival's favorite acts of the event, especially based on the fact of the festival's location, New York City. It was time to glory in all that is a Chainsmokers set. Although they are currently based in Los Angeles, The Chainsmokers have their roots founded in New York City, so whenever they touch down in the Big Apple the crowds always show up in their best possible moods for the NYC-bred duo. If It wasn't already obvious, they would go onto play all their radio top 100 hits such as "Roses," "Closer," and "Don't Let Me Down." Besides hearing the inevitable Chainsmokers originals, they also were extremely keen to mix in some dubstep and trap bangers such as Lookas and Crankdat's "Game Over."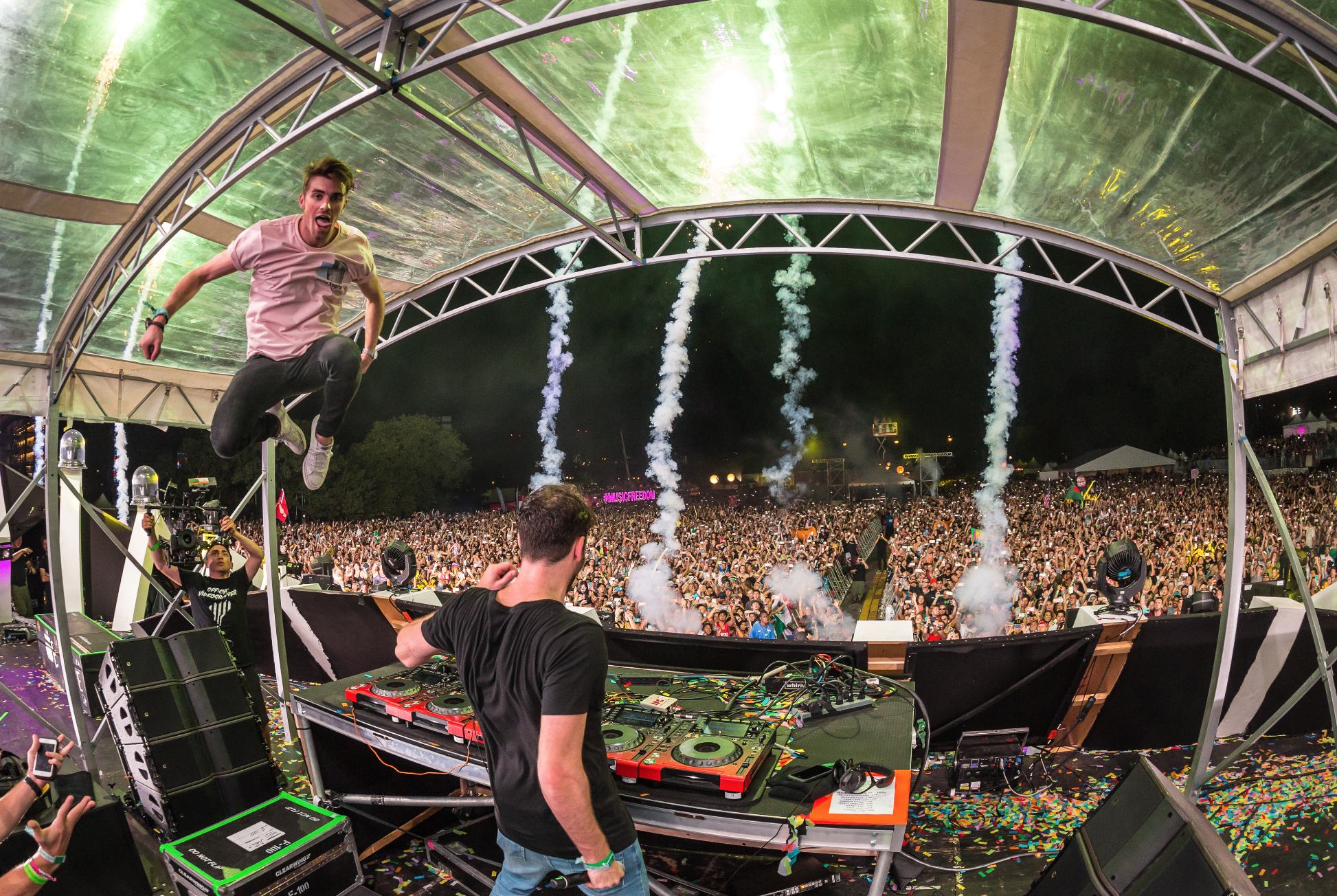 Once The Chainsmokers had finished their set, Hardwell was about to prepare for the final set of Electric Zoo 2016. I've seen Hardwell once before and I could say with no remorse that I simply did not enjoy his set. Nothing against the man, just not my type of music, plain and simple.
So up to the techno tent I went, once again, to check out Dutch tech house DJ, Joris Voorn. Boy, oh boy, I don't know where to start. There is just something about techno sets and the atmosphere that totally separate themselves from the rest of the traditional festival atmosphere. I specifically remember talking to Oliver Heldens about techno a couple months back and he said he was a big fan of techno and tech house because it would just keep you dancing and moving for hours on end into the night; the same experience was felt at Joris Voorn's 2-hour ending set. Once I had enough of the techno, I went back to center field to see how things were wrapping up at the mainstage and it seemed like Hardwell was dropping everything from trap to trance and even some hardstyle. Hardwell concluded his set with his classic track "Spaceman" and during which the grand finale of fireworks covered the night sky to create for one last memory before the conclusion of Electric Zoo 2016.
As quickly as it had begun, the three-day zoo experience was over as everyone packed up and said their goodbyes (for now). After an extremely successful Electric Zoo in 2016, 2017 is bound to happen again! Electric Zoo was a very well run festival, however one of my major gripes was the festival's decision to implement "EZ-bucks" which made those who didn't sign up for the program not able to buy food with simple cash, definitely a regressive thinking idea. The simple fact that you're mandating that a product can only be bought one way is just cutting off potential buyers like myself. Despite the minor unfortunate decisions by those who implemented that decision, Electric Zoo is moving forward not only in the USA but also abroad!
(Photos by aLIVE Coverage on behalf of Electric Zoo Festival)