Ushuaia Ibiza is set to have a festival-ready lineup every week thanks to Martin Garrix.
For his new residency at the White Island, Garrix will be joined by a host of A-List DJs and producers including Zedd, Alan Walker, Jauz, Dyro, Arty, A-Trak, Don Diablo, Feed Me and so many more. Tickets for the events have been flying since his residency was first announced and this final announcement will likely put the final nail in the coffin of any date that wasn't already sold out.
His residency begins July 6 and continues every Thursday thru September 14. Check out the full lineup below as well as the lineup for each day of residency.
Tickets are on sale now and you can purchase them here.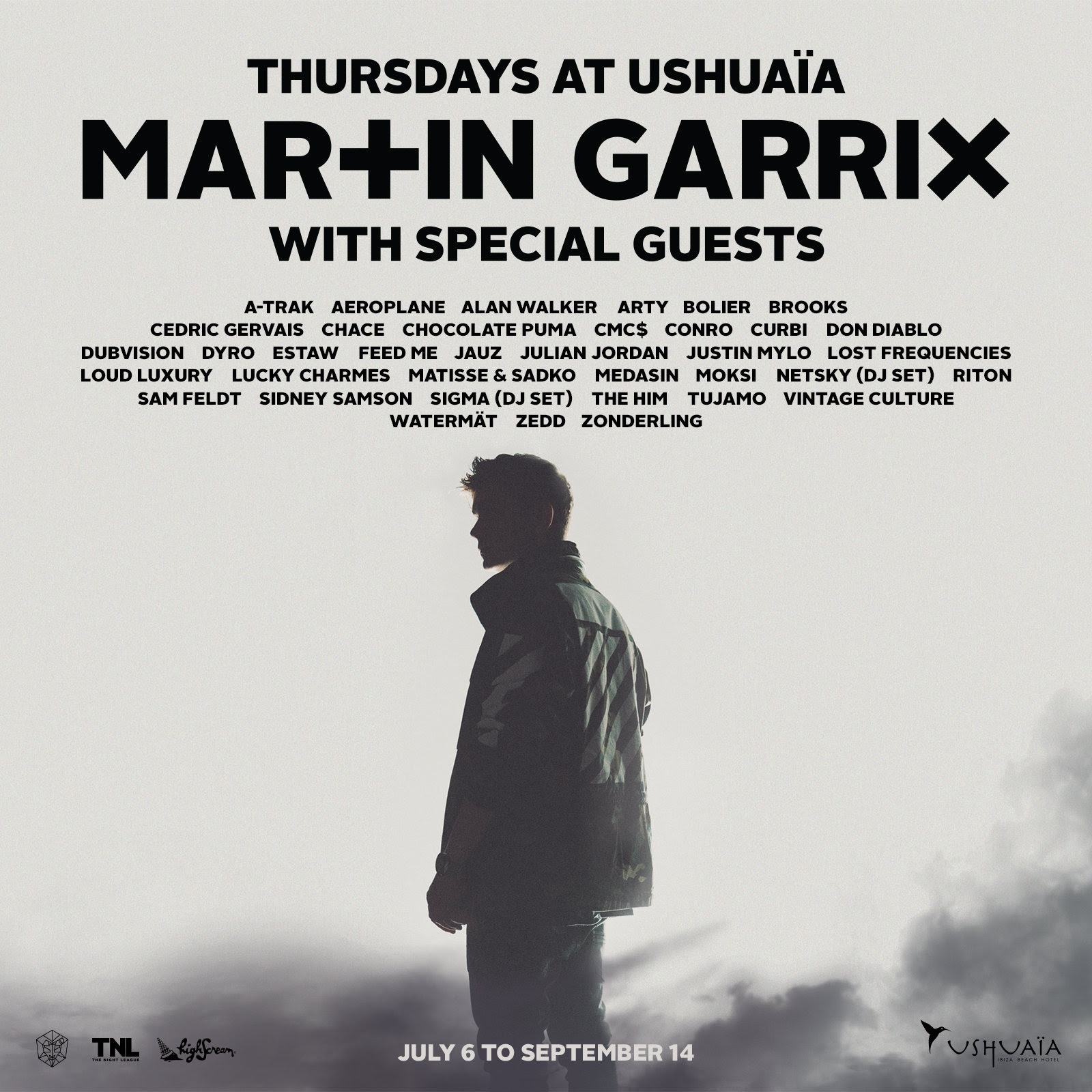 July 6
22:00 – 00:00 Martin Garrix
21:00 – 22:00 Zedd
20:00 – 21:00 A-Trak
19:00 – 20:00 The Him
18:00 – 19:00 Justin Mylo
17:00 – 18:00 Estaw
July 13
22:00 – 00:00 Martin Garrix
21:00 – 22:00 Sigma
20:00 – 21:00 Brooks
19:00 – 20:00 CMC$
17:00 – 19:00 Justin Mylo
July 20
22:00 – 00:00 Martin Garrix
21:00 – 22:00 Alan Walker
20:00 – 21:00 Boiler
19:00 – 20:00 Conro
17:00 – 19:00 Justin Mylo
July 27
22:00 – 00:00 Martin Garrix
21:00 – 22:00 Netsky
20:00 – 21:00 Dyro
19:00 – 20:00 Sam Feldt
18:00 – 19:00 DubVision
17:00 – 18:00 Justin Mylo
August 3
22:00 – 00:00 Martin Garrix
21:00 – 22:00 Lost Frequencies
20:00 – 21:00 Riton
19:00 – 20:00 Julian Jordan
17:00 – 19:00 Justin Mylo
August 10
22:00 – 00:00 Martin Garrix
21:00 – 22:00 Don Diablo
20:00 – 21:00 Watermät
19:00 – 20:00 Chace
17:00 – 19:00 Justin Mylo
August 17
22:00 – 00:00 Martin Garrix
21:00 – 22:00 Aeroplane
20:00 – 21:00 Zonderling
19:00 – 20:00 Loud Luxury
18:00 – 19:00 Justin Mylo
17:00 – 18:00 Lucky Charmes
August 24
22:00 – 00:00 Martin Garrix
21:00 – 22:00 Jauz
20:00 – 21:00 Chocolate Puma
19:00 – 20:00 Moski
17:00 – 19:00 Justin Mylo
August 31
22:00 – 00:00 Martin Garrix
21:00 – 22:00 Cedric Gervais
20:00 – 21:00 Arty
19:00 – 20:00 Mattise & Sadko
18:00 – 19:00 Curbi
17:00 – 18:00 Justin Mylo
September 7
22:00 – 00:00 Martin Garrix
21:00 – 22:00 Feed Me
20:00 – 21:00 Tujamo
19:00 – 20:00 Sidney Samson
17:00 – 19:00 Justin Mylo
September 14
22:00 – 00:00 Martin Garrix
21:00 – 22:00 TBA
20:00 – 21:00 Vintage Culture
19:00 – 20:00 Medasin
18:00 – 19:00 Justin Mylo
17:00 – 18:00 Estaw
via We Rave You | Image via Rukes.com