Last year, Lost Lands came out of nowhere to be one of dance music's favorite festivals. It was even voted 2017's Best Festival by Your EDM's readers. Between all of the insane sets and the incredible gathering of all of bass music's top dogs, not to mention all the dinosaurs and set pieces scattered around the festival area, it's easy to see how much effort went into making the first year a success.
Now onto its second year, Lost Lands isn't struggling to up the ante. In fact, it all seems pretty effortless (from the outside, of course). One of the things that makes Lost Lands so spectacular is paying attention to feedback from fans. Everything from booking the lineup to picking the food vendors involves fan polling in order to guide the festival to the most enjoyable experience. Best of all, show runner Excision is literally involved in every detail.
This year, there will be two full size main stages – as opposed to one main stage and a "side" stage last year. The Paradox will return again for year two, albeit with a few new bells and whistles, but the second stage has yet to be revealed.
And even after the festival day is over, sound camps will be in full swing throughout the night. Obviously there will be those set up by campers, but Lost Lands itself will also set some up. And of course you can expect tons of surprise sets from artists throughout the weekend. To make things even easier, camping spaces in GA will be expanded to 50 sq ft (something fans made happen thanks their feedback).
The festival will feature an insane one million watts of bass from PK Sound, as well as 3x more dinosaurs than last year. They will be everywhere.
In the interest of making sure everyone gets a chance to experience this wonderful festival, Your EDM has teamed up with Lost Lands to give away two pairs of tickets to two lucky fans (one pair per winner). Enter via the contest below for your chance to win!
This year's Lost Lands will feature headlining performances from the likes of Excision, Flux Pavilion, Ganja White Night, Illenium, Jauz, Nero, NGHTMRE, Rezz, Rusko, SLANDER, Zomboy and more.
Lost Lands recently announced VIP tickets are more than 70% sold and tickets are moving fast! Get them here.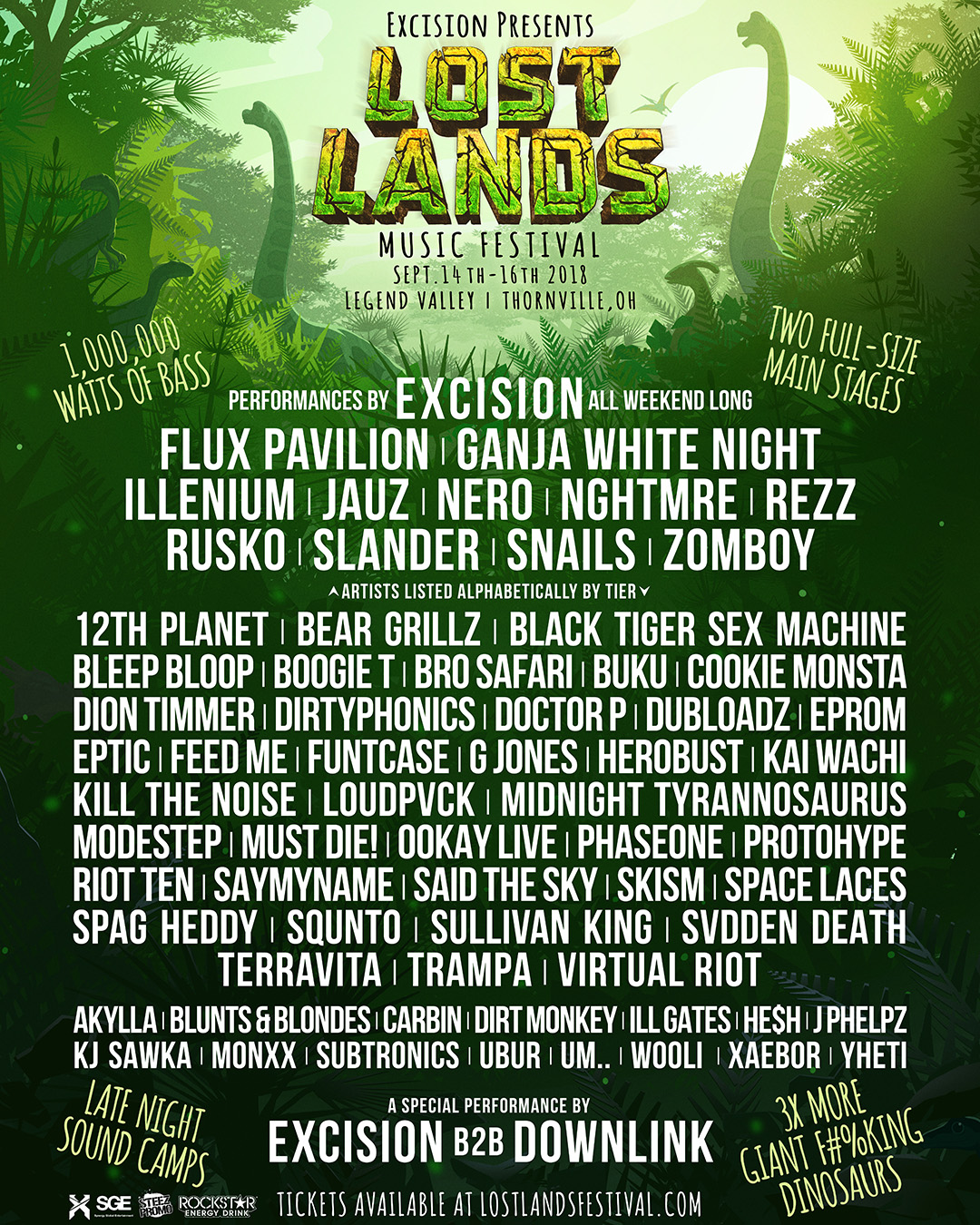 Photo via Fadewood Studios