GRiZmas brings a funky holiday spirit to Detroit that only GRiZ can inspire.
Grant "GRiZ" Kwiecinski returned to his hometown of Detroit for the fifth annual GRiZmas, a two-night run at Detroit's Masonic Temple. One night of the GRiZ live band and one night of GRiZ, by tradition has been the culmination of the 12-Days of GRiZmas event. More than ever, the celebration showcased his vast repertoire and blasted us through the past, present, and future of everything GRiZ.
---
12 Days of GRiZmas
Over December 4 – 15, the producer and his team took to Detroit to host gatherings, workshops, charity drives, and DJ sets. This year included the flagship caroling, yoga, and roller-disco events, and pop up holiday store to score limited GRiZmas merch. New additions to the festivities included an Assemble U discussion on mental health in the social media century and the first inaugural GRiZmas local mic night in partnership with the Detroit Institute for Music Education. Plus, a special GRiZmas coffee blend in collaboration with Detroit's Great Lakes Coffee Roasting Company. Yum.
The Night Before GRiZmas was surely a blast from the past as GRiZ delivered an entire Mad Liberation set at Deluxx Fluxx. Yeah, the venue was small and crowded and the sound system was a little iffy, but that's exactly what a GRiZ set was like back in those days. Nostalgia filled the air as GRiZ and Muzzy Bearr tackled an entire era into one regular-sized set filled with mad liberating music. GRiZ immediately followed it up with a Disco House Party at The Magic Stick and the vibes were unbeatable.
Of course, GRiZmas has always been about giving back. All of the money raised went toward increasing access to music education in Detroit's public schools. Year after year, GRiZmas has cultivated a community amongst GRiZ fans from the heart of Detroit and across the country with a purpose — to take care of each other above all else.
All of this holiday action led up to two nights of GRiZ that fans, new and old, could appreciate as he took us through GRiZmas past, present, and future.
The Ghost of GRiZmas Past
Set in GRiZ's hometown of Detroit, GRiZmas by design has given a special nod to his earliest works and rise to the spotlight. Saturday night's GRiZ set featured an absolute tear through of classics from End of the World Party, Mad Liberation, and Rebel Era including "Grizzlor," "Rock n Roll," "The Future is Now," "DTW to DIA," and "Crime in the City." These were the glimpses of the past that we did not expect to hear, but it was an absolute treat when we did. The inclusion of staple songs like "Smash the Funk" and "Gettin Live" — integral parts of older sets, but now often times elusive — reminded us of the evolution of GRiZ sets and music.
Even some of the new material we heard on Saturday night seemed to pay homage to GRiZ's roots and older sounds. For instance, a song containing an edited sample of Nas' "Hip Hop is Dead" proclaiming "Glitch Hop just died," juxtaposed by some of the glitchiest GRiZ we've heard in awhile, had us grinning ear to ear. The live band also included one of our favorite nods to the past, "Chasin Galaxies," which we've come to adore.
With all these throwbacks, we couldn't help but reflect on GRiZ's journey thus far.
The Ghost of GRiZmas Present
In addition to the reflection of early – 2010 work, we were reminded of the GRiZ sound we've come to love over the last three years, which brought us into the present. 2015's Say It Loud was a huge shift in sound and astronomically perpetuated by 2016's Good Will Prevail. Each body of work, including Chasing the Golden Hour parts that preceded each of them, brought another level of instrumental and vocal fusion to the table.
These songs made for perfect adaptations by the GRiZ live band, a more recent project featuring GRiZ and over 13 other pieces that make entirely live renditions of pivotal tracks. After opening with a funky holiday song, the GRiZ live band proved to be the weekend's outlet for much of GRiZ's more current work. Songs like "PS GFY," "Can't Hold me Down," "Wicked," and "Get Down" were brilliantly performed live and celebrated throughout the crowd.
The live band received a production boost as well, with illuminated platforms and lights that highlighted stage choreography. Each piece of the band could be narrowed in on visually at respective times. For example, the trade off between saxophone solo, vocal verses, and the entire live band when Prob Cause came out for "Smoke That" and "My Friends and I."
With the addition of the live version of "It Gets Better," one of GRiZ's latest songs, Friday night's live band highlighted the duality of electronic and instrumental sound that has exponentially grown in GRiZ's music. Back for an encore, Bootsy Collins performed a new GRiZ collaboration "Bustin'," providing one of Friday's biggest looks into the future.
When speaking with GRiZ back in October, we learned about the process for translating his tunes into a full live production and how much focus he and his band have been been dedicating to this project. Full interview here. 
The Ghost of GRiZmas Future
Last GRiZmas, we felt there was a bright future ahead for GRiZ and his music. Little did we know, it's even brighter than we anticipated. Much of the unreleased material from last year has seemingly been sidelined to make way for this year's new, unreleased music — showing us the lightning fast speed at which GRiZ is operating at. GRiZ assured us that he has been keeping hella busy despite his social media absence and this GRiZmas proved that notion.
Friday night's live band performance offered plenty of glimpses into the horizon music-wise, but the kick-off of Saturday night's GRiZ set was the greatest eye-opener. GRiZ opened center stage with all lights on him — just him, with a microphone in hand laying down the lyrics to an unreleased song. After coming out swinging with a handful of previously unheard songs, GRiZ performed another one of his most recent releases, "Can't Get Enough," which marks his first main entry into the vocal aspect of his artistry. It was made clear from Saturday night's opening sequence that this will continue to be a focus in the future.
In the barrage of new music we heard on Saturday night, it's tough to say what's complete and what's still on GRiZ's cutting room floor. GRiZ has always kept the most gritty and grimey parts of his repertoire unreleased and only hearable at shows. While we expect this trend to continue, we're also hopeful that some of bangers we heard in the first half will find a way to our speakers soon.
There were also new takes on old songs, like the classic GRiZmatik collab "Digital Liberation is Mad Freedom," as well as part two of "My Friends and I." To end the night, GRiZ was joined by Matisyahu to perform a brand new collab that sounded too good to go unreleased for much longer.
This year, GRiZmas was a special sneak peak into the future of GRiZ — new music, new adaptations for the live band, and bigger and better shows. GRiZ seems to be moving in many directions at once, but each direction is pointing forward and moving at 110% speed. GRiZmas V made us excited for the future like never before!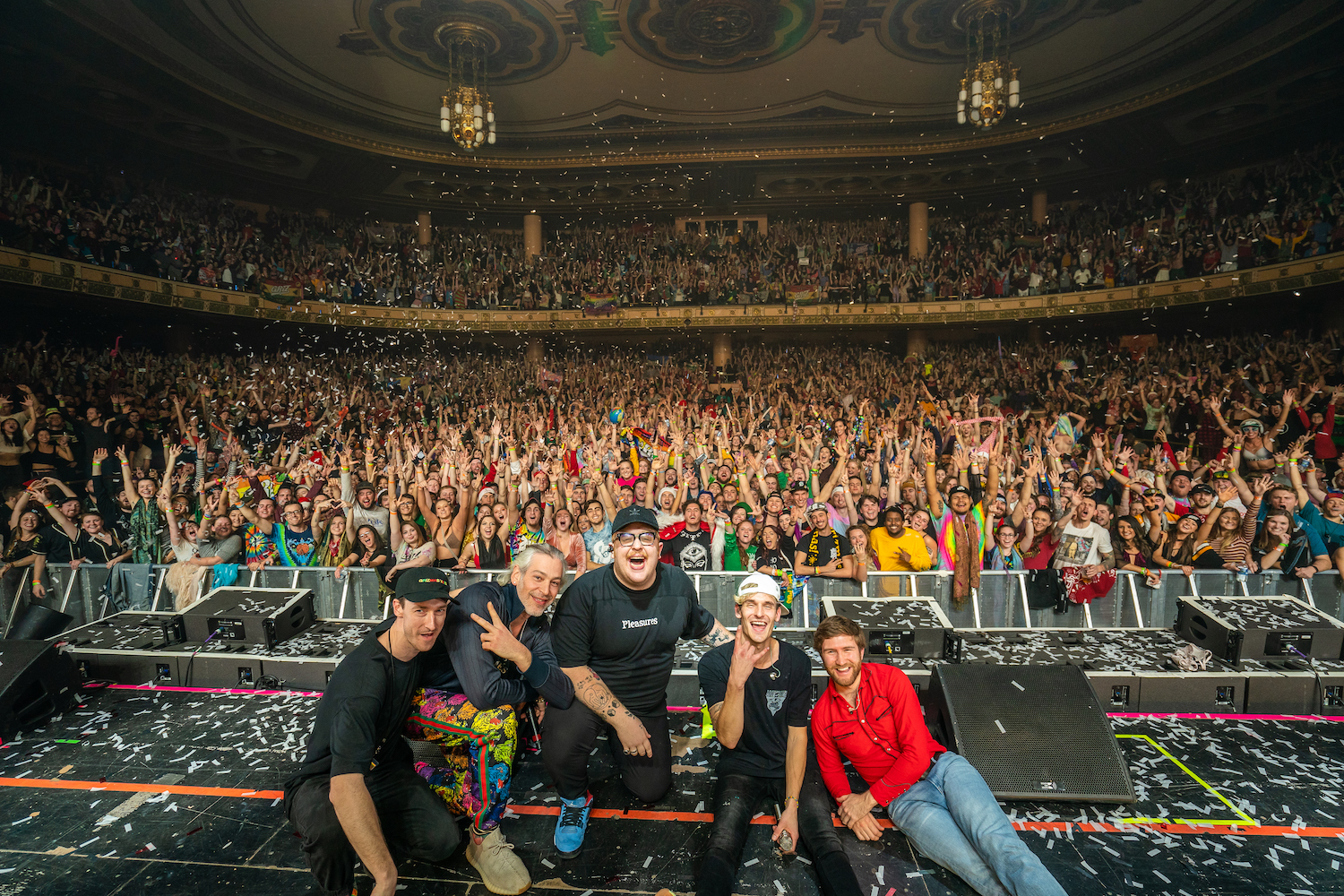 GRiZmas V reflected on where we've been, where we are, and where we're heading. Through his music, GRiZ took us on a journey through our time as individuals and together as a community. Through tradition, this community has been born. Through this community, a brighter future awaits.
To relive this year's festivities, check out the GRiZmas recap video below. For anyone who missed out or can't get enough, check out GRiZ's upcoming tour dates.
Merry belated GRiZmas to everyone! Hope to see you next year!
MORE: GRiZ Drops 2 New Singles & Catches Us Up On His Life & Music
GRiZMAS 2018 Recap
Proud of our community. We celebrated life and the spirit of giving back. Music, art, and culture intersected with charity and empathy. We became closer with our higher selves. Thank you all so much for building eachother up. We are creating a more beautiful future together. The light grows in us all <3Happy Holidays and Merry GRiZmas!!!

Posted by GRiZ on Monday, December 24, 2018
Photos courtesy of Red Light Management