On Sunday, March 24, I had a lot of thoughts on the week leading up to and the weekend of Ultra Music Festival. What can one say in a review that captures what happened in its entirety? Making my way past the Live Arena with Armin van Buuren and the Worldwide Stage with Zeds Dead, I turned back and looked at the main stage marking the last time I would see it this past weekend. The Chainsmokers were there throwing down a set featuring the bass components of Illenium, NGHTMRE, Gammer and the like with live renditions and remixes of their own hits. And then it hit me. As to what hit me and how, we'll need to extrapolate on the whole weekend and the context surrounding it.
Leading up to Ultra Music Festival 2019 was some of the most confused hype of any music festival, especially in EDM. After another successful year at Bayfront Park in Downtown Miami in 2018, everyone in attendance witnessed what had become the standard expectations that Ultra delivers. This includes the following:
Exclusive performances and art from one-of-a-kind artists, DJs and musicians
Unreleased and exclusive music from multiple genres
Stellar stage, lighting, pyrotechnic and mixing production
Competent security, police, and fire-rescue personnel keeping track of attendees
Wide array of vendors and staff from the water stations to the merchandise booths and everything in between
These points are what has made Ultra Music Festival in Bayfront Park one of the most coveted and phenomenal music festival productions the world has to offer. Couple that with the sweetest real estate and it becomes clear as daylight why people from over 105 different countries book flights and hotels months in advance for this event.
So when news broke that Ultra were ousted from Bayfront Park by the city and its residents five months later, it felt like UMF had to work with a 180 flip on everything they had been getting right since 2012. They had to use the time that it takes them to do all the aforementioned points while finding a whole new location in five months. And when they reached an agreement with the city council of Miami to relocate to Virginia Key, they faced backlash from two new parties: the residents/mayor of Key Biscayne and Rapture Electronic Music Festival.
But despite the speed-bumps and improvisation that led to last weekend, Ultra Music Festival 2019 still happened. As much as the elements appeared to tower against this event, its organizers, and its attendees, Ultra Music Festival curated eight stages for 170,000 fans across the weekend that included surprise guests and viral moments. Hell, a guy wearing a cartoon-style Colonel Sanders (Kentucky Fried Chicken) helmet took to the main stage to perform in the five-minute space between two sets and we're still talking about it. That's without even diving into the other events that have evolved into their own stories. This includes but is not limited to Malaa's unorthodox prison release, Cash Cash treating a mixer like Steve Aoki treats cake, or Shaquille O'Neal moshing during NGHTMRE and Slander's Gud Vibrations set.
(Photo by Chris McConnell)
And we have to talk about the elephant that walked 2.5 miles on the Rickenbacker Causeway last Friday night. As one of the tens of thousands of attendees stuck in Virginia Key and seeing a tree burst into flames, things got scary for a moment. And after we crossed the bridge, it was easier to find ride-sharing options to get home as soon as possible. But Ultra Music Festival was quick to respond to what happened at the end of Day 1. They were also swift with tackling the issues with shuttles and congested lines that made Day 2 and Day 3 operations smooth and easy. Lines for shuttles and the ferry were managed with better instructions and cooperation from staff.
And to the people saying that this was a Fyre Festival sequel or equal to TomorrowWorld's 2015 disaster, they do nothing but mis-characterize the entire situation.
The only issue Ultra Music Festival struggled with that affected attendees all three days was the distance between the Miami Marine Stadium and Historic Virginia Key Park. The stadium's parking lot was the site of Ultra's Main, Live, Worldwide, and Radio stages while the Carl Cox Megastructure, Reflector, Arrival, and Oasis stages invaded the park on their own Resistance Island. On one hand, this allowed the mainstream acts to be grouped on one side of the event and the underground house, tech house, and techno sets remained on the other side.
On the other hand, the distance between these two sites was quite a walk. It was such a walk that Ultra designated special staircases for guests to avoid crossing busy streets. The trail was expertly filled with speakers and LED screens with music and visuals to keep the entertainment flowing, but that walk was killer for fans of acts on both sides of the event. For example, if an Ultra attendee wanted to see Tom Morello perform at the Live Stage starting at 7pm but also wanted to see Loco Dice at the Megastructure at 8pm, they would have to leave between 15-30 minutes before the end of the first set to make it in time for the start of the second set. If Ultra can shorten the gap between these two sides of their own event for the future, it would be a return to what makes Ultra Music Festival a special experience where all the acts are immediately and easily accessible.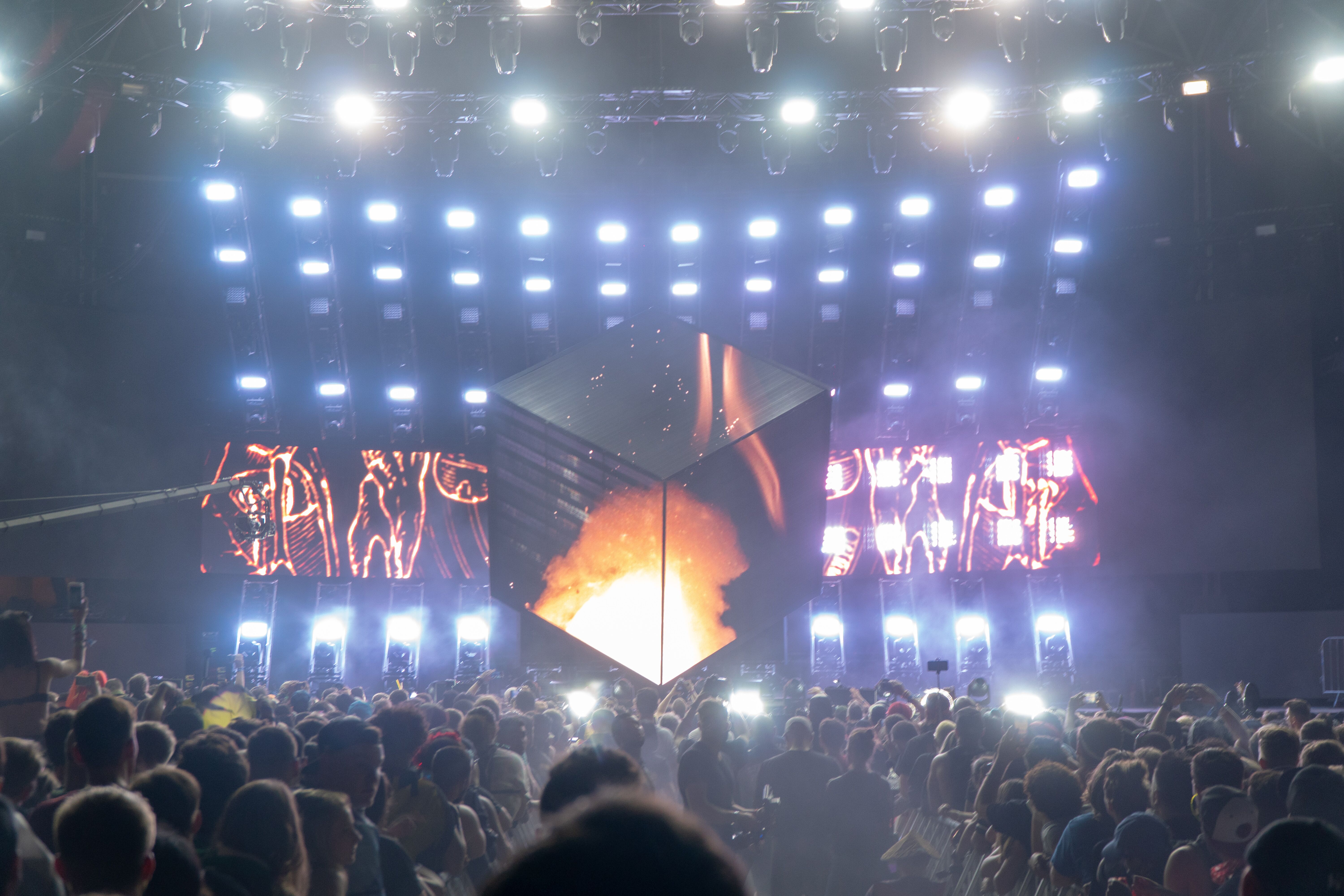 (Photo by Chris McConnell)
The sets between both sites were incredible and varied, as expected. Catching Enrico Sangiuliano or Camelphat going back-to-back with Solardo was an incandescent inferno of lasers and ravers. Meanwhile, the UMF Radio stage was the site of some of the greatest stretch of versatility. Drum and bass icon Spor or bounce house star Justin Mylo was a super-charged punch of bass, rhythm, and energy. By the Main stage, acts like Fedde le Grand reminded us what fans love about electronic music while the Gud Vibrations set by NGHTMRE & Slander set a new bar for dubstep/trap DJs everywhere. And probably the top set of all was with Skrillex and Boys Noize resurrecting Dog Blood with new music, unmatched vigor and a special appearance from Ty Dolla $ign.
Looking back at the mayhem and jubilee that followed these three days, the thoughts of Ultra continued to swirl. Their new chapter from a rocky start to their powerful closing was something that only Ultra Music Festival could have pulled off. That was my realization. Only Ultra could plan an event with less than five full months of planning and still pull off a spectacular event on almost every front. When you consider the environmental, political, and logistical hurdles this organization had to deal with and overcome, it makes you wonder how they didn't fail. Maybe it's because they have a remarkable staff from top to bottom. Maybe it's because the fans refused to let Day 1's issues to define the whole weekend. Maybe it's because the music was just too great. Or maybe it's because, despite all the problems Ultra Music Festival overcame to throw their 21st edition, they still met their own high standards and gave us the only reason to catch them again in 2020.
(Photo by Chris McConnell)