Summer's coming to an end. School is underway. It feels like the parties are slowing down as we enter autumn and becoming few and far between. But if you're looking to keep the part going across the country or the world, then take solace that their are plenty of music festivals that thrive outside of summer. From September through December, there's still a myriad of artists that you shouldn't miss at any of these shows.
Here, in no particular order, are the must-see music festivals for the rest of 2022. If any of these show interest you, check out the links under each lineup to find out more information about each destination!
Portola Music Festival (September 23-25, San Francisco, CA)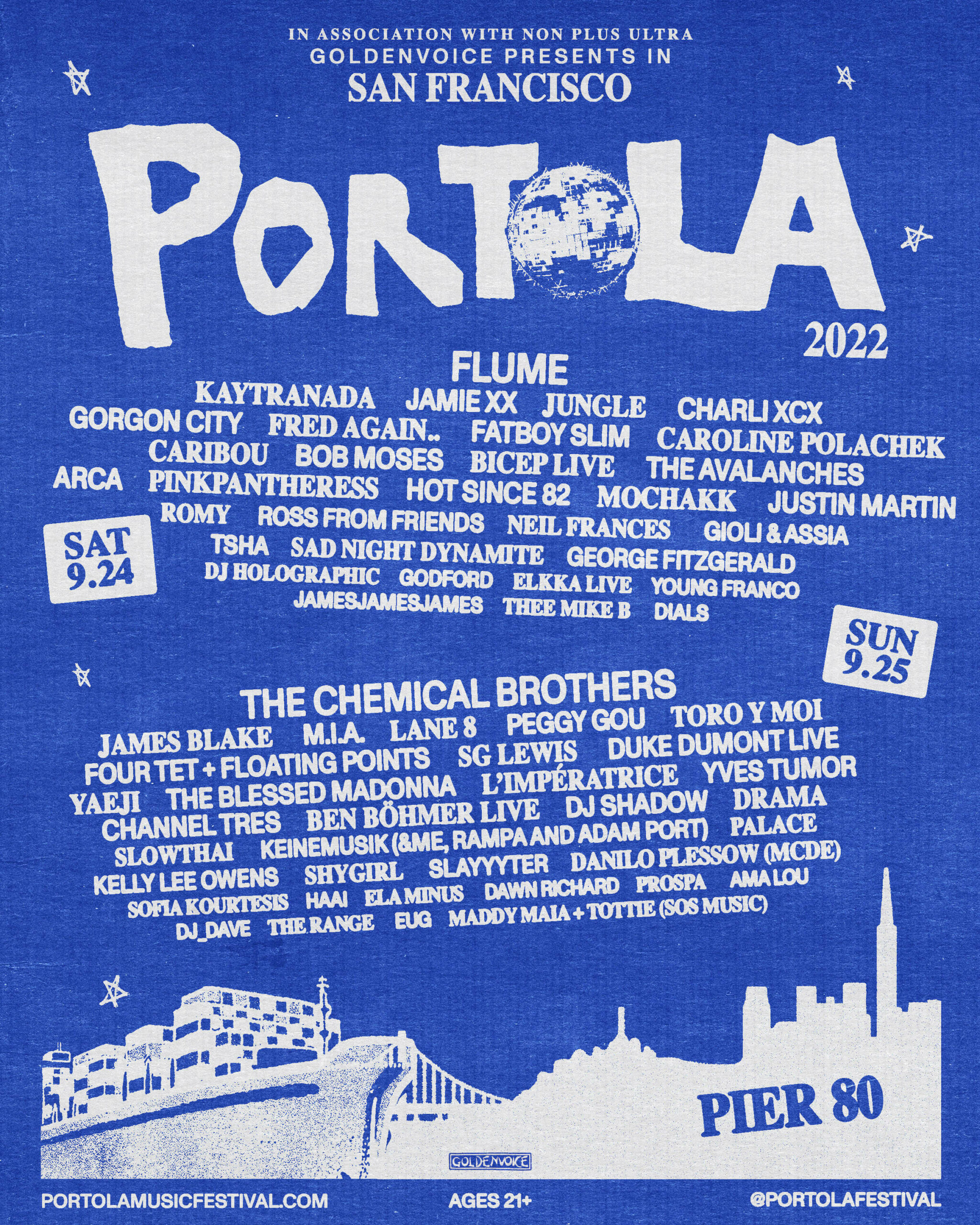 At Pier 80, the Bay Area will get slapped with one of the most insane lineups I've seen in a hot minute. Aside from larger than life acts like Flume and the Chemical Brothers headlining the show, the show will have appearances from old-head favorites like Fatboy Slim and DJ Shadow to new-school acts like Fred again.. and Channel Tres. Portola Festival is the place to be if you want to catch electronic and alt-pop legends who have influenced and are still influencing the music industry.
Tickets: Here
III Points (October 21-22, Miami, FL)
Over the last decade, III Points has carved out its place as one of South Florida's most exciting music and art festivals. This year's lineup only solidifies this point. There's a large mix of various genres in the mix here to. Want French electronica? Madeon. Want spiritual house music? Black Coffee. How about sadboi bedroom pop? Joji. Want hip-hop that will take you back to middle school? Busta Rhymes. Want the most salacious Flamenco? Rosalia. III points seems to have all their bases covered.
Tickets: Here
Lost Lands (September 23-25, Thornville, OH)
Excision's Jurassic, bass-haven festival is what most bass-heads consider to be their number one go-to festival. If an artist makes dubstep, trap, drum n' bass, drumstep, midtempo, or bass house, you best believe they are going to take the stage at Lost Lands 2022. Both the headliner and support sections are mind-melting in their sheer volume. And that's what fans come for and expect.
Tickets: Here
Imagine Music Festival (September 15-18, Rome, GA)
Imagine Music Festival is what TomorrowWorld wishes it could have been: a major music festival in Georgia with the biggest names in the EDM game. It's also a camping music festival with tons of space for parking and getting acquainted with the festival grounds. Lineup-wise, Illenium, Excision, GRiZ, and Kaskade boast the headliners while the rest show several surprise back-to-back sets like Ganja White Night, Subtronics, San Holo, and Ghastly & JOYRYDE as GHOST RYDR. Plus, this festival gets a bonus point for having Porter Robinson's Air2Earth on the board.
Tickets: Here
Summoning of the Eclipse (October 21-22, Pelham, TN)
This festival is actually a newcomer to the scene and is spearheaded by SVDDEN DEATH. Not only will the show bring his VOYD set back and in full force, the festival will also feature EPROM, Sullivan King, and back-to-backs from Eptic and Space Laces as well as MUST DIE! and Aweminus. Never thought a first year, bass-head fest would have me dreaming about going to Tennessee…but here we are!
Tickets: Here
Second Sky (October 29, Oakland, CA)
Between the first Second Sky and the virtual Secret Sky, Porter Robinson has curated music festivals that tug on heartstrings and meet expectations that few festivals do. This year's is no different with names like RL Grime and Hudson Mohawke to a back-to-back set from Porter's Virtual Self moniker and G Jones, Second Sky 2022 sounds like an incredible trip. We're just sad that the second day had to be cut.
Tickets: Here
Home Bass (November 10-13, Orlando, FL)
Slightly different than most of the festivals here, Home Bass asks the question, "What if you could have a music festival in a hotel?" From superstars like Flosstradamus and Oliver Heldens to rising talents like Rome In Silver and Buitano, the lineup and concept sound phenomenal. Imagine waking up, grabbing lunch, and walking right into the action with A-Trak or Jai Wolf. Sounds like a great way to spend a November weekend to me.
Tickets: Here
Space Camp (December 16-17, Hamton, VA)
Space Camp is another music festival organized and curated by one of EDM's most recognizable names. GRiZ is back and bringing heavy-hitters like G Jones, NGHTMRE, and Of the Trees to name a few to Space Camp II. If it's anything like last year's festivities, then you know this show is like Christmas arriving early.
Tickets: Here
Decadence Colorado (December 30-31, Denver, CO)
Decadence is a right of passage with every year's lineup just throwing incredible end-of-the-year acts. Last year had jaw-dropping sets from DJ Snake, Chris Lake, ZHU and so many, many more. This year's lineup is still under wraps and not much is known who will be performing, but details are coming soon.
Tickets: Here
EDC Orlando (November 11-13, Orlando, FL)
Let's say you are still having withdrawals from your last visit to Vegas under the electric sky. Good news! In Orlando, EDC returns with an impeccable roster of artists from all over the EDM landscape. Here you can find trance, hardstyle, bass music, house music, techno and so much more. Nothing compares to the original, but EDC Orlando has become a major event in Central Florida.
Tickets: here
Cover photo credit: Adinayev