Trance is a treasured subgenre that is truly "for the dreamers," and has the ability to transport any EDM lover to a heightened state of mind. The ethereal yet energetic sounds of Above & Beyond have resonated deep within my heart and mind since day one.
The award-winning British trance group is occasionally seen at live performances as a duo (while the third remains in the studio or elsewhere), but has three official members by the names of Jono Grant, Tony McGuinness, and Paavo Siljamaki. The trio formed Above & Beyond in 2000, and since then has soared well above and beyond our expectations. Having established the record label Anjunabeats, hosting their weekly Trance Around the World radio show, and appearing at a wide variety of EDM festivals around the world, it's safe to say this group has become a huge success. What is it that really makes us love and remember Above & Beyond?
Their latest studio album entitled Group Therapy, released just last year, takes you on an emotional rollercoaster as it explores the undeniably universal themes of love and life, but also does not shy away from the dark. Opening with a calming and serene track called Filmic, one cannot help but be transported to a world of fantasy. The melodic piano is mysteriously enrapturing, fading smoothly into the hard-hitting underlying beats of the track Alchemy, in which vocals by Zoe Johnston tell a melancholic love story all too familiar. The song Black Room Boy delves into the darker side of reality, evoking an emotional response reminiscent of facing the real pains of growing up. Tony McGuinness contributes his vocals alongside Richard Bedford in this track, hitting us with the raw sounds of angst and rejection. Let us not forget the hit singles Sun & Moon and On My Way to Heaven. Extremely danceable and with poetically real lyrics you can't resist belting out, these tracks always spark extra excitement during live shows. The vocals by Zoe Johnston and Richard Bedford alike paint us into dreamy scenes of longing and the drive to explore the farther reaches of our hearts and minds. The sentimental sounds of Group Therapy are tied together by hauntingly beautiful melodies of piano, and the upbeat energy of progressive trance keeps you yearning for more.
Alchemy (featuring Zoe Johnston)
Black Room Boy (featuring Tony McGuinness & Richard Bedford)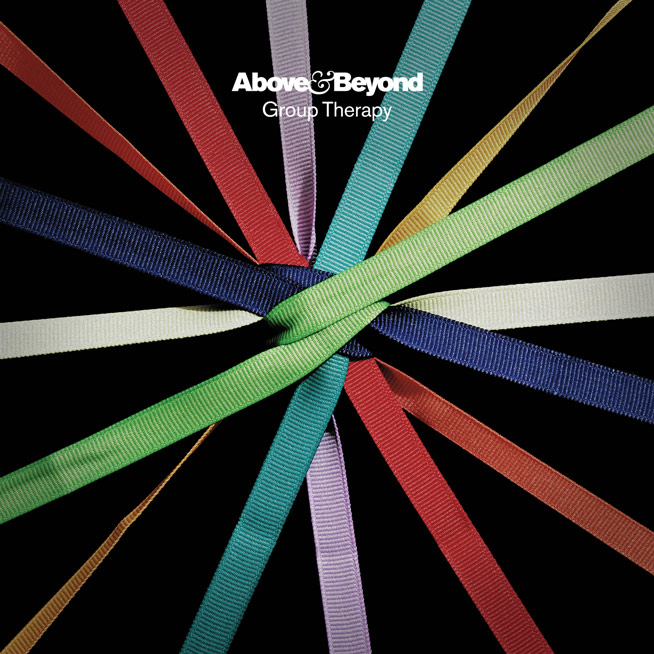 Hopefully you've been able to experience their truly unique live performance, also referred to as Group Therapy. Above & Beyond creates a unique experience truly embodying and reviving the PLUR mindset of the original EDM scene. The album cover alone, featuring different colored ribbons intertwining at an epicenter in the shape of a star, to me symbolizes the overarching theme of the album; we are all of the same thread, despite our differences that make us beautiful and unique, and we remain connected to one another by unifying human emotions such as love. Albeit somewhat cliché, these are the honest ideas instilled within me when listening to Above & Beyond, especially in a live setting.
Above & Beyond is certainly an act you cannot miss at this weekend's Electric Zoo Festival in NYC, considering their appearance two consecutive nights in a row! Everyone needs some group therapy every now and then. People have reportedly come to tears at the flawlessness of their live set; it is no doubt an emotional experience when your mind and body are encased in surreal trance melodies and the massive LED screen reads messages such as "Whatever happens, we'll be ok," "If you love someone tell them" and "Life is made of small moments like these." Whether you are dancing alongside thousands or tens of thousands of fellow ravers, they all become a friend, as you realize again how small and yet how significant your individual existence has always been. Tony, Jono and Paavo remind us, "don't forget about a thing called love." So aside from the massive light show spiked with the full color spectrum of lasers, expect to fully lose yourself in the music of Above & Beyond.
Thing Called Love (featuring Richard Bedford)