To celebrate Labor Day Weekend this year, I headed down to San Diego to catch the impressive roster of artists performing at Tramps Like Us festival at the San Diego Sports Arena. Referred to by festival-goers as "Tramps," this festival boasted a lineup so impressive almost every act could stand as an event headliner on their own. Rusko, Datsik, Wolfgang Gartner, Nicky Romero, Tommy Trash, Flux Pavilion, Moby, Jack Beats, Thomas Gold, Cazzette, Sandro Silva, Zomboy, Bare Noize, Dirtyloud, Deorro, and Popeska all performed at the festival, which was a steal considering the 2 day early bird passes I got were only $50.
LED Presents did a fantastic job organizing the event with the exception of the line, which could have been a bit shorter. After an hour wait we got inside and got our wristbands and made our way to the dance floor. The first thing I noticed was the sound – the bass rattled the arena but not in a way that overpowered the rest of the sound. The epic stage production combined with the on point sound really set the mood for what would prove to be an incredible weekend.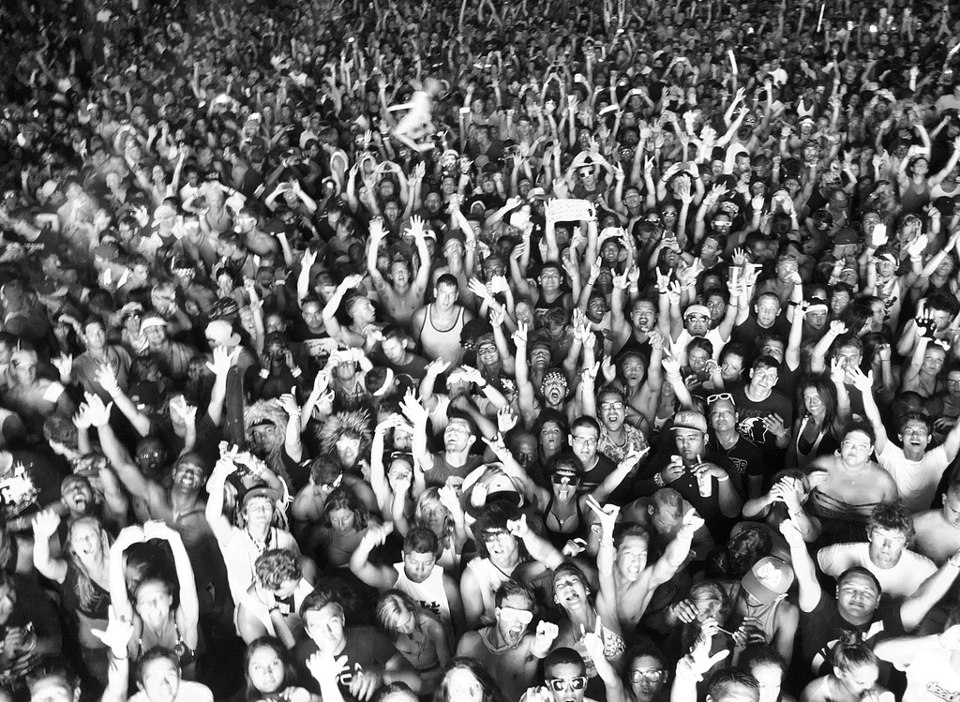 (From Moby's Facebook, caption: "thousands and thousands of happy (or so i'm assuming) people at the Tramps Like Us rave (yes, i still use the word rave) saturday in San Diego, California… Moby")
The general consensus among the people I talked to on night 2, was that Moby stole the show on Saturday night. Since he does not tour the festival circuit like a lot of other DJs, many people have either never heard of him or are only familiar with his work that was played on the radio in the late 1990's. What most people don't know is that Moby has been DJing for 20+ years and knows how to throw down one hell of a set, even for today's arena festival crowds. He opened things with the Loops of Fury mix of Elite Force's "Be Strong," a hard hitting beast of an electro house track, then transitioned into a personal favorite of mine, Lucky Date's "Six 16". After his first two songs were both tracks I had five-starred in my iTunes I knew I was in for a treat. He continued to play more underground and older tunes throughout his set, including the Loops of Fury's "I Need", Herve's Ain't No Sunshine Mix of Kidda's "Under the Sun," and Klaas' 2008 reboot of "Infinity," which the crowd went nuts over. What I loved most about his set is I had no idea what he was going to play at any point, which is a way I haven't felt in a long time.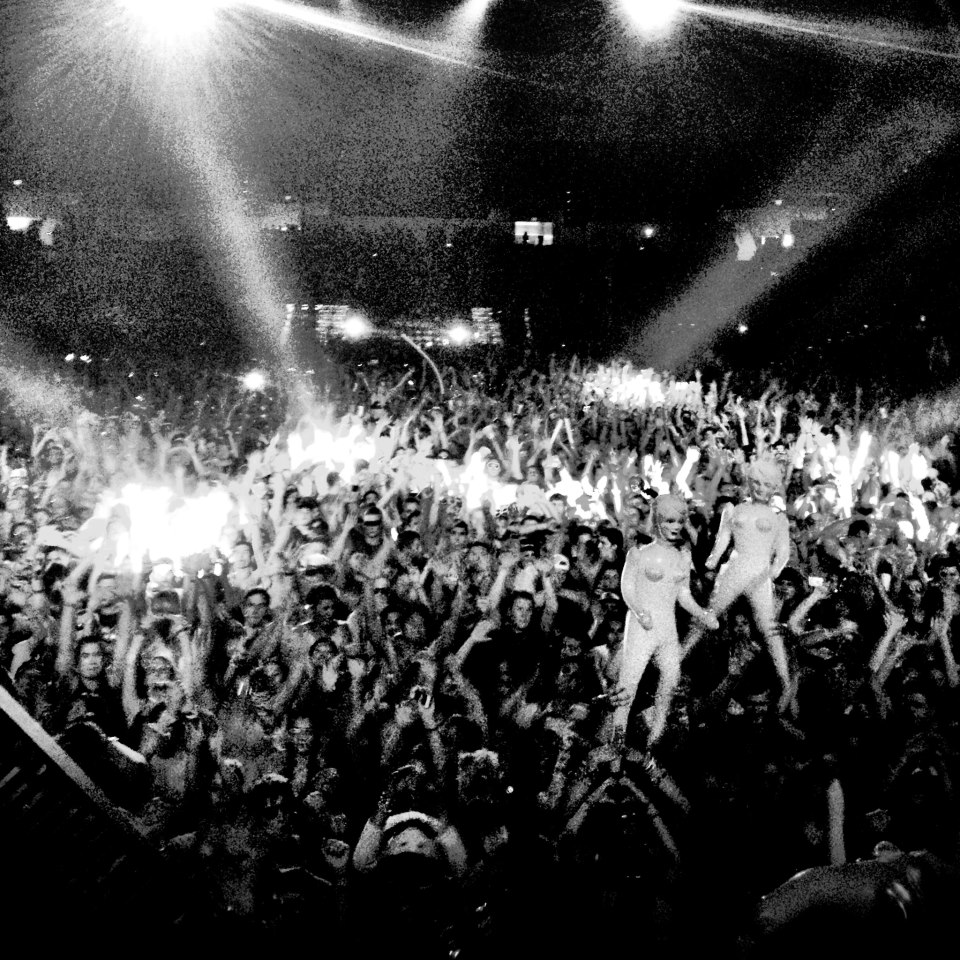 (From Jack Beats' Facebook, caption: "The madness that was last night… San Diego we love you guys! Big up to the LED crew for having us.")
Jack Beats picked things up where Moby left off and continued to bring the arena down with more of the wobbly and heavy bass they are known for. They started things off with their remix of Beyonce's "Countdown" which continued to make everyone bounce like the five or so blow up dolls that danced along the fingertips of the crowd, then quickly transitioned into Steve Angello's classic "Knas." They played an excellent balance of their own songs and others', some highlights being Firebeats' "Funky Shit", their recent collab with Diplo and Example, "War", and their classic "Get Down," which they slowed down to 108 bpm for the second drop and continued on with some moombahton.
All in all day 1 was a success, and I was excited to see what day 2 had in store.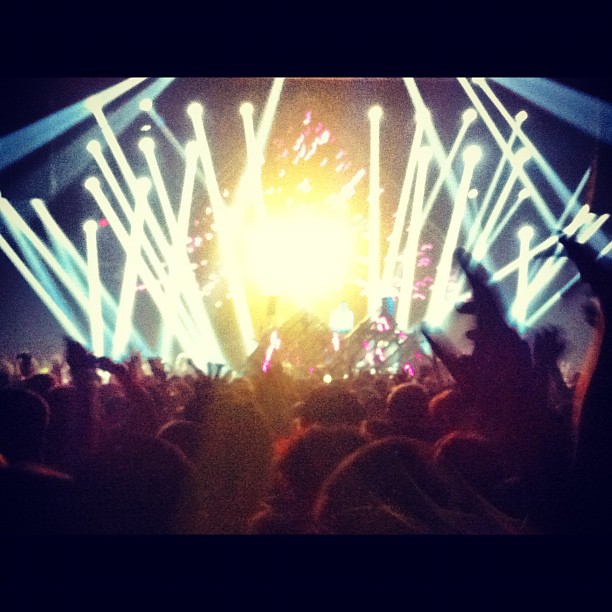 (picture taken by me during Wolfgang Gartner)
The artist that had the best set of the night, festival, and possibly of the year for me was Wolfgang Gartner. I remember the first time I heard his music it was around 3 in the morning and I was about to go to bed, but I just couldn't pull myself away from the computer because I loved his music so much and stayed up listening for hours. I got that same feeling from his set this weekend. I was astonished, captivated and entranced by his set, it reminded me why I love dance music. After Nicky Romero's hour-long Big Room House assault, Wolfgang took the decks and opened with his track "818." From that moment on, he had the crowd at his fingertips and continued to shape the mood of the room and not just mix some songs together but create a whole atmosphere. By the time he took the stage it was hot and sweaty inside, everyone wasn't only dancing but absolutely rocking out; the bar had been raised high. The celestial LED backdrop and alien lights matched his funky space beats perfectly as he took the crowd on a journey. His top notch song selection and skilled mixing ability left me speechless. To me, the climax of his set came when he laid the hook of Big Sean's "Dance (Ass)" over his new single, "Girl on Boy". Other crowd favorites included "Illmerica," "Shrunken Heads," and "Menage a Trois," although the crowd was going nuts for everything he played. At one point to everyone's surprise he even mixed in the classic West coast anthem by Snoop Dogg, "What's My Name?" It was as though all of the energy that Sandro Silva, Tommy Trash and Nicky Romero built up in the crowd exploded out during Wolfgang's performance, and by the look of the grin on his face every time I looked up he was loving every minute of it.
(From Nicky Romero's Facebook, caption: "Yesterday night 'Tramps like us 2012' San Diego was pretty sick!!!!")
It was an extremely close call for second best of the night as everyone I saw really impressed me, I would have to give Nicky Romero my #2 pick for night 2. It was my first time seeing the young Dutchman live and he definitely lived up to his reputation as a high energy performer. Nicky Romero is one of those artists with so many good tracks that you'll be excited what he played, and he seriously knows his way behind the decks too. He layered tracks, acappellas and buildups over one another, my favorite being his transition from his "Flash" Remix to "Generation 303" to "Metropolis" with the vocal from "Save The World" layered over all in a matter of a minute or two. He packed an incredible amount of songs into his hour long set and didn't let any one song play for too long, keeping everyone on their toes.
Although both nights of the festival were great, day 2 really stood out for me as a night I will remember for a long time. I can't wait to check out another event by LED and return to San Diego.