Last Friday was the fourth annual installment of what has become Northern California's most anticipated dubstep massive, Wobbleland. Over past four years, many a big name artist has graced the Wobbleland stage with their presence. From Skrillex & 12thplanet, to Flux Pavilion, Zomboy, and Getter; Wobbleland always brings the hottest Dubstep artists of the year to the bay area, and this time they really outdid themselves. Our hosts, Vital Events & Midnite Events cooked up a lineup was like something out of a dream. Featuring Skism, Protohype, Minnesota vs G Jones, Cookie Monsta, Griz, Doctor P, Rekoil vs Barron, Funtcase, and Kill Paris with support from local rising stars Rudebrat, Sam F, & Jon Beaver; this was the biggest and heaviest set of artists to grace Northern California outside of a festival. All these artists, combined with a wall of PK sound, amazing visuals, and over 3000 ecstatic bassheads made this the craziest night we've had since Snowglobe.
Vital & Midnite always do a fantastic job of putting these events together but this time they really raised the bar. This show promised everything a basshead could ask for, and it was up to us to capture all the madness as best we could. Alongside a handful of photographers and of course, the legendary Jon Zombie video crew, we ventured forth into the show with high expectations, and we were not disappointed.
As we walked through the giant wooden doors of the Civic Center and made our way through the mass of excited grinning ravers, the energy was almost palpable, and for good reason. When we reached the main stage, it became immediately apparent just how much effort went into production. A giant animatronic tiki head served as a DJ booth with the artists (fittingly) playing where the brain should have been. Reminiscent that of Olmec, the tiki head from the late-90's Nickelodeon television show The Legends of The Hidden Temple. Behind the DJ booth, a wall of masterfully crafted visual effects kept things new and astoundingly refreshing while the famously beautiful Vital Girls danced their hearts out amidst a dazzling flurry of lazers and lights that perfectly accentuated some of the heaviest tunes I've ever had the pleasure to experience as artist after artist obliterated the crowd with their own signature style of filthy bass music. The second stage was smaller and had rows of auditorium seating almost all the way to the front making it slightly more difficult for people to spread out and party. The sound however was incredible, and coupled with all the of lights & fog in that tight space it made for a deeply immersive experience. People packed the second stage to the gills to see some of their favorite artists play in this wild and intimate setting that was an excellent contrast to the wide open space of the main stage.
Now for the music. Everyone was on their A game. Even artists we've seen before blew us away with incredible performances and new sounds that shook us all to the very center of our bass filled hearts. Protohype was the first artist to play after locals Sam F & Rudebrat kicked off the party with their super bouncy electro-step. One of Firepower Records' superstars, Protohype has been making huge waves in the industry with a slew of chart topping releases that showcase his unique & heavy style of bass music. Even though it was early, his fans were in abundance, and the auditorium echoed with the cheers of screaming ravers as he took the stage and proceeded to lay waste to the eager crowd with a diverse array music. We had a chance to sit down with him after his set and here's the highlights:
How is DJing in California different than DJing in other parts of the US?
"Well being from Nashville where we like the more groovy rhythms I've noticed people in LA and San Fran like the heavy shit a lot more. They really like moshing too."
Whats your favorite way to get over writers block?
"Whenever I'm having trouble I'll just take a break and listen to something completely different like old school hip-hop, classical music, jazz, anything that's completely different than what I'm trying to make."
Do you have any words of advice for aspiring producers out there? 
"Try to find a way to be unique, and learn be good at social media. If you suck at social media you're not going anywhere."
After Protohype it was time for the Circus Records Crew (Doctor P, Funtcase & Cookie Monsta) to take over the main stage, and they fucking smashed it up like you wouldn't believe. Each of these guys is individually responsible for producing at least one tune that every basshead knows by heart. Funtcase's dark, brutal, cyber screams, Doctor P's melodic, crisp, filth-step, and Cookie's impossibly heavy spine tingling bass lines have become a standard most producers only dream of living up too. These guys have been around since before the dubstep craze even hit North America; perfecting their unique UK sound and pushing what would become one of the most well known labels in dubstep to the forefront of the budding industry. All their hard work and experience was strikingly apparent as they drove their churning masses of fans completely bonkers with a relentless series of sets that I will remember for a very, very long time.
Now I want to talk about a performance that took everyone by surprise and packed the second stage to the gills within minutes. Minnesota & G Jones are both amazingly talented artists in their own right, and together, they turned the second stage into a madhouse of innovative, futuristic bass music. Both hailing from Northern California, these two masters of bass laid down a beautifully filthy, glitchy, trap infused sound that showed everyone at Wobbleland what West Coast bass music is all about. G Jones' heavy outside the box sounds and futuristic style blended impeccably well with Minnesota's melodic, glitchy soundscapes and hard, dirty synths. This was a style many ravers at the show had never seen before, and it was awesome to watch tons of new fans being born in that packed little sweat box of a room underneath a a sea of flashing lights. Minnesota & G Jones helped expand many a musical horizon that night, and we can't wait to see this powerhouse duo again. Together or alone, these Bay Area artists are a force to be reckoned with. If you love bass music don't sleep on Minnesota or G Jones!
After that dynamic duo left the stage to thunderous applause & screams for more, it was time to change gears a bit. Kill Paris hit the crowd with a deliciously funky set, featuring all the unique rhythms and crunchy bass lines that have propelled him into bass music stardom in just a few short years.We love Kill Paris for the heart he pours into his tracks, and his sets are just as full of the joyfully groovy playfulness that keep fans coming back for more. Every time Kill Paris comes to town he always throws down a killer show. I've personally seen him over three times and can't wait to see him again. Don't miss out on this brilliant producer when he rolls through your area, also check out the interview we had with him while he was in San Francisco playing the Summersalt Block Party.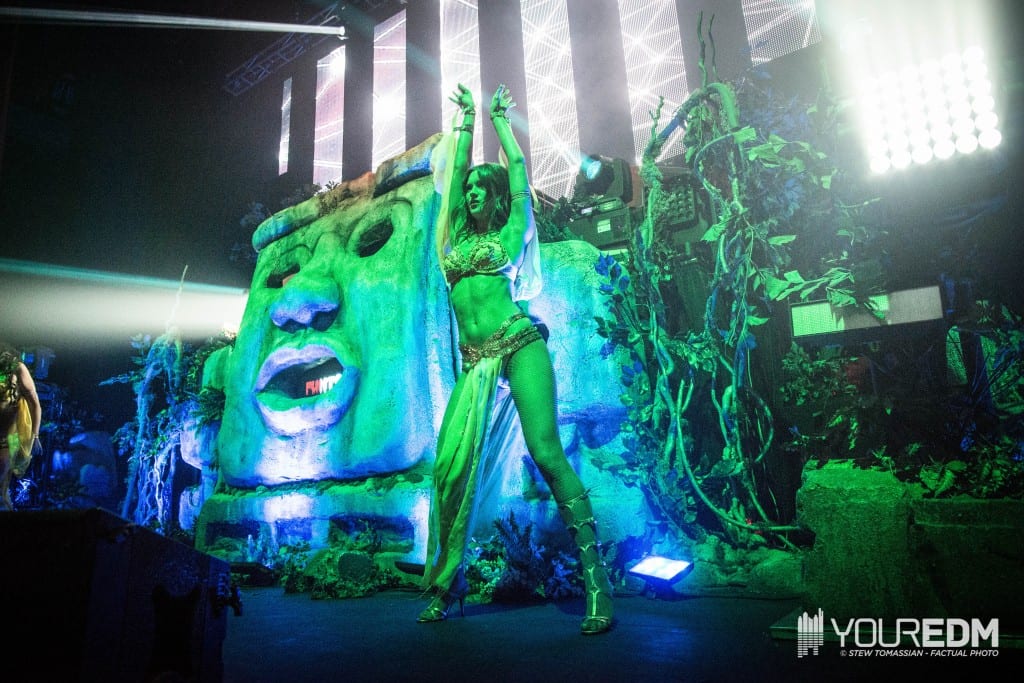 By now the main room was in full effect, with the circus crew going absolutely nuts on the decks as the sea of screaming fans churned below them. After Cookie wrapped up, Skism took control of 4 CDJ's & proceeded to completely annihilate the crowd with bass. In case you didn't know, Skism is the co-founder of Never Say Die Records. Over the past five years his massive UK based label has brought us such artists as Dodge & Fuski, Eptic, Must Die! Zomboy & Bar 9. Each of these artists have been a huge, huge influence on the EDM phenomenon that has exploded across the world over the past few years, and Skism himself is no exception. Although he rarely produces tunes, and prefers to just DJ, when Skism does put out a track, it almost immediately becomes an anthem. His dubstep sound is all about that classic and new school fusion of robotic, bassy goodness that devastates dancefloors without mercy. His mastery of 4 CDJ's is impressive to say the least. Everything was on point, flawless transitions, unbelievable mashups and glorious, bass drops were everywhere, and the crowd couldn't get enough. We knew going into his set Skism was going to be good, but his performance completely blew us away. This Dubstep Veteran is someone you absolutely cannot miss if given the opportunity.
As the night drew on, it was up to Griz with almighty Saxophone, and the dynamic duo Rekoil & Barron to wrap things up. However, the way they played has us feeling like the party was just getting started. Griz did an excellent job of switching gears after the hours of Dubstep insanity that has rocked the mainstage. His grimey glitch hop coupled with his live sax performances have become immensely popular in the past few years with a signature style that's comparable to Pretty Lights, except in my humble opinion, he does it better. Even though it was late, Griz had us all jamming out to the fullest as the sweet mix of sax and bass reverberated through the amphitheatre. His live performances are something you really have to experience for yourself, if you get a chance, don't miss on this talented, well rounded musician.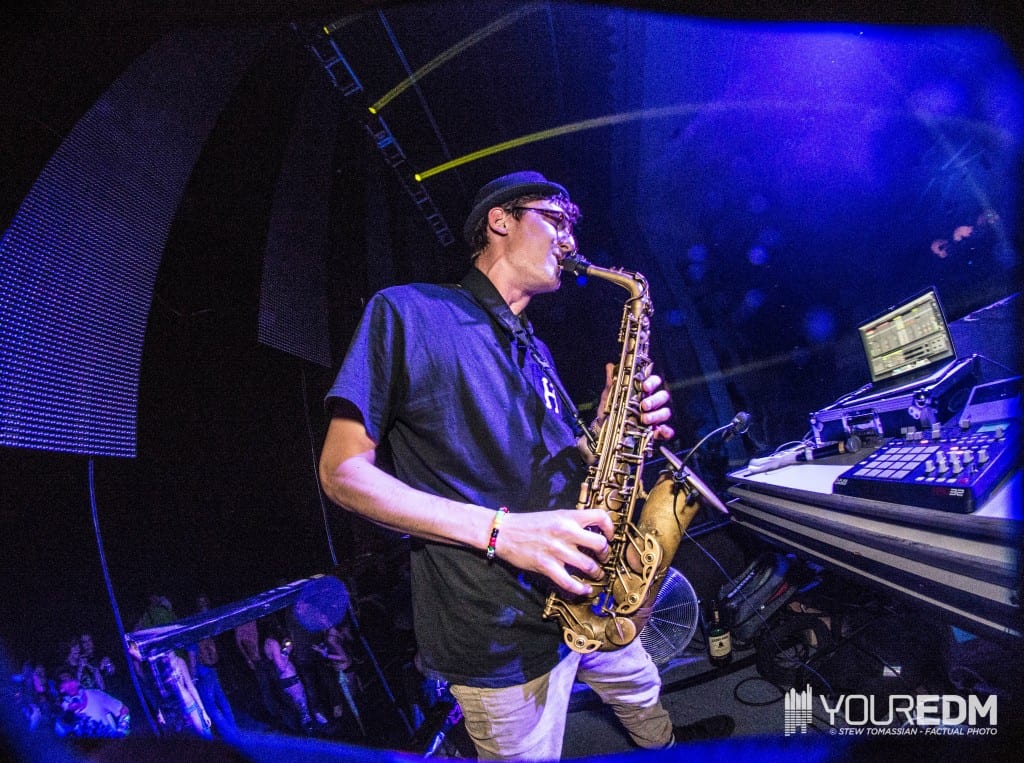 In the other room Rekoil & Barron had the second stage going fucking bananas for their filthy heavy hitting Robostep. These two Firepower superstars have been behind most of the madness that's been shaking the East coast to pieces like never before. This was Rekoil & Barron's first trip out to the Northern West coast, and their fans had been chomping at the bit all night waiting for them to come forth and slay. And slay they did. The second stage at 1am was complete insanity. These two worked together flawlessly, their style was relentless, we could barely catch out breath before another monster tune turned the room inside out. The crowd didn't want them to leave, they were screaming for more after their last song, but after the sound got shut off there was really nothing that could be done. Rekoil & Barron was the finishing move that floored the crowd and sucked the last bit of energy from a very throughly exhausted crowd. It was the perfect way to end the night.
Wobbleland 2014 was by far the best Wobbleland yet. Vital & Midnite did such amazing job with this show that I don't know how they're going to outdo themselves for the next one. All I know is that this show just set a new benchmark on how shows should look in NorCal for 2014. Well done guys, we can't wait to see you do it again!
Contributing Writer: Theo Newhall 
Contributing Photographer: Stewart Tomassian / Factual Photography