This weekend we got the opportunity to experience the Summersalt Block Party Music Festival in downtown San Francisco. Hosted by  EyeHeartSF, and featuring Artists such as K-Theory, Felix Cartal, The Grouch, & Kill Paris, this day party was truly one for the history books. After successfully raising $15,000 in a "crowd tilt" effort to bring the party to the city, EyeHeartSF made sure that this party came packed to the brim with everything under the sun one could ask for to facilitate a great time. Out in front of the main stage, there were food trucks, games, and a Heineken beer garden, complete with a full bar AND alcoholic snow cones! What more could we ask for? Jump past the break to read on!
The main stage itself was actually a giant, tricked out Red Bull truck that seemed like something straight out of Tranformers. Complete with lights, fog, and an excellent sound system, this stage was one beast of a thing to behold. The amenities didn't stop there either. Behind the main stage was a building that featured two bars, food service, and a smaller second stage that had local Dj's dropping bass heavy tunes that were well on par with the main stage out front.
The set up for this show was fantastic, and the incredibly helpful event staff made the experience that much better for us. In fact, everyone seemed to be having just as much fun as were, you could see it on their faces clear as the sky we partied under. From the low lit, trap caverns of the second stage to the groovy bass infused sunlight of the main, there was nothing but infectiously good energy as smiles as everyone crowded in together to see their favorite artists.
The musical performances we saw were each awesome in their own way.With a wide range of EDM to entertain the crowd, there was definitely something at Summersalt for everyone. K-Theory had the main stage getting rowdy as all hell in broad daylight with a live performance that was as creative as it was fun. Playing out all kinds of booty shakin' beats, intertwined with their classic remix's and fresh originals, had even the most stoic attendee getting down with the sound. These bay area locals brought the bass in a very unique way. Any basshead worth their salt needs to put them on the top of their bucket list as soon as humanly possible.
After a much needed break by the second stage, (which was no less rowdy thanks to Tech Minds and the Schmidt) we went to go watch Kill Paris as he took to the stage in the late afternoon. For those who don't know, Kill Paris is quickly becoming a standard name in the world of EDM. His latest feature album, To A New Earth has received high praise from artists such as Skrillex and Pretty Lights to name a few. Kill Paris is also well known for his remixes. Collaborating with big artists like Dillon Francis, and reworking old tracks like Baby Come Back and Play That Funky Music White Boy, has earned Kill Paris a highly respected reputation along with a style that is comparable to only a few artists in the EDM scene.
Needless to say his performance was phenomenal. Using Ableton and a controller covered in Spongebob stickers, Kill Paris had the whole place going wild for his melodic bass driven grooves. We even had the opportunity to grab a quick interview with this rising star after his set. Check it out below.
What inspires you to make your music?
Tons of different music 70's and 80's classics as well as lots of videos games. I would love to get into making specific music for video games, like scoring, sound effects, etc.
Any upcoming releases on the horizon?
I'm working on my next EP which is due at beginning of the year.
Who would you like to collab with if you could?
Anyone really, the best collab's are with good people. Even random musicians and non producers like muzzy. I'd love to make a track with him
What is your favorite song right now?
At an OWSLA birthday party two or three weeks ago, Skrillex played out some new stuff and it was incredible, he's still the king for sure. Also all of K-Theory's stuff is really well done.
What's your favorite thing to do when not DJing/producing?
I like skating, bike riding and just chilling with friends. Being on the road all the time makes your time at home more like a vacation. Mostly I don't leave the house and just chill out. I like cooking a lot when I'm at home as well.
What has been your best Summer festival so far?
Summerset Music Festival in Oregon two or three months ago was really cool. It was more of a chill, hangout, festival family kind of setting and those are my favorites.
What's the craziest thing you've done on tour?
On the Zedd tour last year in Dallas, Texas during Zedd's set I crowd surfed all the way into the back until there was no more crowd and then just partied with the fans for a bit it was great!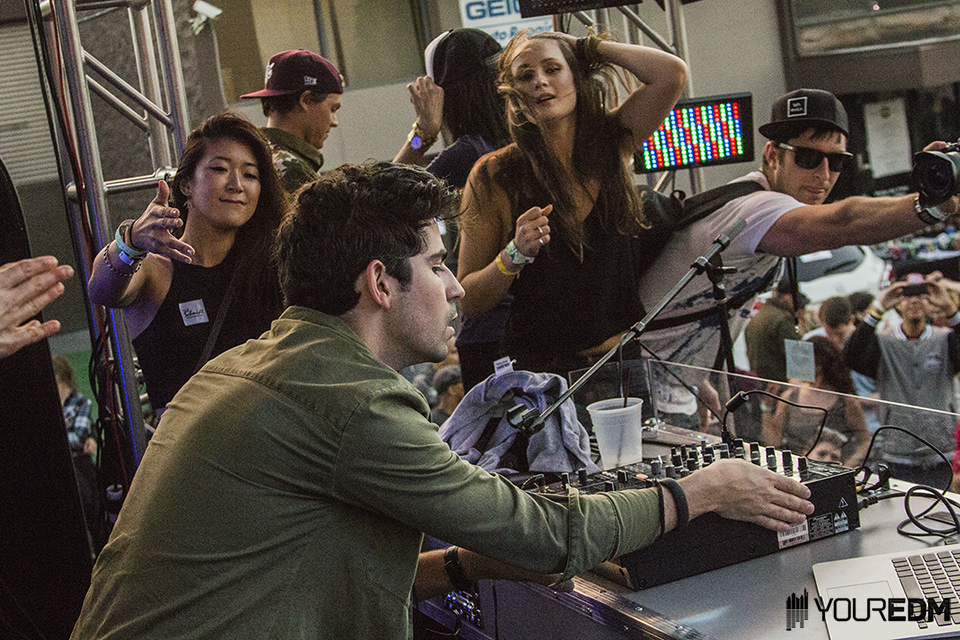 Kill Paris left us all on an incredibly high note, and Felix Cartal picked that energy up and ran with it. This Electronica veteran has been producing creative and fun, House based EDM for years, and it's made him notorious for rocking parties like it's nobody's business.
Felix laid down some incredible electro and big room house music that definitely gave the speakers a run for their money; and the fans were loving it. Even though the sun was barely setting, Felix had the crowd going nuts like it was 2am. Security even had to clear girls off the stage when things started getting too out of control. In the midst of all the great tracks he played Felix dropped some tracks off his recent EP (Past Present Felix) as well as some fresh exclusives that anyone outside of the Dim Mak family would likely be very hard pressed to unearth. Overall, this had to be one of the craziest sets of the evening and we were glad to catch it. After his set, Felix sat down for a quick interview, which can be found below.
How did you feel about your set?
It was dope, I was super nervous though, I always get nervous when I play day parties. I was surprised it got this cracking at 6pm but it was really fun.
What do you use to produce/DJ?
I Dj with Ableton and I use Reason and ProTools to produce.
Who are some of your favorite artists right now?
I really like Cashmere Cat and all his aliases. Also, Ryan Hemsworth & Kill The Noise are great. I really respect Jake (Kill the Noise) he's got a really great attitude and persona as well as being a great musician.
If you could collab with one artist/group who would it be?
I would really like to do a collab with Bat For Lashes I think that would be really cool I love her voice.
What are the craziest moments you've experienced on this tour?
I've been bringing disposable cameras to my shows and giving them to fans in the crowd for them to give back at the end of the night. I'll hand them the camera and say "Do whatever you want!" The first show I did this at I couldn't upload half the photos on there I like "Oh man this girls gonna regret her life."
Any words of advice/inspiration for aspiring producers out there?
It's the carpenter not the tools the idea is stronger than what you have access too.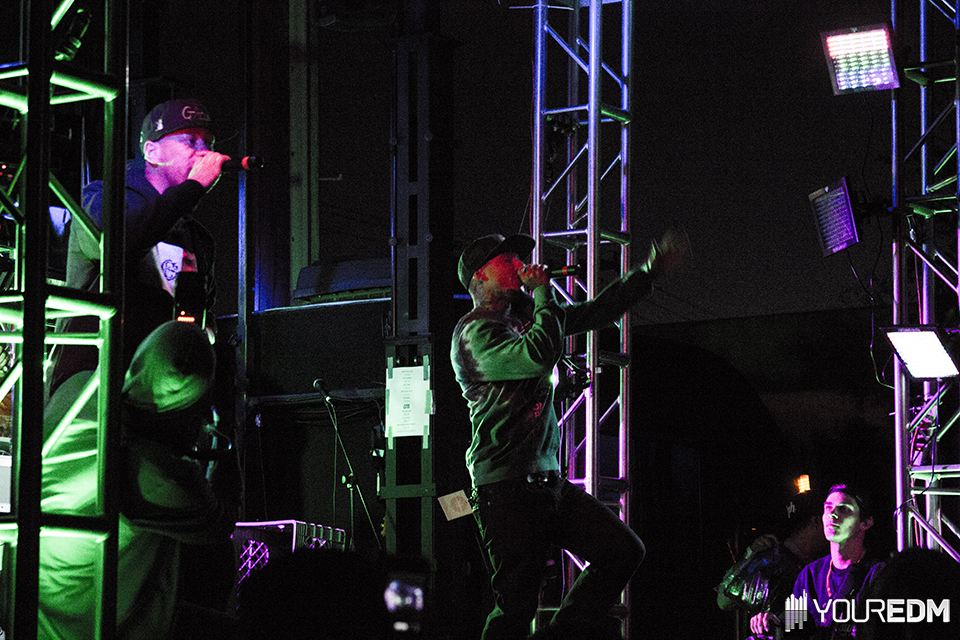 After Felix, Bay Area superstar rappers, The Grouch & Eligh took to the stage and proceeded to rock the crowd to pieces with their epic lyrical skills. Known for such legendary bay area classics such as Simple Man and The Enchanted, as well as working alongside Zion I and being an essential part of Living Legends, these two received an incredibly warm welcome from their home town. This classic and interactive Hip-Hop performance was the perfect end to a thoroughly enjoyable evening of great music and fun.
The fun wasn't over there either. After the show there was an after party at the Mezzanine featuring Girls & Boomboxes alongside Kill Paris that was absolutely crazy. K-Theory even made an appearance to do a back to back CDJ vs Ableton set with Kill Paris that was truly one of a kind.
When it was finally all said and done, as I dragged my exhausted self to bed around 12 hours later, I was left with one word, wow. The "crowd-tilted" Summersalt block party was one hell of an an experience from the outstanding venue set up and service, too the insane lineup, ecstatic crowd, and ridiculous after party, this festival had everything one could ask for in a mid city rage quest. Now we can't help but wonder if EyeHeartSF will be collaborating once more this year with BLAP Productions to host Wintersalt. We can only hope. EyeHeartSF, our hats go off to you sirs.
Theo Newhall