This past weekend, I had the amazing opportunity to sit down with tyDi before his set at Castle Chicago. Hailing from Australia, tyDi's career took off at an early age, from being signed on to Armada at only 17, to earning back-to-back titles as Australia's #1 DJ, as well as having won the International Dance Music Award for Best Breakthrough DJ. With four albums under his belt (fifth one is on the way) and tours around the world, tyDi has showcased his talent to produce diverse styles of music that tell a story and resonate with his fans.
You're not tied down to one genre of music and you produce a lot of different sounds. How do you adapt to these genres?
It's not necessarily adapting; I don't purposely try to sound different in every song. I write songs because I'm inspired. I once asked a manager of two artists whom I admire, "If you were to ever manage me, what would it be that you think I should fix?" She said, "You don't really have a style. Are you trance, are you house? DJs need a style because that's how you brand yourself." She had a very good point because it's important as an artist traveling around the world to think of it as a business. But I can't think of what I do as a business since it doesn't feel like it. If I were a painter and all I was allowed to do was paint beaches, I would want to quit.
You're really versatile with your style. The Hotel Rooms album was more orchestral and ambient/chill, and then you have "Stay" with Dia Frampton which is more indie folk, and also a collaboration with Chris Carrabba from Dashboard Confessional.
For the song "Stay," which I did with Dia Frampton, I had never done anything indie folk before. Indie folk is really her sound, so I can't really take the credit for the song sounding like that. I produced it into a dance track and it really came through from how she sounds. I was waiting for the onslaught of people going, "What are you trying to be, Avicii?" And in my defense, they don't really have an argument there because he's the only one who's done a country-ish dance track. Every other dance track out there right now sounds the same. It's kind of a compliment and it's pretty cool that they are comparing me to one of the biggest artists in the world.
As for my collaboration with Chris, imagine a classic Dashboard song mixed with electronica. It's not a dance beat — it's more of a broken beat, like glitched out electronica. The song sounds like something you'd expect on Hotel Rooms, but with Chris doing what everyone knows him for, where he sings real huskily and screams the chorus. Anyone who's a Dashboard fan like me will definitely want to hear it. The track is called "The Closer I Get."
When you're about to work with a vocalist, do you have a set idea on the type of vocals you want? What's your process in finding your vocalists?
Every situation is different. For instance, the tennis player Ryan Sweeting introduced me to his sister-in-law, Bri Cuoco. I Googled her music and fell in love with an acoustic song she did. I hit her up and now we're working on a song together. Last night we were writing a song with the guitar out, and we started writing lyrics. I had a stab at some of the lyrics, Brie sang it, and we went back and forth on the lyrics and how they'd work.
When I write songs, I don't go near the computer at the start. I usually sit down at the piano or with the guitar and with the vocalist, we think of lyrics and rhymes and throw ideas around. We write them all down, use voice memos, figure out what will be the verse, bridge and chorus. Then it's up to me to figure out what kind of track it'll be – whether it'll be dance or something different.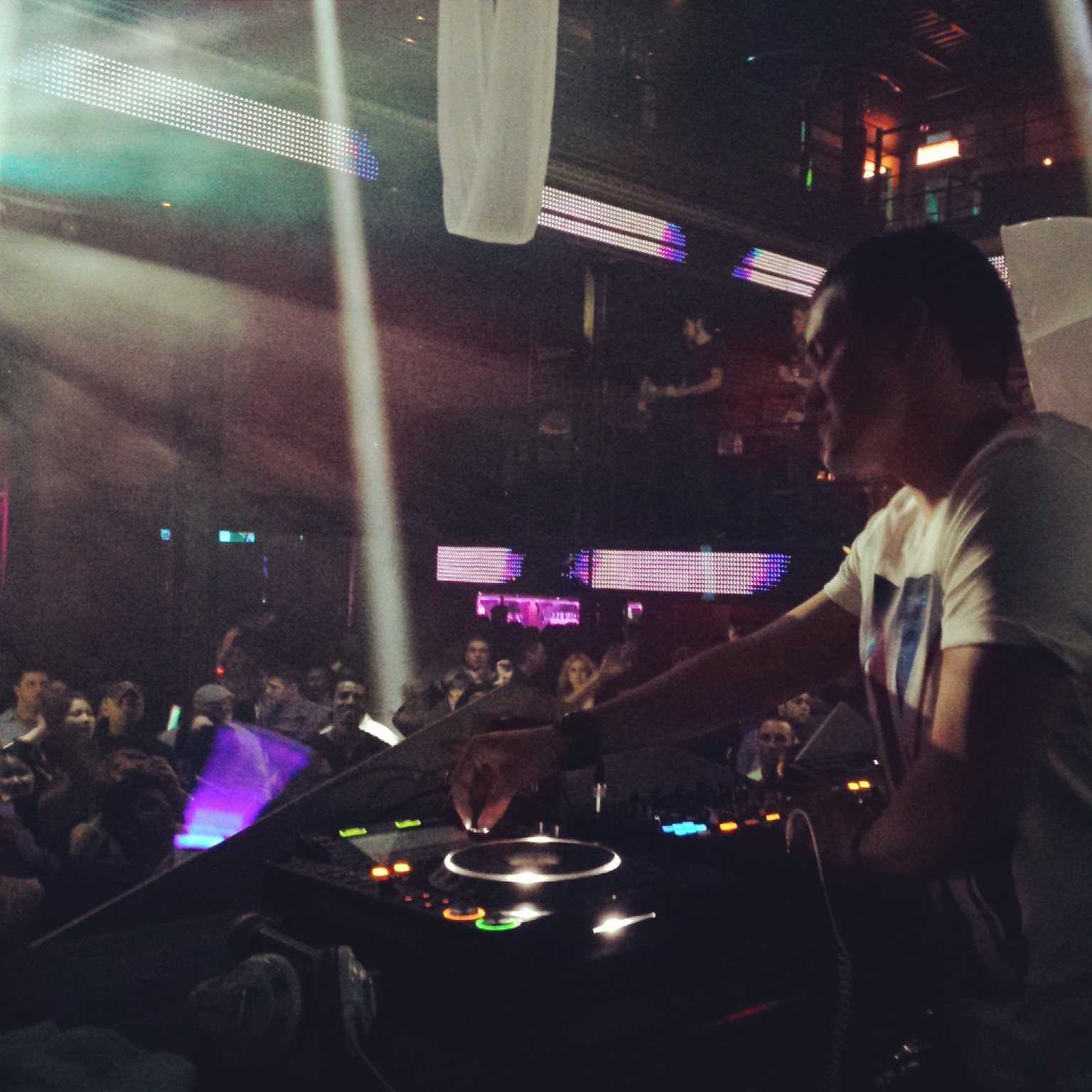 Where do you find inspiration?
You can't force inspiration; you can't go looking for it. That song you covered, "Little Voices," that song came when I was sitting on a plane flying to New York. I was wide awake and was watching a movie on the flight, and I heard a beautiful haunting piece which inspired me to write something like that. First thing I did was shut the movie off, open my laptop and start writing. The mood was right, and by the time I landed in New York, I printed out the whole score for the song. There are days when I can't be creative. You can't just say "I'm going to go to the studio now and make a song." You've got to really want to do it and if you're in the mood, it comes to you.
Your music videos tell a story and really bring the lyrics to life. How do you come up with the concept for the videos?
With "Glow in the Dark," Kerli and I talked about how the song was about inspiring people to get through a hard time. I wanted to do a video where all the characters interlock — these characters get bullied, but through the help from others, they glow in the dark from happiness. These characters then go on to inspire someone else, and it comes full circle at the end of the video.
The video for "Stay" was inspired by the movie The Secret Life of Walter Mitty, where Walter sees a picture on a wall and is inspired to go on a crazy adventure, and he runs to a helicopter for the journey. In "Stay," the girl I propose to dies, which is implied from the quote at the start, and I'm drinking myself to sleep every night. But I see a picture on the wall of where I first proposed to her, and quite literally like in the scene with Walter Mitty, I run into a plane (because we couldn't afford the helicopter) to fly off to to a swampland in New Orleans, and I go boating through alligator-filled rivers to get to that place. The guys who shot the video –  Tyler Forrest and Caleb Spillyard – are really visionary. You'd think they had a team of 100 people to shoot something of that much cinematic quality, but in reality, they were able to pull it off in 3 days with me. I was doing 20 hour days, sleeping 4 hours each night.
You've racked up a lot of achievements — IDMA award for the best breakthrough DJ, two consecutive wins for Australia's #1 DJ, and global number one spots for your Shooting Stars album. What was the moment when you realized you made it big?
When I was 14 or 15, I saw a movie called Kevin & Perry Go Large, and there was a scene with a DJ playing at a massive club in Ibiza. I remember thinking I wanted to do that, and I'd be In my bedroom with a set of turntables trying to teach myself and I'd imagine myself playing in Ibiza… but to a bed. I felt that if I could ever get to Ibiza, I've made it, and that would be success. And two years from then, I was playing in that very club in Ibiza. That's when it hit me: if you really want something enough, you can make it happen.
And then your idea of success starts to change over time. DJing is fun but I wanted to be a composer and write music. Hotel Rooms became my mission to write beautifully composed music, where people could see the musicality in it. Then I get a new idea and want to do something different, and it's a never ending loop. I don't think there will ever be a day where I'll sit back and go, "Yea, I've made it." Success for me, there's no end goal; it's always wanting to challenge myself to improve.
You've mentioned in past interviews that BT has been a big inspiration throughout your career. What was it like to work with someone you look up to?
I admire him so much. The day he asked me to do a remix for him, I flipped out. I remixed "The Light in Things," and he tweeted about it saying it was the best remix anyone's ever done for him. I couldn't believe it – this guy is someone I look up to and to think he appreciated my work was such a satisfying moment.
But beyond that, what's even crazier is he asked me to fly out and write songs with him. By that stage I was good friends with him, but I would still get nervous. I was traveling with my girlfriend at the time and he said, "I didn't know you were bringing your girl. You can have my room. I'd never give you the guest room." This is the guy who will literally give you the shirt off his back. We ended up writing two songs that week: one with Jes called "Tonight" and the other called "Stem the Tides" where we went full orchestral and made it a 10 minute masterpiece. Working with him was nothing but incredible.
What can we expect from your upcoming new album Redefined?
In Redefined, every track has vocals. I wrote 200 songs and I'm deciding which ones will make the cut. I'm down to about 18 to 20 now. The album will feature lots of guests vocalists who I never thought I'd work with, including The Ready Set, Chris from Dashboard Confessional, Australian vocalist Michael Paynter and Dia Frampton. Not one track in the album sounds the same; you'll hear dance pop, house, orchestral and "angry" songs that sound like The Prodigy. It's looking like the release will be in September but you'll hear singles from it before then. It'll be another three years before I can beat this album!
—
Check out tyDi:
www.tyDi.com
www.Facebook.com/tyDiMusic
www.twitter.com/tyDi
www.soundcloud.com/tyDi
(And here's the piano cover I made of his composition "Little Voices": https://www.youtube.com/watch?v=5Uh1NUgjZuU)
Photo Credit: Ji-Sook Yim