I thought that awards season was over, but apparently not. Billboard just announced the winners for their 2014 awards, and while you may not agree with their choices, there are some glaring inconsistencies that also must be addressed.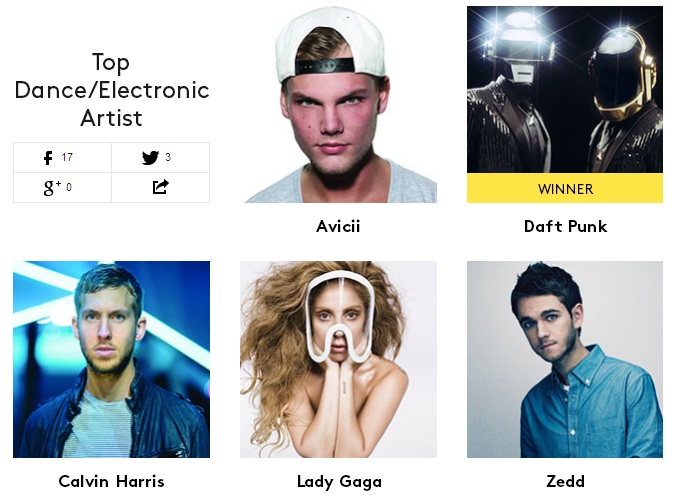 First off we have the winner of the Top Dance/Electronic Artist. Surprise, surprise – Daft Punk won again. I don't mean to belittle their influence or their newest album, but it's kind of passé, no? At this point it feels like we're just giving them another award for the heck of it. Besides that, what is Lady Gaga doing on this list? Zedd actually helped to produce three of the tracks on her newest Artpop album.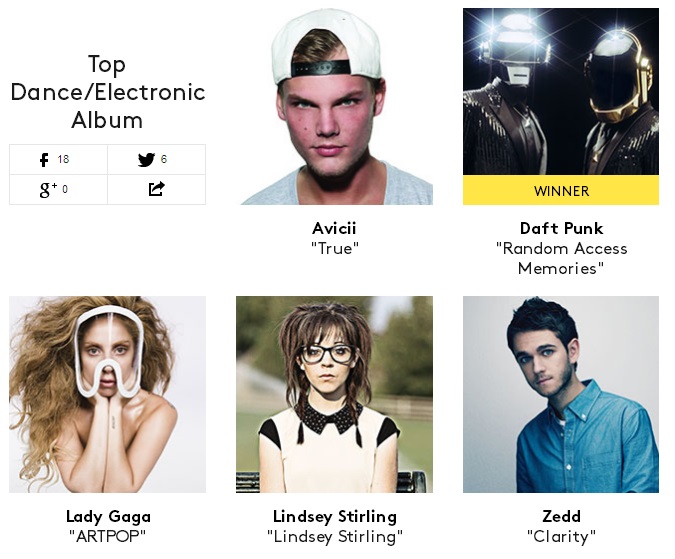 Yes, yes… Random Access Memories won. No real surprise there considering they also had top artist. What strikes me as odd about this grouping of albums, though, is that both Lindsey Stirling and Clarity were released in 2012, not 2013. Is this just lazy on the part of the award organizers or is it really that they had to fill spots?
Lady Gaga has won a Grammy for Best Dance/Electronica Album before, so she seems a little less out of place here than in the artists section. (There is no Grammy for Best Dance/Electronica Artist.)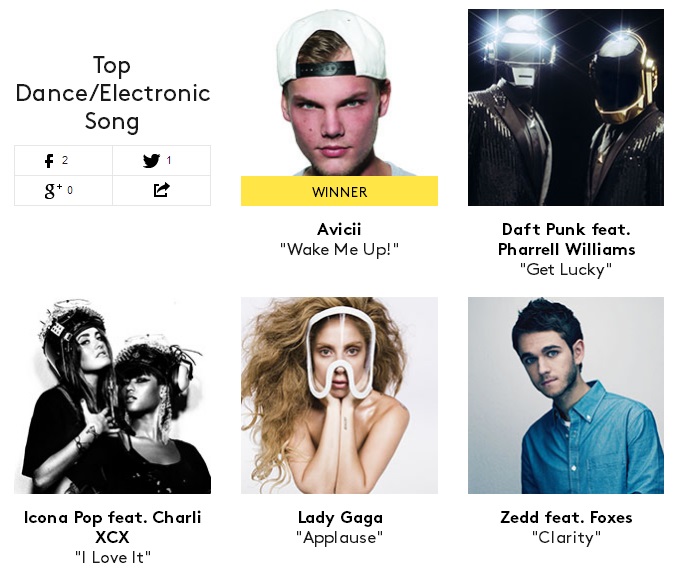 Again, a 2012 competitor makes it onto a list with Icona Pop's 'I Love It'. Avicii wins this round with 'Wake Me Up!' It's a shame, too, as Daft Punk were so close to a hat trick. And I've already mentioned how 'Clarity' was released back in 2012.
The Grammy's can make these kinds of awards work because it is an established entity and has been doing it for years. Now, that's not to say that the quality of the awards have not diminished in time, as they so clearly have. Yet, companies like Billboard and I <3 Radio are now holding their own awards that have no weight behind them; they seem like pure popularity contests with arbitrary categories.
Is this the future of music awards? Rewarding those with the most accessible sound or highest sales as opposed to actually examining artists within genres and addressing those who are pushing boundaries or really doing something innovative? Perhaps the major EDM blogs can form our own awards ceremony at some point? Who knows, it might just be worth it.