Chicago, the week you all have been waiting for is finally here. We are less than a week away from Spring Awakening Music Festival at Solider Field, home of the Chicago Bears. This weekend the city of Chicago will be filled by people from all over the world for one purpose, and that is…to dance. Now we here at Your EDM know how it is travelling to a city that isn't your hometown, from which restaurant to eat lunch at to which nightclub is going to be going off on a Saturday night. Luckily for you, we put together a SAMF 2014 Guide including restaurants, some of our favorite local acts playing the festival, and top after parties. Lets get this rolling shall we. Lets start off with the festival itself. For those of you that will be coming from out of town and will be staying at hotels, there are cheaper alternatives to cabs. Chicago has Uber and Lyft as well as an incredibly well run and easy to understand public transportation system.You can visit http://www.rtachicago.com for everything Chicago transportation. If you are a Chicago local or will be be staying with someone and will be driving, you can see directions below.
  Now that you've gotten to the festival here's the question, where do you go now? There are four stages as well as a silent disco. As far as the actual stadium is concerned, there is only one stage in the stadium itself and that is the main stage. Directly below is a map of the festival showing you everything you need to know, so you don't get lost at the festival.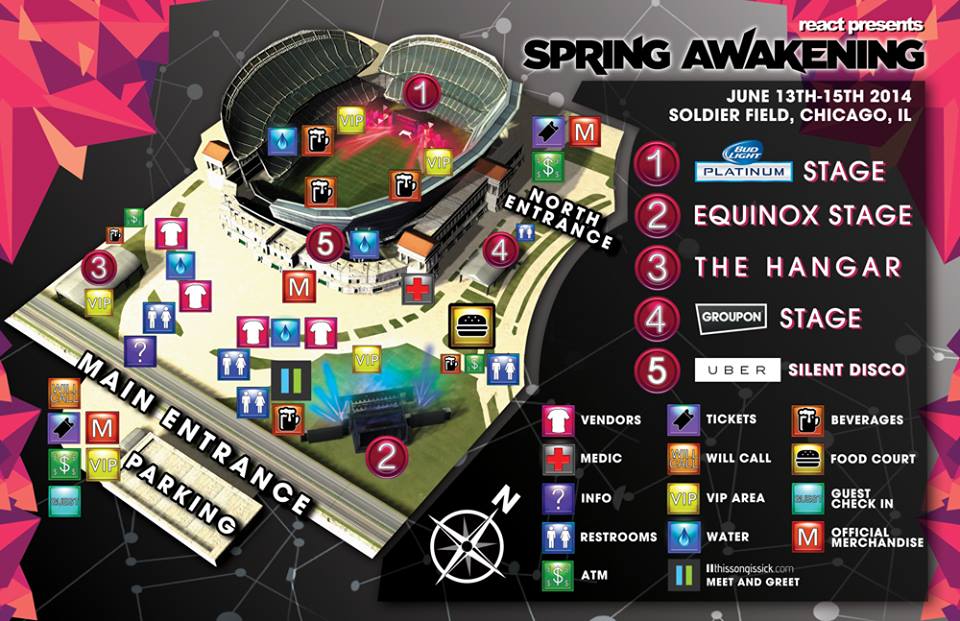 Okay, so now the festival is done for the day, before you start hitting the after parties, I'm sure you are pretty hungry by now so we asked some of our favorite DJs in the local scene what their places to eat in Chicago are, this is what the results were:
Milk N Cookies: Barn & Company (950 W Wrightwood Ave), LA Social (2263 N Lincoln Ave) & Hubbard Inn (110 W Hubbard St).
Win & Woo: Cafe Ba-Ba-Reeba! (2024 N Halsted St), LA Social (2263 N Lincoln Ave) & Hubbard Inn (110 W Hubbard St).
PHNM: Lockdown Bar & Grill (1024 N Western Ave) & Lou Malnati's (958 W Wrightwood Ave) 
Autograf: Avec (615 W Randolph St), Billy Sunday (3143 W Logan Blvd) & San Soo Gab San (5247 N Western Ave).
Robot Dentist: Pizano's (864 N State St), Fogo de Chao (661 N LaSalle St) & Aloha Grill (2534 N Clark St)

Now that you've eaten its time to continue the party. Chicago is one of the premier cities for dance music in the world. With an endless laundry list of clubs, it can be a difficult choice to make, so we asked our favorite local DJs where their favorite spots are to keep the party going into the late night.
Milk N Cookies: The Mid, Underground Chicago & Bull & Bear
Win & Woo: The Mid, Underground Chicago,& Spybar
PHNM: Underground Chicago, The Mid, Soundbar, & The ROOF at the Wit.
Robot Dentist: Smart Bar, Primary, & Soundbar
Autograf: The Mid, Spybar, & Smart Bar.
Now that we've heard from our local DJ's its time for JAlpie's Top 5 After-Parties.
5. Eric Prydz @ The Mid
It is a pretty well known fact that Mr. Prydz has a fear of flying. Which is why when he is in your city, YOU GO. Nothing but pure house music in the home of house music. What could be better?
4. Sander van Doorn + ARTY @ Concord Music Hall
This show has a very interesting draw to me, because with both DJs you can't really be sure of what they're going to play. Both of them are incredible performers and this is a great venue to see them at.
3. Diplo @ The Mid
The master of twerk makes his way to The Mid, and odds are it will get weird. No matter where Diplo goes, the craziness follows. That is in addition to his incredibly addictive tunes. Not to mention that opening up for Diplo is two of Chicago's resident DJs ZEBO and Howie Doin.
2. Cajmere @ Sound-Bar w/ Steve Gerard B2B Autograf
HOLY HOUSE MUSIC. If you love house music, there is zero reason for you not to go to this. Cajmere's old school house music mixed with Autograf's new school house music. It truly is time for the percolator.
1. Kaskade @ The Mid
For anyone that knows me, this is no surprise. Kaskade closing out the last day of Spring Awakening in his hometown? How can you beat that? Oh wait, you add one of Chicago's favorite up and coming acts to the mix, Win & Woo. This night is set to be an incredible one. Don't miss it.
Alright, Spring Awakening is over, time to go home, right? WRONG. Chicago doesn't end the party just because the weekend is over. We go just as hard on Monday nights. That's right, Monday. Odds are you have heard of Porn N Chicken Dance Party, Chicago's #1 weekly party. If you have never experienced Porn N Chicken for yourself, please don't be a fool and miss this. I can promise you, you will never attend a party like this. Porn N Chicken Spring Awakening Closing Party will be at evilOlive on Monday night. Don't miss it.
We hope this guide was helpful in your Spring Awakening weekend planning and we hope you have an incredible time! See you in Chicago!