UPDATE: We've received word that the ban does not apply to all venues in Bloomington; only venues owned and regulated by the city will be affected. While the situation isn't as bad as we initially thought, this is still a major deterrent. If you want to help revoke the ban, you can sign a petition against it here.
Sad news, bassheads: the state of Illinois is continuing to fight EDM's popularity tooth and nail by banning any events related to electronic music in all venues within the city of Bloomington. In addition to a similar ban on Chicago's Congress Theater, which has hosted numerous artists from across the electronic spectrum, this is a massive blow to the Illinois electronic community.
At the top of the list of people disgruntled by this decision is none other than Lorin Ashton AKA Bassnectar. This year would have marked his 4th annual appearance in Bloomington, which is always a massive event that draws fans from all over the state. Bassnectar himself has stated that it's one of his favorite shows to play each year and he is extremely saddened by the town's decision to expel any and all forms of electronic music. Apparently, the decision was based almost solely on the amount of drug related hospitalizations and arrests surrounding the event. This hits pretty hard for me; EDM is such a powerful outlet for creativity and the community is so open-hearted. It's insane to me that this music is being denied to its listeners because of a heavily stereotyped image of electronic culture, OUR culture, as a drug fueled horror show. And this is hardly the first time it has happened; my own town of Santa Cruz, CA placed extremely restrictive noise ordinances on it's major venues to discourage & prevent Bassnectar and other major artists from performing here.
Fortunately, Lorin is making things up to his loyal following by adding a special Halloween event in the nearby town of Peoria. However, there's a larger issue here that we must consider: how far is too far when it comes to  'drug awareness'? Safety is paramount when it comes to events like this, of course, but there should be limits to what measures can be taken. Cutting off an entire community's access to a beloved part of their life is a step that's entirely uncalled for when there are clearly more progressive options to be considered. What do you think of all this? Let us know in the comments and check out the full lineup for Bassnectar's Halloween party below.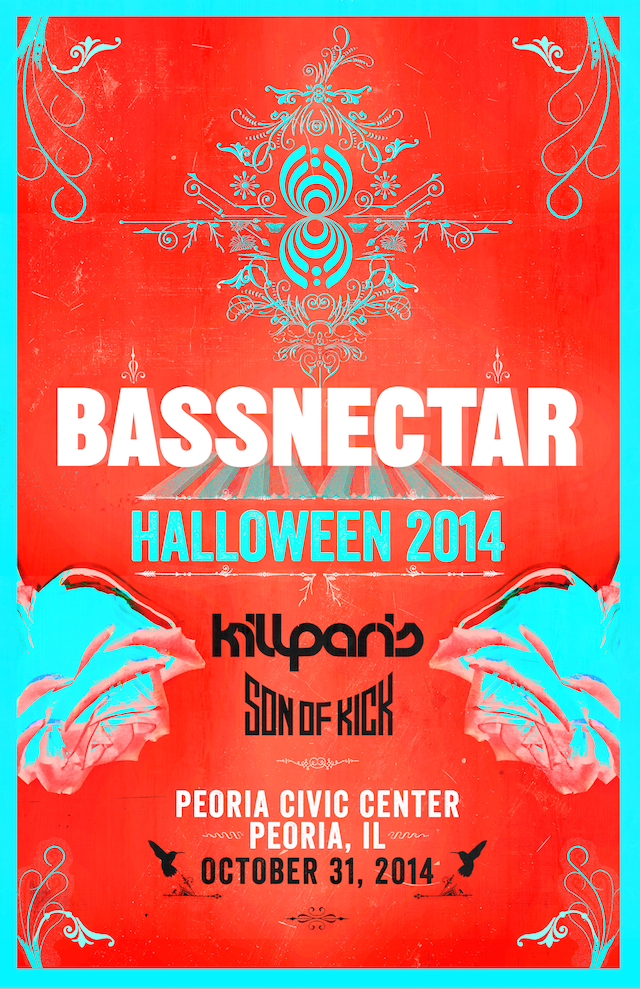 [Source: thissongslaps.com]