As we move further into festival season and multitudes of massive lineups clutter your newsfeed, it's crucial to keep one eye on the underground; some amazing gatherings go down in the depths. One of our favorites for the last few years has been Emissions West Coast Bass Culture, a small, community oriented festival nestled on the scenic shores of California's Feather River. Hosted by Camp Questionmark, one of the longest-running Burning Man theme camps, it is always a stellar collection of forward thinking, low-end centric music and extremely expressive art.
This year, the Camp Q crew continues to expand on their dedication to West Coast bass by fusing awe-inspiring new school styles of production with the fundamentals this music has evolved from: hip-hop. After last year's headlining performance from Deltron 3030, we're beyond excited to see them continuing the tradition. Their supremely stacked lineup is headed up by legendary wordsmith, Aesop Rock; performing alongside him will be fellow Rhymesayers icons, Rob Sonic and DJ Abilities, combining their skills to form Hail Mary Mallon. On the electronic side of things, scene favorites like Slow Magic, G Jones, Lindsay Lowend, NastyNasty, and the Gaslamp Killer are prominently featured, not to mention the US debut of Belgian bass-slinger, Losco. There's no shortage of up & comers either, with peeps like Le Moti, Sayer, Tsuruda, Chase Manhattan, and more ready to hold it down with their own distinct styles of bass-fueled shenanigans.
To top it all off, the sounds of these artists will be delivered directly into your body via absolutely massive, high-fidelity stacks of both PK Sound and Void Acoustics. So, if swimming through crystal clear waters while listening to champion bass music and partying with one of the most open communities this side of the globe sounds like a good time to you, then Emissions is not something you'll want to miss out on. Check out the full lineup after the jump and grab your tickets here, we hope to see you in Belden Town!
EMISSIONS WEST COAST BASS CULTURE
Additionally, if you're looking to get a taste of the environment you'll find at the festival, you should definitely be at the official pre-party later this month! With Sweater Beats and Buku in the building, as well as a second room hosted by the Wormhole Wednesday crew, it's sure to be a perfect preview and a ridiculously good time. Tickets for that can be purchased here, peep the graphic below for more info!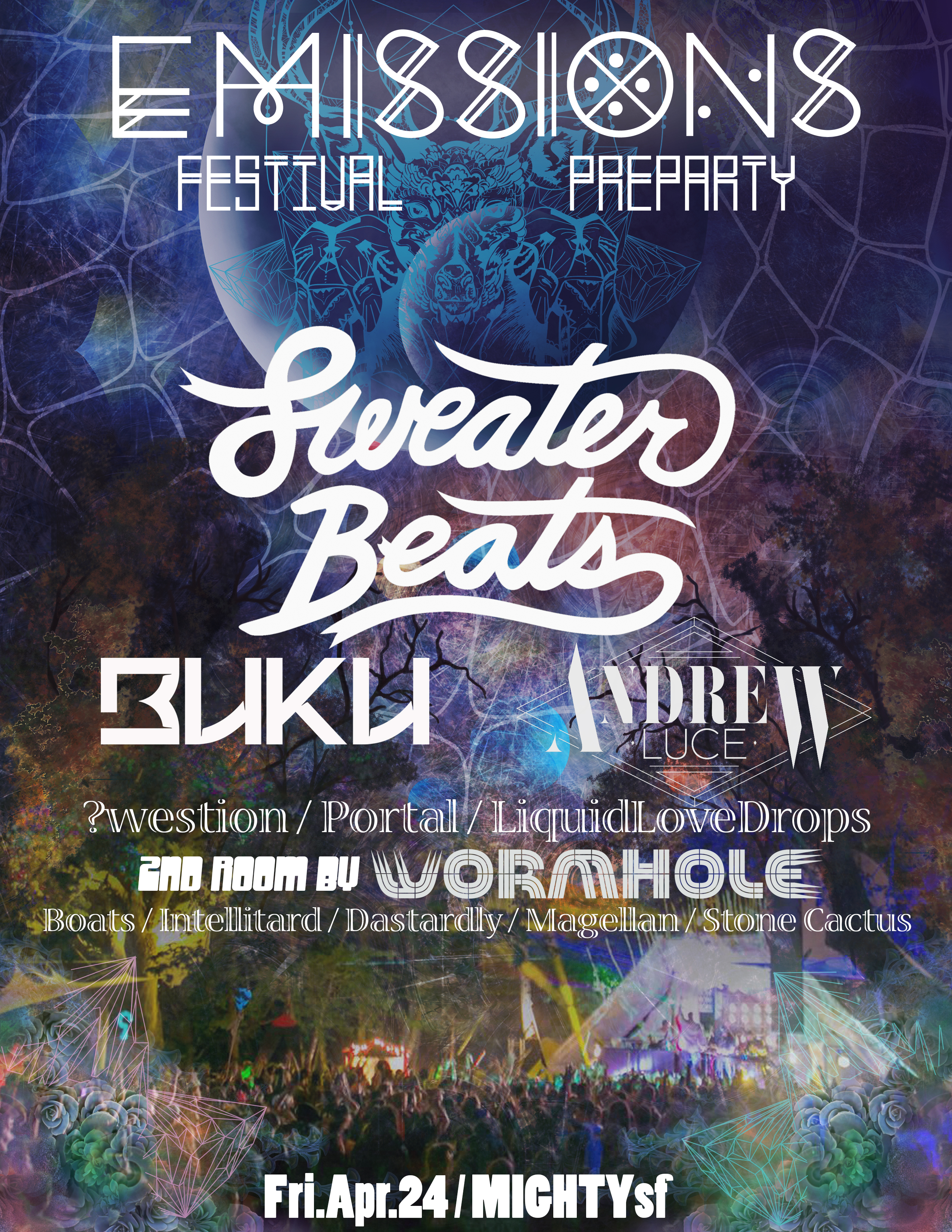 [Photo Credit: Kenny Hoff & Crackcorn Photography]