A SHARED EXPERIENCE THAT'S BEYOND OUR FUTURE, A VISION OF OUR FURTHER FUTURE. A RETURN TO HAPPINESS…
For many of us, the weeklong desert exodus of Burning Man is simply too much to stomach. From the inevitable lungfuls of dust to the complete isolation, some festival goers would rather have comfortable amenities and leisure than try and test their physical endurance and stamina. Robot Heart, host to some of the most elaborate events held during Burning Man, understands this mentality and has announced the conception of an entirely new experience to go down this May only 45 minutes from Las Vegas.
Further Future aims to be one of the first events to equally combine the aesthetic and vibe of a music festival with the guest list and esteem of a Silicon Valley tech conference. The desert party is only open to invited guests and those whose applications are approved. Among the supposed 3,000 attendees will be Soundcloud founders, Google X directors, and heads of other technology companies currently at the forefront of the movement. These guests will be hosting panels and tech talks amongst the artists performing, fostering an entirely unique and somewhat career-oriented approach to the festival scene. Professional networking is just as much a part of the experience as jamming out to the stacked roster of musicians.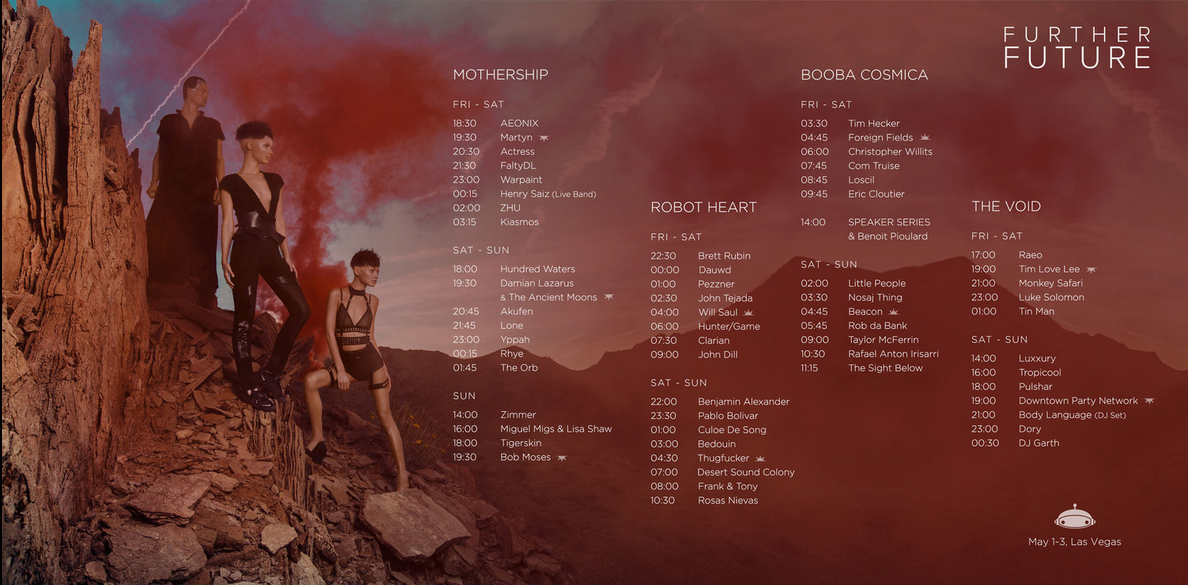 Unlike Burning Man, energy conservation is not of chief importance at Further Future, as they will be offering a staggering amount of high-end amenities to those willing to shell out dollars. In addition to the $275 tickets, luxurious pre-built group camping tents complete with A/C are being offered at $3,200 for the weekend. In the "Gypset" members-only area, there will be round-the-clock food and spa services provided.
Even though this festival wants to create an atmosphere of openness and inclusivity, the exorbitant prices and tight guest list seem to contradict this. Whether the exclusive group of individuals attending will be able to shed their layer of importance and get wild in the desert is yet to be seen.
Visit their Facebook page and official website for full details.
Source: Forbes