As deadmau5 prepares for 2016 in his own ways – whether that's via the heavily teased, nixed and teased again Entropy project; or the album that he is currently working on and rumored to be out this year – we thought it was appropriate to take a step back and look at his storied career in the past 6 years. Why six years, rather than 10 or 15? Well, nearly six years ago, deadmau5 debuted the Cube.
It wasn't until I was researching for this article that I learned I was actually at the debut of the Cube at Coachella in 2010. That performance was actually my first-ever foray into live electronic music, and it influenced me quite heavily (as you could guess, considering I write for a publication called Your EDM…). That performance was also one of the first complete listens to deadmau5's at-the-time forthcoming album 4×4=12. None of this dawned on me until a later time, but I was quite literally witnessing history.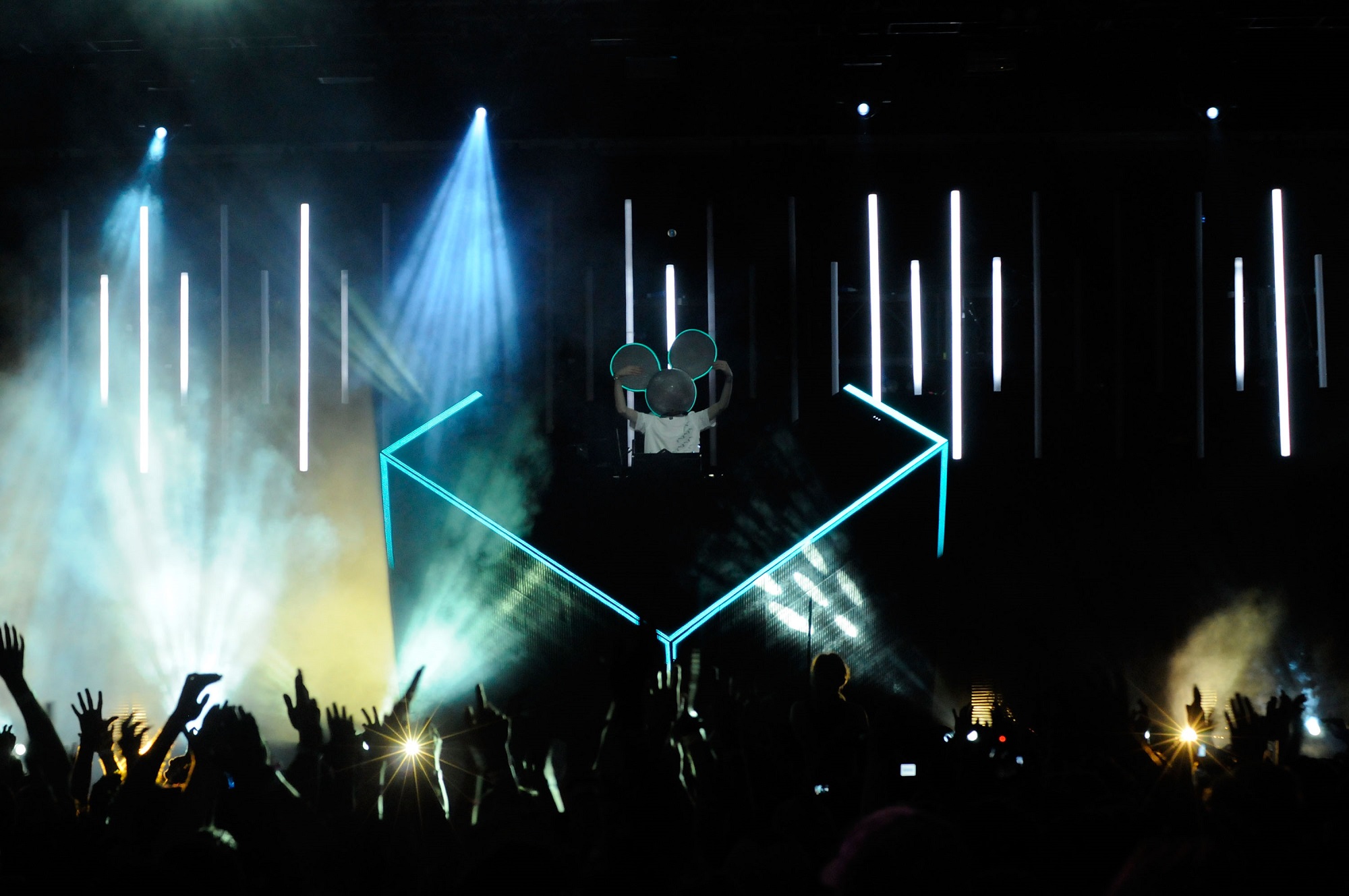 According to Gigwise, when deadmau5 was taking his Cube to the UK, mau5trap claimed that "Deadmau5's upcoming UK tour will surpass the visual spectacle of Daft Punk live shows." Surpass! Consider for a second the lasting impact that Daft Punk's pyramid installation at Coachella had on the future of electronic music, on stage design in music overall, and on … well, everything! And then consider that deadmau5 was aiming to surpass that.
The interesting thing is, in a way, he kind of did.
Now before the Daft Punk fanboys and fangirls come out of the woodwork, as I know they will, let me preface this by saying that I have all the love, respect and appreciation in the world for Daft Punk; however, while they sat behind the computer making beats, deadmau5 was the one going out and becoming the face of modern mainstream dance music. Sure, David Guetta had the mainstream popularity and the radio production credits to back it up, but he never had an iconic, recognizable brand like deadmau5, so painstakingly curated and developed.
The Cube and newly designed LED helmet were a part of that brand, and the debut of both simply skyrocketed deadmau5's career. He was good before, but now he was in the process of becoming a legend.
Only a few artists at the time had even attempted a full 3D LED stage design, notably Daft Punk and Amon Tobin. Even Amon Tobin, though, didn't debut his ISAM stage until the following year. For deadmau5, the actual 3D structure and construction of the Cube was by far the most visually stunning stage installation at the time.
The cube itself was composed of 75 LED RGB panels with a native resolution of 1600 x 1200 capable of illuminating pretty much any image that you can think of. Common themes involved video game artwork, various computer generated visual arrangements, and the characteristic mau5 brand that we've come to know.
In addition to the cube itself, deadmau5 often had a large LED panel behind him, as well as the LED visuals on the helmet itself. All put together, it created a wildly entertaining and stunning audio/visual experience.
Another brilliant aspect of the whole performance involved the helmet itself. The helmet is completely solid with no eye holes, and as it turned out, this was an advantage and opportunity. As Engadget revealed, "There's a set of color video goggles on the inside that displays whatever the camera sees, so all interaction with knobs and sliders has to be dealt with in a different perspective. Essentially, he appears to be looking straight outward, but sees what's going on below him." This allows him to, essentially, maintain 100% "eye contact" with the crowd at all times while he does his thing up on stage.
In 2011, only a little more than a year after its debut, deadmau5 made the stunning announcement that he would be retiring the Cube. Before appearing at Scotland's Tea In The Park festival, deadmau5 shared on his Facebook, "Allllllright TITP, this is it! the last show on the tour, and the last time i stand atop the mousecube! Let's make it epic. :)"
In reality, the Cube didn't fully vanish until after Ultra the following year, but even then, it wasn't gone for good.
I could always just bring out that cube thing from retirement for ultra??? Any thoughts people?

— Goat lord (@deadmau5) February 13, 2013
In the meantime, deadmau5 worked on new technologies, namely a touchscreen "HoloDesk" of sorts. The technology was far from perfect, and it completely cut off any interaction that Joel had with the crowd as, in the early stages, he had his back turned to them the whole time.
The idea was rather shortlived.
However, not a year later, the Cube was resurrected, a 2.0 version, if you will. It still used the touchscreen as part of its performance, though in a different way than shown in the video above.
It also now included the mechanical mau5bots that Joel had created and commissioned in 2013.
And you wondered what we've been up to. http://t.co/m3yDnBqxb9

— Goat lord (@deadmau5) June 23, 2013
Coming in at at 12 feet tall and weighing in at 2000 pounds, the props – if such a banal word could be used to describe such an exciting addition – were instrumental in furthering deadmau5's interest in moving parts.
This interest would eventually lead to the creation of his current stage design: the Cage.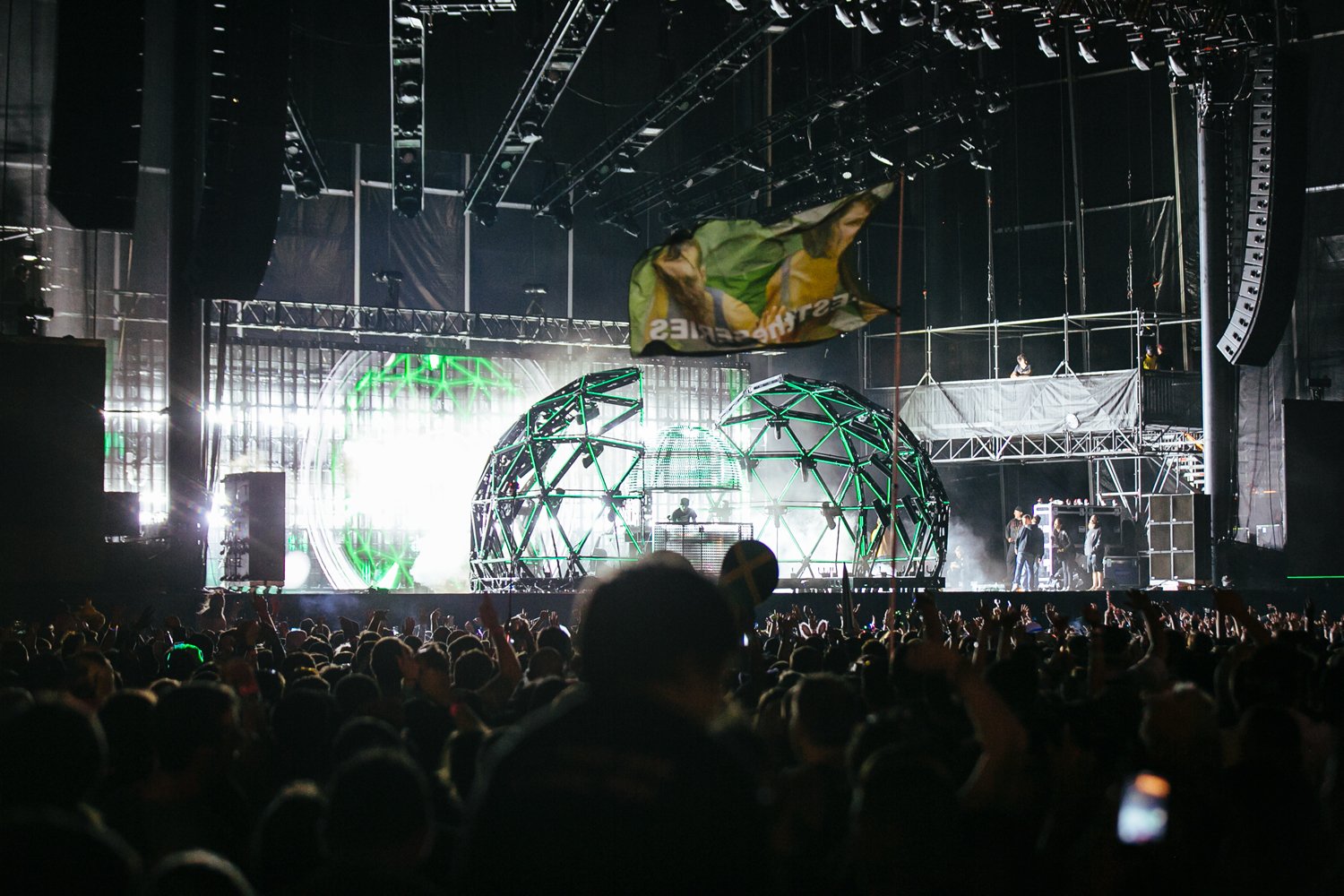 If you've ever played the board game Mouse Trap, then deadmau5's newest stage will look familiar to you. Featuring an inner and outer cage, the mechanical marvel expanded and contracted along with various cues during deadmau5's performance. Visually, it was honestly much less stunning than the Cube. Without large LED panels, the possibilities for visuals drop astronomically. There's only so much you can do with a mobile, rigid structure.
When I first saw the Cage at Austin City Limits last year, deadmau5 had already settled into his mid-show routine with "See Ya," a couch, left shark and a case of beers. The Cage allowed for there to be more of a performance element in his act which was great as he was transitioning to a more live set kind of style. He was more personally connected to the audience as he removed the helmet, took a seat, and was just one of the guys for a few minutes. However, it still lacked the explosive creativity and awe-inspiring effects of the Cube.
Looking at it from another angle, there's also much less fanfare around the Cage. When deadmau5 debuted the Cube, the field was wide open for innovative stage designs, LED implementation and projection mapping – that business was really only just booming. By the time the Cage debuted at Governors Ball last year, we had already seen stage designs from a variety of sources including festivals and producers themselves that are constantly one-upping each other.
Six years ago, the Cage might have rivaled the Cube. But today, as a follow up, it's a weak attempt. It's possibly unfair to compare the two, given how much longer the Cube has had to develop its own legacy, but objectively speaking there's less to look at and innovate on with the Cage, versus the Cube.
Still, we have more to look forward to. Deadmau5 has repeatedly teased his Entropy project, and it will likely be a mixture of new music and new stage design. Its true identity remains a mystery, however, and leaves true fans and the rest of us to hang on to every teaser and morsel we can in the hopes of just a glimpse of what's behind the curtain.