The dubstep community is one of the most loyal musical fan-bases in modern dance music. From the way they can enter a mosh pit and run into one another like sweaty, silver bullets in a pinball machine to grabbing the rail for dear life as they head-bang to their heart's content, bass music fans of dubstep, riddim, and festival trap can find solace in front of tens of thousands of bass wattages as long as their together and the DJ puts on a killer show. This was evident at the Hangar in Downtown Miami on Saturday, December 2nd, where Bear Grillz brought his American Freakshow tour with his bass music compadres Phase One, Dirt Monkey, and Kompany.
After rising bass music heavy-weights Kompany and Dirt Monkey played a combination of riddim and dubstep tracks, Phase One came in to hype the crowd before everyone's favorite electronic bear showed up. One of the earliest songs in the start of Phase One's set was the Phrantic remix of "Mind Dimension" by Tiga. The crowd began to stomp the ground as if they were all caught under the trance sending directions to all individuals in the venue to assault the floor. From there, it was back to mosh pitting and head-banging with Phase One playing out some of his own tracks like his remix of "After All" by Slander and Yookie as well as his song "Welcome to Mayhem" featuring a blend of metal guitar-riffs and dubstep flair. All in all, Phase One left the audience hyped as ever to rage their faces into the early hours of the morning.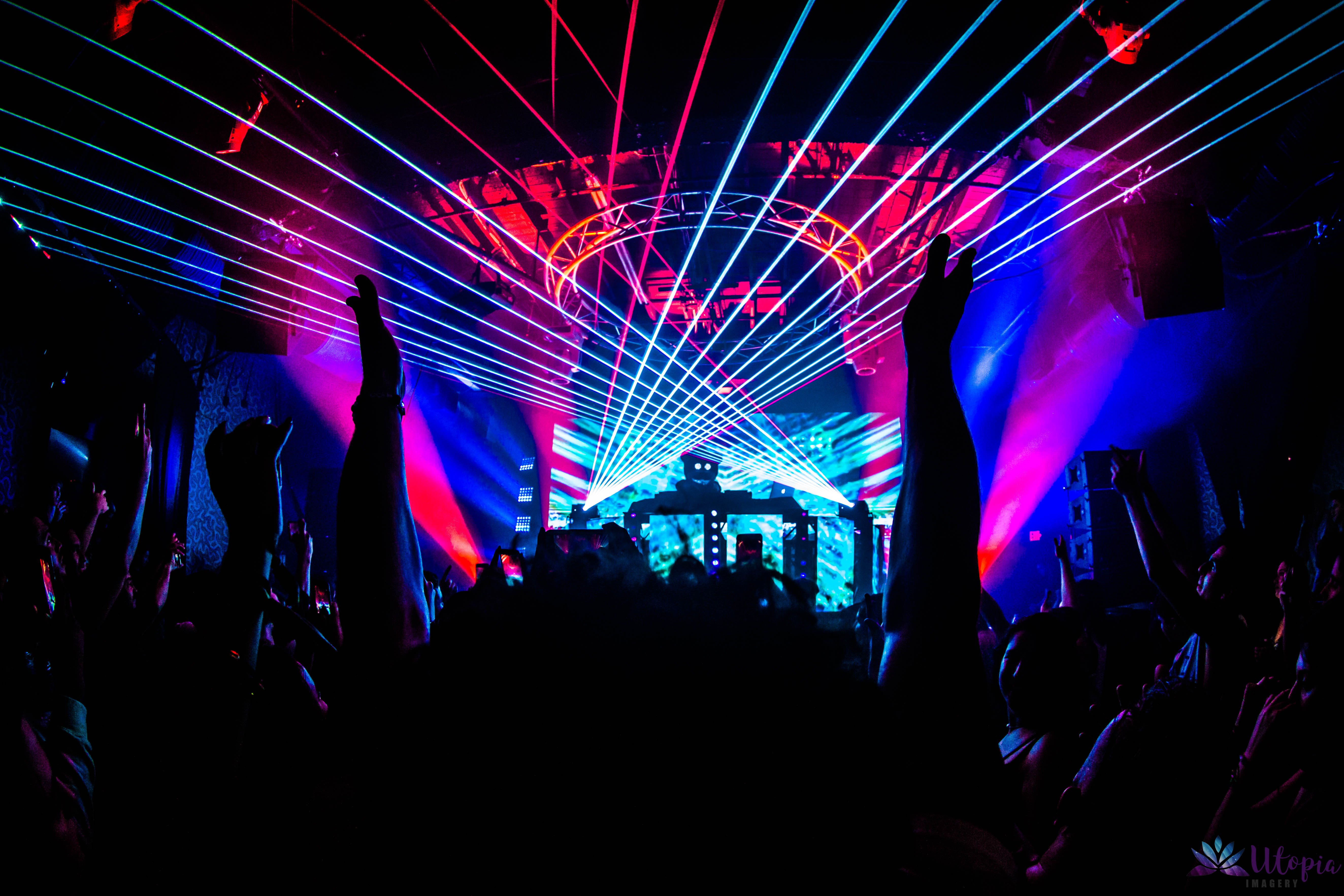 The production set-up of the American Freakshow was to be fully utilized when Bear Grillz arrived. It included over a dozen amplifier lined-up on the floor as well as a circular stage and LED screen that would make enhance the headliner's set. As he arrived to the stage, a carnival-themed introduction song emerged to announce the impending, bass-laced entertainment. But after he came up with his cartoonish grizzly bear helmet, the crowd let out a communal roar of cheer and excitement. From here, Bear Grillz jumped into filthy dubstep bangers like Spag Heddy remix of "Gettin' That" by Dirty Audio and Rickyxsan and "Rocket Fuel" by Trampa. Bear Grillz also teased rock songs like "Brain Stew" by Green Day and "Bodies" by Drowning Pool before transitioning into the direction of hard riddim tracks and wobbly dubtep noise.
He also played songs from his recently released Half Man, Half Bear EP such as "Defy the Odds" featuring Elle Vee and "Rockin'" with fellow producer and tour-opener Kompany. As he played another new track titled "Rage" and featuring Sam King, the crowd got together for what could be best described as the 27th mosh pit of the evening with bodies slammed bodies in jaunty, jolly rhythm.
In short, Bear Grillz brought together some of his bass music pals and concocted a tour to bring the adrenaline-fuel fun the South Florida's dusbtep/riddim community for a Saturday night of their favorite EDM sub-genre. It was rowdy. It was intense. It was even tenacious at moments. But above all else, the American Freakshow tour was a blast of intense music elevated by an intense crowd.