"I think success is a crappy, trendy word. Don't aim for success if you want it. Just do what you love doing and it will come naturally." – David Frost
There have been countless versions of that quote written on inspirational posters in our childhood classrooms, and now in the memes mindlessly shared by people who may or may not be following its advice. But if you want to see this quote in action, have a conversation with Ohio event producer and Prime Social Group Founder, Adam Lynn.
Moving to Ohio to start a music event business with his friend was a huge risk that didn't have much of a guarantee that the money would be there. Because even though I don't think there is anything wrong with the mid-west or Ohio, I am all too familiar with being surrounded by nothing but corn fields and having to drive to another state in order to listen to any live music (I grew up in Wyoming after all). I love living in LA now and I have no plans on leaving anytime soon, but man do I wish there was a guy like Adam bringing the likes of Bassnectar, Skrillex, and Avicii year after year to Wyoming when I was in college like he has for The Ohio State University.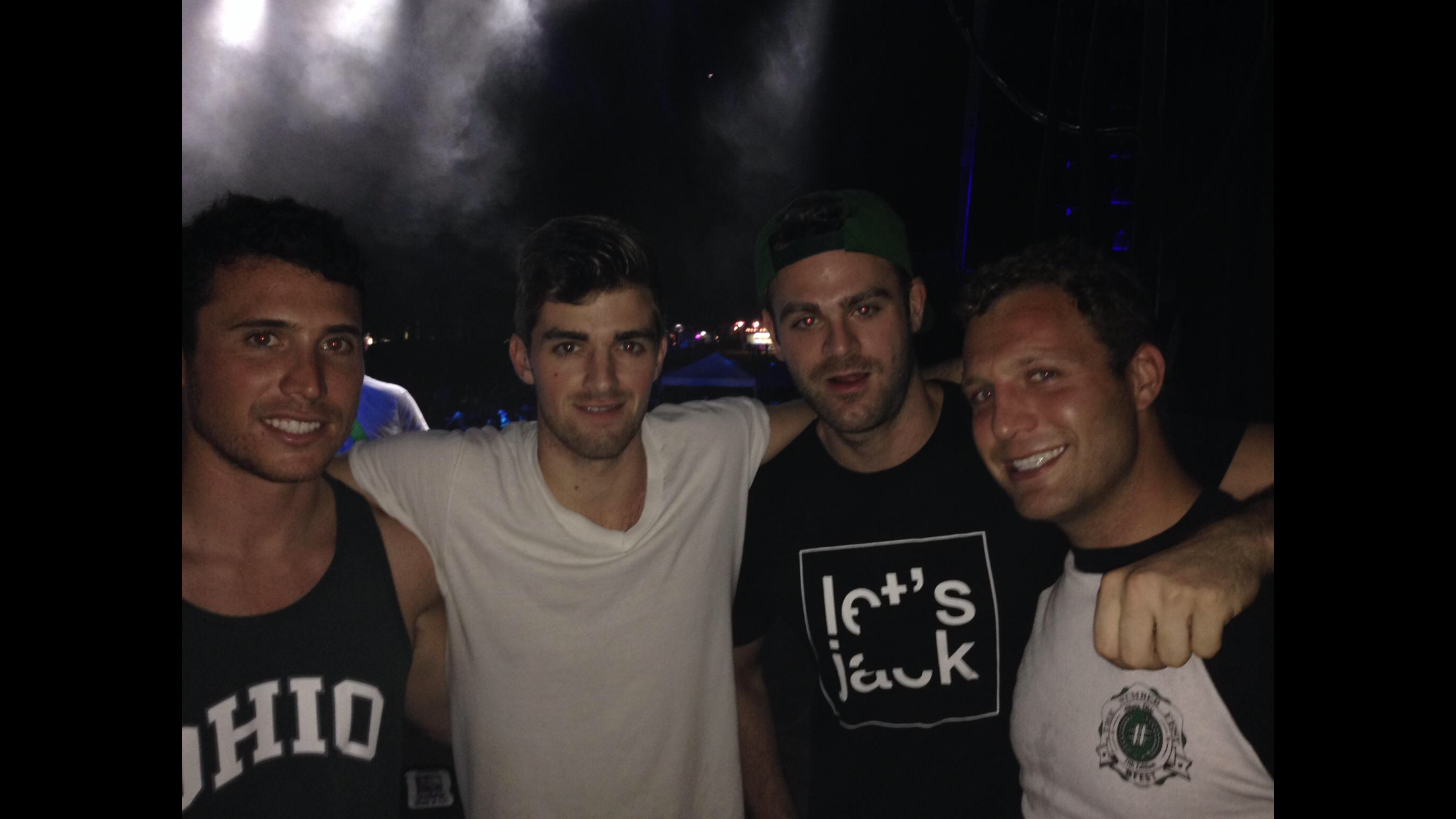 And while Ohio may not be a popular tourist destination, it has embraced Prime Social Group and somehow managed to become one of the most enviable dance music scenes in the mid-west. Not only does Adam get big names like Skrillex and The Chainsmokers, but he has an ear for music and usually starts booking these guys long before they "make it." Long before Prime Social Group entered the festival business, they were promoting the Ohio stop on Skrillex's first solo tour titled "Project Blue Book." When the duo did finally dip their toe into the festival pool, they didn't go small. The duo's very first festival lineup included performances by Bassnectar, Empire of the Sun, Kendrick Lamar, Porter Robinson, 21 Pilots, Juicy J, Tokyo Police Club, SchoolboyQ, the Wu-Tang Clan, Empire of the Sun, Big Gigantic, Matt & Kim, Explosions in the Sky, Crizzly, Ra Ra Riot and Danny Avila, among others.
So how did Prime Social Group turn Ohio into a hot spot for electronic music? PSG was founded in 2010 by Adam Lynn and Zach Ruben as a concert promotional company based out of Columbus, OH. Though he's not originally from Ohio, Adam had been studying nearby at the University of Michigan, and after graduating he created his first event company called Social Studyz booking shows such with Jason Mraz, Kid Cudi, Deadmau5, and Nas.
"I didn't get into this to do festivals," Lynn says. "It was just a matter of growing events until they got to the right size and basically having enough money."
While Adam was promoting Social Studyz, Zach was also running his own even company out of Columbus called Prime Productions. He also was bookings impressive acts like Mike Posner and LMFAO all while producing crazy, fun, wild events like DayGlow – a huge daytime art and paint party thrown by a manufacturer of daylight fluorescent pigments. Eventually, Adam and Zach decided they would have an easier time working together rather than fighting to book artists who wouldn't want to make separate stops in the area. As a litmus test, the duo combined forces for a four-day, college mini-tour  which drew in over 2,400 people and became the deciding factor for the creation of Prime Social Group. 
When I asked Adam about his approach to booking festivals, and the secret behind how he routinely books newer artists that within 2-3 years will end up becoming headlining staples, he revealed that he simply books the music he wants to hear. And even though he keeps the crowd in mind, if he wants to book Shaq so he can take a selfie with him, then that's exactly what he's going to do. Adam actually revealed that not only would Shaq be playing at the Nashville edition of Breakaway Festival later this year, but he will be playing a B2B set with 3LAU. And while that is not a pairing I could have imagined in a million years, I'm tempted to take the trip to Nashville just to see it.
"This is going to be our first Nashville festival. I'm particularly excited about that just because it's the first time we are in a city that will sell itself outside of just the festival itself. People want to go to Nashville, and we have Grizz and Wiz Khalifa. It's a real music market and the feedback we've gotten from there has been really-really strong."
Prime Social Group has been ahead of the game for years now, not only breaking new artists but also pioneering various technologies as they have appeared on the music scene and finding ways to make the overall festival experience that much better for every person who attends one of their events. If I had to make a prediction based off my conversation with Adam, I have no doubts that Prime Social Group will rise up to his own personal challenge of becoming the largest non-AEG/Live Nation event company in the US. This looks to be an incredibly promising year for PSG as they enter new markets around the nation and even take a stab at integrating Block Chain into a festival setting. In 2018 PSG is bringing their flagship Breakaway Festival not only to Ohio but rather there will be four different festival locations and dates:
Columbus, Ohio: August 24-25-26
Grand Rapids, Michigan: August 24-25
Nashville, Tennessee: October 5-6
Charlotte, North Carolina: October 12-13
"We started this festival by combining urban living with a carefully curated, multi-genre lineup that festival-goers of all ages and music preferences could enjoy. And now Breakaway has grown into a large-scale festival home to over 25,000 attendees in multiple markets. Every city could use their own festival to call home."
Personally, my choice of the upcoming Breakaway Festival dates would be October 5th-6th in Nashville. Adam also named the stop in this legendary music mill as one of the stops he was looking forward to most. As Adam pointed out, it is hard to name a city that could rival Nashville's reputation as a musical incubator. And even though it was once mainly associated with country music, recent years has transformed Nashville's music scene beyond its country roots. Also, as mentioned above: Breakaway Nashville's lineup has Shaq!! And as a child of the '90s, there's a part of me that really wants to see the real life Shazam spin magic on the decks.
PS: The lineups for all the festivals are equally great. More information on the individual festival, their lineups and tickets can be found here.