In 2016, DiskoLab created and hosted the very first Halloween-themed EDM music festival in the heart of Miami's Midtown. In its inaugural year, headliners Armin van Buuren, Borgore, and Flosstradamus brought their own brands of thumping bass and infectious melodies to the abandoned RC Cola Plant. Although rain affected the open roof venue, Wynwood Fear Factory became a promise to EDM fans in South Florida who wanted to wear spooky, silly, or sexy costumes while seeing some of their favorite DJs and producers live.
Fast-forward two years and Wynwood Fear Factory moved a block over into the indoor venue of Mana Wynwood and brought together a massive and consistent lineup of top-shelf artists. From bass music dons to house aficionados, WFF split the weekend with an even amount of each flavor.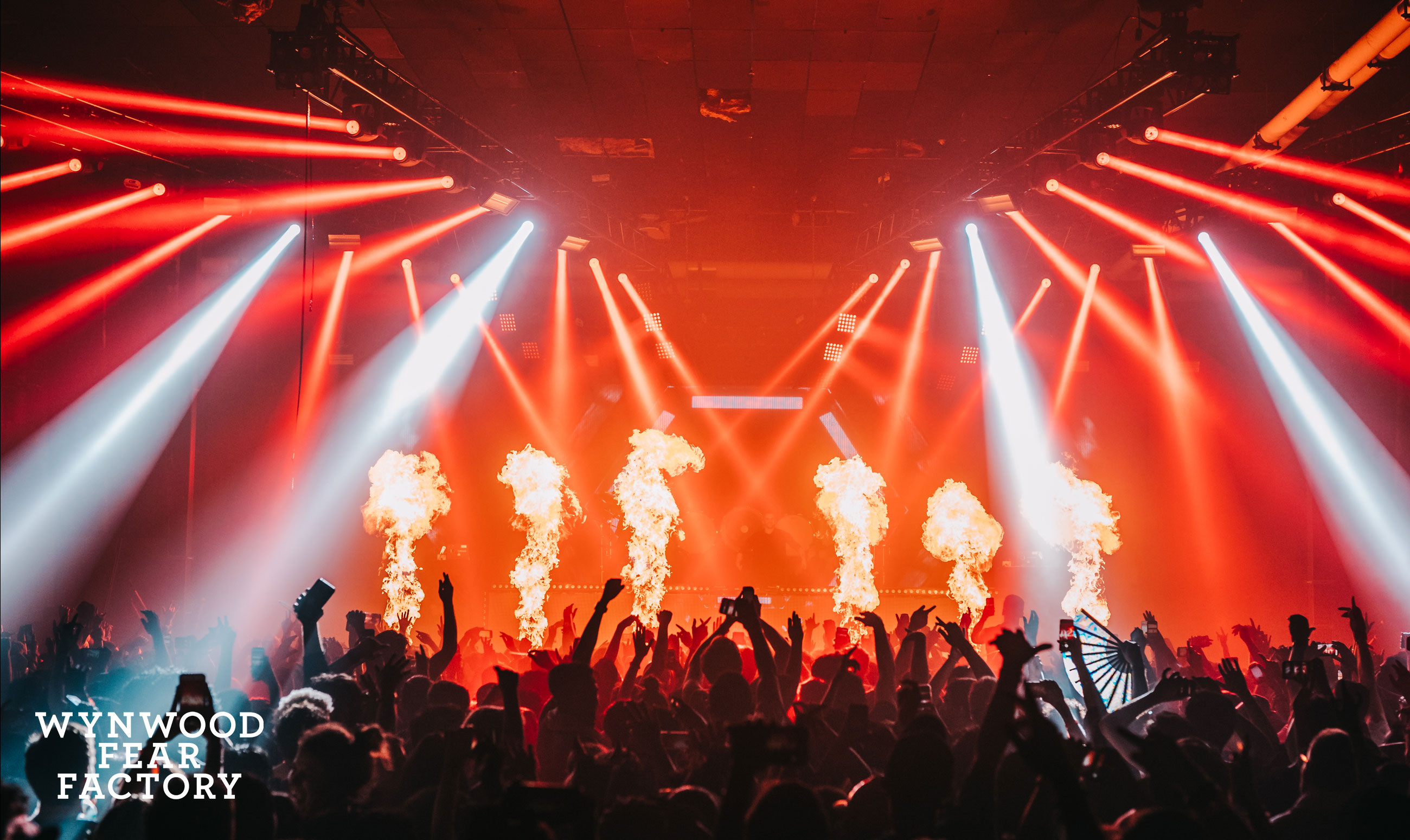 Friday opened with the mau5trap artist BlackGummy who matched the weekend's ambiance with this dark techno and industrial takes on electro house. From his own songs like "The Machine" paired with the punchy and wubby nature of songs like "Flip the Bacon" by Mord Fustang, BlackGummy set the tone for what the Fear Factory crowd was going to see over the next two days. This was exemplified in a later set from Getter. The trap/dubstep producer played a handful of songs from his latest album Visceral while playing fan favorites like "Inhalant Abuse" and "Rip N Dip".
Follow-up artists like Tritonal and Deorro brought four-to-the-floor energy with the tranquil wonder of songs like "Hey Mamama" and the hype trap beat of songs like "Dracarys". Meanwhile, Dimitri Vegas & Like Mike went full blown big-room house with a set consisting of wild amounts of confetti and people in Rick & Morty get-ups jumping around to the beat. Friday night was topped off with Galantis who brought a massive live set-up consisting of massive drums and playing new songs like "Mama Look at Me Now" and classics like "Peanut Butter Jelly".
Saturday continued the Halloween festivities with a DJ set from Brohug and a live performance from Keys N Krates. Both trios brought an extensive amount of energy from the crowd in the early hours of the evening. They were followed up by rising Dirtybird artist Fisher and house legend Duke Dumont. While the former played his massive hits like "Losing It" alongside songs like the Carl Cox remix of "Finder" by Ninetoes, the latter had the crowd shuffling to his songs like "Runway" followed by "Snake Charmer" by Endor.
The night was closed, however, by the single greatest act one could book for a Halloween-themed music festival ever with RL Grime. By the time he took the stage, you could hear his most diehard fans excited for the kind of set he would deliver to close Wynwood Fear Factory. He opened with a holiday-themed intro for "Era" and followed up with a mashup between his song "Reims" and "Stay For It" featuring Miguel. Some of his strongest highlights were mashups of hip-hop bangers like "Plain Jane" by A$AP Ferg with his own songs like "Valhalla". He ultimately closed the evening with pyrotechnics, lasers, and visuals rivaled by few and with the song "Shrine" featuring Freya Ridings.
Overall, this has been the best Wynwood Fear Factory the festival has ever put forward. Even though they have sported many of electronic music's most sought after performers like DJ Snake, Porter Robinson, Oliver Heldens and more, this year's venue change, VIP options, and lineup consistency were the festival's most versatile improvements. Also, the hundreds of costumed fans who turned out in their homemade or store bought outfits added an extra layer of entertainment and character one can't find at most other music festivals.
In short, if you live in South Florida or find yourself there for next year's Halloween weekend, don't miss out on Wynwood Fear Factory.