Few producers have had such a break neck rise in demand as Atlanta's hometown homeboy Herobust. The genre-flexing producer turned DJ has gone from bed room beat maker to booking shows nationwide in a matter of a few months and has spent the majority of last year and the first half of 2014 lighting up crowds with his southern bred, dance infused, hip hop stylings. Your EDM caught up with Herobust before his sold out homecoming show at Atlanta's Terminal West to catch up on his plans to release an abundance of free tunes over the next few months, the challenges of transitioning from making hip hop beats to dance music, and the twelfth man that always cheers the loudest during his sets, the ATL tribe.
"Our goal is one free track a month for as long as we can do it. I think we're going to shift toward splitting the time a little more evenly. 'She Know She Bad' was the last single that we really pushed hard and it's been awhile. The fact that [over the summer] I won't be on bus tours, where I'm out of the studio for like two and a half months should make it easy. [Touring] was amazing; I made a lot of new friends and got to play a lot of shows and traveled a lot. It was awesome and necessary, but I'm a producer first."
The magnetic attraction Herobust has with producing music comes from his roots in the underground hip-hop beat music scene, which provided the foundation for his transition in to dance music, although not without a unique set of challenges. When playing beat music, "nobody was nit picky about the transitions, you didn't even mix ya know what I mean? If you were on Ableton, you would fade to grey, start the next song, because people aren't trying to dance at those shows. They are mainly producers trying to nerd out on production. Once I started beat matching and mixing in and out of tracks I realized, 'Wow, these house songs have this boring ass thirty second intro with nothing in it…now I know why (laughs). I had these songs that were really inconvenient to mix and DJ's weren't gonna play [them] because [they're] hard to get in and out of. I'd have songs that didn't ebb and flow the way crowds need [them] to."
"Like some of my older tracks, like OG Status is a good example. I love the song, a lot of fans love it but in the context of a DJ set, the "drop" is like two minutes long because I was used to beat music where it's like here's a song and it just goes on and on, the energy doesn't really rise and fall very much, it just goes. I really had to learn how crowds are, they really don't have unlimited energy right? I definitely had to learn that on the production tip, which I learned from DJing and I never would have learned otherwise."
As Herobust infused more danceable energy into his studio sessions, promoters began to take notice and suddenly venues from coast to coast were requesting his name on their marquee. "It's a good problem to have. Like there is a demand for me to play, so I get to play. I'm lucky (laughs). When I started, if I had a show a month I was stoked. Ya know now I play all the time and it can slow down other aspects of Herobust, like the production or whatever, but nothing is happening that I don't want to be happening."
Even as his calendar fills with dates and he grows more comfortable as a DJ, Herobust explains that the live show is less of an alter ego and more of a peak inside his world as a high schooler. "Really, when people come to a show, what they're watching is what I grew up doing at home when I listened to really loud music in my bedroom. I'd just be jumping around swaging out listening to Biggie or Ludacris. That's pretty much what people are watching on stage. I'm just having a great time and if you are giving off that kind of energy than people are going to return the same kind of energy. [The live set] is not really about me saying anything explicitly about myself. I'm not a showy person by any means."
Despite distancing himself from the idea of personally being a "showman," Herobust was open to divulging into the show that is Atlanta's unique pride chanting, better known as "ATL HOE," which is an ever-present, genre-crossing, spectacle that unites the local music scene. "It goes further back than you realize. I'm going to go deep right now. You might want to charge your phone for this, it's going to get serious. This dirty south rap is raw and it's simple, it all about percussion. If you think about music culture it's really the closest music to African drumming. [With this kind of music] the natural tendency is to dance but also to chant."
Watch: "ATL HOE" chant at Major Lazer (2013) 

Watch: "ATL HOE" chant at Flux Pavilion (2013)

Watch: "ATL HOE" chant at Herobust (2012)
"At every pep rally at my high school, every class had a chant like, 'Oh Fo Hoe! Oh Fo!' ('04 Hoe! '04!). In my high school, 'hey' chants would erupt. No music involved. You'd be in spanish, the teacher would be talking and you'd hear one or two voices (whispers) 'hey! hey!' from the hallway with tons of reverb because they are far away. As soon as the teacher hears it they turn around and say, 'No one is leaving this class room…NO ONE!' But it gets louder, two becomes four, four becomes eight, sixteen, thirty-two , sixty-four, and it gets wild to where people are just like 'you can't stop us.' [Suddenly] the entire school, nerds, jocks, everybody is out in the hall jumping. It's incredible. There's just something about that simple primitive music."
The tradition runs deep in the streets of Atlanta and Herobust explained that, "it didn't hit EDM until recently. It really is tribal. There is a weird pride thing that happens in Atlanta, New Orleans and Houston. Back in the day, most southern hip hop coming out of Atlanta was all about 'I rep my city.' ATL HOE was even a song when I was in high school."
Baby D Ft. Pastor Troy, Archie Eversole, and Lil Jon – ATL HOE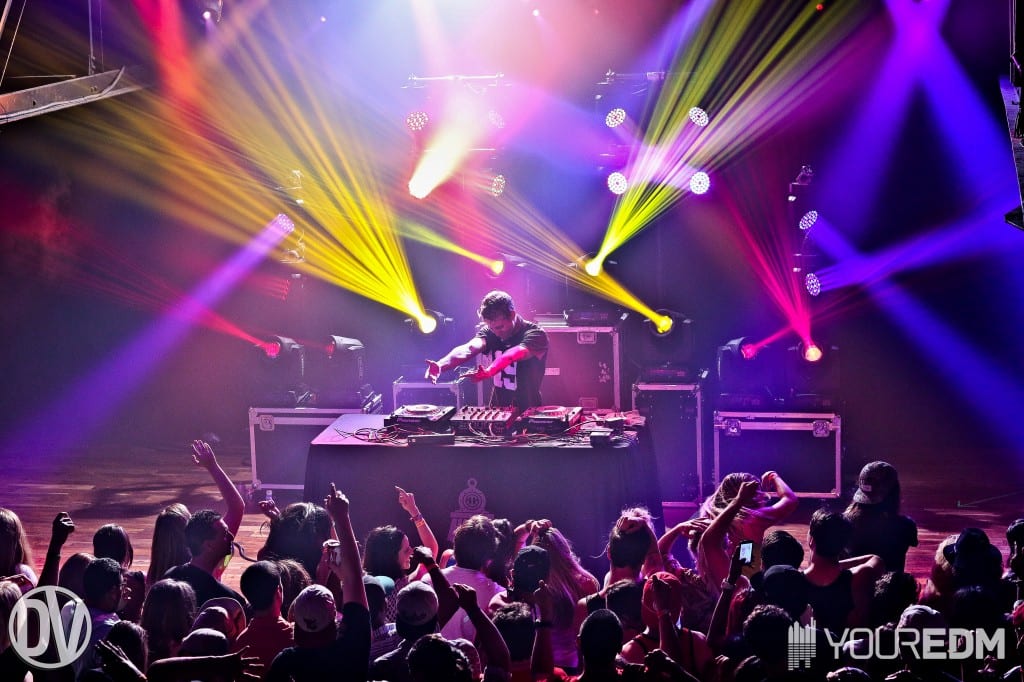 Herobust's kinship with Atlanta not only came out during his prodigious homecoming set, but the love he gets from the city was returned as he purchased Dominos pizza for the entire crowd after his set.
@heRobust just ordered pizza for the whole venue… #ATLHOE

— EL CARTEL (@BoomboxCartel) June 1, 2014
damn herobust ordered pizza for everyone last night!!! @heRobust you are awesome

— ivee (@soullessally) June 1, 2014
That's right. I bought the whole show pizza. <3

— HeRobust (@heRobust) June 1, 2014
With our bellies full of mozzarella and marinara, we'd like to thank Herobust and his management at Octal Sound for setting up the meeting. Another special shout out goes to Forrest Smith and his crew at DV Photography for doing an awesome job capturing the evening.