Here is the story of my incredible experience at Tomorrowland and accompanying proposal to my best friend, soul-mate and inspiration: Samantha Elisha McKown.
Several days before the first weekend of the most legendary festival in the world, I was notified that my girlfriend and I would be attending Tomorrowland as a guest of Monstercat's. Unbelievable, to say the least; we were not at all mentally prepared for what was to come.
Fast forward to July 17th, 2014
An early afternoon flight to Newark was followed by our connection to Brussels, Belgium on day one of this adventure. Flying is something I've always enjoyed and coupled with the excitement of our trip to Europe I was ecstatic, and (mostly) unable to sleep despite several hours in the air.
'Nervous' doesn't even begin to fully elucidate the mental state I was in after landing. Our plane had arrived prior to anyone else's, we couldn't figure out how to purchase train tickets with our American cards because the machines were in dutch, the wi-fi barely lasted 30 minutes before kicking us off so we had no data since we were international (and I only had the phone number of one of the Monstercat crew), it was both of our first times travelling abroad, alone; the list goes on.
However, as soon as I heard someone shout over "Hey are you Lucas" all anxiety vanished. Sammie and I were quickly run through introductions and I finally met a few people with whom I had been communicating for months… this was good.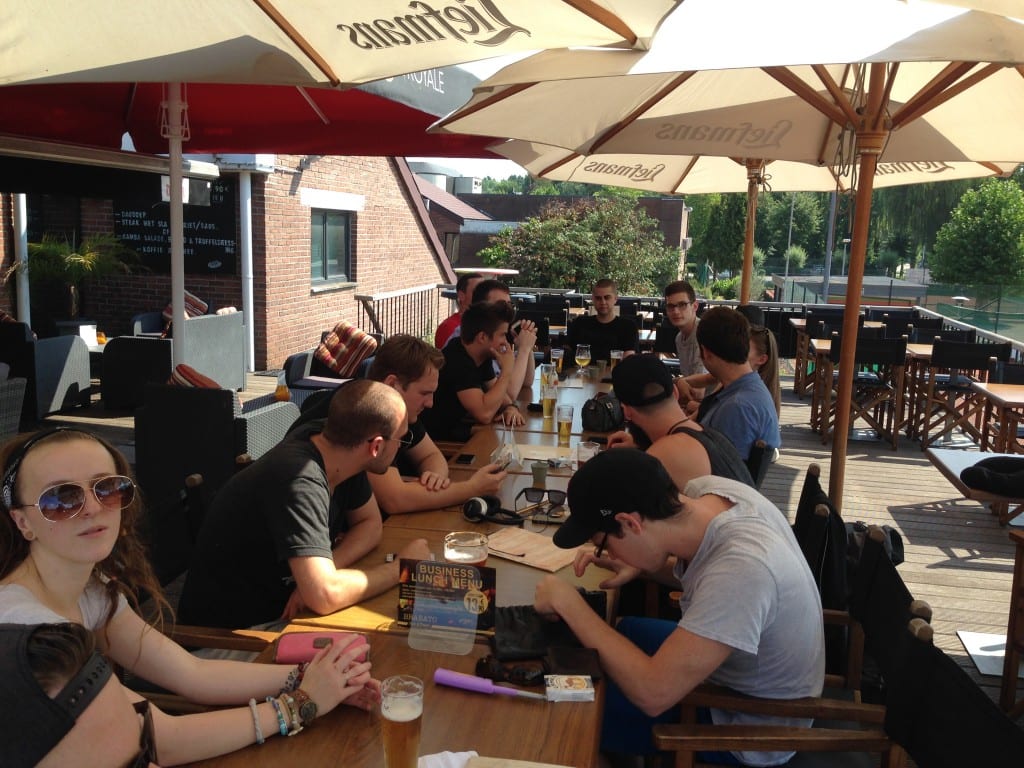 Upon arrival to the hotel we decided to spend time at the restaurant/bar as we awaited check-in to our rooms. Here I enjoyed my first legal beer (being 20) and joined the cohort of old and new friends. How amazing it felt to finally be able to talk music with people on and above the same level as myself is simply indescribable. We spent the rest of the day exploring local Antwerp and discussing the days to come. My excitement for the near future was only enthused, but it had not yet truly settled in me that we were attending Tomorrowland.
That is, not until we were standing outside the entrance with helicopters flying over and the chorus of thousands eager to breach the gates to this magical place and time. Our bracelets blinked in unison, the clock slowly ticked forward, and we finished our drinks purchased down the street in true attendee fashion. Awe-inspiring is the term I'm looking for. The production value for this whole thing is simply insane. From the entrance down to the smallest details, the thousands of quotes inscribed onto the bridge to main stage; Tomorrowland is unfathomably well put together.
As we progressed through the line our bags were hardly searched, our persons not at all, our bracelet tickets bleeped against the scanner and suddenly it was real. For all of us this was our first time attending the festival, which would prove to serve as an unforgettable bonding experience. Strangers merely a day ago, we were now giddy school-girls bouncing down the path discussing who we want to see and other semantics regarding the festival.
The rest of that unbelievable Friday was a blur. We bounced from stage to stage to stage, blindly following a map obtained at the information booth. This was the day to figure it all out. We ran up a huge amount of texts meeting up spontaneously throughout the day as groups separated and people got lost. The crew even forayed into a domed and enclosed stage that held in a sweltering heat on the 90 F clear-sky day so as to witness the enchanter that is Oliver Heldens.
Completely worth the 15 minutes of intense "cleansing" and the exhaustion soon to follow, Heldens was easily one of the best sets of the day for what little time I witnessed it. Orjan Nilsen was also a top competitor, who we happened upon in the Trance Addicts tent with a few of the Monstercat guys that I would come to form life-long friendships with over the trip.
A top-notch set was amplified by a charged crowd in a spacious venue and the expected next-level visuals. His collection of emotionally gripping tunes and a group of great people made this one something special.
Dada Life at main stage was also exceptional, purely because of the atmosphere. Not too crowded, however packed in the pit, we were lucky enough to come away with an inflatable banana as we enjoyed this set from the front. These two know how to party and, regardless of mixing skill, sometimes that's all we in the audience need.
Martin Solveig also proved to be an unexpectedly pleasant surprise for me as I thoroughly enjoyed his set prior to closing out the night with Armin Van Buuren at mainstage. He was full of energy and the sheer revelry apparent in his performance on the worlds biggest stage shone through.
Armin Main Stage Friday Night from Lucas Sachs on Vimeo.
Exhaustion was the word as we headed home after a full day of raving. In fact, several of our group (myself included) fell asleep on the sidewalk while awaiting our taxi-bus. The trend continued as we wearily parted ways for the night and agreed to meet for our hotel-provided breakfast in the morning; which was both scrumptious and satisfying.
At breakfast the discussion was brief and to the point, we would go back to sleep and leave at three; for, we were just too tired. However, I do not regret this decision. The rest was much-needed and we arrived perfectly in time to catch the best action of the day, on the primary day.
After catching the end of Atmozfears at Q-Dance and meeting him, we meandered over to Pierce Fulton on the smallest of stages, Lotto Dream Island. One of my absolute favorite sets of the weekend, I am excited to have Pierce on the Your EDM Mix show soon. There is nothing like partying in the rain to an excellent progressive house set on the most diminutive of stages. Plus he's American and we had a nice chat at the end of his set:
Next we picked up some extremely expensive, but top quality merchandise before departing for Kaskade at main stage; and that's where the real magic happened. See, Kaskade ends nearly every headlining set with his wildly successful and deeply emotional 'Eyes.' I know this because I've listened to just about every set of his due to my obsession with melodic house. It has some of the best vocals that any house track has ever seen and honestly, I could not have picked a better song to propose to Samantha to. So, I assembled the Monstercat team who provided two different views of the awesome moment via camera phone and as 'Eyes' began I stood her up and… well, just watch :')
My Proposal At Tomorrowland (Kaskade – Eyes (Stereoshock Official Edit)) from Lucas Sachs on Vimeo.
This and the following Nero set, which the entire crew came together for, was the absolute highlight of my Tomorrowland journey. Nero was unfathomably good (which I'm sure was partially due to the euphoria of my engagement) despite only one member being in attendance. And, seeing Nero was an absolute dream come true as they stand amongst a select few who introduced me to electronic music. Raging out with the MC family and my new fiancé in pure, unadulterated jubilee for this hour is a memory that I will forever hold close to my heart. Plus I got to hear some new music from the upcoming album and it's only furthered my excitement for its impending release.
The night closed with an incredible Knife Party set and a front row transgression with Pretty Lights who's audience was quite sparse. It's incredible to think how an artist can sell out crowds in the US but put up a shabby showing oversees. Then again, he was scheduled closing hour and competing with the biggest on main stage. Indubitably, Saturday was the best day of the festival with Friday being a close runner-up.
Sunday went way too fast, with a post-engagement dinner in Antwerp followed by an exhausting trip and day at Tomorrowland that contained little more excitement than a torrential downpour that only served to darken the mood. David Guetta was an embarrassment on stage, furrowing his brow furiously at the "malfunctioning equipment," but it was still an amazing day at the most amazing festival in the world (Although the grand closing ceremony seemed a bit anticlimactic as well).
Following a well-deserved rest, Samantha and I took a day trip to Amsterdam on Monday… and I'm not telling you about that trip. However I wish we had more time to spend there before returning home Tuesday morn.
All-in-all, our Tomorrowland experience with Monstercat was easily the best trip I've ever taken. Tomorrowland is absolutely unreal and should be on every raver's bucket list, but beware… there is no kandi, nobody ODing (Europeans know how to party), no drama, and nothing but love. Go if you ever get the chance.
So, thank you Monstercat, for both changing our lives and enabling me to enact an epic surprise engagement for my soul-mate and I. We are forever in your debt.
With love,
Lucas + Samantha