Grassroots California is a progressive clothing line that boasts quality merchandise and donates a percentage of its proceeds on every purchase. Their vision is to create a company that gives back to the communities we live in around the globe. Probably most well known for their hats you see on several hundred people per music festival, Grassroots Cali has also aligned itself and made custom lids for some of the hottest artists and well known music festivals across the nation: STS9, Pretty Lights, Big Gigantic, ill.Gates, North Coast Music Festival, Wakarusa Music Festival, and Camp Bisco to only name a few. Some of the causes they are proud to support with a portion of every purchase going to help these amazing organizations include but are not limited to: Cystic Fibrosis Foundation, NORML, World Wildlife Fund, CA State Parks, Free Press, NASA, The Humane Society, Free Press and Oregon Public Broadcasting.
—
Bear Collection V2 Flannel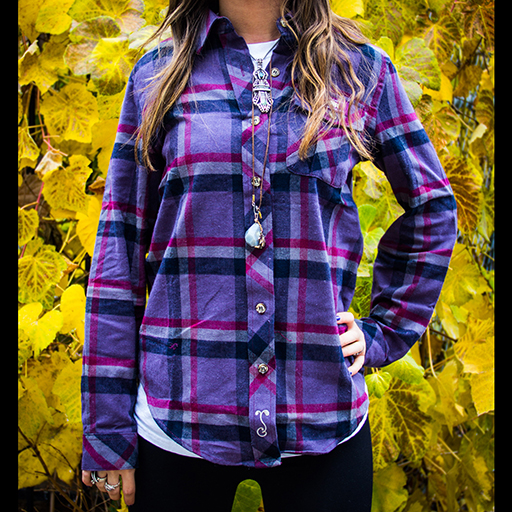 The women's flannel is now a new staple in my wardrobe and I believe every man should own one also. The fabric is the correct amount of thickness you want out of a flannel without being too hot. The feel is soft, not itchy. Every stitch line is straight and obviously done with care (no frays). The buttons are firmly attached and not flimsy–I know these aren't going to fall off under normal wear and tear conditions. The design pattern is modern and the colors are fitting for the garment and the times. The overall fit and cut of the garment is exactly what the ladies want from a flannel–clearly shaped for a woman's figure but not too tight or too flashy. The guy's flannel is well-made for a man's physique. Sleeves easily roll up and stay in that position without uncomfortable constriction around the elbow/forearm area. The Grassroots California Bear Collection logo tag is placed on the left breast pocket and blends in nicely with the rest of the color palette. The garment tag is placed on the inside in the back of the neck region and is not bothersome or itchy.
I love the Bear Collection V2 long sleeve flannel. This is my first Grassroots Cali flannel but it most certainly won't be my last. The cool factor is high, the quality of the shirt is excellent and they are a limited edition as they only made 100 of each of the 6 fall color patterns. They're made of 100% cotton and are $65 in their on-line store. A price that isn't outrageous for the quality garment that will make it through the normal wear and tear of life. And don't forget a portion of every purchase goes to one of the awesome organizations Grassroots Cali supports.
Update: I already bought two more flannels because they were getting low and there's no way I was going to go through winter without several color options.
The Bear Collection V2 Hoodie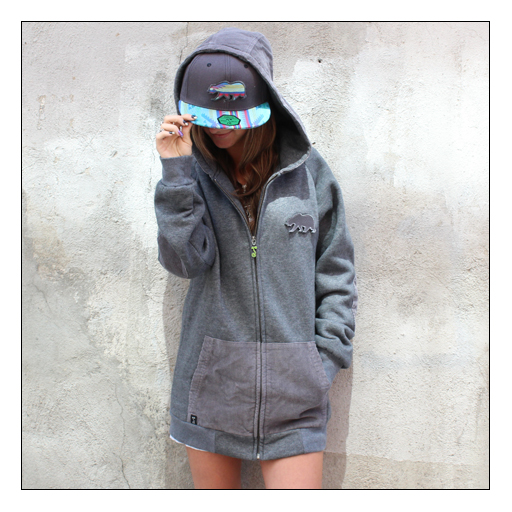 I am equally as excited about Grassroot's hoodies as I am their flannels. This second version is a little thinner than their first Bear Collection hoodie, but that seems to be a good thing. This zip up hooded garment is WARM and it is great. I get cold really easily and usually things people call "warm" I still manage to be cold in, but this hoodie is exactly what you need for festivals when the sun goes down. The inside lining isn't bulky or restrictive, it is smooth and silky and feels great on your skin. This thin layer of lining is done appropriately, you can tell it actually keeps heat against your body. The thick sweatshirt material is soft and malleable. Overall the garment is very lightweight and non-restrictive for being so warm. The stitching and quality of materials is absolutely top notch. Just by wearing it you can tell this garment could take several rough weekends of camping and not fall apart on you. The cuffs at the wrists are appropriately sized, soft, and not too tight. If you want to push the sleeves up they stay in place without stretching out the material. The zipper is sometimes hard to get started, but that doesn't bother me because the materials are sturdy and will be long-lasting.
The California Bear logo is placed on the left breast and is removable by velcro. Once removed you can see a very well hidden stash pocket for money or whatever suits your fancy. The velcro bear easily sticks right back on and over the stash pocket and you would never know it's there unless your know it's there. You can also trade and switch these bears around among other Grassroots Cali garments, making it an awesome way to spice up or customize your gear. I can also see myself meeting a really cool, new friend and in the whole spirit of festival giving trading these with one another to remember our good times and to keep them close at heart. There is also another well disguised stash pocket on the inside right seam line, where the liner meets the sweatshirt fabric.
I can't say enough nice things about the Men's and Women's Bear Collection V2 Hoodies. They're warm, they look great, they're made with quality materials, comfortable, the slim fit looks super modern for the ladies and it has stash pockets. This is the perfect hoodie for our musical festival lifestyle. It's priced at $90 which I admit may seem steep on a budget, but you can either spend that same amount of money on 4 layers over time to keep you warm, or you can spend it on one quality, cool looking sweatshirt. One thing is for sure, you get what you pay for with Grassroots California.
Hats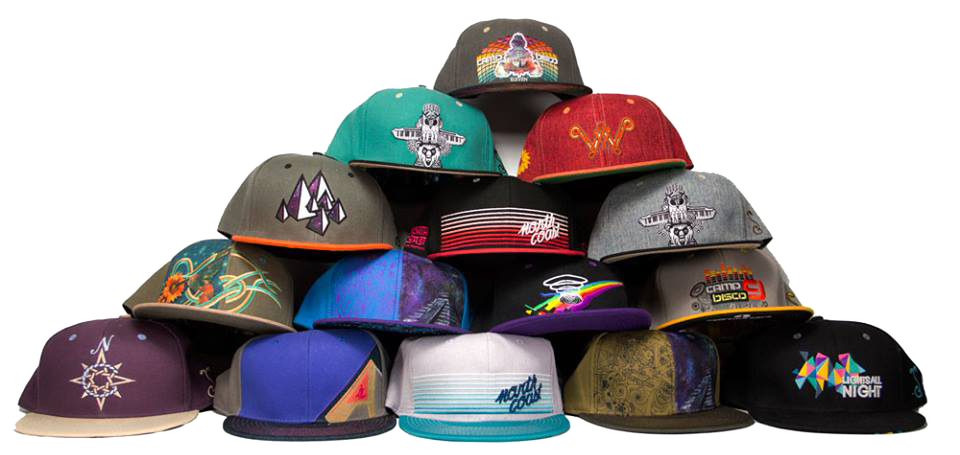 Artists like STS9 and Big G aren't going to put their name on less-than-stellar merchandise. Every hat Grassroots Cali produces is not only well crafted but also highly functional. A large, secure stash pocket along the inside lining makes carrying a couple extra bucks you don't want to lose along with you easy. Bear Collection hats have the velcro Bear that can be removed for customization or trading with friends. You can also buy in their online store bears for customization that don't come standard. My favorite is the Chicago Flag bear.
Hats range from snapbacks to beanies to five panels, and range from the on-sale price of $15 to $42 for their latest and greatest designs. Grassroots has probably already made a hat with your favorite artist or they have made one for your favorite festival, that coupled with the great design and stash pockets makes this a staple accessory for the 2015 festival season.
It's also notable to add that the art of of their hats doesn't just stop on the outside. The inside is silk lined and always has a dope design to augment the cool factor of their art.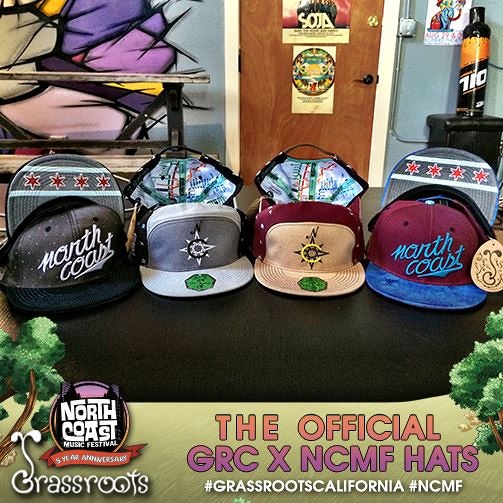 North Coast Music Festival x Grassroots California is a great example of how every square inch of their hats is art perfectly tailored to their partner's and customers needs. If you've ever been to NCMF in Chicago you know two things: the people there really love their city and riding the CTA is a love hate relationship etched on all of their hearts. Using the Chicago flag as decor on the under side of the brim and imprinting the useful Chicago transit map on the silk lining makes NCMF's hats a top tier momento every customer wants to take home. Everyone wins when Grassroot Cali puts their spin on your brand.
Chiller Shorts
Our boys loved the Chiller shorts for rest and relaxation, but also found their wild and psychedelic prints to be perfect music festival attire. From space bubbles to a cosmic diamond party to beautiful nugs, Grassroots knows exactly what you want to be sporting when you're out partying. For $30 these shorts come standard with comfort and the ability to make your friends super jealous at Electric Forest this year. They also come in a more feminine fit for girls. Definitely cop yourself a pair.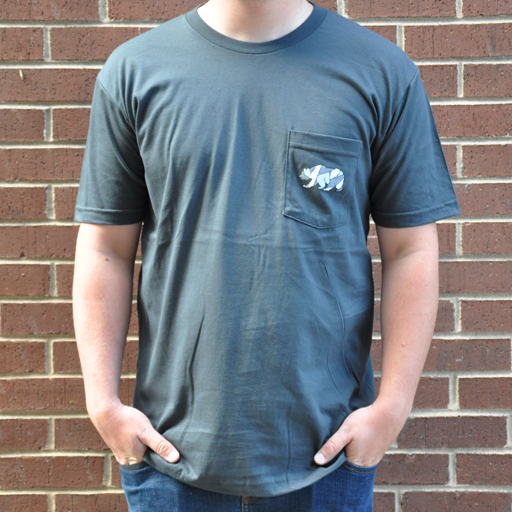 These are great t-shirts. The tag on the back of the neck isn't itchy, the fabric is soft, and the over-all cut of the garment is slim and modern. Every stitch is made with care and the design is very in-line with the times and carries a high cool factor. The pocket on the left breast is very handy for the avid music festival attendee, as it's a convenient spot to hold your cigs. For $30 I would definitely recommend this to a friend.
Cloudroots Custom Combustion Pen 2.0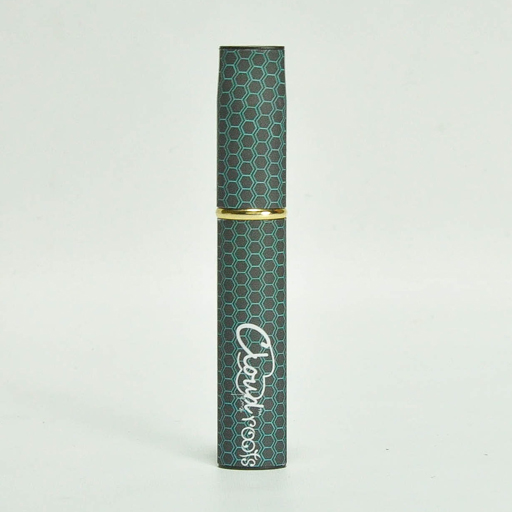 Voted to have the Best Mini Pen of the year by High Times Magazine and winner of this year's San Francisco Bay Area Medical cup for best product, you know the Cloud brand puts out quality Pens. Grassroots California's flagship store is in the state of Colorado where the distribution and consumption of marijuana is legal. The owner of the company, Ryan a.k.a. Ruga, suffered an accident where he fractured his skull in 3 places and medical marijuana–not pharmaceuticals–helped the most with his pain. This played a big part in the creation of the mission statement of Grassroots California as his story and support of the reformation of marijuana laws to benefit our communities is apparent. Being a past medical marijuana patient and living in Colorado also makes me a betting woman that Grassroots Cali knows its vape and combustion pens, and with the quality I've seen in every other one of their products, I knew going into this The Cloud was going to be a top tier combustion pen.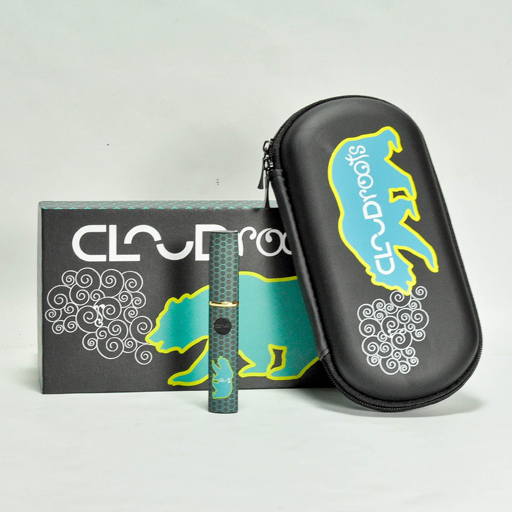 The Cloudroots pen comes in a sturdy, well-designed box to encase the custom designed travel case. Inside you find your pen, the mouthpiece, a Medi Grade Funnel Atomizer, a Medi Grade Coil Atomizer, USB cord and battery charger, 3 hygienic mouthpiece covers, and the all important Cloud-tencil. The Cloud-tencil is an awesome, unique, double-ended tool especially designed to clean the atomizer that will get gunked up with the oils and waxes of your choice. It also aids in the application of your concentrate. You would be lost without this utensil. Thank god they didn't go the cheap route and they took the time to design this custom tool. Wax burned really well in this pen and it is one of the best products of its kind. The pen itself also has a really cool, soft feeling to it. You want to hold it. You want to tell your friends to touch it.
Loud Flo/Wilderness Sock Set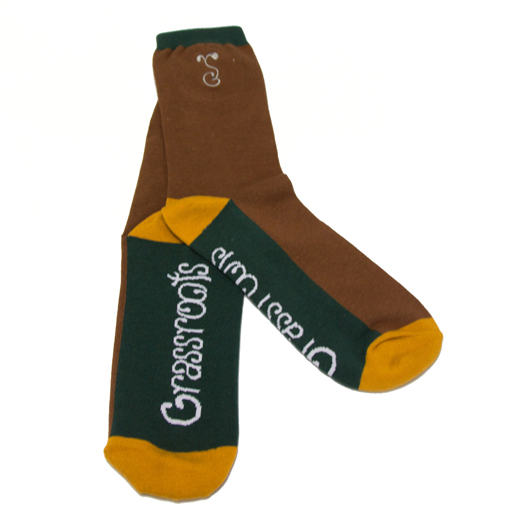 My only critique is I would like them to be a little thicker, but that didn't stop me from buying more before this article was even published. They're made with the same high quality standards I've seen in all of their other garments and I love their tri-color design. They're simple, stylish and fit great. 3 pairs for $17 and worth every penny.
CannaFresh Glass Jar Large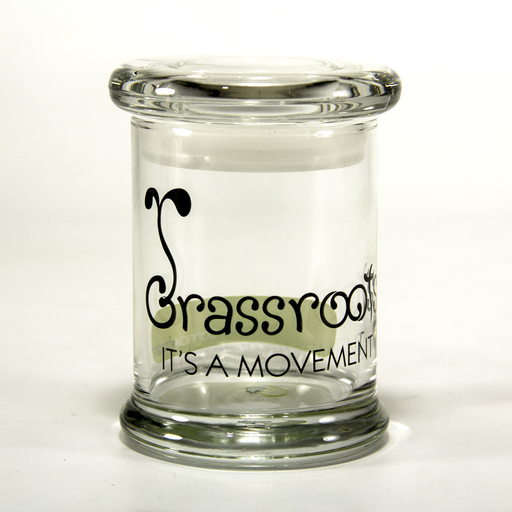 Quality glass and an excellent top-seal that keeps odors inside only. Exactly like the type and quality you frequently see in dispensaries. $27 is a small price to pay for a container this large that offers this level of discretion.
Is it worth it?
Yes.
Grassroots California is working with the biggest artists, the hottest music festivals and they're donating to a wide variety of charities and spreading the love to animals, people with health conditions, our earth, space exploration and freedom of speech. On top of all of that they're making quality clothing with a high cool factor that is perfectly aligned with the EDM and music festival lifestyle. You could want for nothing more. If their price tag seems high to those of us that are ballin' on a budget, rest assured that if you do cough up $100 for a hoodie you're getting maximum quality for your hard earned cash. You won't be disappointed.
One product they proudly sell on their website that we sadly didn't get to try out but want to make girls aware of are their awesome headbands made by Festy Besty. Their festival friendly halos made with leather and pretty floral adornments are certainly going to be a staple in the upcoming year's fashion trend.
Article photo provided by thegrimeygatsby.com
NCMF hat series photo provided by toovia.com
Grassroots x Planted hat photo provided by strictlyfitteds.com