When I first heard about the concept for Middlelands, I thought it was a bit of a silly premise. I assumed many others felt the same way. For years, music festivals were in and out procedures, towers of metal and wires constructed for a weekend and torn down just as quickly. For Middlelands, however, things were different.
The Texas festival was built on the existing site of the Texas Renaissance Fair, an establishment which has been in operation since 1974. Insomniac and C3 Presents, promoters for Middlelands, used the already-existing structures of the fair to do more than accentuate their event. All of the stages were built into and around the area which made the setting infinitely more magical and enchanting than any attendee could have imagined.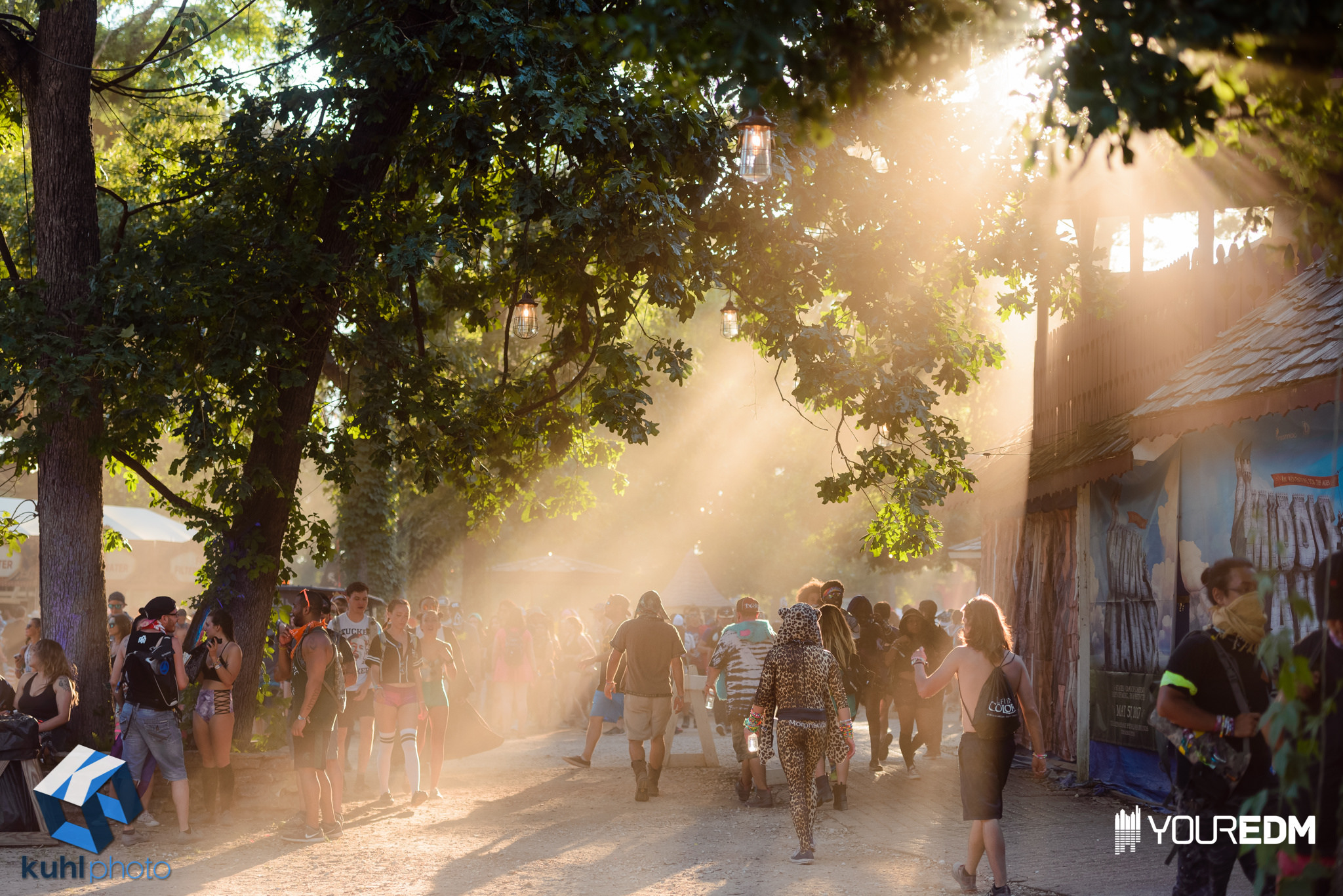 Walking into the festival for the first time on Friday, you might have been greeted by the King of Middlelands, surrounded by jesters, his servants, and perhaps his queen.
At the fork in the road, turning left would have led you to Trinity Vale and the Middlelands Arena, one of the most breathtaking stages I've seen in my tenure going to festivals. And it wasn't like Alfa Future or Dreamstate with ornate designs and lots of flashy elements, no… if you had told me Middlelands was going to design a stage that spelled out the name of the festival in large, bold letters, emblazoned with LEDs and spotlights, and that's it, I would have called you crazy. And yet, it might have been my favorite stage of the festival, even more than the actual "main stage."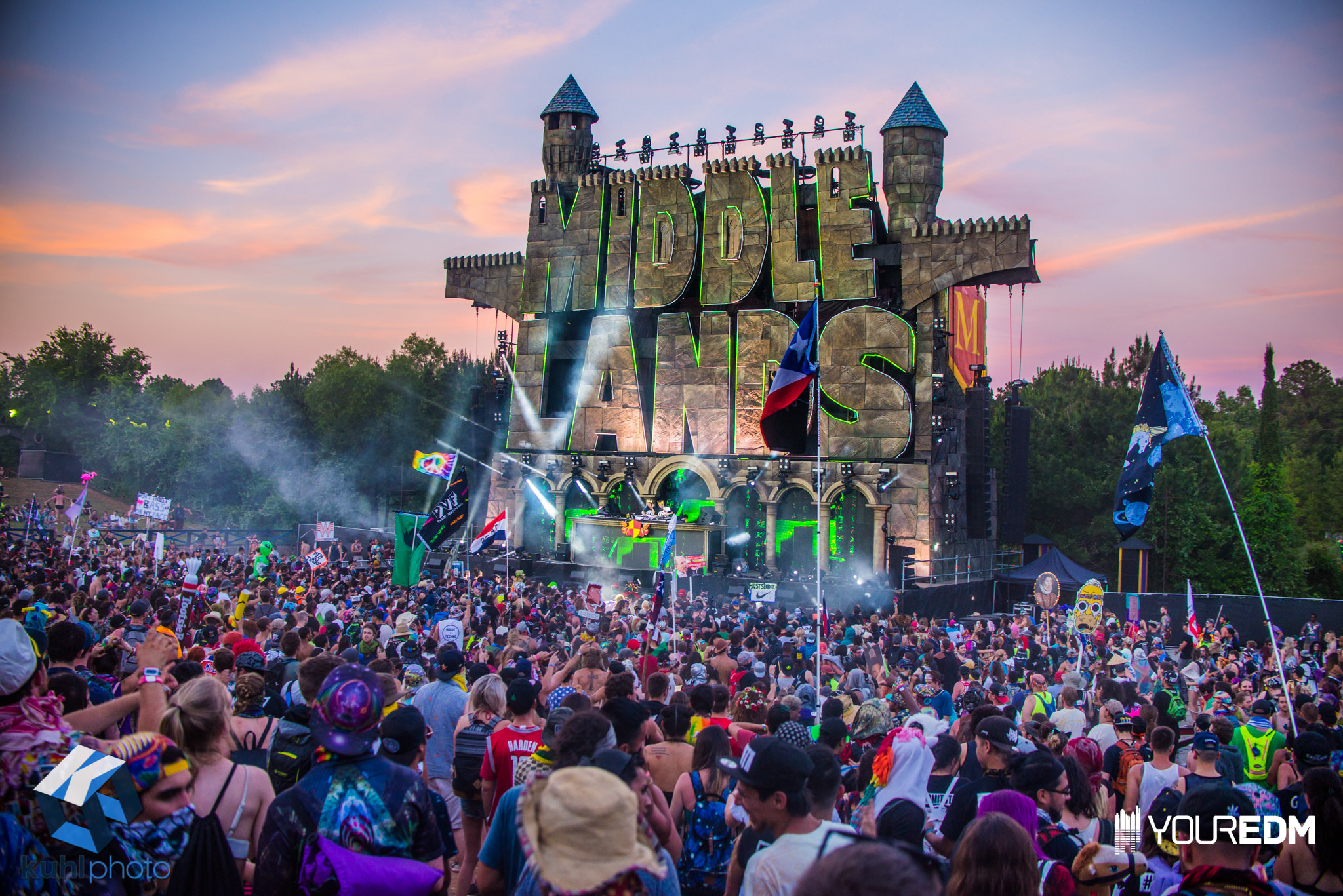 Turning right, you would start to head out of the Vendor Village, the area build around the Ren Fair structures, toward the Stronghold and Castle Northwoods, the official main stage of the festival. The Stronghold, despite having a great lineup each day of the festival, probably ended up being the least appreciated stage of the event. Due to sound bleed from the main stage, heavy dust during dance parties, and no shade until night time (except for one lone tree off to the right side), it often wasn't very full.
Castle Northwoods, on the other hand, was just as magical as Middlelands Arena. The large stage structure was nestled in the back of a glen of trees, all situated to make the most grand spectacle when the lasers finally started firing at the end of the night. The stage itself was in the shape of a knight's helmet, which sounds a little fishy, but looks fucking incredible.
And all of that is just the interior of the festival… we haven't even touched on the camping yet. For a festival in its first year, the camping could not have gone any more smoothly.
From entrance on Thursday afternoon to exit early Monday morning, the camp grounds were buzzing with revelers of all types. My first experience with the festival camping area was walking over to the sound camps where I discovered the Call of Booty, a sound camp full of pirates. Already, I was having a great night. Next up, I was greeted by a man with an archetypal mustache and goatee wearing a green wizard robe in the beer garden at the Insomniac sound camp who proceeded to give me a tarot card reading; upon telling him my sign, he gave me a specific time and place to meet wherein I would have the chance to be chosen as a king of my sign. At this point, I'm fucking giddy. Walking back to our tent at the end of the night, we happened upon a Marshmello who was wearing armor and a shield. By the end of the night, I was having a sugar rush from too many vodka red bulls and running around grinning ear to ear.
All of this, and you notice I haven't mentioned any of the acts even once. I'm not even sure I will in this review, except to shout out a few of my favorite acts… Middlelands was far more than just your typical music festival, and anyone who says differently probably wasn't in the right head space to experience it. Middlelands was a pure and eccentric escape into a world that many people have never and will never visit again. It had all of the innocence of a first-time festival with everyone exploring, and knowing just as little about the grounds as the person next to them.
"How do I get to the main stage?"
"I don't know, I'm trying to get there too."
"Wanna find it together?"
"Sure!"
Middlelands brought more people of all types together than any festival I'd ever seen before, and I was insanely upset to be leaving Monday morning. I felt that with another week or so, we could have solved a lot of the world's problems. I understand that's a bit of a stretch now that I'm home two weeks later, but it felt right at the time.
With the news that Middlelands won't be returning to the site of the Texas RenFair in 2018, this year becomes even more of a fleeting miracle. Literally no one else will ever again experience what it was like to go to the first Middlelands at this venue. That honor is reserved for the over 60,000 people that made the weekend such a staggering success, including the staff at Insomniac, C3 Presents and Texas Renaissance Festival.
All of the vendors who stayed behind to give us henna tattoos, who sold steak on a stick, who performed puppet shows when we just needed a place to sit and rest our feet… thank you so much. It really wouldn't have been the same without you.
All of the performers who walked on stilts, who dressed up in incredibly lavish costumes, who fainted from exhaustion and went back out and did it again… thank you so much. The walk from stage to stage wouldn't have been filled with as much wonder and amazement if it weren't for you.
I hope that Middlelands, wherever it ends up in 2018, will retain the same sort of magic that it had in its first year.
Until then… fare thee well, and thanks for the memories.
I do want to shout out my favorite acts of the weekend, though: Lido, Big Gigantic, Gramatik, Joyryde, Friction, Snails, Crywolf, Jurassic 5, Metrik, and Phantogram.
Photos via Kuhl Photo